A spectacle of speed: How pro sprinters customize their rides
Tour de France sprinters demand the stiffest and most aerodynamic bikes on the planet. Here's how the pros customize their rides to reach blazing speeds.
Heading out the door? Read this article on the new Outside+ app available now on iOS devices for members! Download the app.
PETER SAGAN'S STEM looks like a carbon version of the Terminator's arm, clear-coated in black. It's a massive, 140-millimeter svelte block of unidirectional carbon called the SL Sprint, made by Zipp. Most often you'll see that brand name blacked out with electrical tape, since Zipp is not one of Sagan's official sponsors.
Sagan uses the stem to produce an aggressive position that places him forward, over the front wheel. He also needs a stiff cockpit in order to maximize the sprinting power he can generate. Thus, the world champion uses a stem that can withstand incredible torsional forces. (Tom Boonen also used a Zipp SL Sprint stem, minus the branding.)
Across the peloton, top sprinters like Sagan seek out specialized gear that can withstand the massive power outputs generated by their fast finishes. Special stems, handlebars, and even bicycle frames are produced to transform raw power into speed. Riders often forego sponsored equipment when another product helps them win. The search for the fastest materials is aimed at one thing: victory. Let's take a closer look.
Fly forward
Why do sprinters desire such a forward position? It's all about aerodynamics. In the final meters of a race, riders grip the drops and get as low as possible. They do this to reduce their frontal area, thereby reducing drag. Overcoming drag costs watts, and expending more watts can lead to the difference — sometimes in millimeters — between winning and losing. The long stems and low, forward position help a rider sprint faster.
With all that weight positioned so far forward, strength requirements for the cockpit become exceptionally important. The tradeoff between weight and strength, therefore, tips solidly in one direction. Generally, sprinters will accept an additional few grams to their bikes here and there to get extra stiffness and strength. Even though aero-bike weights have dropped dramatically in recent years, a rider like Alexander Kristoff will have a bike that's likely a pound heavier than one ridden by his teammate Fabio Aru. That added weight comes from stiffer handlebars and stems, deep-profile rims, and even additional carbon strategically placed in various parts of the frame.
It would be easy to increase the torsional stiffness of a cockpit by using a short, stout stem. But the uniquely aggressive sprinter's position means a long stem is necessary. Toss in the need for steering stability — not to mention weight considerations — and you can better understand the engineer's dilemma.
It's not just the stem that gets special treatment, either. For example, Caleb Ewan's cockpit is custom-made just for him. Ewan has perhaps the most recognizable sprint position of any rider in the peloton today: head forward over the front wheel, chest over the bars, body so low it looks as though he could kiss the front tire.
Ewan's handlebars look like Syncros's stock RR1.0 Aero Bar/Stem integrated combo. But Ewan's unorthodox sprint position requires additional stiffness.
"He wanted the old-style short drop because that's how he handles the grips," says Benoit Grelier, head of engineering at Scott Bicycles. "He's a tiny rider, but he likes a long stem. It's 140 millimeters. He wanted to have a stiffer combo."
Instead of adding some weight and material to increase stiffness, Grelier and his team were able to increase stiffness while minimizing the weight gain.
"We optimized the carbon, and we had some time to develop it for him," Grelier says. "When you do a product with just one piece, you can make some fancier things that you would not do for production."
Scott's engineers made the cockpit stiffer without adding substantial weight by selecting a particular type of carbon fiber. (Or, in Grelier's words, optimizing the carbon.) Grelier did not specify, though it's likely the cockpit uses an abundance of unidirectional carbon, rather than a carbon weave. A woven carbon is not as strong or as stiff as unidirectional carbon because the carbon fibers are actually bent as they are woven together. Unidirectional carbon keeps the fibers straighter, which creates a durable, stiff component. The tradeoff is comfort: Unidirectional carbon fiber can be unforgiving. Comfort, however, comes well below stiffness and stability on a sprinter's list of priorities.
Grelier says Ewan's bike is otherwise stock. In the past, Scott made a special frame for Mark Cavendish, which included a different carbon layup in the down tube and chain stays. This increased the frame's torsional stiffness to counter Cavendish's pedaling forces during a sprint.
André Greipel's cockpit lacks the aerodynamic integration commonly found in racing bicycles; yet it has its own unique flair. He runs a Deda Superzero alloy bar. (In the past he has run a TrentaCinque handlebar that measures 35 millimeters in diameter, rather than the more traditional 31.8 millimeter). It's matched with a 140-millimeter Superzero stem that's flattened on the top for aerodynamics. Paired with the ultra-stiff Ridley Noah SL frame, Greipel's substantial power output has a stout platform for forward propulsion.
That's not the only unique equipment choice the "Gorilla" has made. Despite his six-foot stature, Greipel runs a size small frame. By reducing the distance between frame tubes, frame stiffness increases.
"For me it's really important to have a stiff bike, from the handlebar to the pedals to the wheels," Greipel says. "I have the [stiffest] pedals you can get from Look; I have an aluminum handlebar and stem, because aluminum is stiffer than carbon. The weight is not the most important thing; stiffness is more important. I can handle half a kilogram more, no problem."
Slice through
Watch any bunch sprint and you're likely to see cycling's best aero bikes on full display. That's because aero bikes possess the qualities a sprinter desires most: lateral stiffness, aerodynamic advantages, and stable handling. The front end of an aero bike is designed with cleanliness in mind, which reduces drag. All of this combines to make for the fastest bike.
Sprinters' bikes also differ from climbers' bikes, for example, by having a longer wheelbase and trail figure. These geometry choices help to increase stability, which is beneficial in chaotic bunch sprints.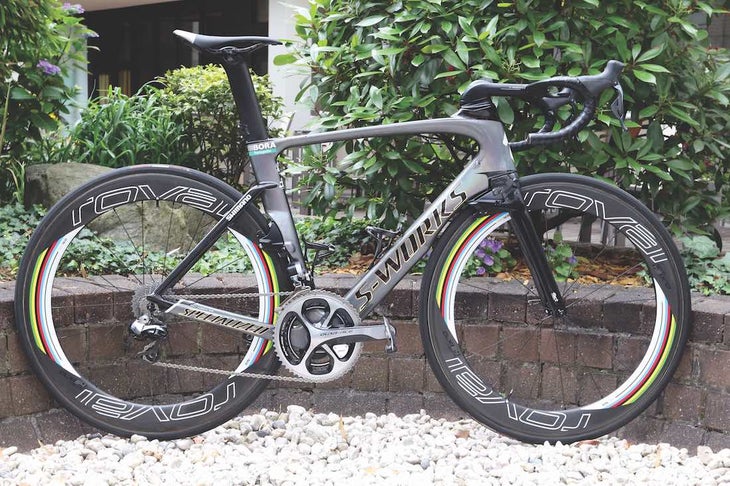 Sprinters will often use deep-profile wheels to further increase both stiffness and control. Typically, they'll use wheels with a 40- to 60-millimeter rim depth. Such deep rims offer several advantages: First, they shorten the spoke length between the rim and the hub, thereby increasing lateral stiffness; and second, they reduce aerodynamic drag — manufacturers most often optimize the rim shapes to perform best at 40-50kph. Of course, such wheels have their disadvantages, most notably a decrease in stability in crosswinds.
And the story's not all just about stiffness. Marcel Kittel made history by running disc brakes during stage 2 of the 2017 Tour de France. He won the stage, marking the first victory for a disc-equipped bicycle at a grand tour. Why would a sprinter be one of the first pros to adopt discs? It all goes back to the tradeoff between weight and performance. Climbers are more likely to be obsessed about the weight of their bikes and gear since that matters significantly on climbs. But sprinters are more willing to add a few grams in favor of stability and rigidity. And with advancements in aero-bike designs, manufacturers claim that disc brake aerodynamic disadvantages are so miniscule that there's no reason to avoid them anymore.
Dial it in
Shimano and SRAM both make remote buttons that work with their respective electronic shifting systems. Sprinters have the option of placing these remote buttons in the handlebar drops for quick shifts in a sprint. These remote shifters work exactly like climber's buttons which are most often placed on the bar flats. Given how hectic bunch sprints can be, finding a stable hand position becomes important in those final seconds. Placing shifter buttons low on the drops prevents the rider from having to shift his or her fingers, thereby risking instability as the hand moves.
If a rider runs pedals with adjustable cleat tension, you can bet those pedals are cranked down to prevent the rider's shoe from releasing from the pedal. And shoes themselves will feature the stiffest carbon soles available to increase as much power transfer as possible, from the rider to the drivetrain.
Rider position isn't the only way in which frontal area, and therefore drag, can be reduced. Gear matters, too. That's why sprinters are likely to ride with an aero road helmet like Specialized's Evade (see: Peter Sagan) or Oakley's Aro5 (see: Mark Cavendish). These lids tend to offer less ventilation, but air flows more smoothly over them. Many of them feature ridges to help disrupt the flow of air over the helmet earlier, thereby dissipating problematic eddies at the helmet's trailing edge that can lead to increased drag. Simply making sure the straps sit flush against the rider's face can save a few watts, too.
Of course, one of the advantages of being a WorldTour pro is the availability of many bikes at your disposal. Sagan, for example, rode a Specialized S-Works Roubaix at the 2018 edition of Paris-Roubaix, but an S-Works Tarmac SL6 at the Tour of Flanders. And if the conditions call for it, Sagan has also ridden the S-Works Venge ViAS, Specialized's aero weapon, at various races including stages at the 2017 Tour de France. The day's course, in other words, dictates Sagan's equipment choices.
Much of Sagan's other equipment is stock. His Specialized helmet and shoes, for example, are off-the-shelf versions that any customer can buy. According to Specialized, the development of those products included significant feedback from Sagan and other pros who ride Specialized equipment, so even the off-the-shelf equipment is tailored to the needs of the pros.
Everything on a sprinter's bike setup works as a system. While there may not be one single upgrade or improvement that will save the rider a considerable number of watts, the combined system should do exactly that. Then it's up to the big legs and heaving lungs of the peloton's strongest riders to get them across the line first.