Sprinter Oscar Freire nearly makes long break stick in 2011 Amgen Tour of California
Rabobank's Oscar Freire, a sprinter, found himself in a rare solo break in stage five of the 2011 Amgen Tour of California. And he nearly took it all the way to the line.
Heading out the door? Read this article on the new Outside+ app available now on iOS devices for members! Download the app.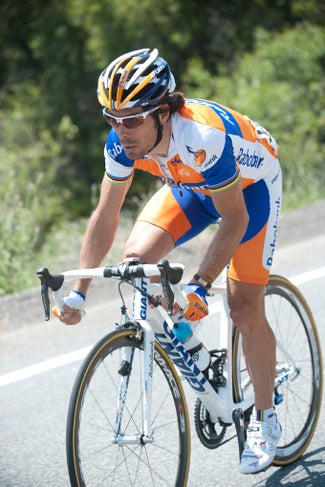 PASO ROBLES, California (VN) — Rabobank's three-time world champion Oscar Freire, 35, one of the sport's most renowned sprinters, has probably never been in a solo break heading into the finish of a race as he was on stage five of the Amgen Tour of California Thursday. It wasn't planned, and but for his breakaway partner Stefan Denifl flatting with 10 miles to go (which left Freire on his own) the veteran Spaniard would almost certainly have won.
Freire and Denifl made a smart tactical move atop the day's final categorized climb on Interlake Road 20.5 miles from the finish. First, Leopard-Trek's Denifl pulled Freire and KOM leader Pat McCarty (Team SpiderTech) away from the remnants of the day's 11-man break on the steep 1.5-mile hill; and when the American sat up after the sprint line, the other two pounced.
"I had talked to Oscar, and I knew he was interested in attacking," said Denifl, a 23-year-old Austrian. "We both thought the mountain would be a good place to try to get away. So I attacked and Oscar was on my wheel, and we just went for it."
Their joint effort on the following fast descents and short uphills enabled Freire and Denifl to increase their lead over the main peloton from 1:40 at the KOM to 2:20 with 16 miles remaining. The gap was still two minutes when they hit the 12-mile mark, and it looked as though they'd make it.
Then, on a 10-percent downhill grade, Denifl flatted and then crashed (he would eventually trail in with a back group almost 10 minutes back). Denifl, who sustained only road rash, said: "The crash is nothing. If I didn't have the flat tire, Oscar and I had a good chance to make it to the finish."
Freire's Rabobank team manager Erik Breukink agreed, telling VeloNews that the two men were riding well together, and that Denifl was willing to take his chances in an eventual sprint.
"When he flatted," Breukink said, "Oscar couldn't wait because it was a very slow wheel change. But you still have to try, and you see how close he came."
Indeed, Freire's lead was still 1:20 with 6 miles left. But then, the Rabobank star explained: "The last climb, I explode and lost almost 40 seconds. So if we were together maybe we had a good chance … I almost won but in the last three kilometers I saw the peloton was (too) strong."
So with a time trial on Friday and another mountaintop finish Saturday, Freire's only remaining chance to use his growing form will come in Sunday's final stage into Thousand Oaks.