Teams association votes 'no confidence' in UCI
AIGCP members registered a unanimous vote of no confidence in UCI leadership
Heading out the door? Read this article on the new Outside+ app available now on iOS devices for members! Download the app.
The Association International des Groupes Cyclistes Professionels (AIGCP) has tallied a unanimous vote of no confidence in the current leadership of the UCI. The vote came during the organization's spring meeting Friday in Paris.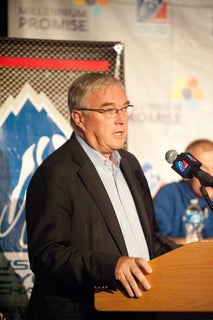 The AIGCP has long been at odds with UCI president Pat McQuaid over issues ranging from race radio use to profit sharing. In 2011, whispers of a new breakaway league for professional teams grew louder and the radio issue boiled into a narrowly avoided team strike at the Tour of Beijing, which the UCI promotes through its Global Cycling Promotions wing.
Tensions appeared to be easing in August 2011 when McQuaid rode along with Garmin-Barracuda boss and AIGCP president Jonathan Vaughters during stage 2 of the USA Pro Cycling Challenge in Colorado. McQuaid said afterward that discussions had been productive and the threatened strike in China never materialized.
Friday's vote, however, is an indication that relations between the federation and the professional teams are declining. The vote comes on the heels of a UCI-commissioned report from Ernst & Young early last week outlining the economic growth of the sport's top teams, which, according to the report, saw budget increases of 36.5 percent between 2009 and 2012.
According to a statement from the AIGCP, members unanimously agreed to the following statements:
"Professional teams, representing 2,000 employees and 321 million euros per year, are the biggest economical driving force in professional cycling and are currently under-represented in the decision-making process pertinent to the sport of professional cycling.
"The continued development of the sport of professional cycling will only take place if all stakeholders – including teams – have a fair and equal say in the decision-making process on items including (but not limited to) the continued discussion on effective two-way radio communication, the rules on equipment, participation in races, and sporting value evaluation. The AIGCP believes that all of these items need additional collaboration from the teams.
"While the AIGCP respects the hard work of the UCI and shares its ultimate goal of bettering the sport of professional cycling, at this moment it does not have confidence in its current leadership."
In the statement, the AIGCP called for transparency and in the management of professional cycling and confirmed it would defend the teams' interests.
"[The] AIGCP maintains that [the] way forward for professional cycling is for the leadership of the UCI to be open to discussion on all topics and inclusive of the teams in all decision making. The AIGCP teams will continue to defend their interest, the riders' interest, and the interest of their sponsors, to help ensure stability and sustainability in the sport of professional cycling."