The 25 most valuable riders in the women's peloton
What makes a pro cyclist valuable? Results or something more? We set about ranking the top 50 men's and women's riders.
Heading out the door? Read this article on the new Outside+ app available now on iOS devices for members! Download the app.
Which cyclist is more valuable: the Tour de France victor or the world champion? For decades, fans and media alike have argued over questions of this nature. Unlike mainstream American sports, pro cycling does not award a Most Valuable Player prize to its greatest champions. Instead, that title has been determined by debates on the group ride, or at the pub.
In our annual Season Preview issue of VeloNews magazine, we were determined to rank the top 50 riders, male and female, based on their perceived value. We created a methodology that took into account race results, marketability, social following, teamwork, and other qualities. We then reached out to a group of experts to help us vote. We kept them anonymous to prevent personal relationships from swaying their votes. Our group of mystery voters included agents, team directors, Olympic champions, and even a grand tour winner or two. Their votes helped inform our final list, which was chosen by the VeloNews editorial team.
Did we get it right? It is up for debate — and that's the point.
25. Arlenis Sierra (Astana)

Results: ** (out of a possible five)
Marketability: *** (out of a possible five)
Teamwork: ** (out of a possible five)
Though her palmarès is short on big wins, Sierra's story is what garners attention. Success on the UCI's South American circuit in 2016 attracted attention from several big teams. The Cuban thrived in her first WorldTour season in 2017, taking a stage win and second overall at Setmana Valenciana, second at Trofeo Alfredo Binda, and third at the Tour of California.
24. Cecilie Uttrup Ludwig (Cervelo-Bigla)

Results: **
Marketability: ***
Teamwork: **
At 22, Uttrup-Ludwig is a rising star of Danish cycling. The two-time national time trial champion finished first overall in the youth classification at the Giro Rosa and Setmana Valenciana. She took the Women's WorldTour youth classification overall. While she considers herself a climber, she was third to Coryn Rivera at Alfredo Binda.
23. Kirsten Wild (Wiggle-High5)

Results: ***
Marketability: **
Teamwork: **
A staple at the top of the women's peloton since 2006, Wild remains one of the most powerful riders in the bunch. Her 70 professional career wins on the road are just the start. She is also a prolific track competitor, having secured six world championship medals in her career, including gold in the scratch race in 2015. In the last two years, she has won four Women's WorldTour races.
22. Ruth Winder (Sunweb)


Results: ***
Marketability: **
Teamwork: ***
Winder had a breakthrough season in 2017 with UnitedHealthcare. She placed second behind Annemiek Van Vleuten at the Cadel Evans Road Race. She was instrumental in helping teammate Katie Hall come one second shy of winning the Tour of California. Her aggressive style caught the attention of Team Sunweb for 2018.
21. Hannah Barnes (Canyon-SRAM)

Results: **
Marketability: ***
Teamwork: ***
Hannah Barnes is on the rise. Her stage win at the Giro Rosa and her third place overall at the OVO Energy Women's Tour in 2017 speak to her rapid ascent. Still, she's not on everyone's radar. Our judges had mixed reviews: she landed as high as 15th, but didn't make some lists. Her social media following tops that of riders several tiers higher.
20. Giorgia Bronzini (Cylance)

Results: **** 
Marketability: ** 
Teamwork: *** 
While Bronzini's two world championship titles date back to 2010 and 2011, the Italian continues to win. She took the final stage at the Amgen Tour of California in 2017 ahead of Coryn Rivera. She took two stage victories at the Giro Rosa in 2016. Still, her best years are behind her, though the world champion's stripes will adorn her kit for as long as she continues to race.
19. Lucinda Brand (Team Sunweb)

Results: ***
Marketability: **
Teamwork: ***
Brand is Sunweb's road captain. Her two Dutch national titles on the road, overall wins at the Energiewacht Tour and the Ladies Tour of Norway, and impressive 2017 victories at both Omloop Het Nieuwsblad and a stage at the Giro Rosa speak to her diversity of skills. Then there are her cyclocross chops: In both 2016 and 2017, she won the silver medal at the European Championships.
18. Ashleigh Moolman-Pasio (Cervelo-Bigla)

Results: **
Marketability: ***
Teamwork: **
The South African climber has scored impressive results in smaller UCI races, but she's still searching for her breakout performance on the Women's WorldTour. Some thought it would come during the 2017 Ardennes races, where Moolman-Pasio was one of the strongest climbers. On each occasion, however, she was thwarted by Boels-Dolmans. Still, a top finish is bound to happen soon.
17. Amalie Diderikson (Boels-Dolmans)

Results: ****
Marketability: **
Teamwork: ***
Dideriksen's surprise sprint victory at the 2016 world championships thrust her into the limelight as one of the brightest rising stars in the sport. At just 21, she still has the lion's share of her career ahead of her. Another Boels star, Dideriksen needs to garner her own results on the star-studded team. Last year she won the Ronde van Drenthe WorldTour event.
16. Christine Majerus (Boels-Dolmans)

Results: **
Marketability: ***
Teamwork: ****
Majerus doesn't win many big races, save for the Luxembourg national road, time trial, and cyclocross championships, which she has won a combined 28 times. Still, the 30-year-old is the primary domestique at Boels-Dolmans, and her pace setting and aptitude in races is often what sets up the winning move. She's been with the squad since 2014.
15. Chloe Hosking (Ale-Cipollini)

Results: *** 
Marketability: ***
Teamwork: *** 
The Australian sprinter is still basking in her results from 2016; that year Hosking won the Tour of Chongming Island Women's WorldTour event as well as La Course by Le Tour de France. After a 2017 season without a major win, Hosking rides into 2018 looking to grab sprint victories. She's off to a good start, with one stage win at the Tour Down Under.
14. Lisa Brennauer (Wiggle-High5)

Results: ***
Marketability: ***
Teamwork: ***
Lifetime results boost Bennauer's value on this list. The German is a five-time stage winner at her home country's Thüringen Rundfahrt and a victor of the Boels Rental Ladies Tour and Aviva Women's Tour. She is a constant threat at the time trial: 2014 world champion, bronze medalist in 2015, and member of three world team time trial championship squads.
13. Ellen van Dijk (Sunweb)

Results: **** 
Marketability: ** 
Teamwork: **** 
Van Dijk excels in tough one-day races, classics, and stage races, and is one of the world's best time trialists. She has been a member of three world champion team time trial squads. She won the individual TT world title in 2013. Her most notable performances are wins in the Tour of Flanders and three GC wins at the Healthy Aging Tour. To top it off, she is a devoted teammate.
12. Megan Guarnier (Boels-Dolmans)

Results: ***
Marketability: **
Teamwork: ****
Guarnier's 2017 campaign was a bit quieter than expected, but riding for Boels-Dolmans can sometimes mean watching your teammates win races you might have won yourself. In any case, she has enjoyed plenty of international recognition as one of the top riders of the past few seasons, winning the inaugural Women's WorldTour and multiple U.S. national titles.
11. Lotta Lepisto (Cervelo-Bigla)

Results: ***
Marketability: ***
Teamwork: ***
Lepistö rode to the biggest win of her career at Gent-Wevelgem in 2017 and followed it up with another WorldTour victory at the Crescent Vargada one-day race. She has been a constant contender for years with a well-balanced skill set that makes her a threat all season long.
10. Jolien D'hoore (Mitchelton-Scott)

Results: **** 
Marketability: *** 
Teamwork: *** 
With a big engine and a fast finish, d'Hoore is the best women's rider in the cycling heartland that is Belgium. She boasts a broad array of talents that also sees her contend in track races. Mitchelton-Scott should up the win count considerably in 2018 with D'Hoore on board.
9. Katarzyna Niewiadoma (Canyon-SRAM)

Results: ****
Marketability: ***
Teamwork: ***
A relatively recent addition to the top echelon of the peloton, Niewiadoma enjoyed a breakthrough 2017. Her biggest win was the overall title at the OVO Energy Women's Tour, which has quickly become one of the most popular events in women's cycling. And her transfer to the larger Canyon-SRAM squad for 2018 confirmed her value.
8. Elisa Longo-Borghini (Wiggle-High5)

Results: ****
Marketability: ****
Teamwork: ***
Longo-Borghini is still only 26, but she has been a fixture in the Women's WorldTour for years. She's particularly dangerous on home roads in Italy, where she currently reigns as the national road and time trial champion. The clear top dog in a country crazy for cycling, Longo-Borghini is a valuable asset for Wiggle-High5.
7. Chantal Blaak (Boels-Dolmans)

Results: ****
Marketability: ****
Teamwork: ****
Blaak spent years as a reliable top-10 contender in the spring classics and started her Boels-Dolmans career as a strong second option behind some of the team's bigger names. Since 2016, however, she has established herself as a one-day threat. Now, as world champ, she's earned a season in the rainbow jersey, marking it the third straight year a Boels rider has won a world road title.
6. Coryn Rivera (Sunweb)

Results: ****
Marketability: *****
Teamwork: ***
Rivera rose to prominence as one of the fastest finishers on the U.S. domestic circuit and emerged as one of the top riders on the WorldTour in 2017. She became the first American, male or female, to win Flanders. Paired with her victories at Trofeo Alfredo Binda and the RideLondon Classique, she can legitimately claim to be America's best racer at the moment.
5. Pauline Ferrand-Prévot (Canyon-SRAM)

Results: **** 
Marketability: ***** 
Teamwork: **** 
Fifth? Really? Yes, definitely. Ferrand-Prévot has all the talent in the world. No one, male or female, has ever simultaneously held the world titles on the road, mountain, and 'cross bike, except her. Okay, so her results fell off a cliff soon after. If her recent performances in cyclocross are any indication (she recently won the French national title), her old form is on the return. Watch out. To go with the preternatural talent, she has personality. Her Instagram account has 195,000 followers. That's the same as Tom Boonen and more than Greg Van Avermaet. If there's any indication that she is worthy of investment, look no further than her helmet. It is adorned with the iconic colors of Red Bull, one of the world's most visible and lucrative personal sponsors.
4. Lizzie Deignan (Boels-Dolmans)

Results: ****
Marketability: *****
Teamwork: *****
A former world champion, Deignan is another rider whose individual value suffers because she calls super-squad Boels-Dolmans home. Her 2017 season wasn't a resounding success unless you place a high value on teamwork and sacrifice. We do, and the fact that Deignan used her strength and power in the service of Anna van der Breggen across the Ardennes classics speaks volumes. If Deignan doesn't play the role of the good teammate, perhaps van der Breggen doesn't complete a historic first sweep at Amstel Gold Race, Flèche, and Liège. Our mystery voters had mixed reviews of Deignan. She placed as high as fourth and as low as 15th. On average, however, she was solidly in the top 10. Interestingly, Deignan's Twitter following bests even Marianne Vos, and by a margin in the tens of thousands.
3. Marianne Vos (Waowdeals)

Results: *****
Marketability: *****
Teamwork: *****
Some may argue Marianne Vos deserves to top this list. (In fact, one of our guest pundits did just that.) Her career palmarès are beyond compare: three world road titles (and six silver medals), three Giro titles and 19 stage wins, four La Flèche titles, among other wins on the road, not to mention seven (!) world cyclocross titles and two Olympic gold medals. Yet that's all in the past. Vos has struggled to rediscover her form after suffering from overtraining several seasons ago. The sheer domination she once had over the sport looks to be gone forever. Still, she can win — the quality of her victories just isn't the same. Vos still commands the sport's attention. What other rider can snap his or her fingers and create a new team? Okay, perhaps Peter Sagan. But only Vos actually did it, when longtime sponsor Rabobank decided to step away from cycling in 2016. Her WM3 Energie team becomes WaowDeals Pro Cycling for 2018, but one thing remains the same: Vos is the undisputed star.
2. Anna van der Breggen (Boels-Dolmans)

Results: *****
Marketability: *****
Teamwork: *****
If van der Breggen weren't on the world's most powerful women's team, she would likely sit atop our list. Her 2017 season was impeccable. In fact, her career as a whole has been stellar: She's been nearly automatic at La Flèche Wallonne Féminine since 2015, and she seems tailor-made for the Ardennes classics where she swept in 2017. On a squad full of stars, she may be the brightest of them all. Her Olympic gold medal from Rio gives her crossover power to attract fans and sponsors outside of cycling. So, put her on another team and her value becomes even greater. However, it is a bit of a catch-22. If she doesn't ride for Boels-Dolmans, does she win nearly as much? While one of our mystery judges had van der Breggen atop her list, most agreed with us that she belonged in the second spot. In terms of raw numbers, Van Vleuten has the edge when it comes to social media following, with a significant advantage on Twitter.
1. Annemiek van Vleuten (Mitchelton-Scott)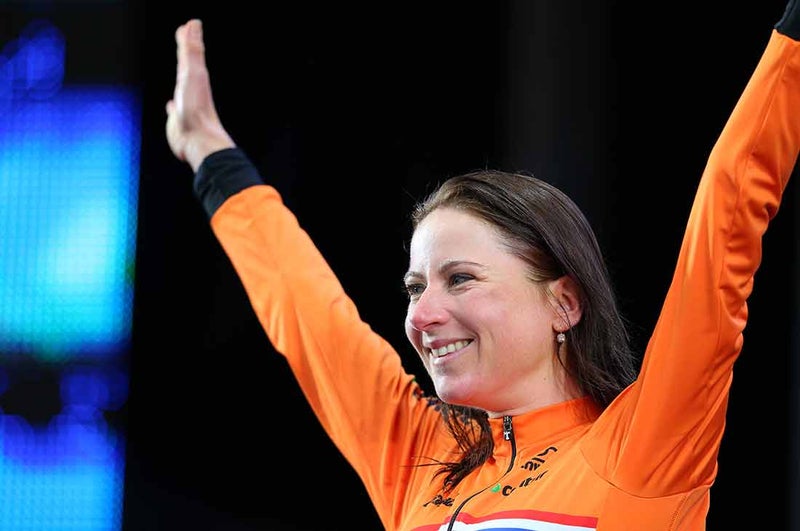 Results: *****
Marketability: *****
Teamwork: *****
The Netherlands is the undisputed superpower in women's cycling, having produced current world road champion Chantal Blaak, reigning Olympic champion Anna van der Breggen, La Course victor Annemiek Van Vleuten, and the great Marianne Vos. The Dutch glut seemed to stymie our mystery voters, who struggled to come to a consensus on which rider brings the most value. Most of the votes were split between van der Breggen and Van Vleuten. Van der Breggen's recent results hold more clout — we named her our 2017 VeloNews female cyclist of the year. The season after claiming the Olympic title, van der Breggen dominated the women's WorldTour, taking the series title after sweeping the Ardennes Classics and winning the Giro Rosa and Tour of California. Yet, in terms of pure value, van der Breggen is diminished by the depth of her Boels-Dolmans team. Remove her and the Dutch squad would still grab victories with several other stars. The same cannot be said for Van Vleuten's Mitchelton-Scott team. Van Vleuten is the team's sole superstar — yes, the arrival of Jolien d'Hoore helps — and her mere presence gives Mitchelton- Scott a chance to win almost any race. Thus, the edge goes to Van Vleuten in this ranking of the "Most Valuable Rider." Van Vleuten's terrifying crash in the 2016 Olympic road race begot one of the most powerful stories of resilience in pro cycling. Just a month after breaking her jaw, she won the Lotto Belgium Tour overall. A year later she won the rainbow stripes. Van Vleuten's performance at the 2017 La Course was a triumph for female cyclists across the globe. Her Strava time up the hulking Col d'Izoard was so fast that only two men — French riders Romain Bardet and Warren Barguil — would ride faster during the Tour's stage 19. At 35 years old, Van Vleuten doesn't fit the typical mold of a newly minted superstar, but the Dutchwoman has proven her talent time and again over the last year and a half. That's pure value.