Lance Armstrong retires: Was the comeback worth it?
During that press conference, as my hand was in the air, LeMond whispered in my ear, "Come on, Neal, ask the real questions." It was without question the single most surreal moment in my professional career ...
Heading out the door? Read this article on the new Outside+ app available now on iOS devices for members! Download the app.
"I'm surprised, honestly. The guy spoke with a lot of conviction when he said, 'That's it, I've done everything I wanted to do — I'm out.' And why wouldn't he? Quit while you're ahead. Seven Tours in a row is never going to be matched, at least not in our lifetime. It seems like a lose-lose situation."
– U.S. racing veteran Scott Moninger, in September 2008, reacting to news of Lance Armstrong' return to pro racing.
Thanks to a reliable inside source and a few chance hotel lobby encounters at the Tour of Missouri, in September 2008 VeloNews was the first to report that Armstrong would be returning to professional racing, forcing Vanity Fair to release, online, what was to be a cover story weeks ahead of schedule.
We didn't have all the details spot-on — Armstrong didn't race the 2009 Paris-Nice or Dauphiné Libéré — but needless to say it was a big day for VeloNews, and a bigger day for American cycling.
Reaction to news of Armstrong's comeback was mixed. As they had during his racing heyday, most active riders were careful not to say anything that might upset the man once known as "Le Boss." Christian Vande Velde told me it would "bring everyone's game up." Former rival Jan Ullrich said Armstrong "will not be returning to take second place." Alberto Contador said it would "revolutionize the sport of cycling."
However others saw it otherwise. Longtime Armstrong critics Dick Pound, David Walsh and Pierre Bordry lamented his return. Five-time Tour champ Bernard Hinault told Le Parisien, "I hope he will not be (at the Tour). He cannot win. I hope Contador gives him a beating," and in a newspaper editorial, former Tour director Jean-Marie Leblanc wrote, "The hounds will be let loose, column inches will be written, images repeated and debate sparked about the one word which has petrified our passion over the past ten years — doping."
For the cycling industry in general, Armstrong's return was widely hailed as a win-win situation — the Second Coming. The "Lance Effect" trickled down from Armstrong's longtime sponsors, such as Trek, Nike and Oakley, to peripheral brands, bike shops and the cycling press, including VeloNews; we all benefitted from the renewed interest and attention on the sport.
(It's important to remember that Armstrong's September 2008 comeback announcement coincided with the lowest depth of the greatest financial meltdown since the Great Depression; his decision to return no doubt lifted the industry.)
Early turbulence
A few weeks after VeloNews broke the comeback story, Armstrong spoke about it publicly, first in New York City, at the Clinton Global Initiative, and again in Las Vegas, at a press conference at the Interbike trade show. What followed was one of the most unforgettable moments in my career in cycling journalism.
Flanked by a fresh new entourage — promising young American talent Taylor Phinney, and Don Catlin, founder of the UCLA Olympic Analytical Laboratory and a highly regarded authority on performance-enhancing drug tests — Armstrong announced an under-23 team for Phinney — Trek-Livestrong — and a special testing program Catlin would oversee. He would race, he said, for Astana, for free, without a salary. Above all else, Armstrong said he was returning to race to bring attention to his cancer foundation. The message he set out to convey was clearly one of hope, renewal and transparency.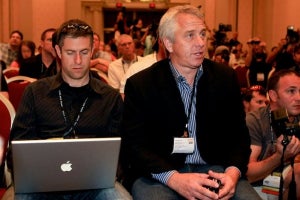 By chance I sat next to Greg LeMond during the Interbike press conference. The three-time Tour winner and known Armstrong antagonist opened the questioning by immediately casting doubt on Catlin's planned testing methods, claiming that VO2 max, oxygen intake and power output can, and should, be used as indicators of whether a rider has used performance-enhancing substances.
After Catlin waffled a bit Armstrong quickly interjected, saying, "Greg, I understand you'd like to make a show. You've done your job. We are here to talk about a few things — the global cancer campaign, and my comeback to cycling. I appreciate your being here, but it's time for us, and everybody in this room, to move on."
Armstrong's message was clear; the past was just that — the past. If only it were that easy.
During that press conference, as my hand was in the air, LeMond whispered in my ear, "Come on, Neal, ask the real questions." It was without question the single most surreal moment in my professional career. Instead of following LeMond's line of questioning I asked Armstrong the question I'd really wondered about the comeback — "If you were in Alberto Contador's position, how would you feel about the news of a seven-time Tour winner returning, and on your team?"
His answer was, as always with Armstrong, articulate and intriguing — and likely thinly veiled. "I would tell Alberto that I am not sure after four years off the bike, and being four years older, that I can be as competitive as I was before. It isn't about that, and I've maintained I think he is the best bike rider in the world right now. I don't know how events will unfold, but I certainly hope he stays with the team. He is a great rider and a good guy. I think we have to enter into it with perspective."
Armstrong's tone changed, however, by the time the 2009 Tour rolled around, when he was clear in his ambition, saying, "Of course I want to win an eighth Tour de France. But the most important issue is getting cancer on the global public health agenda."
Another unforgettable press conference moment came at the 2009 Amgen Tour of California — Armstrong's big return to American racing — when  Sunday Times reporter Paul Kimmage confronted Armstrong about his welcoming attitude towards Ivan Basso and Floyd Landis, two riders returning to the peloton after serving suspensions, asking "What is it about these dopers you seem to admire so much?"
The exchange that followed was nothing short of amazing — and another sign that Armstrong's comeback was not being unanimously welcomed.
Armstrong tore into Kimmage, referring to a September 2008 radio interview where Kimmage had called Armstrong "the cancer of the sport," saying, "the great cancer martyr…this is what he hides behind all the time, the great man who conquered cancer. Well he is the cancer in this sport. And for two years this sport has been in remission. And now the cancer's back."
After identifying Kimmage to the rest of the media, Armstrong went on the offensive, again citing his foundation's cause. "I'm here to fight this disease," Armstrong said. "You are not worth the chair that you're sitting on with a statement like that, with a disease that touches everybody around the world."
Following a bumpy takeoff, the feel-good comeback tour had, seemingly, come to a screeching halt. It was a fascinating moment, particularly given that, to me, the unwritten message of Armstrong's comeback had always seemed that he wanted to right some wrongs from his former career, to mend fences — evidenced by instances such as his apology to Carlos Sastre at the 2009 Tour for comments he'd made about the Spaniard's 2008 Tour win, and his somewhat bizarre reconciliation (at least on air) with former teammate Frankie Andreu at the 2009 Tour.
As he told Vanity Fair, proving that he could win clean was part of what had driven him to return. "There's this perception in cycling that this generation is now the cleanest generation we've had in decades, if not forever. And the generation that I raced with was the dirty generation. And, granted, I'll be totally honest with you, the year that I won the Tour, many of the guys that got second through 10th, a lot of them are gone. Out. Caught. Positive tests. Suspended. Whatever. And so I can understand why people look at that and go, 'Well, (they) were caught—and you weren't?' So there is a nice element here where I can come with really a completely comprehensive program and there will be no way to cheat."
However my favorite quote about Armstrong's reasons for coming back wasn't revealed until summer of 2010, in Bill Strickland's book, "Tour de Lance." During the 2009 season, Strickland asked a member of Armstrong's inner circle why the Texan had decided to return. The answer was enlightening: "Lance is a killer. He missed killing." It was a stark, honest answer from someone who knew what truly drives one of the sporting worlds' most-well known celebrities.
Now, 29 months later, I have to wonder if Armstrong questions his decision to return. And if he does, it wouldn't be the only aspect of his comeback that did not go according to plan. I think it's fair to say that no one, inside or outside of Armstrong's circle, could have predicted — or perhaps even have believed — what has transpired since he returned.
Free falling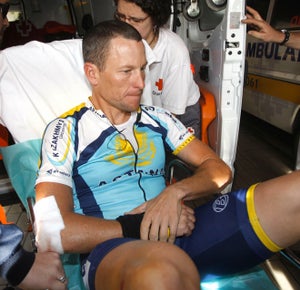 The 2009 season saw respectable finishes at the Amgen Tour of California and Giro d'Italia;  shower-gate; the broken collarbone at  Castilla y León; the internal battle for Astana leadership with Contador at the Tour; a third-place finish in Paris at nearly 38 years old; the announcement of a three-year sponsorship deal with RadioShack; a record-setting win at the Leadville Trail 100 mountain bike race; and the December 2009 announcement that French officials had discovered used medical equipment belonging to the Astana Tour team that showed the presence of seven distinct genetic profiles.
(Related: Armstrong Comeback timeline and results)
The 2010 season brought a remarkable performance at the Tour of Flanders followed by Armstrong's infamous day of disaster at the Amgen Tour of California, which saw him crash out of the race just an hour after defending himself against Floyd Landis's doping allegations. Those allegations led to a rollercoaster season: word that FDA agent Jeff Novitzky was investigating claims of fraud and trafficking in illegal performance-enhancing drugs at U.S. Postal; third overall at the Tour of Luxembourg and second overall at the Tour of Suisse; fourth in the Tour de France prologue only hours after another damaging story, full of fresh Landis allegations, ran in the Wall Street Journal; punctures and crashes ending any hope of another Tour podium; and the August announcement of the Quiznos Pro Challenge.
So far 2011 has delivered a Sports Illustrated story, in January, accusing Armstrong of using HemAssist, an unapproved blood-boosting drug; the release of an interview transcript, between Kimmage and Landis, that revealed more damaging accusations; and, finally, Wednesday's announcement that Armstrong is officially retired.
"I can't say I have any regrets," Armstrong told The Associated Press. "It's been an excellent ride."
However the air of hope Armstrong sought to convey at the 2008 Interbike press conference has turned to one of suspicion and disappointment. The relationships with Catlin and Phinney he flouted at that press conference have since ended; the program with Catlin was called off in early 2009, and Phinney jumped ship from Livestrong to BMC Racing last summer just as Novitzky's investigation gained steam.
Earlier this year reports broke that Armstrong had in fact been paid a salary at Astana; a spokesman explained that Armstrong had donated his salary to his foundation. Armstrong always stated that the comeback was about raising awareness (and benefitting the Lance Armstrong Foundation), however he also told the New York Times that appearance fees he'd received at races such as the Santos Tour Down Under and Giro d'Italia, reported to be in excess of $1 million, were not donated to the foundation but rather treated as income — not exactly the message he'd laid down in 2008.
"It's not simply showing up to a bike race and getting paid to race the bike," he said. "I'm not being paid to race. Is there a fee for other things? Yes, but that's not any different than what I've done the last three or four years."
What is clear is that had Armstrong not returned, he would not be facing the federal investigation that plagued his comeback and will follow him into retirement. Armstrong's presence at the 2010 Amgen Tour of California was the proverbial last straw for Landis, the former U.S. Postal Service teammate who desperately wanted to enter the race but could not — and could not stomach what he saw as an ultimate injustice. After a failed attempt at blackmailing California race organizers AEG, by threatening to drop a proverbial bomb at their race, Landis claims he finally came clean with what he'd done and what he'd seen. Those allegations prompted Novitzky to shift the focus of his investigation into doping in cycling, from Rock Racing team owner Michael Ball to Armstrong and his U.S. Postal team.
Armstrong and team manager Johan Bruyneel were quick to attack Landis's credibility. And while it may be true that Landis is both bitter and discredited, with nothing left to lose, that doesn't mean what he has revealed is not true. He clearly convinced a federal agent: almost a year after his bombshell hit the Tour of California, several former Armstrong associates, including Kevin Livingston, George Hincapie, Tyler Hamilton, Allen Lim, Stephanie McIlvain, Mike Anderson and Frankie and Betsy Andreu are believed to have testified in front of a federal grand jury or have been interviewed by investigators.
Looking back on his 2008 reaction to Armstrong's comeback, retired U.S. veteran Scott Moninger, who ended a 17-year pro career in 2007 at the age of 40, said the potential for the comeback to end poorly was always there.
"I'm not taking sides, but if Lance had stayed retired, we wouldn't be talking about this federal investigation," Moninger said. "And from a sporting standpoint, you can't mess with perfection. He won seven in a row, and never even hit the deck once. You can't mess with perfection. And then it seemed like all that good luck and karma just ran out. You saw how many times he hit the deck last year, plus all this stuff with Floyd, and Novitzky — everything. I think this just shows it's nearly impossible to pick up where you left off."
A rough landing
It's unlikely that the timing of Armstrong's retirement announcement was a coincidence, coming just one day after the Spanish cycling federation's questionable exoneration of former nemesis Contador. Just as he announced the RadioShack sponsorship deal only minutes after Contador sealed his 2009 Tour win by winning the final time trial in Annecy, Armstrong's retirement announcement appears to be just one more example of the fiery Texan one-upping his competition — something he wasn't able to do on the bike as he'd hoped during Comeback 2.0.
How history will record the next chapters of Armstrong's career promises to be just as captivating, and as complex, as the past two years. His once seemingly assured governorship of Texas seems permanently in doubt; what's left of his sporting career is also in question. (Will he finish in the top-10 at the Ironman world championship in Kona in October, or will he spend his summer testifying before a federal grand jury?)
What's sure is that Armstrong's legacy has been damaged since he stood on the Tour podium in Paris in 2005, concluding his farewell speech by telling the skeptics, "I'm sorry for you. I'm sorry that you can't dream big. I'm sorry you don't believe in miracles. You should believe in these athletes, and you should believe in these people."
The percentage of those cycling fans that believed Armstrong in 2005, and continues to in 2011, has surely lowered considerably.
Those that continue to defend Armstrong point to his work for the cancer community as something so great that it supersedes any violation of anti-doping protocol, or subsequent cover-up.
And while, to many, this might be true, VeloNews is first and foremost a racing magazine and web site, and is not the forum for weighing an athlete's accomplishments against charitable or philanthropic actions off the bike.
On three separate occasions over the decade I've known Armstrong I've asked him to reach out to friends or associates of mine who were stricken by cancer. On all three occasions he agreed. The notes were warmly received; I thanked him for it then, and I applaud him for it again now. In that sense I'm one among a chorus of millions that have uttered the words "Thank you, Lance." However that should not change the context with which his sporting comeback is viewed — not for me, and not for any one looking at it from a purely sporting perspective, no matter how cancer has affected their lives.
At this point, it would be a stretch to call Armstrong's comeback the worst sporting comeback of all time — Michael Jordan, Brett Favre and now Peter Forsberg all hover near the top of that list. But whether or not Armstrong is convicted of violating federal law, or even indicted, it's a safe bet that the former king of professional cycling will look back on his decision to return with regret, wondering if it was worth it, or if he should have quit while he was ahead.