The beautiful duel: Van Aert and van der Poel light up World Cup 'cross
Mathieu van der Poel and Wout van Aert have been fierce foes for much of their young lives. Their rivalry rages on — but for how long?
Heading out the door? Read this article on the new Outside+ app available now on iOS devices for members! Download the app.
Editor's note: This feature was previously published in the October issue of VeloNews magazine.
The most pivotal moment in cyclocross's recent history took place during the 2016 UCI world championships, held on a muddy course around Belgium's Heusden-Zolder auto racetrack. Cyclocross fans know this moment by name: "the tangle."
Two of the sport's rising stars, Mathieu van der Poel and Wout van Aert, jostled relentlessly for much of the race. During the fifth lap, on a tricky uphill off-camber left-hand turn, van der Poel's rear wheel slid out, forcing him to dismount just as van Aert sped up from behind. As van der Poel stepped backward, his foot became hopelessly lodged in van Aert's front wheel.
In a moment that has been replayed thousands of times on YouTube, the two performed an uncomfortable dance to free the Dutchman's foot. Other riders passed as the duo fumbled to untangle body parts from bike parts, for what seemed like an eternity. Eventually, they extricated themselves from their tangle, but valuable time had been lost.
The race was far from over. Van Aert produced a Herculean effort to ride back into contention; he chased down Dutchman Lars van der Haar in the last lap to win his first elite world championship title. Van der Poel made a valiant charge, but fell short of his rival's success, finishing fifth.
After the race, van Aert cheekily complimented van der Poel for the gaffe. "I have to actually thank him, because afterwards I got the extra push to get into a high rhythm."
Translation: "Thanks, my biggest rival, for helping me win worlds."
Although the two had raced head-to-head dozens of times before, that awkward moment galvanized the van Aert and van der Poel rivalry as the storyline to take cyclocross into a new era.
For nearly two decades, cyclocross fans fixated on the sport's biggest celebrity, Belgium's Sven Nys, and his battles against a cadre of rivals. When Nys retired from the sport in 2016, fans looked deeper into the ranks for new stars. They found a collection of young riders with boyish faces, powerful legs, and impeccable skills. Two super-talents, van Aert and van der Poel, rode at the head of this generation. Nys's retirement opened the door for the pair to take cyclocross into a bold new future.
Since then, the two have battled relentlessly on the World Cup, in Belgium's Superprestige series, the DVV Trofee series (formerly the BPost Bank Trophy), and at the world championships. Depending on the week, the course, and the conditions, either man is capable of besting the other.
Yet both riders, with their preternatural talent, feel the tug of road cycling, with its million-dollar contracts and fame. Both van Aert and van der Poel have already won major races on the road, and appear destined to graduate to the professional peloton in the near future.
Could the 2017-'18 season be the last time the two men square off with regularity on a cyclocross course? This season might prove to be the final opportunity for fans to witness cyclocross's beautiful duel.
"Cyclocross needed a new duel, like back in the old days — especially after the retirement of Sven Nys," van der Poel says. "A lot of people said cyclocross would be less popular, but when I see the crowds now that are coming to see the duel between me and Wout, it's really something special."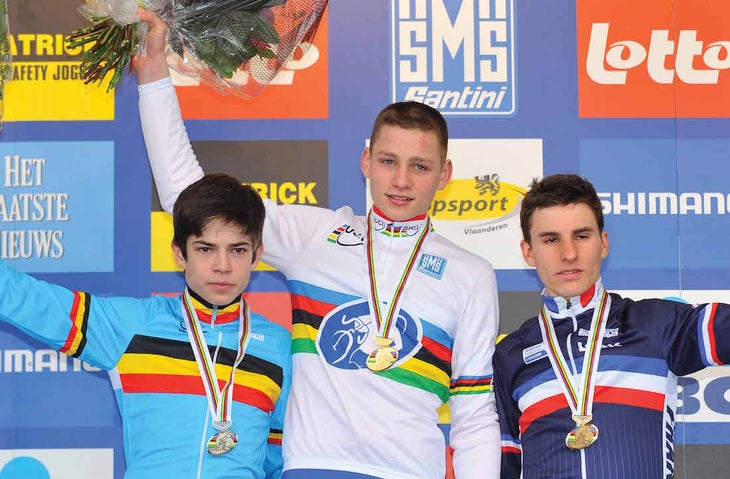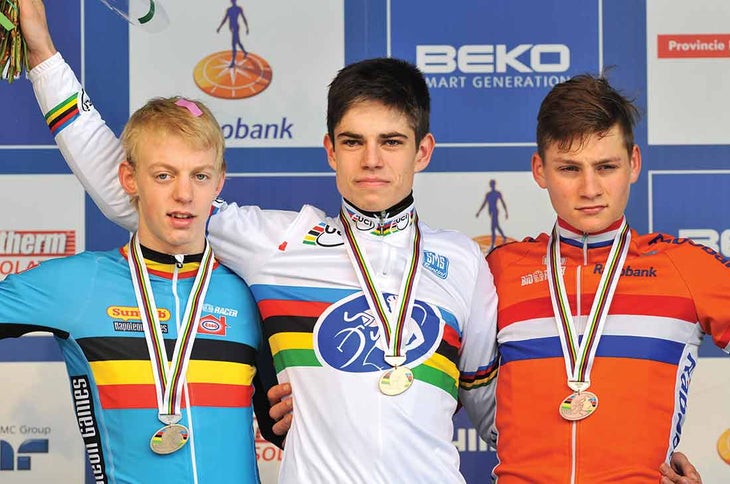 WITHIN THE ARRAY OF cycling disciplines, perhaps none is better suited to producing individual rivalries than cyclocross. Across the mud and sand, drafting rarely overcomes a rider's superior handling skill or raw power. The hour-long races are too short for complex team tactics. A rider with top-notch technical skills can mount a formidable challenge against one with stronger legs.
In cyclocross's epicenter, Belgium and the Netherlands, the fervor surrounding 'cross is akin to America's love affair with major sports, from the NFL to the NBA to the NHL. Rivalries have brought incalculable energy and excitement to those leagues: Larry Bird versus Magic Johnson; Wayne Gretzky versus Mark Messier; Peyton Manning versus Tom Brady. The same is true on European shores; there, however, 'cross is often the biggest game in town.
Roll those famous American sports rivalries into one and you understand the importance of a high-caliber 'cross rivalry —
heaped with hype, showered with praise, and packed with the pressures of stardom. Not to mention the TV attention and money that comes along with dramatic storylines.
The sport's history has been defined by great rivalries. Belgians Eric de Vlaeminck and Albert Van Damme battled for the national and world title in the early 1970s. The 1980s saw Belgian Roland Liboton in a fierce duel with Dutchman Hennie Stamsnijder.
No man better understands cyclocross's need for rivalries than Nys, whose professional career spanned from 1999 to 2016. During that time Nys was pitted against multiple rivals, from Erwin Vervecken and Bart Wellens, to Niels Albert and Zdenek Stybar.
When VeloNews spoke with the retired champion, he was preparing his Telenet-Fidea pro team for the 2017 season.
"In cyclocross, it's always about two riders going about their duel," Nys says. "That's something we've seen the last 20, 25 years."
Among the great rivalries, the battle between van Aert and van der Poel is special because of how different their styles are, both on and off the bike, Nys says. Frequently, the victory is decided by a heroic feat of strength or a risky line choice.
"What I like about this duel is the battle between the two guys, mentally, physically, and especially in the last lap — who is going to do a special move, choose a special line, who is mentally strongest," Nys says. "People [are attracted] to a certain rider that they like — how they talk, how they react after they lose a race, how they react after they win. And those things are completely different between Wout and Mathieu, and that's what makes this duel so special."
It wasn't always that way. As juniors, van der Poel often had the edge on van Aert. The playing field became more level once the men entered their late teens. Then came a string of great victories by the Belgian, including his first of two consecutive elite world championship titles in early 2016. He was just 21 at the time.
During the 2016-'17 season, the duel raged across the entire season. Van Aert started the season strong, with back-to-back World Cup victories in the U.S. — van der Poel sat out the early rounds while recovering from a knee injury. Van der Poel returned with top form, winning the World Cup stops in Valkenburg and Zeven.
In the 26 races when van der Poel and van Aert went head-to-head, the pair finished one-two on no fewer than 18 occasions. In those races, van der Poel got the best of his Belgian rival 14 times. Van der Poel only finished outside of the top two on three occasions. Van Aert only finished outside the top five on one occasion. The duel lasted until the very last race of the season.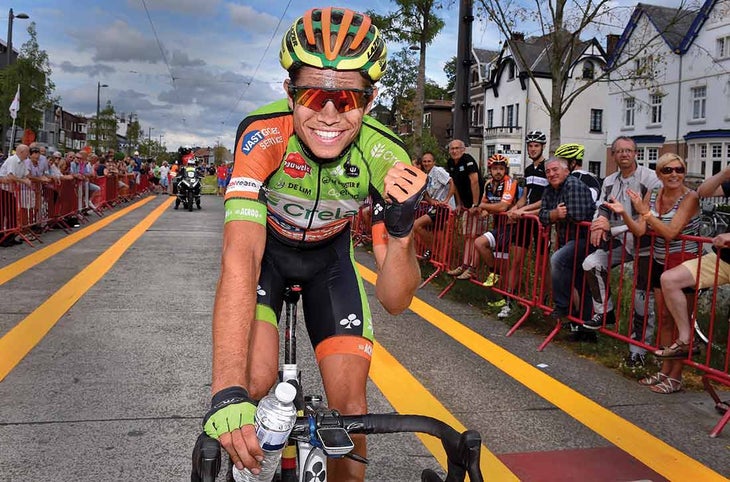 LIKE MANY BELGIAN CHILDREN, van Aert gravitated toward soccer and spent his childhood running around the pitch. He received a mountain bike as a gift for his first communion. When he accompanied a schoolmate to a race in the Netherlands, he finished second and was immediately hooked. By the time he was 13, van Aert turned his full attention to cycling. And he began to win.
After his early success, his peers began to grow faster than him, and winning became more difficult. Van Aert rose among a talented group of kids from Belgium and the Netherlands. The Sweeck brothers, Laurens and Diether, and van der Poel — all of whom are still van Aert's biggest rivals — routinely got the best of him in the junior ranks.
Still, his speed, perseverance, and talent were readily apparent. In 2012, when van Aert was 17, he finished second at the junior world championships. Two years later he won the under-23 world title, beating Michael Vanthourenhout and van der Poel. He was destined for the elite ranks.
His stardom soared after his first elite world championships in Heusden-Zolder, and flew higher still after he successfully defended that title in Bieles, Luxembourg.
"I never thought I would be a double world champ even a few years ago," van Aert says. "It's been like a rollercoaster in the past seasons. My drive is to stay hungry. It's my personality. I always want to be the best, in every competition, so every year I want to win as much as possible."
Now just 23 years old, van Aert's palmarès is already on-par with the sport's all-time greats: two elite world titles; two World Cup titles; three DVV Trophy titles; two elite Belgian national titles; one Superprestige title.
While van Aert required a few years to discover cycling, van der Poel grew up surrounded by the sport. His father, Adri van der Poel, is one of the most decorated professional cyclists to ever come out of the Netherlands. During his 20-year career, he won the Tour of Flanders, Liège-Bastogne-Liège, and Amstel Gold Race, and several other semi-classics. Unlike the sport's modern heroes of the road, Adri was also a star of cyclocross. So while his two Tour de France stage victories earned him mainstream acclaim, his world championship and World Cup overall title in cyclocross made him a national icon.
Mathieu was born in 1995, the same year Adri won his fifth of six Dutch national cyclocross titles. Mathieu had a natural mentor in his father.
Van der Poel never rose through the sport; rather, he just arrived and started winning. He won dozens of races as a teenager. During his 2012-'13 campaign, van der Poel won all 30 races he entered, including the junior national title. In 2015, at 19, van der Poel stepped into the elite ranks and won the world title.
It has been much of the same since then. With masterful, on-the-limit technical skills and the speed and power to back it up, van der Poel made winning look easy. Maybe it's too easy?
"It's never too easy," laughs van der Poel. "Especially with Wout, it makes it very hard. We challenge each other to search our limits. No, it's not boring or easy — never."
In 2017, van der Poel took his impressive engine outside of cyclocross and turned heads with otherworldly results. In May, he outsprinted Tour of Flanders champion Philippe Gilbert from a small bunch to win stage 2 at the Tour of Belgium. He abandoned the race before the next day's time trial to travel to Germany. There, three days later, he took a few practice laps on the mountain bike and rode to second place in the World Cup cross-country race in Albstadt. Who could beat the wunderkind? Only Olympic and world champion Nino Schurter.
For all the praise that is heaped on him for such panache, he responds with reserved enthusiasm, a nonchalance that comes from having been in the spotlight almost his entire life. Besides having a famous father, his grandfather is Raymond Poulidor, known as "The Eternal Second" for having finished the Tour de France in second place three times and in third place five times.
"Pressure is not something I fear," van der Poel says. "Ever since I was a kid, I was the 'son of van der Poel' and the 'grandson of Poulidor,' so the pressure was always there and something that I got used to. It doesn't really affect me."
His prodigious talent had been on display for years before his late-May escapade. However, until that point, he hadn't beaten a multi-time monument winner on the road and nearly bested one of the greatest mountain bikers in history, in the span of four days. Swapping between mountain bike and road is no simple matter. Van der Poel made it look effortless.
"It was a very special week and month for me. I wanted to prove that I could compete with the best guys on the mountain bike as well," he says. While van der Poel's exploits outside of 'cross have received more attention, perhaps for their audaciousness, van Aert is quietly building his road racing palmarès. He hasn't had nearly the success as he's had in 'cross, but he's no slouch either. He has a number of wins in UCI 1.1 category races in Belgium.
Naturally — inevitably — it has raised that simple question: What next? Will they continue to dabble in road and mountain biking to build form for 'cross season? Or will they make the jump à la Zdenek Stybar to a WorldTour team full-time, for a shot on the road?
For now, each continues to search for his limits on his own terms.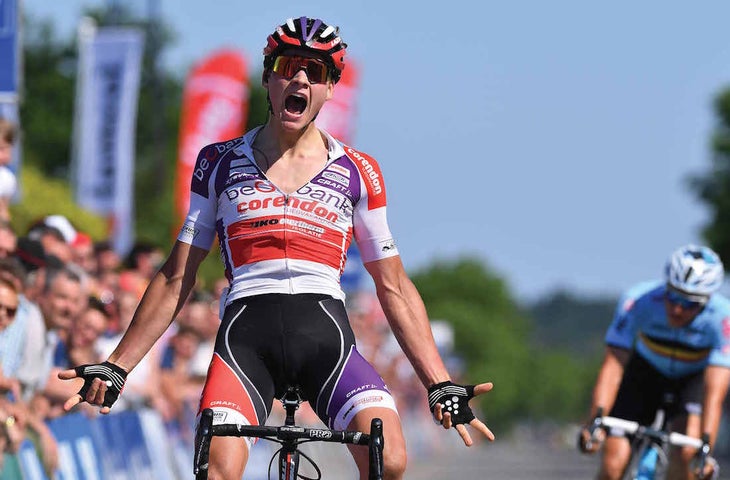 IN RECENT YEARS, CYCLOCROSS has seen some of its biggest talents graduate to the road ranks and never look back. Lars Boom won six Dutch titles and one elite world title before switching to road racing in 2009. Czech rider Stybar won three world titles, six Czech national titles, and the overall series title in the World Cup and Superprestige each once. Then, in 2011 he joined Quick-Step to forge a career on the road.
Van Aert and van der Poel now face a similar decision. Van Aert has spoken with Stybar about what it would take to race both disciplines at a high level, or even if it can be done.
In the past three seasons, van Aert focused on 'cross beyond the world championships, through the end-of-season races in February. He'd then return to road racing by May. "I think the combination [of 'cross and road races] like I did in previous years is always possible," van Aert says.
The plan is different in 2018. For the first time, van Aert will attempt to return for the spring classics on the road, after completing a full 'cross season.
"The combo with the spring classics will be very difficult and maybe it's not possible to do both on a good level," he says. "But that's just what makes it interesting. I see this as a huge challenge. The classics are a learning process. It's not yet about results but about getting experience and getting stronger."
A complete move to the road is not yet his ambition. It's what everybody is expecting, he says, but he still loves cyclocross and plans to continue with it for at least a few more years.
It helps that on his Veranda's Willems-Crelan team, van Aert is given the freedom to balance both ambitions. With its Pro Continental status, it also affords him the opportunity to hit some of the bigger races on the road calendar. The team, run by former Tour of Flanders champion Nick Nuyens, formed in late 2016 as a merger between the Belgian Continental squad Crelan-Vastgoedservice and Veranda's Willems. Former world 'cross champion Niels Albert oversees the 'cross squad.
For now, van Aert is content where he is. He has two more years on his contract and believes he can explore his limits on the small Belgian squad.
Van der Poel says he has not reached out to his predecessors to ask about splitting time between two, or three, disciplines.
"It's a big compliment when someone calls you a 'Sagan' these days, but I'm just doing my own thing," van der Poel says of a compliment Nys paid him recently. "I do think I have a bit of the same spirit as [Sagan] — cycling is about having fun and training very hard. And it's easier if you're having fun to go to your limits on training rides."
Van der Poel's Beobank-Corendon team races at the Continental level, so WorldTour races are not available to him. It's one reason he jumped at the opportunity to race the mountain bike World Cup. Should the road squad stay at the lower level, van der Poel says, he may focus more on mountain biking.
"I'm having fun right now, for the moment," van der Poel says. "To be honest, I think a little bit about the Olympics in 2020, to compete on the mountain bike. It's really something special to go to the Olympics, and maybe mountain bike is my best chance to get a medal."
At some point, van der Poel and van Aert will need to decide which discipline to follow. Nys had the opportunity to race on the road and chose cyclocross instead. He believed he could maintain a high level in cyclocross for more than a decade; he was right. In road racing, Nys saw a sport where success depended on too many factors that were out of his control. He made the right choice, for him.
"I not only had a great career, but I also helped my sport to be bigger," Nys says. "For me, that's what made it so special. But for every rider it's different. Every rider builds his own career."
PERHAPS NO RACE BETTER showcased the dramatic excitement of the duel between van Aert and van der Poel than the World Cup round in Namur, Belgium, in December 2016. Neck and neck, shoulder to shoulder, the pair churned through thick mud, flicking globs of sludge into the air as they relentlessly attacked one another. It all came down to the final lap. Across a tattered, off-camber embankment strewn with ruts, van der Poel went low, while van Aert stayed high, kicking at the saturated soil to propel himself forward. Riding the ragged edge, the Dutchman passed van Aert using his outstretched leg to balance, skating between trenches.
Another minute up the course, a steep climb forced both men to dismount and run. Van der Poel's four-second lead vanished as van Aert powered on foot up the greasy slope. Moments later, they reached another punchy climb, and van der Poel attacked from the front. It was vicious and unrelenting. He was gone.
[pullquote attrib="Wout van Aert"]"In this duel, the key word is respect. If you look at what each of us has accomplished so far, you can only have respect for one another."[/pullquote]
"Wout's strength is that he's really strong and he never gives up," van der Poel says. "It's very hard to have someone like him chasing you. You know you're going to have to go full-out to the finish line to win."
Van Aert also benefits from his ability to power through heavy mud. By contrast, van der Poel has greater technical skill, and his explosive power allows him to dance through loose and fast sections.
While van Aert might be able to power away through a section of slop, there may be one technical descent where van der Poel, with his bravado, can take huge risks and come back to him. That, says Nys, is what people enjoy.
"They are really young but what they show to the people is amazing, and special," Nys says. "It's important for our sport that they're so young, because sponsors, TV, the press already have an interest for the next few years. That's because of Wout and Mathieu, for sure."
While van der Poel pushes van Aert to train harder and work more diligently on his weaknesses, the same is true in the opposite direction. Without each other, neither rider would be so damned good.
The two are complete athletes, says Nys. They are always trying to be the best, while always trying to improve. In Belgium, there is a saying: "It's not something you see every 10 years." Now, there are two athletes at that extraordinary level.
"In this duel, the key word is respect," van Aert says. "If you look at what each of us has accomplished so far, you can only have respect for one another."
[pullquote attrib="Sven Nys"]"They are both really special athletes; it all comes down to the details now."[/pullquote]
Each rider has a distinct style. Van der Poel is more playful — jumping, doing tricks on all types of bikes, having fun. Van Aert is the consummate road racer — meticulous in his preparation, serious in his approach. Now that van der Poel has matured to adulthood, Nys believes he has the edge.
He also believes that because van Aert is the two-time world champion, there is more pressure on him to defend. Van der Poel can use that to his advantage, as an inspiration.
"They are both really special athletes; it all comes down to the details now," Nys says. "When they come to the final lap together, Mathieu, for the moment, has something more. He has something special, especially mentally — more explosiveness which can help him win more big races."
At such a young age, van Aert and van der Poel face immense pressure, given their place at the top of the sport and, at least in part, as a replacement for Nys, who was seen by many in Belgium as a cyclocross god. Having been a part of numerous great rivalries, Nys knows the feeling of having to perform weekend after weekend, on and off the bike.
"It's not easy," Nys says. "Sometimes you're banging your head against the wall. The pressure is on every moment you are racing. Maybe you win on Saturday, you lose on Sunday, and the pressure is there again. Sometimes that's harder than the physical parts of a season."
In cyclocross, fans cheer or jeer, inches away from the action. The media attention is unrelenting. Crowds gather for their idols at team vans, seeking autographs, jostling to take photos. On and off the bike, there's no letting up. By season's end, a rider will be completely empty, mentally and physically. According to Nys, the crucible of pressure and the ability to deal with it are what make a top cyclocross rider so special: every moment you must be prepared to handle the stress.
Thus far, van Aert and van der Poel have met that pressure with one amazing performance after another. And so their beautiful duel rages on.
"Their level is incredibly high. Cyclocross has always lived by duels," Nys says. "Van der Poel and van Aert both have their own qualities, and I think there are still many beautiful duels to come."