The ever-dramatic Thomas Voeckler and his eight best pain faces
On Wednesday night, Thomas Voeckler, the gregarious, 38-year-old Frenchman announced his intention to retire after the 2017 Tour de France.
Heading out the door? Read this article on the new Outside+ app available now on iOS devices for members! Download the app.
If all goes to plan, next year's ride up the cobbles of the Champs-Elysées will be Thomas Voeckler's last. On Wednesday night the gregarious, 38-year-old Frenchman announced his intention to retire after the 2017 Tour de France.
It's a sad moment for cycling. Voeckler's displays of desperate derring-do will not be easily replaced, nor replicated. Who else is willing to play exclusively within the sport's twin end-zones — off the front, or hanging out at the back with France TV2 cameras — and never in between? Who else can ride à bloc and lick his own nose at the same time?
Only Voeckler.
We fondly recall the Frenchman's daring battles in the yellow jersey in 2004 and 2011, and his trip to the Tour podium in 2012 with the polka dot jersey. We'll miss his underdog heroics. But, like French housewives everywhere, we'll mostly miss his face. Or his many faces, to be precise. Let's take a look at his career through some of the best.
1.) The tongue
Famous for its dexterity and its voracious appetite for breakaways, Voeckler's tongue is said to have the strength of three men and the gustation of a sommelier. It's been a staple of his facial repertoire since he turned pro in 2001, and even before then, when he was racing as a junior and espoir in his native Alsace region.
Some say it tries to escape his mouth when his body is under duress, but eagle-eyed viewers will note that, in some of Voeckler's most pained moments, it does something else entirely.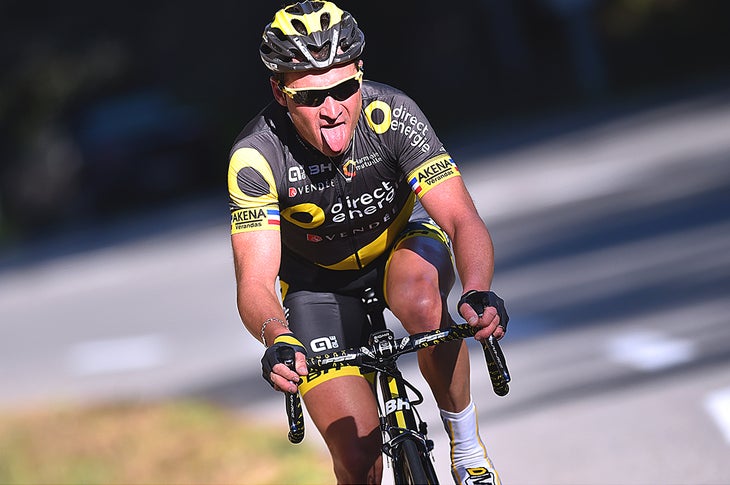 2.) The hunger
See? Sometimes when the going gets rough, the tongue is nowhere to be seen. In this shot from Harelbeke in 2008, Voeckler instead chose to eat the bottom half of his face, likely as a method of distracting himself from pain elsewhere.
Voeckler took a few runs at the cobbled spring classics, but found more success in the hillier Ardennes races a few weeks later, capped by a win at Brabantse Pijl in 2012.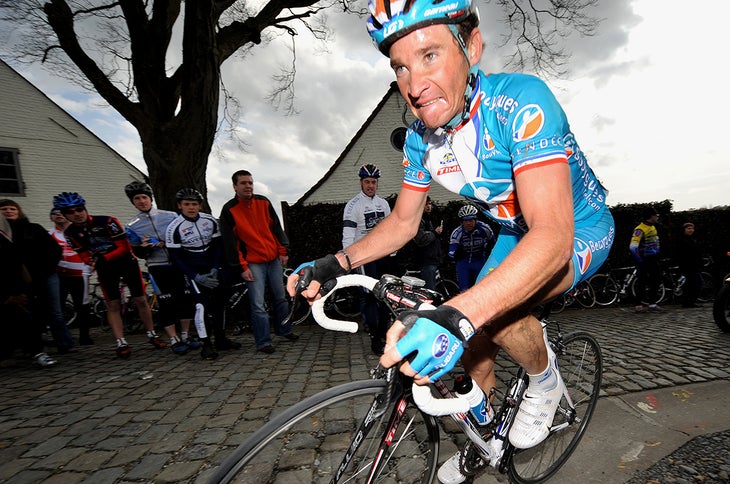 3.) The anger
It appears the weather has slighted Voeckler in some way, and that he's yelling at it. One has to appreciate the raw emotion, which has always been part of Voeckler's allure.
He may look angry, but Voeckler is also loyal. Through all his faces, he's stayed with to a single team, led under various the banners of French sponsors by Jean-René Bernaudeau, from Bonjour straight through to Direct Energie.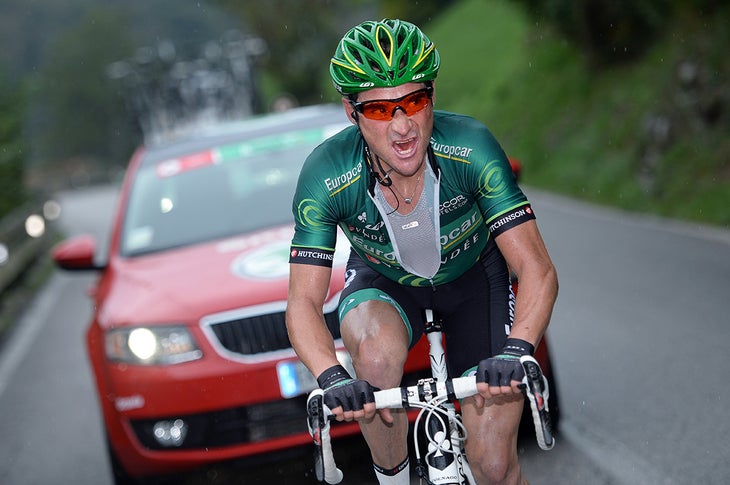 4.) The relief
Voeckler's run in yellow in 2011 was just the ride the French public, and cycling fans everywhere, needed. It cemented his place in hearts of French fans, and sent a few foreign hearts aflutter, too.
It all began on stage 9, when Voeckler jumped into a breakaway on the road to Saint-Flour. His group survived to the line and he took a narrow, four-minute lead over the race's overall favorites. Everyone assumed he'd lose the jersey three days later on the steep climb to Luz-Ardiden. But he didn't. In fact, he out-climbed some of the world's best that day, making faces all the way to the line. Surely he'd lose it on the climb to Plateau du Beille? Nope. What about the big stage to Gap? Nope. It wasn't until stage 19 that Voeckler stepped out of yellow. The photo below is from the Galibier, stage 18, where Voeckler kept his lead over Andy Schleck by a scant 15 seconds. It might have been the ride of his life.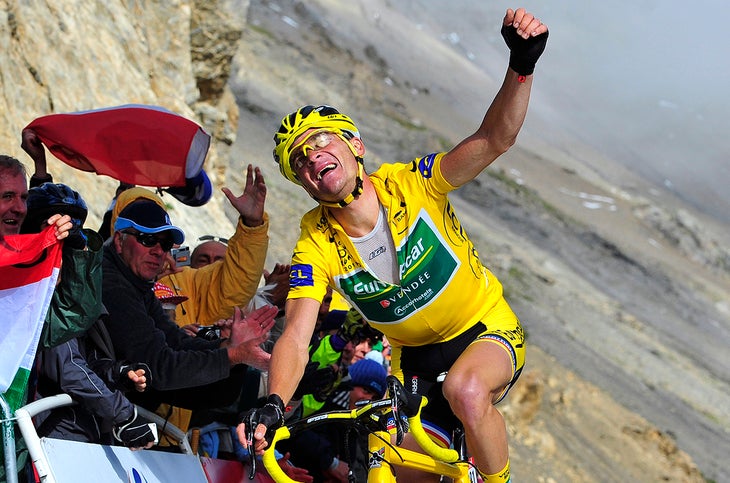 5.) The kisses
France loves Voeckler, and Voeckler loves France. This shot from the 2013 Tour de France route presentation makes that clear.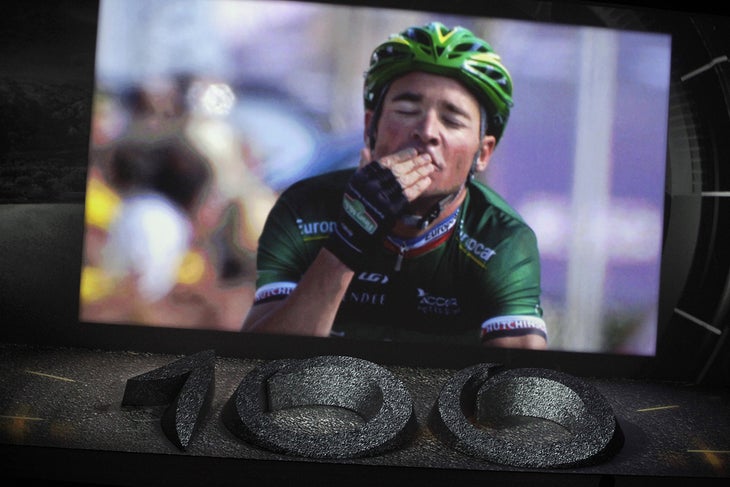 6.) The jet engine
Voeckler's mouth serves as an intake, gulping in the air his body then converts into breakaways. There is believed to be an exhaust valve somewhere behind his ears.
The yellow jersey run in 2011 wasn't the only time he turned a breakaway into Tour success. In 2004, he pulled a similar maneuver on stage 5, escaping with five riders and gaining over 12 minutes on the peloton. He held onto yellow, and held off Lance Armstrong, until stage 15.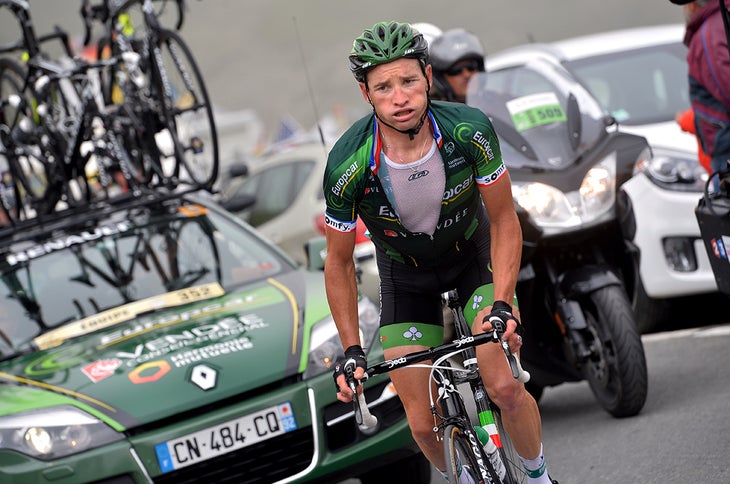 7.) The regret and chest hair
Pangs of regret feel a lot like the pain of bike racing. In this photo, from the 2012 Tour de France, Voeckler appears to be regretting becoming a bike racer, thus bringing the analogy full circle.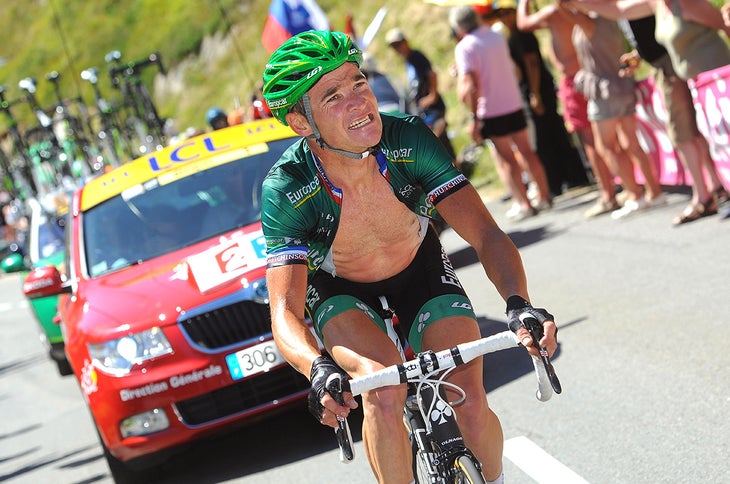 8.) The victory
Finally, we leave you with Voeckler's victory face. Allez, Thomas. May your final season be an expressive one.