The Explainer: Crowded streets can lead to dangerous sidewalks
Q. Dear Explainer, You got some 'splainin' to do: "Study Finds Higher Number of Pedestrians Hurt by Bikes." – Charles Jacobs A. Dear Charles, I read that one, too. I am not sure that I have a lot of 'splainin to do on that…
Heading out the door? Read this article on the new Outside+ app available now on iOS devices for members! Download the app.
Q. Dear Explainer,
You got some 'splainin' to do: "Study Finds Higher Number of Pedestrians Hurt by Bikes."
– Charles Jacobs
A. Dear Charles,
I read that one, too. I am not sure that I have a lot of 'splainin to do on that one, but I do have some thoughts on the subject.
To my rather unscientific mind, it seems to be the almost-inevitable outcome of traffic "plans" that make no allowances for bicycles. In most urban environments in the U.S., cyclists are given but two choices: 1) Risk life and limb by jumping into streets crowded by automobile traffic or 2) Become the one posing a risk to others by riding on sidewalks, which honestly should be the exclusive realm of pedestrians.


To me, bike/auto accidents and bike/pedestrian accidents are both symptomatic of a lack of insight on the part of generally myopic — and often underfunded — traffic planners. Urban streets around the world are becoming meaner, largely because we see more and more people relying on cars to get from point A to point B … even when that trip involves relatively short distances.
The problem is exacerbated when those who would normally feel comfortable riding a bike find themselves worrying about their own safety and opt to get in a car. Ensconced in a motorized steel cage, that potential cyclist now adds to the crowding on streets instead of reducing it. That further adds to traffic and, in turn, may cause a slightly braver cyclist to reconsider his choice, which in turn adds to crowding and … as the Germans say, und so weiter, und so weiter.
The image above has been making the rounds on the Internet lately. It elegantly compares the amount of space occupied by a group of 60 people when they opt for various forms of transportation. I am not entirely certain as to whom this visual study is to be credited, but its simple approach is a terrific way to underscore the problem. In reference to the aforementioned study, all I can say is that a lot more riders are choosing to hit the sidewalk, largely because the streets are a jungle out there. The result, quite predictably, is that pedestrians will suffer, too. It doesn't necessarily need to be that way.
In order to limit risks for cyclists and pedestrians, urban environments must provide reasonable — and generally segregated — options for foot, pedal-powered and motorized traffic. It's not rocket science … but, as we'll see later, it's also not without its share of controversy.
Let's first look at the ideal model.
Look to Copenhagen
While a large number of racing fans have valid gripes when it comes to the UCI, one thing I applaud is the governing body's efforts to promote cycling as a real option for commuters. Toward that end, the UCI honored Copenhagen by granting its first-ever "Bike City" designation to the Danish capital. It was a worthy choice.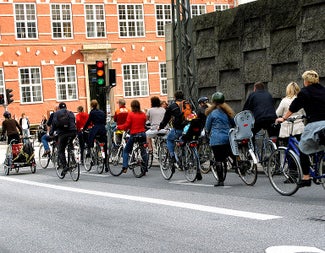 Recent studies have shown that 36 percent of all commuters in that city of 1.12 million travel by bike on a daily basis. That's the annual average, with declines in the winter months being offset by a rise in the number on warmer days. There is a hearty core of about 25 percent that still chooses to ride when the weather is at its worst, though.
City officials in Copenhagen have established the goal of increasing the percentage of cyclist commuters to 50 percent by 2015. Not bad, eh? Toward that end, traffic planning in Copenhagen must incorporate the needs of all commuters, but with an emphasis on making things easier for those who travel by bike.
Even under the status quo, cycling in Copenhagen is a real convenience and, to those of us who only occasionally visit the city, a real joy. There are clear and distinct portions of the road dedicated solely to the use of bicycles. They are separate from sidewalks; they are separate from automobile traffic. That separation from automobiles often includes a physical barrier making it difficult — if not impossible — for cars to stray on to bike paths. Yup, it's more than a simple white line with the silhouette of a bike painted every few hundred feet.
Even where the demarcation is simply a painted white line, one thing you won't find in Copenhagen is a phenomenon common to American "bike lanes," which generally encompass the space in which you can expect to be doored by the drivers exiting the cars that are allowed to park there. In Copenhagen, a bike lane is a bike lane. Period. As in many cities in nearby Holland, traffic signals often include separate stop lights for cyclists and those lanes get priority over automobile traffic.
With the goal of making the bike the vehicle of choice by even more commuters, the officials launched a "greenways" initiative in 2006 that will provide even more bike lanes and distinct bike paths that will offer faster and more direct routes to points throughout the city. That project has already added a number of new routes and there will be more added by 2016.
Those policies, coupled with others that actually discourage the use of private automobiles, have made Copenhagen one of — if not the — best cities on earth to be a cyclist.
It's not all bad in the US of A
All of this is not to say that we have not been making progress on this side of the Atlantic.
Bicycle commuting in the U.S. is significantly easier than it was even 10 years ago. Cities around the country are making great strides in planning for, funding and building options for those who opt to commute by bicycle.
According to the U.S. Census Bureau's annual American Community Survey, the number of urban Americans who choose to use a bicycle as their primary mode of transportation to work and school has grown by nearly 40 percent since 2000. That number is even better — upwards of 75 percent growth — in cities that are considered to be "Bike Friendly."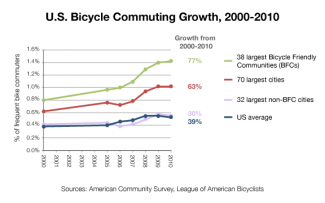 That's huge, right? Darn right, but we still have a long way to go. While the growth figure is significant, a closer look reveals that we have merely grown our way to the point at which a full one-half-of-one-percent of Americans use bicycles for a majority of their trips to work and school. Yup. That's 0.5 percent, versus Copenhagen's current figure of 36 percent. Overall, though, some studies show that when you include those who use alternative modes for at least some of their travel, bicycle and pedestrian traffic can account for as many as 12 percent of all trips in our communities. That figure, too, has grown significantly.
Sure, it's still not at Copenhagen numbers, but we can take some solace in the fact that we are on an upward growth curve. If my theory that more traffic causes more riders to abandon bikes holds true, then the opposite – that more bike traffic encourages more cyclists to ride — should be equally true. We can hope that further planning, funding and construction of bike routes will further reduce traffic and encourage even more to ride.
Follow the money
A significant portion of the funding used to develop those alternatives comes from federal highway monies. That's the portion of the Federal budget directly funded by fuel taxes — the 18.4 cents added to the price of a gallon of gasoline and 24.4 cents added to the price of a gallon of diesel sold here in the United States.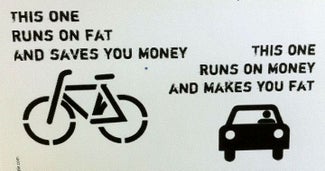 That money goes to the Highway Trust Fund, most of which is used for the construction and maintenance of roads, highways and bridges used by trucks and automobiles. Some of the money goes to the development of mass transit programs, including buses and urban transportation programs like Denver's Light Rail and the Bay Area's BART system. Some money is used for purposes of LUST. No, it's not what you think. We're talking Leaking Underground Storage Tanks here. It's a fund established to address the environmental problems caused by storing those same fuels in old  underground steel storage tanks at gas stations across the country.
A small but significant portion goes to fund things like bike paths, trails, lanes and routes and encourages traffic planners across the country to incorporate alternatives in their future projects. That portion represents about 1.5 percent of all federal transportation funding. As I said, the investment is relatively small, but we have seen some growth. In 1992, federal funding for bike-related transportation programs amounted to about $20 million. In 1996 that figure had grown to $200 million and it peaked at $1.4 billion in 2009.
Given the current fiscal crisis, that number has dropped since the 2009 peak. In 2010, the federal government spent about $1 billion on those projects and this year, the figure is down to $791 million.
We can credit much of that funding to the work of organizations like the League of American Bicyclists and the industry-supported group, Bikes Belong, which has invested heavily in a lobbying effort, led by a D.C. lobbyist Mike Tongour. He's an experienced, feisty former congressional staffer whose tenure encompassed those years when members of Congress from both sides of the aisle actually cooperated in drafting legislation. For purposes of full disclosure, Tongour and I both worked on Senator Alan Simpson's staff in the early 1990s and I have a lot of respect for the guy. I was really pleased a few years ago when Bikes Belong director Tim Blumenthal said the group was hiring Tongour's firm to do the heavy lifting for them in D.C.
Tongour and Bikes Belong have a receptive audience in a group known as the Congressional Bike Caucus, a bipartisan coalition of bike-geek senators and representatives formed 15 years ago by Oregon Rep. Earl Blumenauer.
Of course, not all 535 members of Congress are part of that terrific two-wheeled caucus and bike funding isn't always seen as an "investment" by all members of that august body. Case in point: Oklahoma Sen. Tom Coburn placed a hold on an unrelated transportation bill — the reauthorization of the Federal Aviation Administration — based largely on his opposition to the use of highway funds for bike and other non-motorized projects.
Well, fortunately, hell hath no fury like bike geeks scorned. Supporters of alternative transportation funding generated about 50,000 emails and several thousand phone calls to other members of Congress within about 48 hours. Coburn negotiated a deal with the Majority Leader's office to release the bill on the condition that the funding under the Transportation Enhancements, Safe Routes to School, and Recreational Trails program be reviewed at a later date.
As I said in my last column, I am reluctant to turn "The Explainer" into a regular exploration of doping issues. I am also unwilling to turn this thing into a political rant, but in this case, I will happily make an exception. Folks, if you have an interest in safer streets or sidewalks, let your senators and representatives know that funding for bicycle and pedestrian routes actually makes economic sense.
– Charles
Boobs, bikes, books and wine?
Q. Dear Explainer,
I am happy to see that you're back and contributing to VeloNews even if you're not a member of the full-time staff anymore.
I read about your cancer and saw your head-shave photo in an earlier column. Can I ask what your prognosis is and, if you don't mind, what kind of cancer you have?
– Amber
A. Dear Amber,
Thank you for the nice comments. I appreciate the opportunity to keep writing The Explainer and, as I've said before, enjoy the chance to continue to work with the many friends that still work at VeloNews. It's a good crew.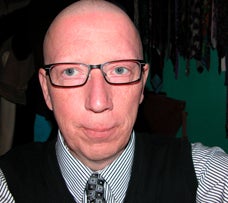 Now, as for my cancer. Yeah, I've kind of avoided detail and you might see why, but given that it's October, I guess it's time to be a little more open about it. I read yesterday that the Cal Giant cyclocross team is doing its part to support Breast Cancer Awareness Month, wearing special pink skinsuits and doing more than their fair share of fundraising. Hats off to the women on Cal Giant and their work to raise awareness.
So here's my part: About 1 percent of all breast cancer cases occur in men … and I'm one of the lucky few. Yup. Here I thought being a sensitive new-age kinda guy simply involved a degree of empathy for the plight of women and the problems they face. Nope, I guess I had to get freakin' breast cancer to prove it. No way am I going to be wearing a pink skinsuit, though. Looking on the bright side, given that most cancer treatment begins with the removal of the offending body part, I guess I am relieved that I didn't get a more "manly" cancer.
I am among the lucky ones. I had an aggressive (a T3, for those well-versed in cancer-speak) tumor, but I found it early (Stage II), so my prognosis is good. PET scans show that I have no other cancers and surgery and chemotherapy look like they have gotten rid of the problem in my case. While chemo sucks (big time), it wraps up in January and I think things look pretty good from there on.
I attribute my good prognosis to the fact that my favorite uncle died of metastasized breast cancer that had spread to his lungs. Because of the late Philip Pelkey, I was aware of the problem and risks faced by men. Add to that the facts that I ride bikes, carry a lot of books on my commute and drink a bit of wine now and then, I lucked out.
Bikes, books and wine? Let me explain. I was riding home from the office one night, with a full courier bag of law books and briefs. I stopped for a bottle of wine and when I dropped it into the bag, the strap hit my chest in just the right way to make me feel an odd and unexpected pain.
I went home, found a lump and, within a week was getting the first of three surgeries. And no, surgery is not the method I would recommend to get rid of your middle-age man boobs. Nor do I suggest chemo as an appropriate weight-loss program. Although, in my case, I've managed to do both, using these rather extreme methods.
So, given that it's Breast Cancer Awareness Month, I'll take this opportunity to remind you that we men need to be aware, too. Don't ignore that possibility and don't ignore unexplained lumps on your bumps … ladies and gentlemen.
– Charles