The Shack asphyxiates the opposition on Mount Baldy
Newcomers Busche and King play major role in the Horner-Leipheimer show
Heading out the door? Read this article on the new Outside+ app available now on iOS devices for members! Download the app.
Newcomers Busche and King play major role in the Horner-Leipheimer show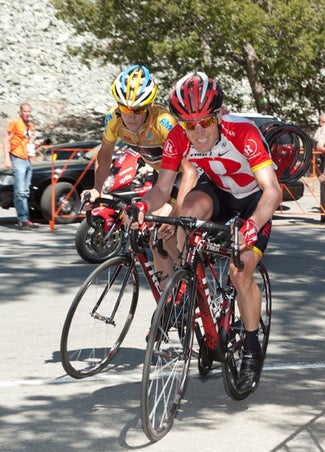 MOUNT BALDY, Calif. (VN) — After signing in for Saturday's stage 7 of this tremendously tough Amgen Tour of California in the leafy streets of Claremont, Team RadioShack's Levi Leipheimer said he was very much looking forward to the day's concluding climb to the ski slopes of Mount Baldy. He'd been looking forward to it for a long time.
"I came here last year before they even announced it would be on the route," Leipheimer told VeloNews. The three-time race champion had hoped he'd be leading the race by this point, but that expectation changed when teammate Chris Horner, his greyhound on the Sierra Road summit finish on Wednesday, rode away solo just after the pair caught breakaway Ryder Hesjedal of Garmin-Cervélo.
So would Leipheimer be the one breaking the wind for Horner, instead of the other way around, on the vicious Mount Baldy finish? "We'll just follow the others today," Leipheimer said. "It's not up to us to be aggressive. But obviously I'll have to stay with Chris in case he has any trouble."
Some three and a half hours later, at an elevation of 6,444 feet, Leipheimer was just as relaxed and barely out of breath after winning the stage after he and Horner held their hands aloft in victory — just like La Vie Claire teammates Bernard Hinault and Greg LeMond did atop L'Alpe d'Huez after crushing the opposition at the 1986 Tour de France.
"That was our dream scenario to go 1-2 today," Leipheimer said after he and Horner finished 43 seconds ahead of third-place Laurens Ten Dam of Rabobank … while the favored Andy Schleck of Leopard-Trek crossed in ninth place, 1:39 back.
"Andy's team worked a lot and of course that helped us," Leipheimer added. "Unfortunately the Rabobank rider (Ten Dam) was still there. I asked Andy, 'Are you OK?' And he said, 'No, do your own race.'"
Leipheimer and Horner finished the job for The Shack, with Horner ending the stage with his 38-second lead on Leipheimer intact, while the GC gap to third-place Tom Danielson of Garmin stretched to 2:45. But this was a complete team effort. "We've got a great team," the race leader said. "Everybody was unbelievable today."
First in line to receive praise from his leaders was Matt Busche, the 26-year-old second-year pro from Wisconsin, who drilled the head of the pack all the way from the bottom of Baldy until 2.5km from the line. "This is his coming-out party. He deserves a lot of credit," Leipheimer said.
Busche crossed in 16th place, almost three minutes back. But it was his impressive climbing that counted. "It was really fun," he told VeloNews. "I was enjoying the pain, I guess. I wanted to pull off a lot of times, but you know you've got a job to do.
"This is another really good experience for me. To know I can go deep like that, and there won't be a lot of guys left, so the team can deliver."
Was he surprised that even Schleck, the two-time Tour de France runner-up, fell off his pace? "Sometimes, somebody has an off day and somebody has an on day," he said with respect. "He's obviously not in his best condition, but it's pretty sweet to know that you can put one of the world's best riders in the hurt."
While Busche was piling on the pressure, he said that his leaders were giving him encouragement from behind. "They were saying, 'Good job, keep going … only five guys left … four guys left … two guys left.' And then toward the end of my pull it was, 'Get that last guy.'" (That was the last of the day's eight-man breakaway, Alexander Efimkin of Team Type 1.) "So I gave it one last go … and then Levi went with Chris."
His impressive performance Saturday, combined with his acceleration that set up Horner's attack on Sierra Road, confirms that Busche is indeed one of America's best hopes to take over from the Horners and Leipheimers when they finally decide to hang up their cleats.
"I think I've always had a pretty good climbing engine," Busche said. "A lot of (my improvement) is the experience to save energy till the moments when you need it. And a lot of times over in Europe (this past year) I'm starting the climbs in the wrong position and I waste a lot of energy. I'm not going to say I'm worse last year; I'm just better this year."
At 5-feet-8 and 155 pounds, according to his team's official guide, Busche doesn't have the build of a classic climber, but he clearly has the power that also makes him a better than average time trialist. "I'm a touch lighter this year, but I'd still like to lose a little weight," he added. "That's a sick cyclist's mentality. But I'm new to it; I'm still learning all the things on and off the bike. And this is just another one in the books for me."
Also worthy of praise was Busche's 22-year-old rookie teammate Ben King, who again unselfishly pulled his colleagues at the front for much of this grueling climbing stage, just as he has been doing all week on the flats. "People were asking if I was gonna go in a long breakaway this week," he said, "but riding like I did has all the same sensations."
King and Busche, along with fellow American Jason McCartney, Spaniards Markel Irizar and Haimar Zubeldia, and Kazakh Dmitriy Muravyev, have one more stage to ride at the front to take Horner to the final victory on Sunday; but it won't be all on their shoulders in the 132.4km stage from Santa Clarita to Thousand Oaks. After a day in the mountains, the sprinters' teams will be hungry for victory.