The Trek-Livestrong time trial machine
The U23 squad fields favorites for Utah TT, signs Craddock, Eastman, Jones for next season
Heading out the door? Read this article on the new Outside+ app available now on iOS devices for members! Download the app.
Three National Racing Calendar time trial wins is impressive for any domestic team in the U.S. Throw in a European U23 time trial championship and the prologue and TT at the Olympia's Tour, and you have a dominant group against the clock – and each of them is under 23 years old.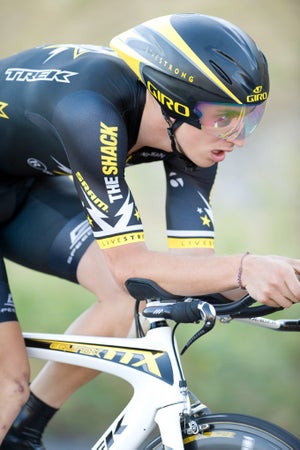 Trek-Livestrong director Axel Merckx has built a time trial powerhouse with his RadioShack development program this year. Is he surprised by the team's results?
"More than surprised, I'm really proud of this team and how far we came in three years," said Merckx on the eve of the TT at the Larry H. Miller Tour of Utah. "But surprised? Yeah, I wasn't expecting us to be that solid and winning as much on the NRC circuit. It's been really successful and hopefully we can continue here to the end of Utah and next year also."
Team members Taylor Phinney and Alex Dowsett went 1-2 in the prologue at the State Capitol Tuesday night. Phinney is a two-time world pursuit champion at the elite level with a world junior time trial title to his credit as well; Dowsett is the reigning Euro and Great Britain champ and wore the leader's jersey after stage one this week. Both are favorites headed into the stage.
The 9.2-mile circuit suits Phinney particularly well. The 20-year-old is a tall, powerful rider who excels on exposed, fast tracks like the Miller Motorsports Park. The Boulder, Colorado, native rode grupetto to Mt. Nebo Thursday and should enter the stage somewhat fresh.
Dowsett took the overall lead into stage 2 and rode Thursday to maintain his GC placing. The Briton is suited better to TT tracks that include varying terrain. His Euro win came on a rolling course in Turkey and he won the final stage of the Cascade Classic by riding away from the peloton on a rolling descent two miles from the finish.
Dowsett said after the Utah prologue that the team's results this year against the clock have to be expected. "With Taylor being pursuit world champion, Jesse being pursuit second world champion and my background in time trialing, I think it's not a surprise how fast we are on the time trials. I don't know. Maybe it's something to do with Boulder. It's where we've been living all year."
When Merckx put his roster together for 2010, he built the squad around Phinney's run at the U23 classics in the spring – and the time trial results followed. "I'm trying to get a bit of everything," he said. "I'm trying to get a good solid team with fast guys, strong guys, time trialists, climbers. The focus obviously this year was around Taylor for the classics."
Phinney won his second consecutive Paris-Roubaix Espoirs in May. Two weeks later he won the Olympia's Prologue and the team put five riders in the top 10. Dowsett said that Sergent's Tour of the Gila win in April got the squad rolling. "I mean, the TT's just been real consistent and even abroad, like at Olympia's Tour, Taylor, Jesse and myself were first, second and fourth and everyone else was top 15," he said. "It just seems to work really well."
According to the team's world champion leader, the program builds successful athletes through a holistic dedication to quality. "I don't know man. We have the best bikes, the best skinsuits, the best equipment, just everything at our disposal," he said. "The only thing we have to work on is our legs. We have great energy in the team and success breeds success. We started out well at Gila and everything sort of dominoed from there."
For Phinney, it comes down to the simple pleasure of handing out hurt to riders that are sometimes almost twice his age. "It's cool to come out here and kind of stick it to the old guys."
Opening it up in 2011
For 2011, Merckx has widened his net. Phinney will join the Radioshack ProTour team, while Sergent and Dowsett are set to move to the top division as well. "Now the focus is a little bit more wide open since Taylor is leaving us," said Merckx. "I'm not really focusing on one thing in particular, I'm focusing on talent and my gut feeling tells me where the talent is and what the talent is and also the networks, the people that are offering me riders, the riders that are emailing me results, it's a constant research to find new talent."
That new talent will in part come in the form of new recruits Lawson Craddock, Ryan Eastman and Carter Jones. Jones won a stage of the Vuelta Tarragona in June and finished fifth in the GC at the Redlands Classic. Craddock swept Men's 17-18 nationals in June and shared a team time trial win with Eastman at the Regio Tour this month.
"I'm really looking forward," said Merckx, who is not finished recruiting for 2011. "We had a good team this year and it always worries me a little bit, looking at next year, you lose some pretty big talent, but then looking at those guys coming up, I'm really looking forward to helping develop them even more."
Twelve months from now, Merckx may be back in Utah with a new crew of young world-beaters. If the three talented all-rounders he's picked up so far are any indication, it may be a road stage and not the time trial where his team is favored.