Tour of Utah, already 'America's toughest stage race,' opens Tuesday with its best field yet
SALT LAKE CITY (VN) — Over the years the Larry H. Miller Tour of Utah has developed a well-earned reputation for difficulty and even proclaims itself "America's Toughest Stage Race."
Heading out the door? Read this article on the new Outside+ app available now on iOS devices for members! Download the app.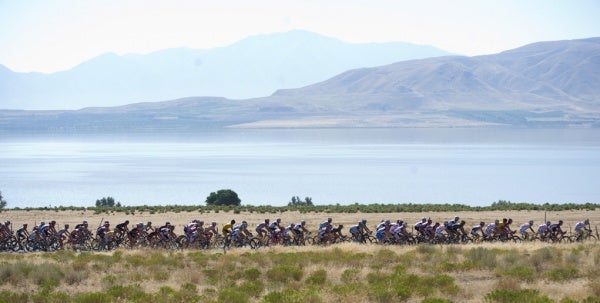 SALT LAKE CITY (VN) — Over the years the Larry H. Miller Tour of Utah has developed a well-earned reputation for difficulty and even proclaims itself "America's Toughest Stage Race."
Well, after a rapid rise on the domestic scene and a quick leap to UCI status, the 6-day, 409-mile journey with more than 30,000 vertical feet up the Wasatch Mountains, the 2011 Tour of Utah is even tougher.
"This makes it that much more difficult," defending champ Levi Leipheimer said Monday at the Tour of Utah's pre-race press conference. "It was already a hard race, but now, with ProTour teams, this is going to be intense."
Leipheimer, who graduated from high school just a few blocks away from the race headquarters and still frequents the state for altitude training, won the 2010 version of the race without the benefit of racing with a team. Wearing the Mellow Johnny's kit and racing solo, the RadioShack rider had little trouble dominating what was then considered the best field the race had ever seen. Now, even with a slew of RadioShack riders to help him on many of the same roads, Leipheimer knows he's lining up for a much different race.
"It's apples and oranges," he said. "Last year, my strategy was simple. I just wanted to follow the main guys and everybody knew that. This year, it's a totally different race. There will be a lot of teams that want to win it and it's going to be on."
Leipheimer is certainly not the only contender for the Tour of Utah title. Former GC winners Jeff Louder (BMC) and Francisco Mancebo (RealCyclist.com) have each set theirs eyes on returning to the top step of the podium.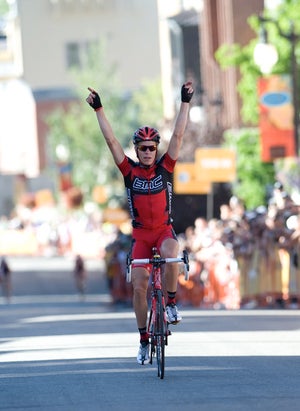 "This is my Tour de France," Louder, a Salt Lake City native and resident, said. "For me, this is something I've been thinking about since the (last) stage ended last year."
Louder will have Tour de France veterans George Hincapie and Brent Bookwalter riding with him as BMC seeks to establish itself right away as the team to beat. But that won't be easy with RadioShack, Garmin-Cervelo, Liquigas and HTC-Highroad also on hand.
HTC-Highroad, in particular, will be a team to keep an eye on as riders suddenly find themselves not only wanting to close the season with strong finishes, but audition for 2012 contracts now that the team has announced it is folding at the end of the season. Danny Pate and Tejay Van Garderen will certainly be riders to watch for.
Garmin-Cervelo brings GC challengers Ryder Hesjidal, Peter Stetina, Tom Danielson and Christian Vande Velde, as well as Utah native and crowd favorite Dave Zabriskie.
Ted King and Timmy Duggan are the highlighted Americans on the Italian Liquigas-Cannondale team.
But, as in years past, the star of the race is the terrain.
Starting with a nasty 1.3 mile prologue up a road that parallels the Olympic bobsled course in Park City, the 120-rider field will be introduced to the rugged climbs that have made the Tour of Utah a favorite in the domestic peloton over the past six years.
"That's going to set the tone right there," Louder said. "You're going to see some separation right away that you normally don't get in a prologue."
Clearly, the race is built with climbers in mind and that idea is pounded home with stage 1's 113-mile loop course with 8,250 feet of vertical gain. Though not the longest in the Tour of Utah, the climb up North Ogden Pass in stage 1 will create all sorts of pain — especially on the third ascent. Stage 1 has a flat sprinter's finish, but after three loops of the Ogden Valley that include a trip up the pass each time, the field will have already experienced some thinning out on the 10-percent grades.
There will be King of the Mountain points available on each ascent as well as sprint and time bonuses on each pass of the start/finish line. So don't expect the action to let up at any point.
Stage 2 is the reward for the sprinters. After the challenge on stage 1, the flat loop around Utah Lake to Provo will be a welcome reward for those non-climbers who suffered on Wednesday. Sprint points and time bonuses will be on the line throughout the 99.2 mile course that has a relatively scant 2,820 feet of climbing.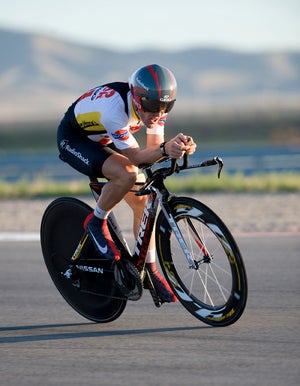 The Tour of Utah's trademark time trial, at the Miller Motorsports Park, follows on Thursday and is a 9.7-mile burner around a glassy-smooth racing track that features high-banked corners. Specialists like Zabriskie and Tom Zirbel will aim for stage wins on the track, while climbers who also know how to crank out the steady watts like Leipheimer and Bookwalter will look for an opportunity to create separation from their closest competitors.
This year, the Tour of Utah ditched the brutal crit course in downtown Park City for a circuit loop through the heart of Salt Lake City. With a nasty little climb up Capitol Hill to end each of 11 laps, there will be numerous lungs burning in an effort to keep up. Again, sprint points and time bonuses will be up for grabs, but likely grabbed by the fastest climbers.
As if the 21,000 feet of climbing in five days wasn't enough, the Tour of Utah's iconic queen stage is back in all its glory. Starting in Park City and ending 100 miles later at the Snowbird Resort, the final day in Utah is anything but a formality.
The riders, after 50-plus miles of rolling terrain, face three nasty climbs beginning with the picturesque Alpine Loop. A second climb, to a hill top housing development overlooking the valleys below, is merely a prelude to the final challenge.
Similar in distance and pitch to l'Alpe d'Huez, Salt Lake's Little Cottonwood Canyon is a straight shot up a canyon lined by jagged granite walls.
Even the best riders have to be in their top form to avoid blowing up on the climb.
"It's a pretty deceptive climb," New Zealeand's Glen Chadwick, riding for the Pure Black Racing team, said. "I've made the mistake of going too early and paying the price."
Mancebo, who won the race two years ago while riding for Rock Racing, has been thinking about Snowbird all season.
"For me this is the most important race of the year," said Mancebo, who has dominated NRC stage races this season with RealCyclist.com. "We are very excited about it."
And with a fresh new spot on the UCI calendar and a convenient scheduling partnership with the USA Pro Cycling Challenge in Colorado two weeks later, it's clear there are numerous other cyclists who have had Utah high on their agendas for a while.