U.S. Cycling This Week: Ina, Alexi and Ben in Merced
Ina Yoko-Teutenberg turned pro with Red Bull Frankfurt in 2000, 16 years after Alexi Grewal won his stunning gold medal in the Olympic road race in Los Angeles and left the amateur ranks. Both are in Merced, California, this week for the Merco Cycling Classic.
Heading out the door? Read this article on the new Outside+ app available now on iOS devices for members! Download the app.
Ina Yoko-Teutenberg turned pro with Red Bull Frankfurt in 2000, 16 years after Alexi Grewal won his stunning gold medal in the Olympic road race in Los Angeles and left the amateur ranks. Both are in Merced, California, this week for the Merco Cycling Classic.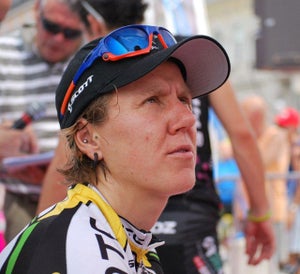 The newly expanded four-day stage race featured an opening stage with more than 5,000 feet of climbing on Thursday, as well as a time trial and criterium, and the closing 120-mile Almond Blossom Road Race.
Teutenberg (HTC-Highroad) is the most prolific sprinter in women's racing today. She arrived in Merced from San Luis Obispo, California, where she spent the winter and has trained since returning from the Tour of New Zealand earlier this week. HTC won all but one stage of the tour, including Teutenberg's stage 3 bunch-sprint victory.
A year ago, the German swept the Merco road race and criterium en route to dominating the San Dimas Stage Race and Redlands Classic. She would go on to top her four stage wins at the Tour de l'Aude with five wins at the Giro Donne in July.
Merced is the only opportunity for fans to see the sprint ace in the States until the Liberty Classic in Philadelphia in June. She'll close up shop in California in a week and head to Europe for the classics and World Cups.
Also on display in Merced are Teutenberg's young teammates Amanda Miller and Ally Stacher. Both were on the squad that delivered Judith Arndt to the win in New Zealand and Miller won a criterium — solo — that closed a week of racing on the north island. Teutenberg said on Tuesday that the trio would go to Merced to put in hard efforts and ride aggressively — watch for creative, unbridled moves from the HTC women in a no-pressure environment.
Miller won the first stage and wears the leader's jersey for the stage 2 time trial. If she retains the jersey on Friday, don't count on HTC changing its plan to ride proactively. At this point in the season, the team will likely forfeit a win for better form.
Grewal Week #2
Around the time that Teutenberg was closing out her 2010 season, Alexi Grewal was beginning to think seriously about a comeback. The 50-year-old retired from professional road racing in 1993, but decided to try a long-shot comeback largely in order to prove to his son that the impossible isn't so.
Grewal had what looked from afar like a rough debut at the Callville Bay Classic in Las Vegas last weekend. After losing 9:39 in the stage 2 road race, he went on to finish 33rd, 14:16 behind Team Exergy's Carlos Alzate.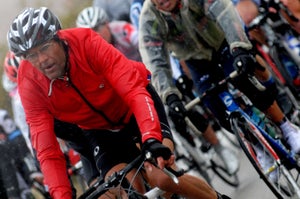 The backstory, however, was that Grewal was relegated to the back of the peloton for a yellow-line violation just as the race split in the second stage. When the selection happened he was on the heel of the peloton, without a shot at making the group. Opening his days with two-hour training rides before the racing started, it's not a certainty that Grewal would have made the group, but he did get what he wanted out of Las Vegas — training.
His first race in almost 20 years came less than a week after Grewal's first crash in about as many. The former Coors Classic stage winner went down hard in the gutter on a Fort Collins, Colorado, area group ride on Saturday February 19. He remounted uninjured, but a number of riders who saw the crash said it was big.
Another week on and with four days of racing in his legs, Grewal should be going better at Merco, but he lost 24 minutes Thursday. After riding 25 miles to his hotel from the stage finish Thursday night, Grewal wrote on his blog that he missed a split on the first lap when his gears were sliding and he never recovered. Looking forward to the TT, he wrote:
"I won't lose a minute a mile. But it won't surprise me if the best guys are fifteen seconds a mile or more faster than I am. And I am pretty happy not to have a TT bike yet. Because at least this way I have a very watered down excuse."
Thomson's first race at Bissell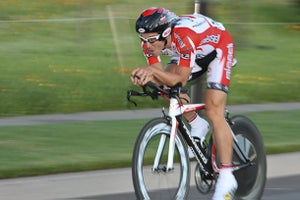 One rider turning on the gas in the TT will be Ben Jacques-Maynes (Bissell), who won his first Merco road race on his ninth try in 2010. Jacques-Maynes said Wednesday that he expected a "free for all," but that the GC should come down to the stage 2 time trial. He came into the race leading eight riders, including Paul Mach and overnight leader Rob Britton, who are fresh off Bissell's training camp. New hire Jay Thomson is the one to watch, however, as the South African has the top end of a couple of tours in his legs already in 2011 and should have speed late in Sunday's 120-miler.
Among the other names in Merced are Kelly Benefit Strategies-OptumHealth's Julian Kyer, Alex Candelario and Mike Friedman; Jamis-Sutter Home's Nick Frey; and Freddie Rodriguez (Specialized). Youngster John Bennett (Cal Giant-Specialized) was the surprise of the men's race, following a Bissell podium sweep for fourth.
In the women's race, Peanut Butter & Co.-Twenty12 closed its training camp, sending Coryn Rivera, Alison Starnes and Lauren Tamayo, among others. Starnes finished third Thursday, just behind Flavia Oliveira (Wells Fargo). Starnes is the best-positioned rider to usurp Miller's GC lead with a strong TT. If she does, she'll have to hold off the Tibco-ToTheTop tandem of Megan Guarnier and Carmen Small on Sunday. Oh, and those Teutenberg-led women of HTC.
Merco Credit Union Cycling Classic
Merced County, California -March 3-6, 2011
Stage 1: Merced Irrigation District Road Race
Stage 2: Merced Time Trial
Stage 3: Downtown Grand Prix
Stage 4: Almond Blossom Road Race