UHC rocks the boat with last-minute charity team at Nature Valley
2011 Amgen Tour of California, Rory Sutherland. Photo: Casey B. Gibson | www.cbgphoto.com Three-time defending champion Rory Sutherland will lead a new-look UnitedHealthcare squad quietly, but somewhat controversially, to the start of the Nature Valley Grand Prix next week. The Pro Continental squad gained last-minute approval…
Heading out the door? Read this article on the new Outside+ app available now on iOS devices for members! Download the app.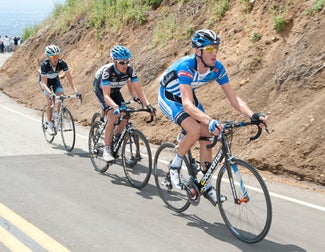 Three-time defending champion Rory Sutherland will lead a new-look UnitedHealthcare squad quietly, but somewhat controversially, to the start of the Nature Valley Grand Prix next week. The Pro Continental squad gained last-minute approval from the UCI Friday to take part in its title sponsor's home race and will do so wearing special edition UHC Children's Foundation jerseys.
"This cause is very important to us," said team president Thierry Attias. "All of the prize money we earn will be donated to the foundation; the riders won't keep a dime. We schedule this event every year where all the attention and money goes to the foundation."
The UnitedHealthcare Children's Foundation provides medical grants to children in need of costly procedures.
Despite their philanthropic mission, as a Pro Continental licensed team, UnitedHealthcare is barred by UCI rule from participating in national-level races other than criteriums. That stance was reiterated in a letter from USA Cycling technical director Shawn Farrell to team managers on March 14. VeloNews has learned, however, that USA Cycling COO Sean Petty has worked with the squad to secure late entry in the event.
"We fully understand and support UnitedHealthcare's need to take part in the sponsor's hometown race," Petty told VeloNews. "We hope everyone else involved will understand and support that position as well."
A Thursday night phone call from Petty to UCI president and road commission chairman Pat McQuaid and a follow-up note acted as the official request to grant UHC's entry in the race that team member Rory Sutherland has won three times in a row. According to Petty, the request was built on four principles: Nature Valley is the only event for which UHC has or will request an exemption; the team is in a renewal year with their title sponsor; the sponsor's headquarters are located in the race's location; and with negative headlines surrounding doping, the sport needs to keep sponsors involved.
McQuaid responded Friday morning in an email granting Petty's request. According to Petty, the UCI "recognized that this was an exceptional case," and offered approval in part due to the sponsor's goodwill in promoting cycling development.
UnitedHealthcare did not appear on the original startlist published by race organizers Friday morning.
Team manager Mike Tamayo said that his squad's participation at Nature Valley was absolutely vital to his sponsor's involvement in cycling — the company has also supported the Tours of California and Utah, as well as a number of NRC events. One source estimated the non-team sponsorship at $700,000 to date.
"What's so important is not the race but the opportunity to showcase the full team to 35,000 UHC employees in their backyard," he said. "My blood pressure's been really high since we started the Tour of California and it's yet to come down."
Tamayo isn't the only manager in the domestic peloton with spiked blood pressure over the issue. Danny Van Haute of Jelly Belly-Kenda summed much of the sentiment by saying he wanted consistency more than anything. "My feeling is I wish the UCI would make up their mind. I want the ProTeams and Pro Continental teams to ride NRC races. It's going to make our riders better, not just Jelly Belly-Kenda, but American racing in general," he said. "We're all in favor of them riding, but rules are rules. I don't care if their headquarters are in Minnesota."
Petty countered concerns over consistency, at least in USA Cycling's approach, by saying that, "We said from day one when we sent the eligibility standards to everybody we clearly stated that exemptions could be asked for and we talked about it at the NRC promoters' summit last fall. We've been consistent on that position."
USA Cycling national events director Micah Rice, who manages the NRC, said that his office would continue to support the country's top Pro Continental riders featuring in its top races. "We continue to support decisions that allow our top pros to race in our top events and our decision making processes will reflect that every time," he said. "We want our heroes, role models and stars at as many U.S. races as possible."
UnitedHealthcare is not the only squad taking the start at Nature Valley with Minneapolis interests. Kelly Benefit Strategies-OptumHealth is based in the twin cities and team boss Charles Aaron wondered if this decision would set a precedent for future NRC races – and teams considering a Pro Conti upgrade.
In response, Petty said he would continue to work with the UCI on exemptions. "At end of the day, our goal remains the same: increase number of UCI races so Pro Continental teams don't have to worry about that," he said. "There are two sides: getting Pro Continental teams into the NRC and building more UCI races; we owe it to those teams and sponsors to provide opportunities for (them) to race in the U.S."
Regardless of the myriad issues their Nature Valley participation brings up, UnitedHealthcare is scheduled to take the start of the Saint Paul Time Trial on the morning of Wednesday June 15.
UnitedHealthcare for 2011 Nature Valley Grand Prix
June 15-19
Rory Sutherland
Karl Menzies
Adrian Hegyvary
Johnny Clarke
Hilton Clarke
Jake Keough
Boy Van Poppel
Robert Förster