UnitedHealthcare's Marc De Maar confirms Quick Step agreement for 2011
The Dutch rider wants to get back to Europe and continues negotiations with UnitedHealthcare-Maxxis
Heading out the door? Read this article on the new Outside+ app available now on iOS devices for members! Download the app.
UnitedHealthcare-Maxxis' Marc de Maar confirmed reports Friday that he has agreed verbally to a contract with Quick Step for 2011. The Dutch newspaper Telegraaf reported earlier in the day that the Dutchman would join the ProTour squad next season, but he said the agreement is not final.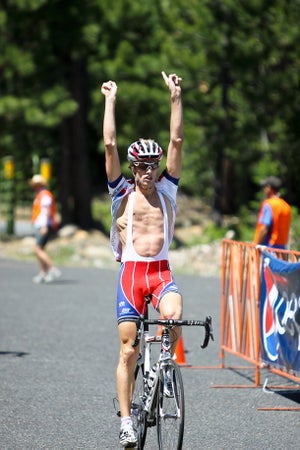 "I have to admit that that rumor is not totally false, but I haven't signed anything yet," said de Maar. "I'm still negotiating with this team (UnitedHealthcare-Maxxis). I want to give them an honest chance, you know, to give me a good offer. But to be honest, if this team is not going to offer me a good pro contract and a good program next year, I'm going to be on Quick Step."
De Maar joined UnitedHealthcare for the 2010 season after leaving the Rabobank program at the end of 2009, following six years with the team. After recovering from a series of back injuries, de Maar has seen good results in the U.S. and Canada, nearly winning the queen stage of the Tour of California and wearing the leader's jersey at the Tour de Beauce. This week he won stage 1 of the Cascade Cycling Classic.
The 26-year-old said that his decision hinges on UHC's ability to secure a Pro Continental license for 2011, a move the team initiated earlier this year.
"I'm still waiting. The team is still waiting on the UCI. They're talking about trying to put a program together for next year," said de Maar. "I'm talking with the team about my contract now, but it goes a bit, how do you call it? Not slow, but gradual."
While he would like to remain with UnitedHealthcare for a longer term, de Maar confirmed that his agreement with Quick Step is in place in case his negotiations with his current team do not bear fruit. At the core of his requirements is a strong European calendar, something the Pro Continental license would allow UHC to pursue.
"I agreed with their (Quick Step) contract that they offered me, but like I said, I want to give UnitedHealthcare an honest chance to give me a decent offer," said de Maar. "I don't want to live another year here in the States. I have no problem coming back here two times a year and doing two blocks here in the States, but no, I'd love to go back to Europe and go back racing over there."