With snow likely on Sunday and Monday, Amgen Tour of California officials weigh options
STATELINE, Nevada (VN) - Snow and low temperatures remain in the forecast on the eve of the Amgen Tour of California and race organizers are exploring a number of options for the opening stages.
Heading out the door? Read this article on the new Outside+ app available now on iOS devices for members! Download the app.
STATELINE, Nevada (VN) – Snow and low temperatures remain in the forecast on the eve of the Amgen Tour of California and race organizers are exploring a number of options for the opening stages.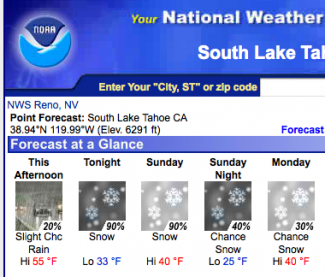 "It's a part of doing what we do," said race director Jim Birrell, a managing partner at Medalist Sports. "This isn't an arena, this isn't a coliseum, this is a major professional event that takes place on public roadways and it has variables that are out of our control. Our experience and the talent that we have, I know that we'll render the right decision."
The tour's technical management team, including Birrell, AEG president Andrew Messick, technical director Chuck Hodge, course director Eric Smith and the California and Nevada departments of transportation and state police will meet Saturday night to formulate their final plan for Sunday. Even then, said Birrell, they'll remain flexible on the morning of stage 1.
"Obviously we've been watching the forecast over the last five days and we'll continue to monitor it. Our team will come together [Saturday] night and based on the forecast we'll determine what our action plans are, particularly for Sunday's start," said Birrell. "The decision will ultimately be made probably Sunday morning, but Saturday night we will assemble ourselves and all of the real-time data to make the right decision."
The latest forecasts from the National Weather Service call for a 90 percent chance of snow overnight Saturday in start city South Lake Tahoe, with even higher odds at the first stage's three KOM climbs. Lows tonight should reach the mid to high-20's (Fahrenheit), with afternoon highs Sunday in the mid- to upper-30's. If that occurs, snowy roads will likely greet the race for its schedule kickoff at 10:30 a.m.
Birrell said that a plan will be in place and if roads are wet as opposed to frozen, we should see an extremely difficult, but executable stage. "Our concern is going to be what's on the road," he said. "If there's ice on the road we'll have a reactionary plan for that. If it's wet I think we'll be all systems go to race."
While HTC-Highroad's Tejay Van Garderen on Friday brushed off a question about the weather, saying he was "from Bozeman, Montana," there was an air of nervousness among others in the peloton. A number of riders at the team presentation Friday night said they were hoping to get past Monday morning. Three-time tour winner Levi Leipheimer (RadioShack), also originally from Montana, said Friday that he trusted race organizers and the peloton to honor rider safety first.
"The group is for the most part experienced enough to know the level of risk to take, but first and foremost the organizers have our back and they're going to assess Sunday morning if it's possible or not," he said.
Birrell said that a number of options were on the table in the case of snow. "We can look at everything," he said. "We can look at a start here and a finish at Northstar, we can reverse it and not hit the whole circuit; those are the things we're going to look at. It's not going to be one individual making the decision; it'll be a collaborative effort with our technical director, department of transportation, state police and AEG."
Sunday is the first of two days at elevation for the race in northern California. Monday's second stage climbs over Donner Pass at more than 7,000 feet elevation near Truckee before descending toward the capital city of Sacramento. NWS forecasts call for additional snow through Monday at North Lake Tahoe and Donner Pass.
Birrell was confident in his technical team as they face what appears likely to be the first snow-related course alteration in the race's history.
"We'll work with our local organizing committees to identify those high elevations where we can expect to see the majority of the accumulation and more importantly, where the ice is, and working with the departments of transportation in Nevada or California," he said. "They'll be able to guide us in the decision-making process. The severity of that and what procedures they can implement to either negate it or present us with the options of a re-route – all of the variables we can put together to make the right decision for the safety of these riders."