Your New Favorite Team: Quick-Step Floors
The Belgian squad is loaded with classics talent, including the legendary Tom Boonen.
Heading out the door? Read this article on the new Outside+ app available now on iOS devices for members! Download the app.
[related title="Don't like this one? How about these teams?" align="right" tag="Your-New-Favorite-Team"]
Welcome to the VeloNews 2017 WorldTour fan guide. It's tough to be a cycling fan. Riders jump around more than a loose cassette. Teams change kits like Sven Nys swaps bikes in a muddy 'cross race. So, here's a guide to your new favorite team. Don't like these guys? Stay tuned for more previews.
Your team: Quick-Step Floors
Your team's fan base: Belgians — all of them; DJ Furax; Dickie en de Subtielloos; pillow fight enthusiasts.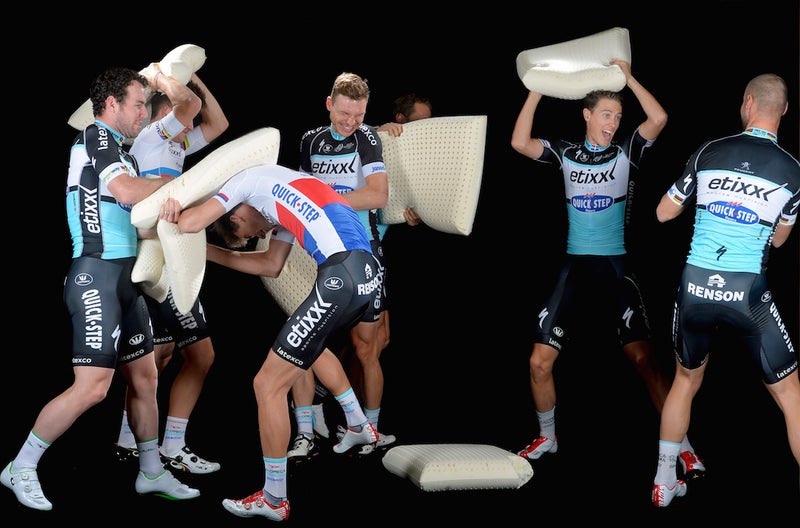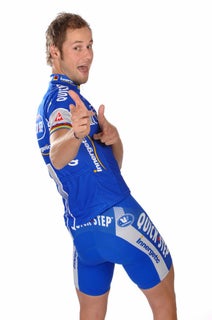 Your team's star: Tommeke, Tommeke, Tommeke! Tom Boonen has been a cycling superstar for more than 10 years, but the 36-year-old is bringing his decorated career to an excruciatingly slow conclusion, after hinting at retirement in spring 2016. Will he win a monument before the curtain falls? We hope so (although we're not betting the farm on it). An opportunity like Paris-Roubaix 2016, when he was second to Mathew Hayman in the velodrome, just ahead of Ian Stannard and Sep Vanmarcke, seems unlikely to crop up again. Boy, it would have been cool to see him win a fifth cobblestone. Even Mick Dundee was rooting for the old battleship, but it was not meant to be.
We can't leave this section, however, without mentioning Quick-Step's other stars — and there are many. The fact that men like Marcel Kittel, Philippe Gilbert, and Dan Martin do not get top billing reflects Boonen's immense gravitational pull. Combined, Gilbert and Martin have won nine major hilly classics, and Gilbert is a former world champ. Kittel has won 13 grand tour stages. Maybe Quick-Step will actually be better without Boonen, when that day comes.
Best-case scenario: Quick-Step was the worst best team of 2016. Its riders won 56 major races last season — but they couldn't claim a big spring classic, something the squad is ostensibly purpose-built to do. Sure, Kittel and Terpstra took Scheldeprijs and Le Samyn, respectively, but is that good enough? Nope.
The team needs at least one major spring monument to satisfy its rabid fans. It could be Fernando Gaviria in Milano-Sanremo (he was about one crash away from it in 2016 — sorry, Arnaud Demare). Or, maybe Zdenek Stybar finally breaks through with a win in Paris-Roubaix, so long as he's not stuck on Boonen babysitting duty. Are we being too harsh? Wasn't Boonen second in Roubaix last April? Yep, but Stybar was second in Roubaix also, in 2015. Time to pass the baton.
If Quick-Step lays an egg in the cobbled classics (which it has definitely done before), there are always the Ardennes. Between Martin, Gilbert, and Julian Alaphilippe, the team should be able to win Flèche Wallonne, Amstel Gold, or Liège-Bastogne-Liège. Our money is on Alaphilippe in Flèche. He was second in 2016.
Beyond the classics, a perfect season would see Gianluca Brambilla ride to a top-10 finish in the Giro, Kittel scoop up a few Tour stages, especially the final day on the Champs-Élysées, and the rest of the fellas win smaller summertime races. Oh, and also Quick-Step defends its title as world team time trial champion.
Worst-case scenario: The worst-case scenario for this team is that, despite its huge budget and talented roster, the squad repeatedly snatches second places instead of victories. Did you click through that link in the last section, you know, to the race report from 2015 where three Quick-Step guys couldn't beat Ian Stannard? Well, Quick-Step seems to have a knack for putting a lot of riders in the front group and then failing to command the race. Consider E3 Harelbeke 2016: Quick-Step riders finished 12th-15th … Four riders! What happened guys? Just felt like doing a little group ride?
So imagine that scenario, but in all of the cobbled classics, because promising riders like Stybar and Yves Lampaert (seventh in Paris-Roubaix 2015) are told to help Boonen in his quixotic quest to defy old age and win a final monument. And then, in the Ardennes, Martin, Gilbert, and Alaphilippe squabble over leadership, winning none of the hilly one-days. Kittel gets shut out in Tour sprints by a resurgent Andre Greipel and Mark Cavendish. Possibly the team snags a couple stages in the Giro and Vuelta — after all, Quick-Step is still a really good team, tactical bumbles aside. Even if the Belgian squad wins 40-50 races in 2017, it could still be critiqued for underachieving, if those victories come from events like Royal Bernard Drôme Classic, GP de Fourmies, or Primus Classic Impanis. Even our experts here at VeloNews world HQ haven't heard of those races. (OK, now we are exaggerating.)
Likability rating: 6/10. Exciting, attacking riders like Brambilla and Petr Vakoc score points for the casual fan. Boonen, as we said, is a superstar — you know it; we know it. Everyone knows it. But Quick-Step gets docked major points for being the New York Yankees of the northern classics. The team has a big budget, dominates (or tries to dominate) all the races, and has that Belgian stoicism that seems a bit dry next to a wildcard like Peter Sagan. That said, we'll all be rooting for Boonen to win one last monument.
In conclusion, please enjoy these select photos from Quick-Step's 2007 team camp, a fine vintage: