Robbie McEwen: 'I'm still bloody fast'
Editor's note: Current or retired, he's the most successful Australian rider by far. Yet in some circles, he's regarded as the forgotten sprinter who in the face of opposition like Cavendish, Farrar and Greipel, should simply bow out quietly. Robbie McEwen has never been one to do that, and tells…
Heading out the door? Read this article on the new Outside+ app available now on iOS devices for members! Download the app.
Editor's note: Current or retired, he's the most successful Australian rider by far. Yet in some circles, he's regarded as the forgotten sprinter who in the face of opposition like Cavendish, Farrar and Greipel, should simply bow out quietly. Robbie McEwen has never been one to do that, and tells Anthony Tan in what may be his final season, there's plenty of fight left in him yet.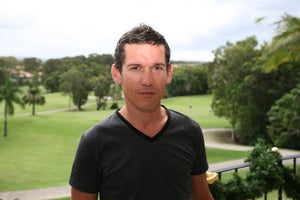 For some reason, failure often brings out the most interesting stories.
"I wanted to do something different," Bradley Wiggins told the UK's Guardian newspaper of his new book, On Tour, "and avoid your normal Tour de France classic where the photographer is hidden in a field of sunflowers. I wanted to give an honest insight into a consuming Tour. It's turned out pretty interesting because there aren't many books out there documenting someone's failure."
Robbie McEwen, still Australia's most successful rider if one judges success by the number of victories and about to enter his 16th professional year, is also in the midst of penning his autobiography. It's unlikely to be released until sometime after next year's Tour de France; maybe the year after if he has a blinder of a season and decides to ride in 2012.
But like Wiggins, it was almost as if he was riding this year's Grande Boucle in a parallel disaster zone with the Briton.
"Oh yeah, yeah, it was the worst ever (Tour de France)," McEwen told VeloNews when we paid him a visit in his home state of Queensland in late November, on his first pre-season training camp with his new Australian-registered team, held in the trendy beachside town of Noosa.
"With those two crashes it was the worst, the most painful, the most suffering I've done … and for little or no reward. Nothing better than a fourth place — which is terrible. In a way it was quite an achievement to make it to Paris in the condition I was in, especially after those two crashes – it just absolutely wiped me out."
A modest start
Like Wiggins, McEwen chose to ride the Giro d'Italia to prepare for the Tour. It worked out fabulously for 'Wiggo' in 2009 and riding the Giro-Tour de Suisse-Tour de France has been a tried and true formula for McEwen since 2002, the year he took the first of his three green jerseys and thus ended the reign of one of the world's best sprinters at the time, Erik Zabel, who won the maillot vert a record six consecutive occasions between 1996 and 2001.
It was one of hardest Giri d'Italia in recent history, however, and as Wiggins recalled to the Guardian, "It felt like I'd spent all my tokens before the Tour. I took it easy in the 2009 Giro and the weather was fantastic and the course was nowhere near as severe. This year we pushed hard and I was seventh with a week to go – but, eventually, we broke. I then got sick and the Tour started disastrously."
McEwen, far more seasoned at moderating his strength and still on the comeback trail after he smashed his left knee into a street sign at the 2009 Tour of Belgium and sliced his ligaments like a butcher taking to a pig, took things much easier right from the start of the year. "The first half of my season was all about building back up and getting racing back in my legs. And doing a good Tour Down Under — I didn't win a stage but I finished fourth overall, which I thought was almost like a bit of a win. So I had a good, solid start.
"I knew the first half would be a really up-and-down struggle and really managing the knee, and trying to get general strength back in the left leg and just keep improving. And the first six months went like that — good days, bad days, bit on, bit off. By the time I got to the Tour de Suisse I was going really, really well — and I really felt the power coming back. And I went to the Tour in great form; I felt fantastic, I was riding strong."
The signs that Wiggins was not the man he was at the 2009 Tour came quickly, and down with a thud. Normally perfectly suited to a race of 8.9 kilometers in length, the Brit would finish a lousy 77th and 57 seconds down on Fabian Cancellara. The team opened the first page of their Book of Excuses by saying because they decided to send him off far earlier than the majority of contenders he encountered the worst conditions. As Wiggins later admitted, it was more due to pomposity and the inexperience of his new team riding at this level: "I ended up up my own arse a little — and it was so far from the truth it was unreal."
How do you say disaster en Français?
McEwen would have to wait two more days before his Tour de France campaign began to fall to pieces, although for different reasons.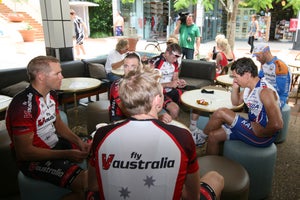 On the crash-riddled third stage from Brussels to Spa, the Australian ended up with a gaping hole in his right elbow and by the time the medic was able to get to him and patch him up, he estimates he lost around 400 cc's (400 ml) of blood. When he made it to the hospital, they gave him a tetanus injection without telling him – and was hit with the resulting symptoms: "I had pretty much all of 'em — nausea, headache, muscle pain, lead legs, and five days of fever — I was f–ked.
"And those next days (in the first week) were all sprints. I mean, the next day (stage 4) was the Roubaix cobbles and I came in the third group on the road — 14th — which is not a bad effort considering, I thought. But I felt even worse the next day and worse the day after that and I was up there and trying but I just had no power. I was struggling to stay in the bunch on the flat, really. And on the day I started feeling a tiny bit better (stage 6), the TV guy from wherever he was — Eurovision (sic) or something — ran out and head-on into me after the finish line there."
First believing him to be an official chaperone pursuing stage winner Mark Cavendish, a communiqué said the offender was a technician with the Tour's official international broadcasting rights holder. "Some cockhead from the organization jumped straight out in front of me trying to run back to get the winner for the podium," McEwen told Fox Sports. "He jumped straight into me (sic) handlebars. I was doing 60 f–kin' k an hour."
"Then," McEwen says, "I was absolutely f–ked. There's no other way to put it." A broken body but no bones broken, he would make it to Paris, finish ninth — behind Cavendish again — on the Champs-Elysées and fourth-from-last on the overall classification, over four hours behind Alberto Contador, who now has more problems of his own than he would care to imagine.
Suffering for a reason – or so he thought
There was good reason why he suffered intolerably like he did, though. He thought, as many others also believed, that he had a good shot at becoming road world champion by the year's end – and what better way to do it than in your own backyard?
Then came the sting in the tail: his non-selection in the elite men's Australian team.
"I said it at the time and I still maintain it was the wrong decision. I was preparing myself for the worlds and that's why I struggled — that's why I pushed myself through the Tour, to have the k's in my legs, so I could then have a little rest and do a build-up towards the worlds. I won a stage in Eneco Tour (stage 1) and was riding quite well there. Actually, I was riding better than quite well — I was riding bloody good. And they told me a day or two days after I won a stage in Eneco Tour that I wasn't going to be selected for the worlds. I couldn't believe it."
The 262.7-kilometer parcours, which consisted of 85km stroll from Melbourne's Central Business District to the 15.9km finishing circuit in Geelong, where 11 laps were to be completed, was considered a pure sprinter's course to begin with, thought best-suited to a rider like Cavendish or Tyler Farrar. But as more riders gave their feedback – in particular, from a July visit by the Italian team – the pundits changed their thinking, and Philippe Gilbert and Filippo Pozzato became the outright favorites.
Regardless, McEwen, armed with a wealth of worlds knowledge, was convinced a sprinter would prevail – but one with experience and the strength that comes with experience, rather than a younger rider like Cav' or Farrar.
"It's hypothetical (if I would have been in the front group) but well, you've got to look at the history of riders like (Cavendish and Farrar). They were probably a bit too young in that year, in 2006, but riders like that also went (to the worlds in) Salzburg where I ran fifth and there were four guys forty meters in front of us sprinting for the world title, and I beat the rest of the bunch and we were still only fifty guys. Maybe I wouldn't have been there but I never got the chance.
"I'd sort of been trying to trim down a bit through the season, just very, very gradually. And all that was with an eye on Geelong — just to get that little bit lighter, like two kilos lighter, race-weight — but take my time to get down there. And that was all going to plan and I put a lot of thought and effort into getting ready for Geelong. And that's part of the reason why I was so disappointed because I'd been slowly but surely getting myself ready for it throughout the season. I knew the first half was going to be about just getting back to good racing condition, and then it was going to be fine-tuning after that and all the time, just dropping that little bit of weight. And it wasn't that I was overweight — but you've just got to do that little bit more to make yourself a little bit lighter. It's like a boxer coming into a fight."
When the country's national performance director and chief of the selectors, Shayne Bannan, informed him he wasn't going to be part of the team, McEwen said he didn't say much — he wasn't able to.
"I didn't get as far as saying 'why?'" he says, "because I was just so shocked. And I said (to Bannan): 'I reckon that course will be a 30-to-40 rider sprint' – and it was 30 riders and Thor won and Allan was third – he (Davis) did a great ride. But I still believe I deserved a place in the team. Whatever happened during the race, depending on how everyone was going and what was going on, I was prepared to ride as a team-man as well and I've done it before.
"But, I missed out and that was a huge disappointment," he added. "To miss riding a worlds in your own country, and just to miss any worlds you think you can win. And now, I've just got to refocus and think about the team in 2011, and then actually getting on the start line and riding in Copenhagen."
A leap of faith
McEwen's also had to get over the disappointment that his yet-to-be-named squad of 24 riders will not be a ProTeam next year but Pro Continental, and will therefore be reliant on wildcard invitations at the biggest races on the UCI World Calendar. He's also a little disappointed one or two of his fellow Aussies didn't make that "leap of faith" and join him, where a valued signature such as that of Michael Rogers or Richie Porte would likely have garnered one of eighteen ProTeam licenses from the UCI.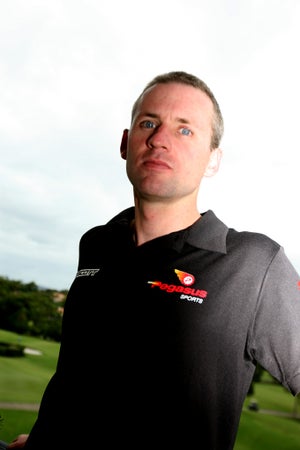 "It's disappointing that the reception by the Aussie riders wasn't as warm as what (Pegasus Sports team owner) Chris White and everybody had hoped. But we understand their position; they want to have a guaranteed program, they're still building their careers and there was that very real risk of them coming across and us still not getting a ProTeam license. Although that's where they've got to have faith in themselves and say, 'Well, we may be Pro Continental, but with us in the team we'll get a wildcard.' Only time will tell next season if they should've stayed where there are or come here.
"But, anyway, we're not going to look back," says McEwen.
"It's probably a better step for us to do first, rather than be obliged to ride the whole [World Calendar] program. Maybe that's the step we need to take, being Pro Continental, because we can still get invites to big races. And hopefully we can get [an invite to] a Grand Tour. We're already getting invitations to some really good races. In a way it was disappointing, in another way it was realistic; that's the step we need to take. I mean, I definitely would've been happy if we got a [ProTeam] license, but I s'pose there would've been just a bit more recruiting to do as well, then."
"Still bloody fast"
At 38 — he'll turn 39 next June — does he feel like his body is changing at all? Is it growing stronger, but at the expense of some speed — speed that in the early-to-mid 2000s, went largely unmatched? And if so, will he start targeting different races?
"Nup. No, I'm still going to focus on the sprint," he says. "I'm not going to try and change what I am – I'm going to try and maintain, as best I can, the abilities that I've got.
"If I'm as explosive or as fast, I don't know; It's been hard to tell since this leg injury if I've had some natural decline or any problems I've had is all through the injury. I have lost a bit of power because of that injury, but I've noticed there's been flashes of it in races, where I haven't won many races this season – I won two races – but I had a couple of others where I won the sprint right behind a breakaway group in a big race and gone, 'Shit! That would've been a really nice one to catch 'em this time.'
"So I have those moments (where I say to myself), 'Yep, I'm still bloody fast'."
To be continued …
Does he get pissed off that he's sort of 'the forgotten sprinter' and everyone's talking about Cavendish and Farrar and Greipel and Hushovd?
"Oh, it's all about instant satisfaction and being up with the latest and people want to talk about new names and create new battles. You sort of even get the impression of 'wait for the old ones to go away' so (the media) can really concentrate on the younger ones. I mean, I'm really hoping to get a start in the Tour Down Under so they can talk about Cavendish, Farrar and Greipel and I'd love to have a photo of me right in front of them on the finish line!" he says, grinning like a kid that can't wait for Christmas.
So what is it exactly you want to get out of 2011, in what could well be your final year?
"I want to win a couple of races, that's for certain. I want to get a few wins. I want to help some of my team-mates win. Help the younger guys develop and establish the team, and get it that credibility on the road, where the bigger teams are really keeping an eye on us and saying, 'this is a serious team that we've got to watch out for'. And also giving the signals to the race organizers that when they take our team in a race, that we're good value, that we're getting results, that we're racing aggressively. And that we can take on the bigger teams on paper."
At the end of the interview, we talk about his autobiography and whether it's been cathartic in a way, purging out the bad times but still remembering the good. It if it's to be released towards the end of next year, has it been written with retirement in mind?
"Ahhhh well, I haven't written the ending yet," says McEwen with a wry smile.
"I'm not so sure it's going to be about, 'And then I retired'. Because the book is up to about now, but it'll be a sort of 'to be continued' because I'll still be racing the 2011 season when the book comes out. So we'll see what we can squeeze into it and what happens between now and final edit."
---

Realizing life in advertising was nothing like "Mad Men" and buoyed by the Olympic Games in his Australian hometown of Sydney, Anthony Tan turned his back on a lucrative copywriting career in 2000 in pursuit of something more cerebral. Combining wordsmithing with his experiences as an A-Grade club racer and a season racing in Europe, a career as a cycling scribe beckoned. More than 10 Grand Tours and countless Classics later, it's where he still is today. He has been a contributor to VeloNews since 2006. In 2010, he won Cycling Australia's media award for best story.