Our U.S. women's Olympic dream team
Too much talent is a good problem to have, right? It's an embarrassment of riches for American Olympic selectors right now.
Heading out the door? Read this article on the new Outside+ app available now on iOS devices for members! Download the app.
Too much talent is a good problem to have, right? It's an embarrassment of riches for American Olympic selectors right now. That makes the final selection extremely difficult. So we thought we'd help out a bit, and name our own Olympic dream team for the women's road race and time trial.
USA Cycling can send four women to the Olympics. Two spots are available for the time trial and four spots for the road race. The two athletes selected for the time trial must also compete in the road race.
Team selection is slated to go public on June 24, but these selected athletes must come from the Olympic long list that was released last December.
Athletes gain automatic selection to the team by winning one of the Women's WorldTour events or placing in the top three at the 2015 world championships in the road race or the time trial. Only Megan Guarnier did so, sealing the deal with a silver medal at the 2015 road world championship, but none of the other women nabbed an automatic selection. So we're down to discretionary decisions for the remaining three Olympic spots.
Those spots will be filled based on results in the last year and theoretical medal capability. USAC has a long list of rules governing selection. We don't, thankfully, but the end goal is the same: medals.
So, here's what we think:
Close-but-no-cigar
• Shelley Olds (Gilroy, California/Cylance Pro Cycling)
• Lauren Stephens (Dallas/TIBCO – SVB)
• Tayler Wiles (Fairfax, California/Orica – AIS)
• Amber Neben (Lake Forest, California/Visit Dallas)
These four athletes just don't make the cut. The pool of U.S. women is so deep this time around that exceptional athletes will certainly be left off the list. We love watching Wiles race with her quiet, hard-working nature, but she doesn't offer the same results and medal-capabilities as riders like Stevens and Guarnier. Olds suffered setbacks this spring after a nasty crash at Le Samyn and the Rio course isn't ideal for this flat-out sprinter.
Neben is a time trial specialist who has a world championship title to her name and Olympic experience. A second-place finish at nationals this year is noteworthy and a decent argument for her spot on the team. But she doesn't offer much for the road race, as Stevens does, and Neben doesn't have two Olympic gold medals to back her up, like Armstrong. A win at Nationals this year possibly could have pushed her onto our list, but with Small, Armstrong, and Stevens all worthy time trial contenders, there isn't room for Neben.
Lauren Stephens won the VeloNews domestic rider award in our annual awards issue. But her European racing experience is more limited, and Rio is essentially a European field.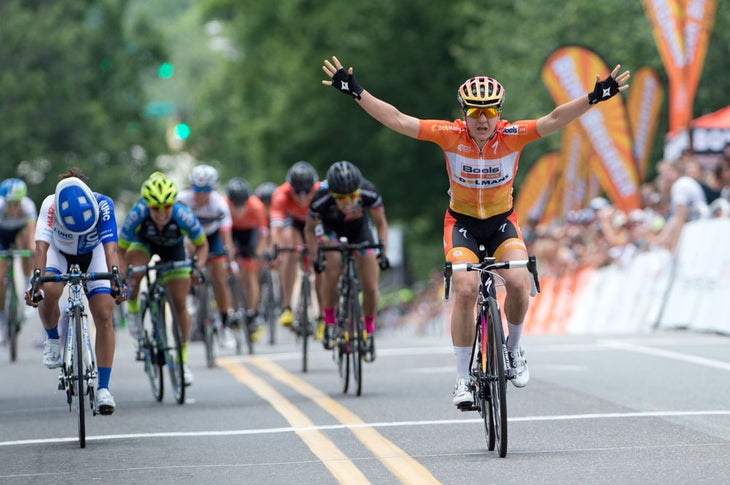 The hell-yeses
• Megan Guarnier (Queensbury, New York/Boels – Dolmans)
• Evelyn Stevens (San Francisco/Boels – Dolmans)
Megan Guarnier received an automatic spot to Rio with her silver medal in the 2015 World Championship road race. Plus, she's had a strong spring campaign and is still the U.S.'s best chance at a medal for the Olympic road race.
Stevens and Guarnier are teammates on the dominant Boels – Dolmans team and they work exceptionally well together. Stevens can keep Guarnier out of trouble through the ups and downs of the challenging Rio course and she can take over as team leader and medal contender if something happens to Guarnier. Whether Stevens should race the Olympic time trial is another question.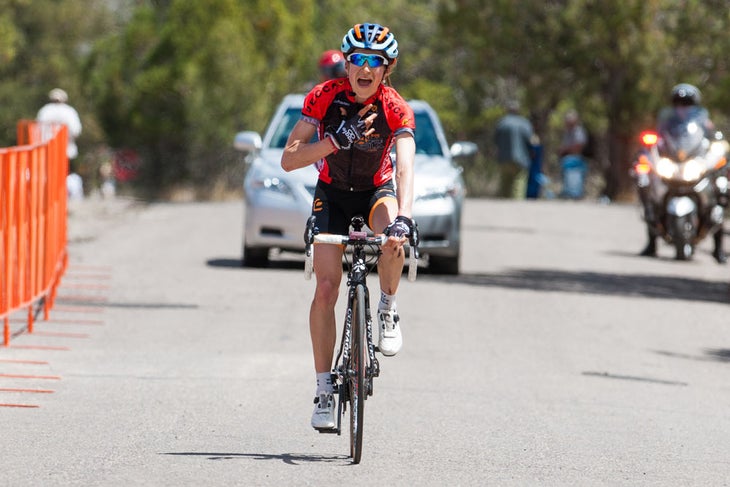 The tough decisions
• Kristin Armstrong (Boise, Idaho/Twenty16 – Sho-Air)
• Coryn Rivera (Tustin, California/UnitedHealthcare)
• Carmen Small (Durango, Colorado/Bigla Pro Cycling Team)
• Mara Abbott (Boulder, Colorado/Wiggle – Honda)
Abbott is one of, if not the best women's climber in the world. She cruises up the steepest pitches like she's out for a Sunday spin. But while the Rio course has some significant gradients, like the seven-percent average gradient of the Grumari climb that hits max gradients of 13-percent, they aren't long enough for her to make real gains. Even the "big" climb of the course, the 5.5-mile slope with an average 5.5-percent gradient, isn't long enough or steep enough for Abbott to escape and stay away. She could do some damage to the field and help set up Guarnier or Stevens for the finish, but with a 20-kilometer flat run-in to the finish, Abbott is unlikely to stay away and avoid a selective sprint finish. Bottom line: The course just isn't challenging enough for the Abbott to win, but she could be useful as a domestique.
Coryn Rivera is the future of American cycling. She's charismatic, energetic, and a badass when it comes to sneaking through crowded group sprints. She also climbs extremely well for an explosive sprinter. If she could get over the climbs with the group, or at least stay close enough to chase back on with her nail-biting descending skills, she could either help lead-out Guarnier to the line or take the sprint herself. She opens up lots of possibilities for the whole team.
A national championship title should count for a lot heading into the Olympic selection process. And Carmen Small did not just win the time trial, she crushed it. Beating two-time Olympic gold medalist, Kristin Armstrong by over a minute put Small on top of the list for a time trial spot on the team. But will she get the nomination? It's tough to say. We think she should. The nationals race was challenging, hot, and humid, similar to the course in Rio. Small proved she's the best in the U.S. right now under these conditions and deserves a chance at the Olympics.
Two gold medals and two world championship titles: It's hard to ignore the palmares of Kristin Armstrong. The former golden girl of USA Cycling has proven herself time and time again as an unbeatable force in the time trial. But she took third at nationals this year. Does she deserve a spot over Small, who won nationals? No. But does she get the second time trial slot for the U.S.? That's the hard question. With Stevens already a no-brainer for the road race, why not add her to the time trial squad and open up another spot for say, Rivera, in the road race? Armstrong seems to have no interest in helping the women's team during the road race, as demonstrated in the last two Olympics where she was nowhere to be found in the group. And Stevens placed just one spot behind Armstrong's fifth place at the 2015 world championships. Nationals was a different story, however, with Stevens nearly 40 seconds off Armstrong's third place time. This is a tough one.
Two possible teams
Team 1:
TT: Small and Armstrong
Road Race: Guarnier, Stevens, Small, and Armstrong
Team 2:
TT: Small and Stevens
Road Race: Guarnier, Stevens, Small, and Rivera
Basically, the selection committee must choose between Armstrong and Stevens for the time trial. Armstrong has the upper hand with more experience, more gold medals, more support in the USA Cycling team structure since her long-time personal coach, Jim Miller, is the head of athletics at USAC. We know she can win under pressure, but she hasn't been back to her dominating form that we've seen in the past. A third at nationals, under similar hot and humid conditions to Rio, put doubts in our minds. And since she won't be a factor in the road race, do we want to give away one of the limited spots to a "maybe she'll come around by August?"
Stevens, on the other hand, finished one spot behind Armstrong at the world championship time trial last year and is a definite asset for the road race. She's the current hour record holder and by selecting Stevens, the team gets one more spot for the road race to include some additional help in the form of Abbott or Rivera. We'd go with Rivera simply because of the course, the 20-kilometer flat section into the finish, and the fact that she's young and could use this experience to one day win her on Olympic medal.
With so many options, so many fierce women fighting for a spot on the team, we don't envy the selection committee's upcoming debates and decisions. But as fans of the sport, we couldn't be more excited to watch the women's races and cheer for the U.S. team, whoever that may include.