Should Kenny really ride?
A reader asks why a suspended rider keeps showing up at local training races.
Heading out the door? Read this article on the new Outside+ app available now on iOS devices for members! Download the app.
Dear readers,
I recently received a letter from Seattle-area Cat. 1 rider Mike Hainsworth regarding Kenny Williams' participation in a series of unsanctioned local criteriums held on Thursday evenings in Seward Park.
The 42-year-old Williams is an established rider with a solid record to his credit. He is a former U.S. elite criterium and pursuit champion and had been making a mark in domestic and international masters' events in recent years. Hainsworth, however, didn't object because Williams was sandbagging his way through a local practice crit' or that a licensed rider was participating in a race that didn't have a USA Cycling permit. Heck, we've all done that at one time or another.
Hainsworth's objection was based on the fact that Williams is currently under suspension due to a positive doping test at last September's national masters' track championships in Colorado Springs.
Williams had apparently won the kilometer and 3000-meter individual pursuit titles in the 40-44 category, even setting a new world mark in the pursuit for his age group. Unfortunately, those titles were revoked after a sample submitted by Williams tested positive for, in the words of the U.S. Anti-Doping Agency, "an anabolic agent."
Williams subsequently admitted that he had taken Dehydroepiandrosterone (DHEA) and issued a seemingly heartfelt apology for having "done something that hurts the sport of cycling and the community of people who have become the most important part of my life." (As for what might motivate a masters' racer to dope is another head-scratcher for another column some day.)
Williams accepted a two-year suspension that was supposed to end on September 21, 2011. Okay. He doped; he copped to it; he's suspended. Buh bye, right? Well, Hainsworth's letter raises the very valid question of just how broadly the provisions of a doping suspension are applied. The answer requires a close look at the rules.
What does "suspended" really mean?
When Williams accepted a two-year suspension from competition, he automatically became subject to the provisions of the World Anti-Doping Code, specifically Section 10.10, "Status During Ineligibility."
The language of the Code is relatively clear. Section 10.10.1 notes that:
No Athlete or other Person who has been declared Ineligible may, during the period of Ineligibility, participate in any capacity in a Competition or activity (other than authorized anti-doping education or rehabilitation programs) authorized or organized by any Signatory, Signatory's member organization, or a club or other member organization of a Signatory's member organization, or in Competitions authorized or organized by any professional league or any international- or national-level Event organization.
Okay, so it's pretty obvious that no one is going to line up for the Tour de France while under suspension. But what about other events? What about a relatively low-key practice criterium? A charity ride? A Gran Fondo? A Century ride?
Well, those are a little less clear. The key words in Section 10.10.1 are "competition," "authorized" and "organized." There's a really good example involving one of this country's toughest races … errr, uhhh … rides.
You might recall that former Pro Tyler Hamilton has "won" the famed Mount Washington Auto Road Bicycle Hillclimb in New Hampshire four times over the course of his career. His victories in 1997 and 1999 came without controversy, but he also finished first in the 2005 and 2006 races, at a time he was under suspension for a homologous blood doping violation at the 2004 Vuelta a España.
While organizers keep time, maintain records, declare winners and even award prizes for the event, the Mount Washington Hillclimb hasn't actually been a "competition" in the strictest definition of the word since it became a "charity ride." The hillclimb, first held in 1973, is organized as a fundraiser to support the fine work of New Hampshire's Tin Mountain Conservation Center. The field is generally limited to 600 riders, each of whom pays $300 for the privilege of riding up 7.6 miles of rough, windblown road with average grade of 12 percent, with some sections hitting 22 percent.
The ride is not sanctioned by USA Cycling or any affiliated organization. As far as the world of competitive cycling is concerned, it's not a race. It's just a ride, although an admittedly tough ride. I disagree on many fronts. Mount Washington is a race in which those who have established new records have even been awarded new cars. If it walks like a duck ….
Even if it's not sanctioned by governing body or an affiliate, suspended participants are violating the spirit of the rules and really ought to stay away until the ban expires. But no one pursued the case. Hamilton's involvement in another "charity" event – the Stazio criteriums in Boulder – did raise concerns at USA Cycling, which advised riders that they could put their own licenses at risk by participating in an unsanctioned race that had been organized and sponsored by Hamilton's charitable foundation. He eventually backed out of those races and served his suspension. There was no action taken against riders, the promoter or Hamilton himself.
Other charity rides, centuries and gran fondos – as long as they aren't competitions organized by a governing body – would probably fall under that exception.
What about a training race?
Hainsworth's concern, however, involves a practice race held in Seattle's Seward Park. According to records, the Seward Park races are also not sanctioned by USA Cycling. Race organizer David Douglas offers the events as do many organizers around the country, simply as a means by which riders can test their legs.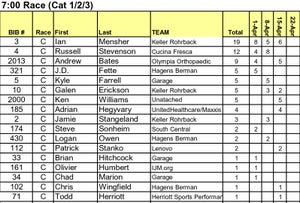 Anything but low-key, the Seward Park races attract as many as 200 riders a week. But Douglas has procured liability insurance from an outside broker and has not sought coverage – or sanction – from USA Cycling. So, Williams can ride, because it's not a "race," right? Well, not so fast.
Take another look at the language in Section 10.10.1. Riders under suspension may not participate in any "Competition or activity authorized or organized by any Signatory, Signatory's member organization, or a club or other member organization of a Signatory's member organization."
While not formally sanctioned, the events are organized by Douglas, the sole organizer listed under Northwest Velo's club information at USA Cycling, and who also promotes sanctioned events like the Mason Lake Road Race Series, the Cascadia Classic at Seward Park and the Seward Park Season End Classic. Furthermore, the Thursday series appears on the USA-Cycling affiliated Washington State Bicycle Association racing calendar and actively promoted on Northwest Velo's website.  Strictly interpreted, the Seward Park series is "authorized and organized" by a USA Cycling affiliate and probably does fall under the definition of a competition under the Code.
In recent weeks, Hainsworth and others have objected to Williams' participation in the series and they've let their feelings be known by threatening a boycott of the race if the suspended rider is allowed to participate. Last week, with a boycott organized, Williams appeared at the race, but opted not to compete, so other riders went ahead and participated.
In his original letter, Hainsworth said he was particularly concerned about Williams' participation in the Seward Park series because "I feel this could become a bigger story later in the year when Kenny more than likely races the lucrative crit's in Oregon where (USA Cycling) doesn't sanction races there, and many pro teams show up."
That's a problem that won't come up during Williams' suspension. While many races in that state are organized by the Oregon Bicycle Racing Association and do not carry a USA Cycling permit, suspended riders are still barred from competing. OBRA and the Colorado-based American Cycling Association have signed reciprocity agreements with USA Cycling recognizing the validity of doping suspensions. While both organizations have had their differences with USA Cycling, the agreements still make sense. Neither would really like to become the default "dopers' circuit" for riders under suspension.
Repercussions?
So given that Williams has participated in events that he probably should not have, what penalties apply?
Well, the WADA Code has "an app' for that," too.
Section 10.10.2 says that an ineligible athlete's violation of his or her suspension simply starts the clock ticking again.
Where an Athlete or other Person who has been declared Ineligible violates the prohibition against participation during Ineligibility described in Article 10.10.1, the results of such participation shall be Disqualified and the period of Ineligibility which was originally imposed shall start over again as of the date of the violation.
In Williams' case, his original suspension should expire in September of 2011, but by violating the terms of his suspension and racing in April of 2010, he could theoretically have that suspension extended to April of 2012.
At this point, there is a question of who would have to pursue the matter. While doping cases are adjudicated by the U.S. Anti-Doping Agency, the management of a suspension appears to fall under the jurisdiction of USA Cycling. Depending on whose turf we're on, the pursuit of the matter could require another set of formal charges to be filed by USADA, or USA Cycling could simply withhold Williams' license until the later date.
That latter solution may be the more elegant, since it would probably put the ball in Williams' court, forcing him to challenge USA Cycling's decision to withhold. Say, for example, he was denied a license in September 2011. He might mount a legal challenge, at which point the governing body could respond by producing evidence that he had violated the terms of his suspension and was, therefore, subject to additional time off.
As for the promoter, the question is a little less clear. USA Cycling could theoretically deny future permits to him when he tries to organize sanctioned events, citing his violation of the prohibition against allowing suspended riders to participate in races. Personally, I think that would be more of a stretch and a tad heavy-handed, given that it would not only punish the promoter, but a wider network of riders who would want to compete in those events. From what I know, Douglas is a hard-working and very popular promoter and it wouldn't make a lot of sense to go after him.
Bottom line, Mike, Williams should not be racing that series, but the wheels of justice do turn slowly at times. You and the other racers who organized the boycott threat probably followed the most effective strategy from the start, by voicing your objections to the public, to the governing bodies and to the promoter and then refusing to ride in an event in which a suspended rider is invited to participate.
Meanwhile, hang it up, Kenny.
Charles
---
Email
Charles Pelkey
"The Explainer" is a regular feature on VeloNews.com. If you have a question related to the sport of cycling that our editors might be able to answer, feel free to send your query to WebLetters@CompetitorGroup.com and we'll take a stab at answering. Not all letters will be published and some questions may be combined with those of other readers. Please include your full name and hometown.