Spanish police clear Óscar Pereiro of Operación Puerto links
Media reports naming Óscar Pereiro as "Urko" in the Operación Puerto have been proven false after Spanish authorities have linked track and field star Marta Domínguez to the alleged code name instead.
Heading out the door? Read this article on the new Outside+ app available now on iOS devices for members! Download the app.
Media reports naming Óscar Pereiro as "Urko" in the Operación Puerto have been proven false after Spanish authorities have linked track and field star Marta Domínguez to the alleged code name instead.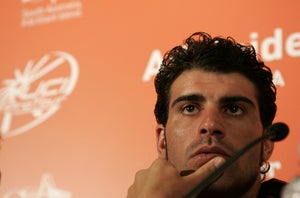 Urko was one of the dozens of code names discovered in raids in the 2006 doping scandal in Spain, but new revelations from Spain's latest doping scandal — dubbed Operación Galgo — have linked the reigning world steeplechase champion to the alleged doping ring centered on controversial Spanish doctor Eufemiano Fuente .
The Spanish daily El Mundo reported that Spain's Guardia Civil has linked Domínguez to Urko, after her cell phone number was found next to the name in alleged doping diaries of belonging to Fuentes, linking her to Fuentes as far back as 2006.
In 2007, the Italian newspaper Il Giornale reported that Pereiro was the Urko (also spelled Urco) found in the Fuentes diary, something the 2006 Tour de France champion then vigorously denied. Pereiro pursued still-unresolved legal action against the newspaper, but said Tuesday the latest revelations give him little satisfaction.
"Ah, I am not Urco, what a disappointment," Pereiro joked in an interview with his local paper, La Voz de Galicia. "This revelation isn't a relief, but proof that people speak just to speak, and spread rumors without any foundation."
Pereiro, who retired at the end of the 2010 season, said the rumors that he was linked to Puerto cost him the chance to wear the yellow jersey at the start of the 2007 Tour de France in London.
"I know that it weighed against me in how they would recognize me as winner of the Tour after the positive of Floyd Landis. Just before the 2007 Dauphiné, there was pressure from the part of Caisse d'Epargne that they make official the victory," Pereiro recounted. "But the Tour organization feared another doping scandal and it was because of that I couldn't start the time trial in London without the yellow jersey or the No. 1 start number."
Urko was one of numerous code names found in police raids as part of the Puerto scandal in 2006.
Police and other sources, including rider confessions, later confirmed the identity of several of the names, among them "Birillo" as Ivan Basso, "hijo de Rudicio" as Jan Ullrich, "Zapatero" as Michele Scarponi, "Bella" as Jorg Jaksche, "Piti" as Alejandro Valverde and "Búfalo" as José Enrique Gutíerrez.
Urko and scores of other nicknames, however, remained open to speculation until Il Giornale printed a story linking Pereiro to Puerto, later picked up by several news media.
At the time, Pereiro strongly denied he was "Urko," which is also a name of a dog featured in the local mythology of Pereiro's home region of Galicia. After several of the Fuentes code names were also the names of riders' pets, Pereiro even had to prove with veterinary registrations that his dog was named "Zor."
"I was at a training camp when a teammate told me he had heard about it, but I didn't want to get involved. I was stunned, but I was also calm because I knew it wasn't me," Pereiro recounted how he first heard of the story. "That's when I decided to sue them. I provided a card that proved the real name of my dog. It remains unresolved. There were some negotiations whether to make a page-one correction, or on the inside, or some sort of payment. I knew I had nothing to lose and that no one could touch until the day I retired."
Pereiro is now playing third-division soccer for his local team and training for the Titan Desert mountain bike marathon race in Morocco.
Domínguez, meanwhile, has also vigorously denied any link to doping practices during her athletics career. She was among more than a dozen people arrested last month in the latest doping scandal to rattle Spanish sport.