The Dirt: Downhill do-gooder, Kamikaze, and Trek team
This week's roundup of all things dirt includes some charity work and the Kamikaze Games.
Heading out the door? Read this article on the new Outside+ app available now on iOS devices for members! Download the app.
Welcome to The Dirt, the weekly news round-up on what is happening in the worlds of gravel, mountain biking, and all things rough and dirty.
Mulally donates worlds bike to Can'd Aid Foundation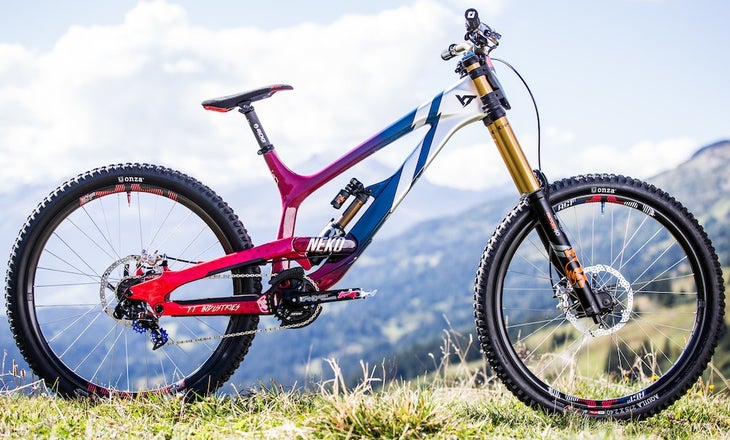 U.S. national downhill champion Neko Mulally missed out on racing at the world championships this year after breaking his hand in La Bresse at the World Cup prior to the big weekend, but he is putting his Stars-and-Stripes bike to good use anyway.
Mulally has donated his special YT Industries bike to Oskar Blues Brewery's Can'd Aid Foundation to be raffled off for the Treads + Trails program, which has provided more than 2,200 bicycles to underprivileged youth and restored miles of multi-use trails, and works to get people outside and active.
"Most of the kids who receive bikes from our Treads + Trails program attend Title I, low-income schools," said Diana Ralston, Can'd Aid's executive director. "The raffle entries will directly benefit these elementary students. We rally communities to build the bicycles then surprise the students with new bikes and helmets. For many of the kids, this bike is the first new item they have ever received."
Enter to win Mulally's bike >>
Mammoth wraps up summer with Kamikaze Games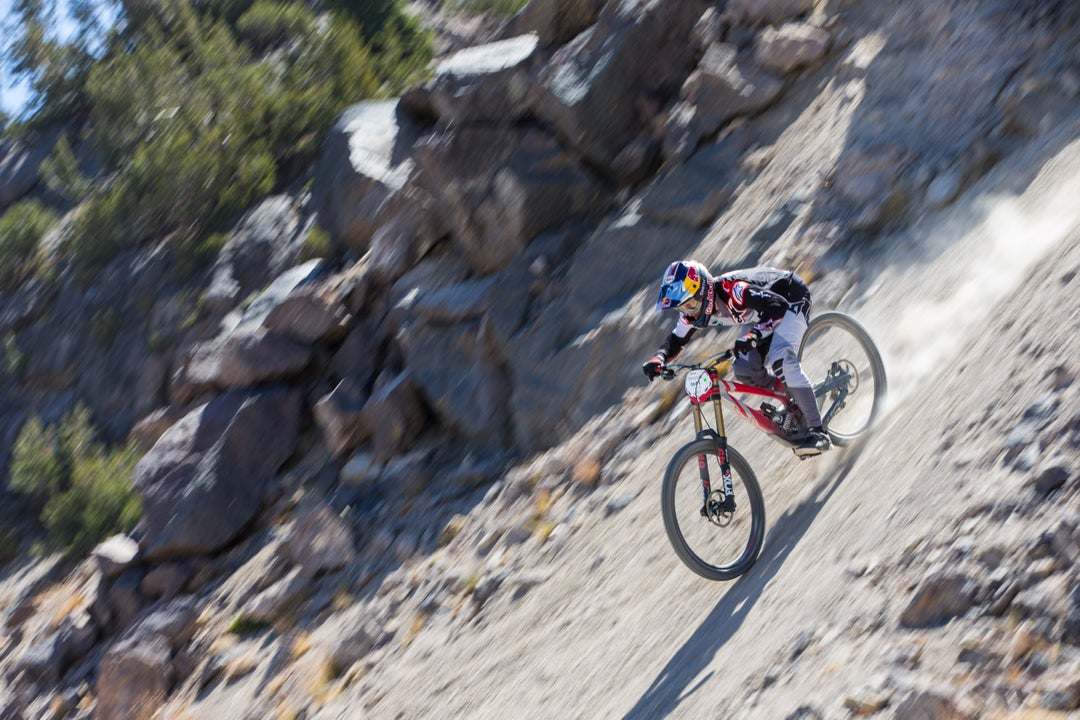 With winter around the corner, Mammoth Mountain put a bow on its summer season with the Kamikaze Games. Although they did have racing on the classic Kamikaze race track, the pro downhill race wasn't your daddy's Mammoth DH. Instead, they took on a technical course including an entirely new trail. Fresh off his World Cup season, Aaron Gwin (YT Industries) won the men's pro race. Camila Nogueria (E13-Box) was the fastest woman in the Pro GRT race.
Richards, Noble, and Swartz team up on Trek 'cross team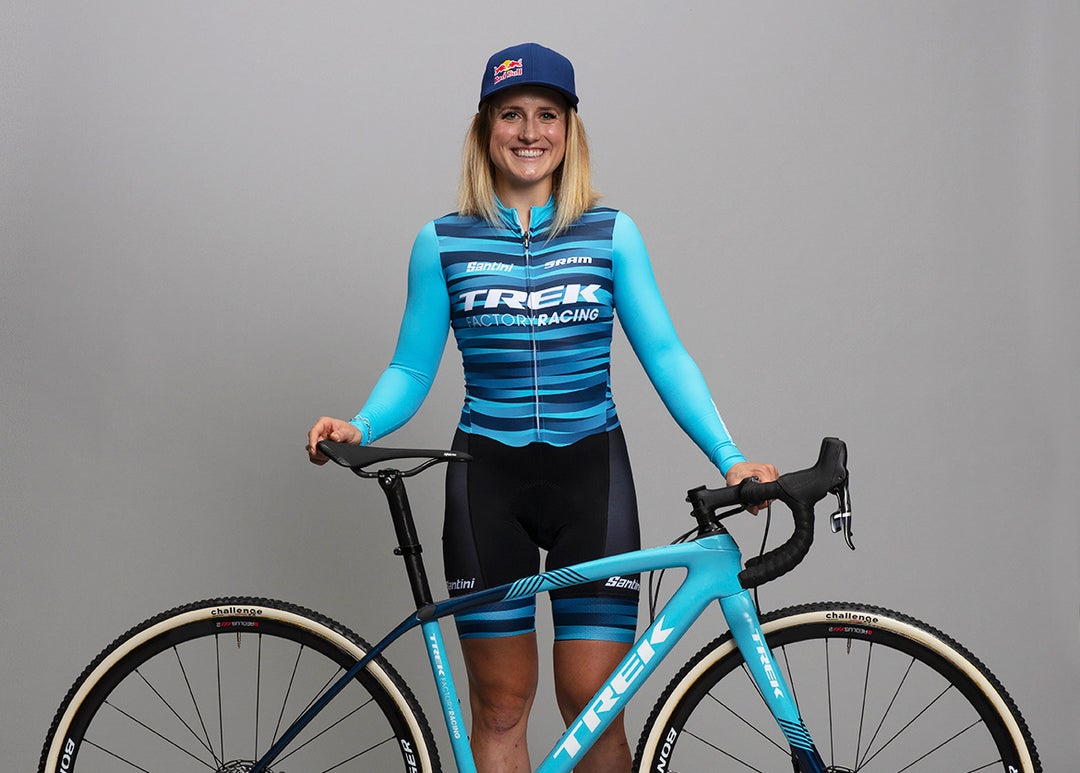 You might have noticed some fresh colors in the Trek CXC Cup last weekend. Trek Factory Racing expanded to add a new women's cross team featuring Ellen Noble — who was second in the Wisconsin World Cup, no less — Evie Richards, and Emma Swartz.
"I am so proud to be teammates with two amazing women, and I'm personally very excited to get the racing underway and see how the changes that I've implemented in my training and racing pays off," said Noble. "I have a great feeling about this season for the team as a whole, and I can't wait to see what we accomplish."
Richards, who won a round of the World Cup in 2017, was excited to race on Trek's home turf in Waterloo.
"I can't believe I'm starting the season off in America," said Richards. "It's been something I've always wanted to do since I raced in Zolder, and it will be even more special that the kickoff event is Trek's very own World Cup, where I'll be racing in the colors of their new cross team!"
V8 revs up Epic Rides
The Epic Rides Series of mountain bike races has a new sponsor: V8 and its line of +Energy drinks. After racing 24 Hours in the Old Pueblo, another event promoted by the same organizer, the people at V8 got the idea to get involved with mountain bike racing.
"When Epic Rides introduced the Oz Trails Off-Road last year in Bentonville, Arkansas, our local team started considering the opportunity. Thanks to a few key organizations, mountain biking in NW Arkansas has grown substantially and is attracting many community events and bringing people that are focused on endurance sports and healthy living," said Andres Romero, V8's marketing manager.
The Oz Trails Off-Road takes place October 5-8.
Pennsylvania gravel race benefits local volunteer fire department
It feels better to race for a cause, doesn't it? The Quick & the Dead Mount Davis Gravel Grinder in Confluence, Pennsylvania takes that idea a step further. Held this Saturday, it is a non-profit race that benefits the volunteer fire departments in Somerset County that support the towns and rural areas along the course. All fundraising is being done on behalf of the Community Foundation for the Alleghenies (CFA)-Mt. Davis Gravel Grinder Fund, a 501(c)(3) nonprofit organization.
Oh, and the race itself? It looks like a tough one at 68 miles with 7,500 feet of climbing, topping out on Pennsylvania's highest peak, Mount Davis.
Check out the event website for more >>
Got some news you'd like to share in The Dirt? I'd love to hear from you. Please email me your news and updates on all things gravel and mountain biking.