The Dirt: Swiss success continues for Americans
Welcome to The Dirt, the weekly news round-up on what is happening in the worlds of gravel, mountain biking, and all things rough and dirty. Blevins and Swenson win Swiss Epic queen stage Less than one week after riding to a silver medal in the under-23 world mountain bike…
Heading out the door? Read this article on the new Outside+ app available now on iOS devices for members! Download the app.
Welcome to The Dirt, the weekly news round-up on what is happening in the worlds of gravel, mountain biking, and all things rough and dirty.
Blevins and Swenson win Swiss Epic queen stage
Less than one week after riding to a silver medal in the under-23 world mountain bike championships, American Christopher Blevins is back on the podium in Switzerland. This week, he is racing the Perskindol Swiss Epic mountain bike stage race, teamed up with fellow American Keegan Swenson. The duo won stage 3 of the five-day Swiss Epic Thursday after battling with Scott-SRAM's Andri Frischknecht and Matthias Stirnemann.
"Keegan and I kept it steady on the climb — it's a different kind of effort from cross country," Blevins said of their winning move on the finish climb to Grächen after 71 kilometers. They came home just three seconds ahead of the Swiss duo, who took the overall lead Thursday.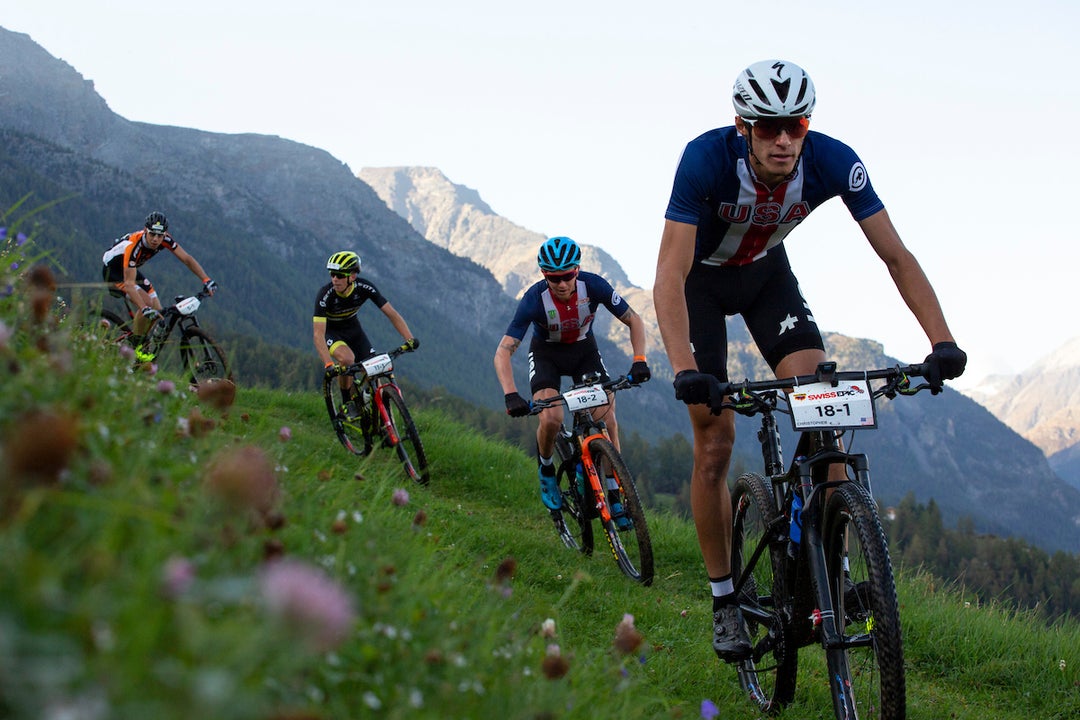 Thanks to their win on the queen stage, Blevins and Swenson moved into third overall, 21 minutes behind.
Canada's Haley Smith and Catharine Pendrel led the overall women's division after stage 3, despite a flat tire on Thursday. The duo finished second on the day.
Whole Athlete development team ends after 10 successful years
After 10 years sponsoring one of the country's top development programs, the Whole Athlete team is disbanding, days after seeing two of its alumni win medals at UCI World Mountain Bike Championships.
The newly crowned elite women's cross-country world champion Kate Courtney rode for Whole Athlete in her early years, as did Blevins, who was second in the under-23 XC. The team also helped develop Neilson Powless, Sean Bennett, Haley Batten, and Swenson.
Courtney is a perfect example of the type of athlete that Whole Athlete attracted in its mission to bridge the gap between National Interscholastic Cycling Association (NICA) racing and the elite levels of racing. She got her start in NICA and quickly climbed the ranks as a junior and under-23 rider.
The team's online announcement explained what is next for the successful organization:
"And although its sponsorship of the team may be coming to an end, Whole Athlete forges ahead as one of the country's top coaching organizations. From its performance center base in Northern California, the company will shift its team sponsorship focus to cycling camps for teens and adults in 2019. Teen mountain bike camps in particular will continue with much of what the Junior/U23 team approach provided young athletes — opportunities to learn and grow through Whole Athlete's holistic approach."
Video: Dirty Kanza 200 takes Grit
Starting to think ahead to 2019? Need to plan a big goal? Maybe Dirty Kanza 200 should be on your list. This video from Isaiah Jay might inspire you to take on one of the biggest gravel races in the world… Or maybe it will scare you off. Either way, worth a watch.
New gravel stage race to benefit Davis Phinney Foundation
The people behind Vermont's Rasputitisa gravel race have a new event lined up for 2019, a three-day stage race over Labor Day weekend.
The Redemption gravel race will benefit the Davis Phinney Foundation, which helps people with Parkinson's continue to live well with the disease. There is a personal connection here: The co-founder of the Redemption gravel stage race, Heidi Myers, was diagnosed with Young Onset Parkinson's disease in 2016.
Stage 1, on August 31, will be 31 miles with 2,500 feet of climbing. Stage 2 is the longest at 53.5 miles with 4,550 feet of climbing, and the race concludes on September 1 with a 35-mile stage 3. All stages start and finish in Brownington, Vermont.
Mueller-Korenek will attempt to break land speed record Saturday
This Saturday, Denise Mueller-Korenek will attempt to ride faster than any human ever before on a bicycle. She is headed to Utah's Bonneville Salt Flats to try and break the paced bicycle speed record set in 1995 by Fred Rompelberg, 167 miles per hour.
If her name sounds familiar, that's because Mueller-Korenek set the women's paced speed record in 2016, riding 147.75 miles per hour.
The 45-year-old will ride behind the same dragster that paced Rompelberg to his world record speed, although the car has been overhauled to meet modern safety standards and outfitted with a 1,000 horsepower methanol engine.
Got some news you'd like to share in The Dirt? I'd love to hear from you. Please email me your news and updates on all things gravel and mountain biking.