The Explainer: Intimidation might be in the eye of the beholder (but the feds make the call)
There has been a lot of Internet chatter about last weekend's Tyler Hamilton/Lance Armstrong meet-up in Colorado. What's the big deal?
Heading out the door? Read this article on the new Outside+ app available now on iOS devices for members! Download the app.
Q.Dear Explainer,
There has been a lot of Internet chatter about last weekend's Tyler Hamilton/Lance Armstrong meet-up in Colorado. What's the big deal? Bringing the FBI in to investigate two dudes who might have come close to a bar fight?
Am I right in saying that this isn't the first time Armstrong has been accused of the same thing? Wasn't he cleared of that one, too?
It seems to me there are better ways to waste our time and law-enforcement resources, but what crime – if any – was committed there?
Finally, when is all of this stuff going to come to a head? It seems to me that this whole Lance-is-a-doper thing has been going on for a year now and we still haven't heard anything. When are they going to make a decision in this case … or is it just going to linger out there forever?
– Keith
A.Dear Keith,
At this point, the incident is largely just that, fodder for Internet chatter. A lot of folks have staked out positions on this incident and, I suspect, they largely reflect their positions on the whole question of the current grand jury investigation itself.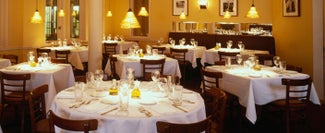 By now, most everyone has heard the stories of the encounter at Aspen, Colorado's Cache-Cache restaurant. Hamilton, in Aspen for a series of bike rides organized by Outside magazine, went to dinner at the restaurant with friends. Armstrong describes it as a chance encounter, which he said was, for obvious reasons, "awkward." Hamilton told Outside's Abe Streep that he felt "rattled" by the encounter after Armstrong blocked his way out of the restroom with his arm.
What is cause for concern here is that in the course of a recent CBS "60 Minutes" interview Hamilton had clearly acknowledged that he had testified to the grand jury investigating allegations against Armstrong. While grand jury proceedings are secret, a witness isn't barred from discussing his or her own testimony, which Hamilton has obviously done. In doing so, it became public knowledge that Hamilton had testified. He is, by any definition, a witness in a possible criminal case involving Armstrong.
As one probably should, Hamilton quickly texted his attorney, Chris Manderson, with a brief description of the encounter and asked what he should do. Manderson read the text on Sunday morning and on Monday he contacted federal investigators to report the incident.
Manderson told those investigators – and later ESPN's Bonnie Ford – that Armstrong had repeatedly "asked [Hamilton] how much he had been paid to do the television interview, and added that his legal team would '[expletive] destroy you,' 'tear you apart on the witness stand,' and 'make your life a living [expletive] hell.' "
The FBI got involved and acted quickly, interviewing the owner of the restaurant, Armstrong friend Jodi Larner, and informing her that digital files from the restaurant's closed circuit surveillance video system would be subject to a subpoena and needed to be preserved.
Because the two participants' descriptions of the encounter vary, video and witness testimony could play a key role in determining whether a crime was committed. Larner says the video is unlikely to show anything since cameras do not cover the area of the restaurant in which the encounter took place. However, Armstrong's attorney and spokesman Mark Fabiani said that there were enough witnesses to support his client's description of events.
"Bystanders have come forward to say what really happened," Fabiani wrote in an email to VeloNews. "We are content to rely on these third party accounts."
Those bystanders' accounts, reported by the New York Times, paint a relatively benign picture of the conversation between the two men.
Manderson, however, says that the incident was more serious than "the innocuous encounter between two dudes that the Lance camp is selling."
In an email to VeloNews, Manderson said that Hamilton came to Aspen, where Armstrong owns a home, on the assumption that his former teammate was out of town. Armstrong's Twitter feed had made reference to the fact that he was in Tennessee to participate in a ride and Hamilton's plans were public as well.
"I don't think this was a chance encounter," Manderson told VeloNews. "I think Lance knew TH was in Aspen and came back from Tennessee looking for a confrontation."
Manderson said that Armstrong may have been alerted to the fact that Hamilton was dining at Cache Cache and went there to confront him.
"Whether it rises to obstruction of justice is up to the feds after they investigate," Manderson said. "If they believe it is, they could add it to an indictment."
Again, Armstrong has described it as a chance encounter and one that only produced an "awkward" moment for both men.
"I thought it was improper contact with a witness, and it certainly was hostile and threatening," said Manderson.
It's those elements — "improper contact," "hostile" and "threatening" — that would have to be proven to raise the encounter to the level of a crime. Ultimately, it will depend on what federal investigators conclude. The applicable federal law in this case would probably be Title 18 of the United States Code, Section 1512 "Tampering with a witness, victim, or an informant."
The law is pretty specific and it sets a relatively high bar for a prosecutor to clear before a defendant could be convicted. A chance encounter that results in an awkward moment wouldn't meet that standard. An organized attempt to explicitly or implicitly threaten a witness would.
The law does call for fines and imprisonment – up to 20 years – for someone who
"knowingly uses intimidation, threatens, or corruptly persuades another person, or attempts to do so, or engages in misleading conduct toward another person, with intent to—
(1) influence, delay, or prevent the testimony of any person in an official proceeding."
Frankly, it would be something of a stretch to build a strong case on the basis of a chance encounter in a restaurant. It would be easier if, as Manderson suggests, that the encounter was planned, especially if Armstrong had been alerted to the fact of Hamilton's presence by another party. Again, it really depends on what investigators conclude.
I would suspect that in the absence of definitive evidence of intimidation, prosecutors may just opt to prevent further such encounters by relying on 18 U.S.C. § 1514 – "Civil action to restrain harassment of a victim or witness."
That may result in a restraining order that puts down on paper that which Armstrong probably should already know, given the stellar legal team he has in place. With or without a restraining order in place, any lawyer worth his salt will strongly advise any client facing potential criminal charges to steer a wide path around any possible witnesses in that case. Of course, good legal advice ain't worth much if it ain't followed.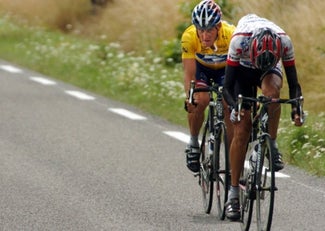 You are right in that the whole issue of witness intimidation has been raised against Armstrong in the past. He was the subject of an inquiry in Italy due to the now infamous "zip-the-lip incident" involving  Filippo Simeoni the 2004 Tour de France. We've written about it before and, as you correctly recall, there were no charges brought in that case.
Many have pointed to the zip-the-lip incident as a rare public display of the enforcement of cycling's code of silence ─ omerta. (Simeoni did himself no favors two days after the incident when he repeatedly attacked in the early portions of the final stage of the Tour, pissing off many more than Armstrong on that day.)
The big difference, of course, is that intimidating as omerta might be, it seems to unravel like a two-dollar-sweater when you have a federal grand jury picking at the threads with proffer letters granting limited immunity and threats of perjury charges against those who do not testify candidly.
Was there a crime committed in Aspen? I don't know. Was there a lapse of good judgment on Mr. Armstrong's part? Probably.
What it does underscore is the level of tension that has been hanging over Armstrong and anyone else even remotely connected with this case in the year since the federal doping investigation shifted its focus to him and his past.
In response to your final question, federal grand juries are generally empanelled for a year. In cases involving significant complexities, prosecutors can ask for — and are generally granted — a six-month extension. Reportedly, this case involves more than just allegations of doping. If, as sources have told VeloNews, the case has also focused on complex financial transactions, it might require that additional time.
Either way, it won't just "linger" out there. One would expect that if indictments are forthcoming, we'd hear about them well before the end of 2011. If the grand jury's term expires without indictments, we can pretty much expect we'd quickly learn about that, too.
For one thing, you would probably hear the sound of quite a few champagne corks popping at Cache Cache in Aspen.