Queen-stage power: Analyzing output on Colorado's stage 3
The power numbers from the USA Pro Challenge queen stage
Heading out the door? Read this article on the new Outside+ app available now on iOS devices for members! Download the app.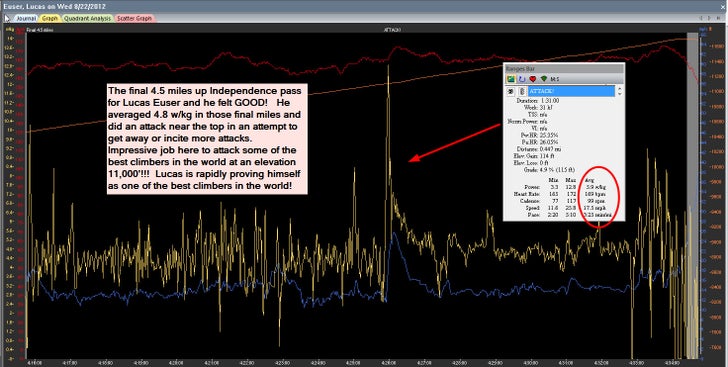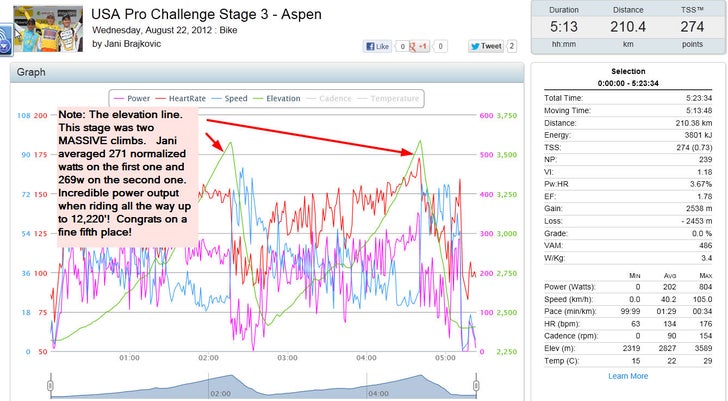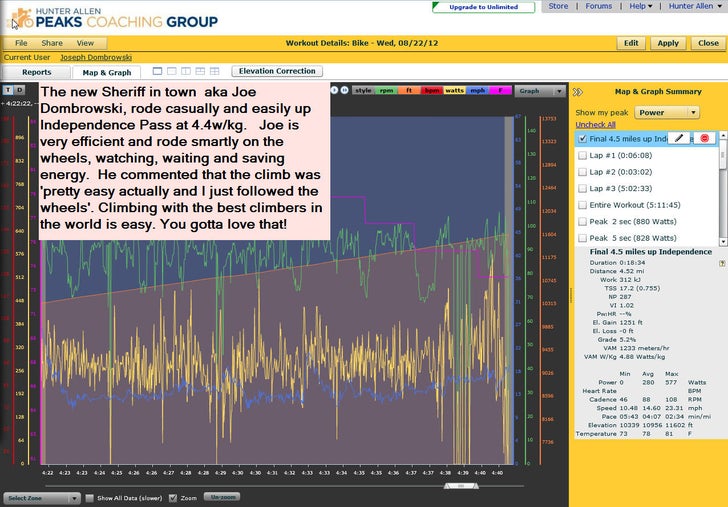 USA Pro Challenge Stage Three Power Analysis
Editor's note: Hunter Allen, the co-founder of TrainingPeaks WKO+ software and the founder of Peaks Coaching Group, will join us throughout the USA Pro Challenge to look at the power numbers the sport's top riders are laying down in Colorado.
Stage 3: Gunnison-Aspen, 130.5 miles
View this stage in the full TrainingPeaks activity viewer for Joe Dombrowski, Jani Brajkovic and Lucas Euser.
Stage results
1. Thomas Danielson, Garmin-Sharp, 5:02:06
2. Damiano Caruso, Liquigas-Cannondale, at 0:02
3. Jakob Fuglsang, RadioShack-Nissan, s.t.
5. Jani Brajkovic, Astana, s.t.
15. Lucas Euser, SpiderTech-C10, s.t.
23. Joseph Dombrowski, Bontrager-Livestrong, s.t.
The queen stage of the USA Pro Cycling Challenge is a monster, with more 8,400 feet of total climbing, all done between 7,600 and 12,220 feet. Basically, when you look at the profile of these power files, it's just two monster climbs with a couple descents off each — and that's the stage. The two climbs, Cottonwood and Independence Pass, both top out at more than 12,000 feet, with Cottonwood including 13 miles of gravel. Strategy here is simple: Climb the best you possibly can, hope you can hang on with the front group, and don't get altitude sickness.
Jani Brajkovic (Astana) rode to a stellar fifth place on Wednesday's queen stage, finishing in the yellow-jersey group, only 2 seconds back on winner Tom Danielson (Garmin-Sharp).
Brajkovic's hardest effort of the day was at the beginning of Cottonwood Pass, where he cracked out seven minutes at 325W, right at his functional threshold power (FTP) adjusted for elevation. This was a hard start to the climb, and after the initial section the pace eased off. Thereafter, Brajkovic rode well within his abilities on Cottonwood Pass and averaged 271W Normalized Power (4.4 w/kg) for the 51-minute climb, saving his energy for the second climb up Independence Pass. For reference, the same climb last year took the peloton about 58 minutes, so this year's pace was definitely faster!
On Independence Pass, for the entire 52-minute climb, Brajkovic averaged 269W Normalized Power (4.4 w/kg). This year's ascent up Independence Pass happened at a much more controlled pace than last year's. This year, in the final steep section lasting 4.5 miles, Brajkovic only had to ride at 4.8 w/kg for 19 minutes, whereas last year the front group averaged 5.1 w/kg for more than 17 minutes.
Clearly, Garmin-Sharp helped to neutralize the pace a bit, as did the strong headwind on the final slopes. Brajkovic was able to hide in the group and not have to take a pull at the front while the Garmin-Sharp team worked much harder.
One interesting tidbit about Brajkovic's climb on Wednesday: His cadence dropped in those final 4.5 miles, from 90 rpm to 82 rpm. He may have felt tired and needed to push a bigger, harder gear to stay toward the front of the race.
Lucas Euser had a very similar power file, and also rode a strong race. He was on the attack up Independence Pass and off the front for a while, trying to chase down Tom Danielson.
Euser continues to ride well, and his power numbers reflect it. He is relatively light at 58 kg so his absolute numbers aren't that big, but the w/kg numbers are impressive considering that he was between 10,600 and 12,220 feet while creating 4.8 w/kg for the final 17 minutes.
Euser knew that he had to go on the attack if he wanted a chance at the win, and he unleashed a wicked one, averaging 342W (5 w/kg) for a minute and a half, with a 746W max output. But it was not enough to incite the other riders to go on a "free-for-all" attack to break up the Garmin-Sharp pace stranglehold.
Joe Dombrowski, who claimed the best young rider jersey on Tuesday, said Wednesday's queen stage "was pretty easy actually. The final climb was mostly headwind, so I just sat tight and followed wheels."
Wow. Dombrowski is climbing with the best climbers at one of the highest altitude races in the world, finishes in the front group, and says, "It was pretty easy." Is some really big team listening? There's no doubt about it — this kid is going to win some big races in the future.
Why was it so easy for Dombrowski? For starters, he only averaged 4.4 w/kg in the final 4.5 miles, which is significantly lower than Euser or Brajkovic. This could mean he is a more efficient rider than those two. It also means that he knows how to sit quietly and effectively on a wheel. Both helped him save energy for stages to come.
The other thing it means is that Dombrowski has the ability to actually win a stage if he plays his cards right. Bicycle racing isn't all about the person that can do the most w/kg — there are a lot of factors involved, especially at the elite level. Dombrowski is among the 10 or so guys that can win the next couple stages, and that narrows it down to only nine other riders that he needs to outsmart.
These three riders are evenly matched — even when deeply analyzing their power files it's hard to tell which is really strongest. Besides, racing in a stage race is not just about the stage itself, but also about what you do after the stage, how much you eat, how much rest you get and how well you recover day to day. Let's see who recovers the quickest from Wednesday's big stage.
Editor's note: For more USA Pro Challenge race files and analysis visit trainingpeaks.com/usapcc