The talented Mr. Blevins
Christopher Blevins can ride a bike—any bike. But the 20-year-old doesn't just want to be a bike racer.
Heading out the door? Read this article on the new Outside+ app available now on iOS devices for members! Download the app.
Christopher Blevins's bicycle acrobatics are on full display.
Blevins is in his hometown of Durango, Colorado, trying out a new set of wheels on a full-suspension mountain bike.
The hillsides overlooking this picturesque Colorado mountain town are crisscrossed by trails that have long served as the playground for America's mountain biking royalty. Unfortunately for Blevins, those trails are closed due to wildfires sweeping across southwestern Colorado.
Blevins, however, has another ride in mind. He collects his bike from his favorite bike shop and rides to Durango's BMX track.
By design, it's hard to pump a mountain bike the way you would a BMX bike; the suspension absorbs much of the energy you put into the pump motion. That doesn't stop Blevins from powering his mountain bike down the ramps and soaring off of the jumps. He catches several feet of air with ease whenever he decides to go big.
The effortless jumps, hops, and carves are the result of countless hours of riding. Blevins has been soaring on a bicycle since he was a child. Long before he was the most promising mountain biker in the U.S., Blevins was a BMX champion.
"As a kid, there's a bunch of pictures from every single race I have where I have this mean, menacing snarl on my face," Blevins says.
BMX coach Richie Anderson called it the "grrr" mindset. Looking back, Blevins laughs at the racing attitude. These days, dirt makes Blevins smile.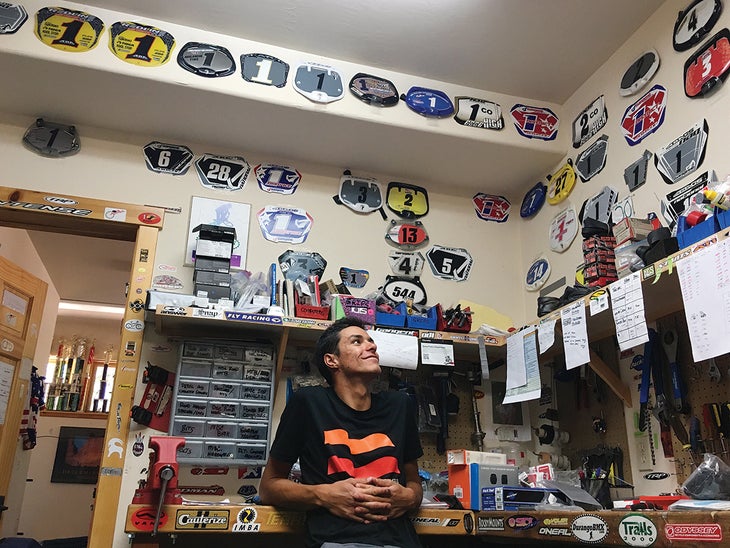 Considering his background, his talents, and his already long list of achievements, this fact should not come as a surprise.
Blevins is the reigning under-23 national champion in cyclocross and the elite short-track mountain bike champion. At just 20 years old, he has a contract with Specialized — and support from USA Cycling — which takes him far afield to race his mountain bike at European World Cup events.
Blevins is also one of the country's best up-and-coming road racers. He races for road cycling's premier development team, the Hagens Berman Axeon squad. Team manager Axel Merckx sees him as a potential contender for the Ardennes classics.
That diversity of cycling talents puts Blevins among the most skilled young racers on the face of the planet. And yet, Blevins has talents and interests of a completely different variety.
Christopher Blevins is a scholar: he currently studies business at the California Polytechnic State University, one of the country's premier schools for math and science. Blevins is a poet: in high school he discovered spoken word poetry and rap, and last year recorded a rap album. Blevins wants to make a difference in the world: he teaches creative writing at a local juvenile hall in the San Luis Obispo area.
Blevins has options in cycling, but he also has options in life.
"If I went to the WorldTour, part of me would want to also be able to continue my interests in other ways," Blevins says. "I don't want to just be a bike racer my whole life. I just see myself as a person who races bikes."
Blevins is an outlier in a sport that has grown increasingly obsessed with specialization. That whole package, combined with a healthy dose of charisma, could make him a potential star for a sport in need of fresh young personalities.
Blevins says he gets asked a lot about which discipline he'll ultimately settle on. He knows that there may come a day when he must narrow his focus, and pour his efforts into just one of his many talents. But for now, his wide array of skills is exactly what makes him one of the most promising prospects American cycling has seen in decades.
BLEVINS FIRST RACED A BMX bike at age five; he quickly became a fixture on the national BMX scene, winning seven national age group titles by his 12th birthday.
At age nine, Blevins began to ride a mountain bike. It was only natural: Mountain biking is just what kids in Durango do.
From Ned Overend to Juli Furtado and John Tomac, top American pros have moved to Durango. There, off-road racing reigns; in part that's due to the presence of recognizable stars, and also because of the legacy of the town hosting the inaugural mountain biking world championships in 1990.
And then there are the trails. Durango has an endless web of singletrack to test a rider's skill.
Durango's status as a mountain biking mecca opens clear pathways for young racers looking to progress beyond riding trails with their friends. Blevins saw this as he entered his teens.
"If you have a local short track race on Wednesday and everyone is in town, it's almost as competitive as national championships," Blevins says. "Everyone comes, maybe someone is visiting, it's just the perfect atmosphere to develop as a cyclist, especially as a mountain biker."
Perhaps most importantly, Durango's love affair with mountain biking normalizes participation in the sport for kids. It is then passed down from one generation to the next. Todd Wells moved to Durango to attend Fort Lewis College, and was mentored by Overend. Subsequent generations of racers looked to Wells for advice.
"As a kid growing up, you're surrounded by all these athletes that are pro mountain bikers, so it's just a normal job," Wells says. "Like if you grow up in New York City and you want to play baseball and you're like, 'Oh yeah, the Yankees. I could play baseball, that's a real job.'"
When Blevins branched out from BMX and discovered Durango's trails, he immediately found success on the mountain bike. He won his first age-group national championship in 2008. A crash on the BMX bike derailed his 2009 ambitions, but he returned to claim age-group cross-country titles from 2010 all the way through 2017.
Blevins trained with the Durango Devo program, which focuses on getting young kids in and around Durango on mountain bikes and teaching them the skills necessary to progress in the sport.
"I don't want to be too dramatic about it," Blevins says, "but I think without Devo I could have easily burned out, racing BMX so seriously."
The country's top male cross-country star, Howard Grotts, is also a product of the Devo program. So too is Sepp Kuss, currently racing on the road with the LottoNL-Jumbo WorldTour team. Participants in the program's riding sessions and camps number in the hundreds every year.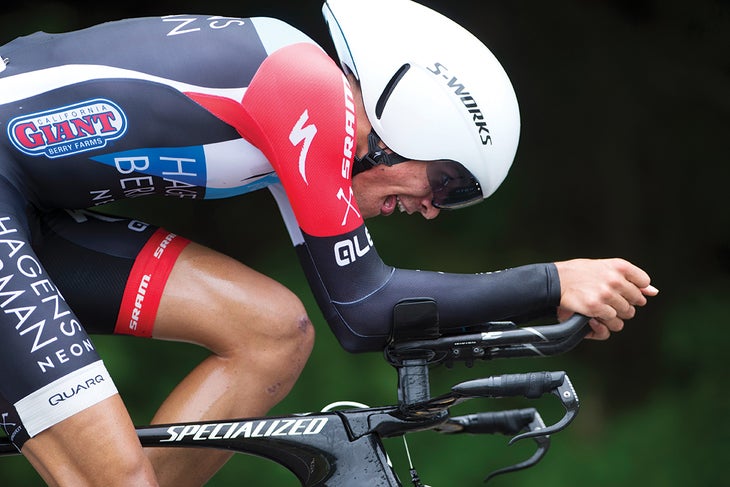 "The philosophy of Devo was just have fun, explore Durango, and become good bike racers in the midst of it," Blevins says. "We never did intervals or that kind of training."
That's by design. Devo co-founder Chad Cheeney knows how much of a danger a hyper-focus on racing can pose. Accordingly, the program's motto is "Never forget the fun."
Cheeney says he was initially concerned that Blevins might burn out with his early racing success. However, Cheeney saw that Blevins simply loved to ride.
"He liked coming to practice, even sticking around some days, doing wheelies, trials," Cheeney says. "It was a good break from what he was doing."
THE DURANGO MOUNTAIN BIKE scene may have been a catalyst for Blevins's broadening horizons, but he did not settle for junior mountain bike dominance. He also began racing road and cyclocross. Unsurprisingly, he excelled in both disciplines as a teenager.
At age 16, he raced his final BMX season, winning BMX grand nationals. Then, USA Cycling took him to Europe to race kermesses on the road. That summer he joined USA Cycling's junior team and raced the Peace Race, a stage race in the Czech Republic for promising young road cyclists. Past winners include Fabian Cancellara, Michal Kwiatkowski, and Roman Kreuziger.
Blevins won the race, 24 seconds ahead of Russian rider Evgeny Kazanov. The result opened the world's eyes to Blevins's potential on the road. That's when he got the offer to join the Axeon program.
[pullquote attrib="Axel Merckx"]"When I was considering what I was going to do as a U23, I honestly thought I'd maybe just end up racing mountain bikes and going to school. It's been phenomenal that Axel has allowed me to race both."[/pullquote]
Christopher's father Field Blevins remembers the moment his son got the call on an otherwise unassuming afternoon.
"I'm thinking, 'Oh it's another girl or something,'" Field says. "He was talking and he looks at me and he goes, 'It's Axel Merckx!'"
Most aspiring road racers would accept a spot on Merckx's team, no questions asked. Blevins had questions. Could he still race mountain bikes?
Merckx agreed.
"When I was considering what I was going to do as a U23, I honestly thought I'd maybe just end up racing mountain bikes and going to school," Blevins says. "It's been phenomenal that Axel has allowed me to race both."
Now in his second year with the team, Blevins has blossomed on the road. In April he won stage 2 of the Tour of the Gila from a breakaway, attacking veteran Daniel Jaramillo in the final kilometer.
"He could be a world champion on the road or the mountain bike, too," Merckx says. With Blevins's specific skillset, Merckx sees him as a potential contender for races like the Ardennes classics.
Pair that kind of skill with Blevins's charisma, his highly entertaining riding style, and his diversity of interests, and American cycling may have an emerging star on its hands.
At face value, Blevins has the qualities that American cycling craves. Video footage of Blevins bunny-hopping a set of stairs at 2018 'cross nationals in Reno dominated the cycling Twitterverse for a few days in January. Fans can also find his music on Spotify and music videos online.
Wells says he sees similarities between Blevins and the versatile Tomac, who won mountain bike world titles and also raced the Giro and pro BMX events. "Tomac, he had style and was a flashy rider," Wells says. "You would watch him, and you'd get pumped to go try this jump or do whatever."
Wells believes Blevins could have a similar impact on the next generation of riders.
"Watching him at cyclocross nationals this year, he's jumping those stairs, I'm sure that he inspired just about every junior kid out there to go jumping up stairs, breaking their wheels," Wells says. "It's exciting."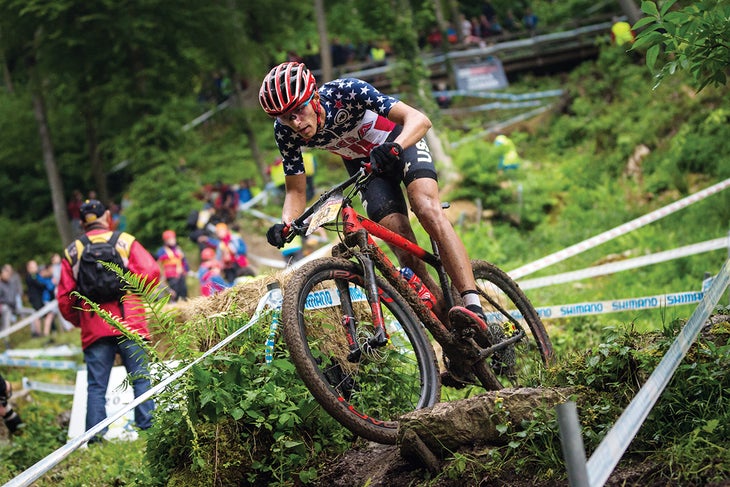 HOW FAR CAN Christopher Blevins go in cycling's professional ranks? His success may depend on which discipline he decides to pursue. Nobody can make Blevins choose road over mountain biking. As Merckx says, "He's going to have to follow his heart."
Right now, Blevins's heart is pointing him toward the mountain bike.
Racing off road at the 2020 Olympics in Tokyo is his central sporting focus for the next two years.
"I want to do all I can to make that team," he says.
The flow of mountain bike talent to the road is a reality of modern cycling. Twenty years ago, it was Cadel Evans and Michael Rasmussen. Today, it's Jakob Fuglsang, Peter Sagan, and closer to home, Sepp Kuss and Neilson Powless. Road cycling offers bigger salaries and a more stable job market — it's just the reality of the marketplace. Blevins's dedication to the mountain bike, despite his road results, is an oddity. Blevins knows it. He credits his choice to growing up in the mountain bike hotbed that is Durango — and also a good sign for American mountain biking.
Blevins's Olympic dream means tilting his focus towards World Cup racing to hunt Olympic points. With Grotts and Keegan Swenson also in the mix for a trip to Japan, the U.S. will likely need the maximum two spots for Blevins to attend. The coveted race for those UCI points begins now.
That World Cup focus is another oddity in and of itself. An American man has not won a cross-country World Cup in more than two decades, even though American riders invented the discipline. In focusing on that style and that tier of mountain bike racing, Blevins is swimming against the current.
With Blevins looking to help the U.S. earn two Olympic spots and then prove himself worthy of one of them, road and cyclocross may take a back seat to mountain biking as Tokyo gets closer.
In fact, Blevins says he's so laser-focused on his Olympic aspirations — and college and poetry too, of course — that he would turn down a WorldTour offer if one came his way right now.
"I can say that without hesitation," he says. "It's not just Tokyo, it's also finishing college. I definitely don't see myself as someone who could go to the WorldTour before I'm done with my under-23 years."
Blevins's current emphasis on mountain biking at the Olympics, however, should not be taken as an indisputable sign that he'll one day decide to race his mountain bike exclusively. Once the summer of 2020 comes and goes, things could change. Perhaps he will choose a different discipline or pursue a completely different career arc. He says there are multiple variables that will inform the decision, and that includes factoring in where he is with school and what opportunities he has outside of bike racing, too.
"I think we can count out BMX, but I love cyclocross and there's a chance I'm doing a full cyclocross season," Blevins says. "There's a chance I'm battling it out with the elites in the [mountain bike] World Cups. There's a chance I maybe want to give it a shot and go full-in on the WorldTour."
AT 10 O'CLOCK ON a Wednesday night, the Blevins family living room has been converted into a makeshift studio. While Field Blevins sits in the kitchen, Christopher clips a soundproofing panel onto his microphone stand.
He wants to lay down a verse on a new track.
As talented as the multi-discipline national champion is, he is a bit shy about recording with an audience. Poetry and rap are mostly personal, he says. Nonetheless, he presses play on the beat.
The verse starts off calm but builds to a crescendo after a few bars, with Blevins putting his impressive flow on full display for the last few lines. He recites every word from memory.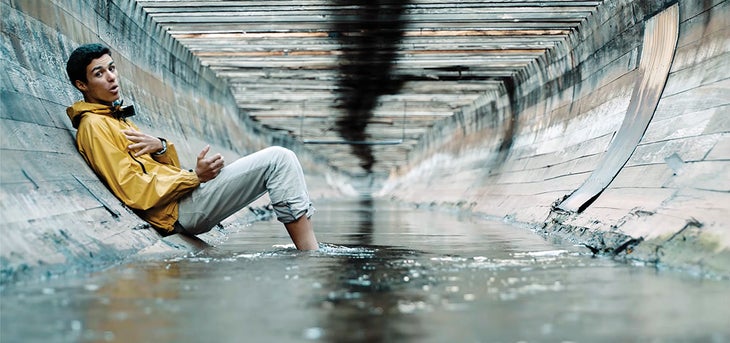 To witness his recording process from a chair in his living room is a fine introduction into Blevins's twin love of both spoken word poetry and hip-hop. For the spoken word experience, watch him rap to a beat only he can hear in his headphones. Put on the headphones for the full experience: an aspiring songwriter and musical artist delivering bars on top of an undeniably catchy sample.
As with everything Blevins has set his mind to, writing lyrics is another area in which he has clear talent. His collection of poems and raps encompass themes both personal and global. His optimism seeps into many of his tracks. On others, he is not afraid to explore more serious emotional themes. His wordplay can be clever, but he doesn't overdo it.
Blevins says his passion for spoken word poetry and rap music is "equivalent to that of cycling" for him. Perhaps one day, his career path will require him to make tough decisions about pouring his energy into just one of his many passions.
His song "Battlefield," for which he also recorded a music video, sets his thoughtful, optimistic outlook on life to a beat.
We wear our tattered hearts like battle scars from everything that we go through
But I shoot my heart out like a cannonball; I know it lands right where it's supposed to
And I will be standing taller than the ceilings that we haven't broken through
I will never put a barricade around everything that I hold true.