Tim Johnson leads the ride on Washington
Early Friday amidst frigid temperatures, cyclocross star Tim Johnson and company departed from Boston's City Hall for a 5-day marathon ride to Washington D.C. leading up to the 2011 National Bike Summit.
Heading out the door? Read this article on the new Outside+ app available now on iOS devices for members! Download the app.
Tim Johnson and company gain support as they depart for Washington, D.C.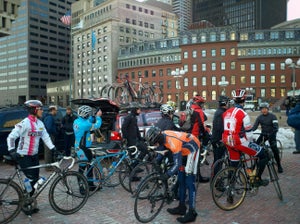 Early Friday amidst frigid temperatures, cyclocross star Tim Johnson and company departed from Boston's City Hall for a 5-day marathon ride to Washington D.C. leading up to the 2011 National Bike Summit. In addition to raising awareness, the ride is serving as a fundraiser for the Bikes Belong Foundation, with each participant raising $1,000 or more on his or her behalf. Bikes Belong plans to convert each dollar received into $1,800 from the government for bike paths, lanes, programs and facilities. In addition to donations from the public, the ride is also getting support from sponsors such Red Bull, BikeReg.com, Mad Alchemy Embrocation, Rapha USA, Strava.com, SRAM, Cannondale and Thule.
The route will take the riders through several major cities on the Eastern Seaboard, including Providence, Hartford, New York, Trenton, Philadelphia, Wilmington and Baltimore before finally arriving in Washington on Tuesday March 8th.
In the weeks preceding the departure, Johnson also managed to recruit other prominent figures in and outside of the cycling community of become involved as they recognized the importance of the event, such as the Boston Mayor Thomas Menino. En route to D.C., Johnson will be joined by race announcer and Bikes Belong Partner Richard Fries, former U.S. road national champion Meredith Miller, Pedro's Bike Care CEO Matt Simpson, Mad Alchemy founder Pete Smith, and former Canadian cyclocross and road national champion Lyne Bessette, along with some amateur cyclists en route to Washington.
Johnson has also recruited several other professional cyclists to support the effort, such as Liquigas-Cannondale rider Ted King, who is wholeheartedly behind racers like Tim Johnson and Meredith Miller involved with awareness, "having professionals involved in cycling advocacy illustrates our passion and commitment to the sport," King said. "Cycling is unique as a professional sport on so many levels already; we're not advocating to build baseball fields or hockey rinks. Our sport is so open taking place in such a public venue, therefore often advocacy comes from this grassroots level."
In addition to King, other prominent American cyclists are supporting the project such as Garmin-Cervelo riders Christian Vande Velde and David Zabriskie. Zabriskie, whose foundation Yield to Life also promotes awareness, said of the project, "It's very important for pro cyclists and racers to use their voice and influence to promote the safety of all cyclists and encourage cycling as a safe and healthy alternative for all generations."
Zabriskie also touched on the importance of spreading the message beyond the cycling community, "We want to extend our movement as wide as possible to spread our approach to the issue. You can legislate all you want but perceptions and attitudes need to change in order to save lives and prevent senseless accidents."
Like King and Zabriskie, Johnson also recognizes the importance of getting professional racers involved, "As professionals cyclists we have a reach that even the most passionate guy who is trying to get a bike path installed in his town can ever have. People care about what we're doing, people want to see us around, they want to see us training, they want to see us racing, they want see us winning but that's only one piece of it and there's so more we can do." Johnson's wife Lyne Bessette echoed Johnson. "The goal is to bring everyone together and programs like Bikes Belong do a lot of different things to raise awareness."
The event kicked off Thursday night in the Lexington, Massachusetts, at Ride Studio Cafe, where the greater Boston cycling community showed up in spades for there support for the ride. Before the evening's activities ended Johnson addressed the crowd to explain how he realized the importance of advocacy, "it is really all about what makes you consider yourself a part of the problem and the solution. For me, it was that as a racer there are all these people in cycling that never open cyclingnews or velonews, but are out there working for me. And it just gave me this feeling of obligation, and I can't believe that I had not about known about it or had not opened my eyes to it before and I wanted to know what can I do to help. So, riding from Boston to D.C. sounds awesome."
In addition to Thursday night's gathering, Johnson and the other riders will be hosting receptions each evening with a raffle on their way to Washington. The general open nature of the ride extends further, with everyone encouraged to join in to the group for a section of the ride as they roll through Southern New England and the Mid-Atlantic.
When the riders left, the weather was clear and in the teens at Boston's City Hall Plaza, Bessette said,of the conditions, "It feels Canadian, I think we were ready for it, it seems everyone is well dressed, it's going to be warming up as we go, and hopefully the next couple days hopefully will be warmer."
More information can be found on the ride's Facebook and PledgeReg.com pages.