Tobin Ortenblad finds DIY cyclocross success
Tobin Ortenblad is quickly climbing the ranks in U.S. cyclocross, and he's doing so without a team.
Heading out the door? Read this article on the new Outside+ app available now on iOS devices for members! Download the app.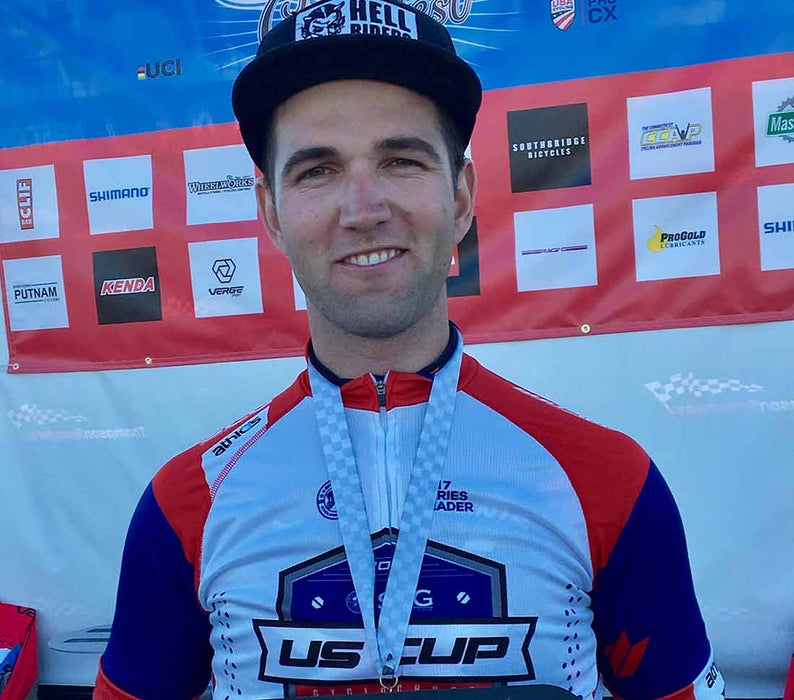 THOMPSON, Connecticut (VN) — When Tobin Ortenblad isn't riding his bicycle, he looks at spreadsheets.
Each document represents a single race weekend for Ortenblad's annual cyclocross schedule, and the various expenditures he accrues along the way. Plane tickets, rental car fees, meals, and gas — Ortenblad tallies them all himself and then assesses how each line item fits into his budget.
Bookkeeping may seem an odd skill for a cyclocross racer, yet for Ortenblad, it's as important as hopping barriers. Ortenblad does not race for a factory team, and instead operates his own privateer racing program, with backing by sponsors Santa Cruz Bicycles, Bell helmets, SRAM, and Donkey Label apparel. He books his travel, hires his mechanic, and even pays his taxes.
"It's gratifying running your own program — nobody is going to tell me what I can or can't do," said Ortenblad, who is 23. "It's been a good way for me to learn how to be an adult."
In previous generations, a rider with Ortenblad's talent and results — he was the U23 national champion in 2016 — found support from a big-budget factory race team that employed managers, mechanics, and masseuses. Today, the big teams have largely disappeared, with just a few surviving in the U.S. cyclocross scene. Cannondale-Cyclocrossworld.com still attends the races, as does the new Kona endurance team and the Donnelly Cycling Team (formerly Raleigh-Clement). Jeremy Powers's Aspire Racing now supports youngsters Ellen Noble and Spencer Petrov.
When Ortenblad graduated from the U23 ranks in early 2016, he sought employment from the few teams in the U.S. scene, assuming that his U23 national title would open doors.
The job hunt proved fruitless.
"I was bummed. I was like, 'I win [U23 nationals], and nothing? Nothing at all?'" Ortenblad said. "I think people thought my [U23 national title] was a fluke because I wasn't the favorite going in."
Stu Thorne, who runs the Cannondale-Cyclocrossworld.com team, chalked Ortenblad's plight up to bad timing, rather than results. In early 2016, marketing dollars were scarce in American cyclocross, Thorne said, and the few pro teams had already hired on development riders for the future. Thorne's roster included development riders Curtis and Emma White, and he simply had no spots left.
"I wish I could have added a guy like Tobin onto our team," Thorne said. "There's only so much room on these programs. Tobin has done an admirable job of creating his own program."
Rather than wait for a team to hire him, Ortenblad looked at the other sponsorship models in American cyclocross. For years elite 'cross racers have cobbled together privateer programs, either by necessity or as a way to take control of their racing schedules. Katie Compton has raced with her own privateer program on and off for the last decade, as has former junior champion Cody Kaiser. Even two-time national champion Ryan Trebon fronted his own privateer program, called LTS/Felt, in 2011.
Now retired, Trebon said his privateer program helped him mature as a rider.
"You learn how to create those relationships with the sponsors, and communicate effectively with people, and manage your money," Trebon said. "A guy is going to be more disciplined in the long run that way. You're not going to go out and waste people's money."
Ortenblad saw an opportunity to piece together his own lineup of sponsors from the bicycle companies in his hometown of Santa Cruz, California. The Santa Cruz cycling scene has known Ortenblad since his early exploits in the National Interscholastic Cycling Association (NICA). Ortenblad won NICA's California State title during his sophomore year in high school. He then raced on the powerhouse California Giant Berry Farms/Specialized development team, which is based in Central California. So in early 2016, Ortenblad put together a sponsorship pitch and began shopping himself to bicycle brands. The first stop on his list was Santa Cruz Bicycles.
Don Palermini, marketing manager at Santa Cruz, said Ortenblad's sponsorship pitch was surprising for an athlete in his early 20s. Usually athletes ask for too much cash — Ortenblad, however, undersold himself.
"Here is this kid who is only 21 and he's totally buttoned up and realistic about his goals," Palermini said. "When we looked at his initial proposal we were like, 'Don't you need to earn a few bucks? You're not asking for enough.'"
Ortenblad cobbled together enough to hire a mechanic — who is also his coach — and embarked on a national racing program in 2016. He stayed in host housing and slept on couches whenever he could, and racked up miles on a rented mid-sized SUV (it was cheaper than the rental mini-van). He turned heads, finishing fourth at the C1 race in Rochester and then racing to fifth place at the U.S. elite national championships.
This year, Ortenblad is again racing on his privateer program. With a year of elite racing in his legs, he's taken a huge leap forward. During the UCI World Cup in Waterloo, Wisconsin, Ortenblad was able to ride into the top-five in the elite men's race for the opening few laps. He faded in the second half of the race, eventually finishing 27th. Ortenblad then dominated the US Cup-CX/KMC Cyclocross Festival, winning both pro men's races with surges in the waning meters. He now leads the new US Cup-CX series.
Ortenblad knows he has room to improve. His quick start can propel him to the front of the race, yet he is still working on the endurance to stay near the front after an hour of racing. Ortenblad is confident those skills will develop, so long as he is able to race in UCI C1 and World Cup races. And that, of course, depends on Ortenblad's ability to balance racing with those spreadsheets.
Ortenblad believes he's up to the challenge.
"It's no frills. Nobody is going to hand it to me, which is OK," Ortenblad said. "It was my only option and now I'm really happy I did it."