U.S. Cycling This Week: Powers opens USGP defense toe-to-toe with Johnson
Daylight saving time is coming and with it another weekend split between road and cyclocross racing in the States.
Photo: Wil Matthews wilmatthewsphoto.com
Heading out the door? Read this article on the new Outside+ app available now on iOS devices for members! Download the app.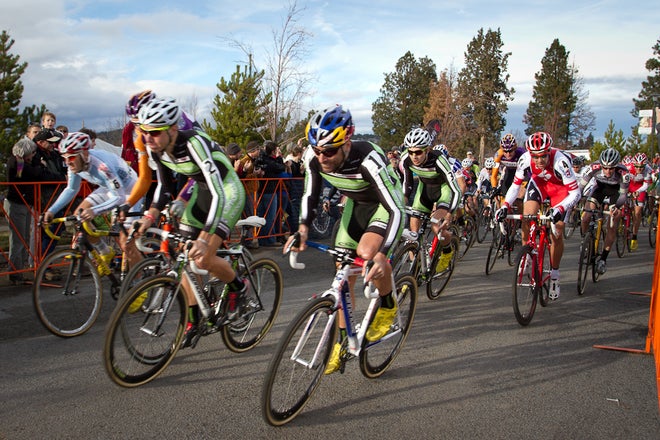 Daylight saving time is coming and with it another weekend split between road and cyclocross racing in the States. While Luke Keough (Mountain Khakis-SmartStop) looks to close out the USA Crits title in the men's series finale in Boston, Jeremy Powers (Rapha-Focus) will open his U.S. Gran Prix of Cyclocross defense in Wisconsin. Powers is going toe-to-toe with former teammate and roommate Tim Johnson — and a packed elite field — in a reprise of their 2010 title fight.
Powers delivered the first high profile UCI win for his new Rapha-Focus squad Wednesday night at the Gateway Cross Cup in St. Louis and comes into Saturday's USGP opener as the defending series champion. Unlike in Missouri, Powers will go up against former teammates Johnson and Jamey Driscoll and their new Cannondale-Cyclocrossworld.com mate Christian Heule.
Powers signed with the second-year squad in March and told VeloNews that he owed Cyclocrossworld.com owner Stu Thorne "a lot," but that the support the new team offered him was something he could not pass up.
"I felt like it was the right move for the betterment of my career and the sport in general in the United States. I have a two-year deal with a lot of promises and security," said Powers. "If you left the Yankees for the Padres, you'd be nervous. Even if they said everything and your sister was going to be there, you'd be nervous … I was as nervous as anybody would be."
Powers said those nerves subsided quickly. The team, run by Focus operations manager Jeff Rowe and team manager Brian Dallas, impressed him almost immediately. Powers is backed by Dallas and former Garmin wrench Tom Hopper in the pits this fall. On Saturday he'll toe the line for the first time with new mate Chris Jones; Powers and the team's U23 star Zach McDonald raced together at CrossVegas last week.
"This program has exceeded expectations," said Powers. "I didn't know if I made the right decision at first. There really was no reason to leave from a professional standpoint, but I'm super happy."
Johnson and Powers have benefited in recent years from teaming up in and outside of elite races across the country and the USGP series. Both riders were always quick to say they raced against each other as much as anyone else in the start grid, but being teammates did take an edge off of their two-way competition. Early in the season they took advantage of their numbers on fast, dry courses like Eva Bandman Park in Louisville, Kentucky, and the Desert Breeze Complex at CrossVegas. As they did most of last fall, Johnson and Powers split wins in Sun Prairie to open the USGP.
They finally took the gloves off in the final USGP stop in Portland, where they entered the series' last day tied on points. Powers won out at the final barriers on the last lap and that cooperation evaporated in March.
"When Tim and I had a rivalry, it wasn't a rivalry, it was just racing. Last year we looked out for each other until Portland, then laid our chips down," said Powers. "Now you basically say, 'Guys, we can't play anymore,' and I have to say this is what's best."
Johnson said he and Powers would go no-holds-barred.
"We were in a really special position last year and spent a couple years getting there, where he and I were able to go back and forth," Johnson told VeloNews. "Now there's no pussy footing around."
At the same time, both riders know that their two-way competition is just one of many stories in the men's USGP. Former series winner Ryan Trebon (LTS-Felt) and Jonathan Page (Planet Bike) are hungry, not to mention the Telenet-Fidea tandem of Rob Peeters and Starcrossed winner Bart Wellens.
"I think our styles are different enough that there's a distinct difference and it will make for more dynamic racing, but there are other guys," said Johnson. "It's not just going to be me against him, but me against everyone else as well."
Powers has made no secret of his extreme disappointment after crashing out of the lead twosome with Todd Wells (Specialized) late in the national championships last December. He told VeloNews that a second USGP title is important, but he is almost wholly focused on nationals, which will take place down the road from Sun Prairie, in Madison, in January.
"Winning the USGP again would be cool but I'm not a guy that needs to say I've won the USGP 12 times," said Powers. "I want to go to every race and be a factor; if I go to a race I want to try to win."
Before nationals Powers is eyeing the opening week of World Cups in Czech Republic, when he'll debut his Rapha colors in Europe. He said he would aim for top-10 results in both the Tabor and Plzen rounds of the series before trimming back on the intensity with an eye toward nationals and the world championships early next year.
Before he does any of that, Powers will take the start in Sun Prairie, chasing the jersey he last wore December 5 in Portland.
The Planet Bike Cup – Sun Prairie, Wisconsin
September 24-25 2:45 p.m. (women) / 4:00 p.m. (men)
40 min. (women) / 60 min. (men)
*UCI C1 Saturday, C2 Sunday
*USGP of Cyclocross
TD Bank Mayor's Cup – Boston, Massachussets
September 25 2:00 p.m. (women) / 3:30 p.m. (men)
60 minutes (women and men)
*USA Crits series finale
Nor'Easter Cyclo-cross presented by Smartwool – Burlington, Vermont
September 24 3:30 p.m. (women) / 4:30 p.m. (men)
40 min. (women) / 60 min. (men)
*UCI C2
*Verge New England Cyclo-Cross Series
Rohrbach's Ellison Park Cyclocross – Rochester, New York
September 24-25 12:30 p.m. (women) / 2:30 p.m. (men)
40 min. (women) / 60 min. (men)
*UCI C2 Sunday
Volkswagon of Oakland Grand Prix criterium – Oakland, California
California Elite criterium championships
September 25, Lake Merritt, Oakland