U.S. pro analysis: Where were the late attacks in Greenville?
Busche, Hincapie, and Ted King. Photo: Casey B. Gibson | www.cbgphoto.com GREENVILLE, South Carolina (VN) – George Hincapie is one of the best men in the world out of a small group sprint. The 37-year-old BMC Racing veteran has proven it with wins in classics, tour…
Heading out the door? Read this article on the new Outside+ app available now on iOS devices for members! Download the app.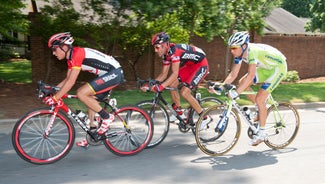 GREENVILLE, South Carolina (VN) – George Hincapie is one of the best men in the world out of a small group sprint. The 37-year-old BMC Racing veteran has proven it with wins in classics, tour stages and national championships over his nearly 18 years in the professional peloton.
So, why did Matthew Busche, Ted King and Tejay van Garderen take him to the line in Monday's U.S. pro championships road race?
Of the four members in the final selection Monday, Hincapie boasted the broadest palmarés, with wins at the Tour de France, Ghent-Wevelgem and the tours of California and Missouri, to name just a few. Hincapie was still the favorite when he rounded the final corner onto the downhill finish straight on the second-year pro's wheel.
Busche, King (Liquigas) and van Garderen (HTC-Highroad) had roughly 16 miles of undulating roads in and around Greenville to attack Hincapie. They held a solid one-minute advantage over the first chase group, which included a teammate for each of them, the entire time.
Busche called a long-range attack, "crazy."
"I was lacking a little confidence in that because my legs were feeling a little… I just didn't know for sure what was going to happen," he said. "I didn't want to throw down a long bomb attack, blow all my energy and then have the three of them chase me down and I'm done for sure."
Thinking for a moment, Busche added: "I thought about it for sure, but in the end I let the opportunity pass."
Some would argue that taking Hincapie to the line at the end of a long, hard day was crazy. If it was, Busche showed he's just crazy enough when he surged three separate times in the final 300 meters to take a wild sprint for his first stars and stripes jersey.
"It's hard to come to the line with George. He's a really good sprinter and that's how he's won this race before," said Busche. "I had good legs and watching (the other riders in the group), I could see maybe that they were feeling pretty tired, as was I. I hoped that was to my advantage."
Hincapie wore the day's effort on his face as he forced a deep breath when van Garderen led the foursome through for the beginning of the final 4.2-mile lap. On Hincapie's wheel in the rotation for much of the final circuits, Busche saw it, but said afterward that there weren't a lot of tactics at play in the final selection.
"It was not necessarily too tactical," he said. "We wanted to at least get to line and see what happened on last lap."
Hincapie said the pace was simply too high in the group for a move to go. "Everybody was working; everyone was pulling full gas, so you can't attack," he said. "It was just too fast to attack."
Behind Busche in the paceline sat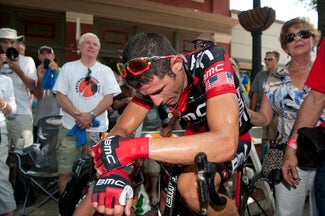 van Garderen, the most likely of the group to set off early. When Hincapie was at his most vulnerable, easing off the front after a pull, van Garderen was second with King on his wheel. Busche said he knew he had to watch van Garderen closely.
The HTC youngster is a climbing stage racer; he told VeloNews in April that he had "never considered (myself) much of a one-day racer." He occupied the jump seat for an attack against Hincapie, but the 22-year-old said the uncertainty of a long flyer, plus the vacation that carried him into Greenville from the Amgen Tour of California, kept him from going.
"It was tricky tactically to know if you could attack or not. If you attack and they catch you, no one wants to rotate and the next group has a better chance of catching up," van Garderen told VeloNews. "You wait to attack, but then when you wait you run the risk of getting caught out for the sprint."
When Hincapie made an astute adjustment on the final lap and skipped a turn to move behind van Garderen, HTC's Amgen Tour best young rider lost his opportunity to surprise Hincapie after the veteran pulled through on the front.
"At that point with the four guys I knew I'd be the most responsible for closing gaps," said Hincapie. "If I hadn't gotten behind Tejay, perhaps these guys would have played some cat and mouse."
As it were, they kept on the gas.
Ted King still had an open door, but the Liquigas-Cannondale rider was one of the last to make the lead group over Paris Mountain and he was cramping on the closing circuits. "In those last three laps you're taking it all in," he said. "George is often favored in a sprint; Tejay can yank it and go from the last kilo; Matt is strong and talented as well."
The cramps would relegate King in the final sprint and he led it out to the final corner after van Garderen let off a mild acceleration on a long false flat.
Busche would counter and take Hincapie onto the finish straight on his wheel. The two riders, one less than two years removed from his first pro contract and the other in his 16th pro season, worked the right side of the road. King faded for third ahead of van Garderen.
Whether they were pinned or playing tactics, Hincapie's companions gambled on the sprint. In the end, it came down purely to strength and Busche came around Hincapie at the line. The tactic paid off.
Hincapie was shocked to miss his fourth title. "I was pretty sure I could win," he said. "I'm usually faster than those guys."
For King and van Garderen, the payout wasn't as big, but certainly better than 10th in the next group on the road.
"You always wish that you finished on the top of the podium," said King, his bronze medal hanging at his neck.