UCI takes decisive action and bans Russian and Belarusian teams from competition
Russian and Belarusian athletes can carry on competing as the sport's governing body takes action.
Photo: GIUSEPPE CACACE/AFP via Getty Images
Heading out the door? Read this article on the new Outside+ app available now on iOS devices for members! Download the app.
On Tuesday, one day after the International Olympic Committee recommended the blocking of Russian and Belarusian athletes and officials from international competitions, the UCI announced its own set of strict measures.
The step was taken after Russian and Belarusian forces invaded Ukraine this week and saw UCI teams, national teams, regional teams, and commissaires all suspended from UCI competition and, in the case of events, suspended from the UCI calendar.
Also read: Look Cycle ends technical support of Gazprom-RusVelo due to Russian invasion of Ukraine
The world governing body has, however, held back from the IOC measure blocking Russian and Belarusian athletes from competing, allowing them to race if they are not doing so as part of their respective national teams.
"The UCI again expresses its very great concern over the situation in Ukraine and firmly condemns the aggression of the Russian and Belarusian governments and their non-respect of the Olympic Truce," the governing body said in a media note Tuesday following an extraordinary session of the UCI's management committee. "The UCI wishes to see a return to peace as rapidly as possible and calls for the respect of Olympic values. Indeed, sport in general and cycling, in particular, are vehicles of peace, friendship, solidarity and tolerance.
"The UCI, which remains a politically neutral organization, laments that the decisions of their government can impact Russian and Belarusian athletes, but it is necessary to be firm in the defence of the Olympic values."
In addition to the holding of the UCI meeting on Tuesday, the day also saw an emergency meeting of International Federations organised by the IOC. Presided over by IOC President Thomas Bach, and with the participation of UCI President David Lappartient and UCI Director General Amina Lanaya, the UCI said that it was pointed out at the meeting that the preventative measures are being taken "with the objective of ensuring the integrity and security of sporting competitions and the respect of the Olympic values."
The decisions reflect the seriousness of the current situation, which has seen high numbers of Russian and Ukrainian forces killed as well as considerable fatalities amongst civilians. There has been widespread damage to Ukrainian infrastructure and allegations of possible war crimes.
Both the IOC and the UCI are traditionally apolitical bodies but have taken a strong position under the circumstances.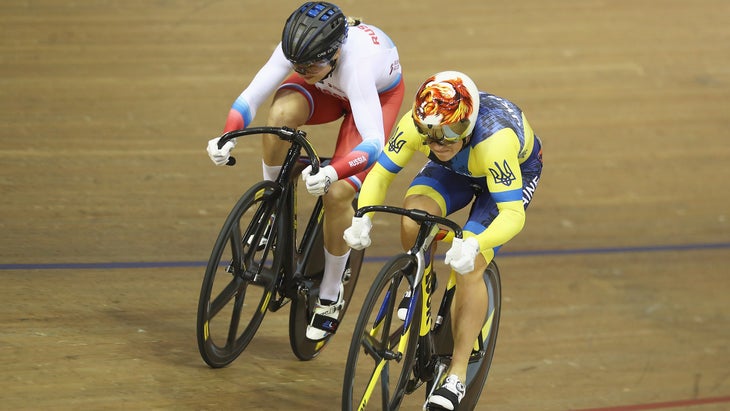 Teams and events in limbo
The UCI named a total of six Russian and Belarusian teams which have had their UCI Team status withdrawn. These are the Russian UCI ProTeam Gazprom-RusVelo, Continental team Vozrozhdenie, and track team Marathon-Tula Cycling. The Belarusian continental teams CCN Factory Racing and Minsk Cycling Club, with the women's squad connected to the latter, are also sidelined. No further applications for UCI status will be allowed by other teams from these countries.
The governing body also named the Russian and Belarussian events which have been withdrawn from the 2022 international calendar, namely the national championships of both countries, as well as five races originally scheduled to take place in the coming months. These are the category 2 track events Grand Prix Moscow 1 (May 20-21), Grand Prix Moscow 2 (May 22) and Grand Prix Saint-Petersburg (May 26-29), the UCI Gran Fondo Moscow World Series event on May 21-22, and the 2.2-ranked Five Rings of Moscow road event between June 8th and 12th.
Related to this, the UCI said it forbids "all emblems, names, acronyms, flags and anthems linked to Russia and Belarus" at all events, including the wearing of national champions' jerseys from either country. It said that any applications from those two countries to organise UCI events will not be considered and that commissaires from both countries would not be appointed until further notice.
Greenlight for riders to compete
The decision to allow individual athletes from both countries to compete differs, however, from the IOC stance, and may perhaps be influenced by anti-war sentiments expressed by riders in recent days.
For example, Ineos Grenadiers' Pavel Sivakov commented on Twitter on February 25, saying that he had found it difficult to see what had been happening.
"First of all I just want to say that I'm totally against the war and can't get around what's going on in Ukraine. All my thoughts are with the Ukrainian people.
"Secondly I also want people to understand that most of the Russians only want peace and never asked for all of this to happen. We shouldn't be targets of hate just because of our origin," Sivakov said.
The UCI echoed this Tuesday, calling on organizers, spectators and competitors "to respect Russian and Belarusian riders at races in which they would be authorised to participate.
"The decision not to impose a blanket ban on Russian and Belarusian athletes at all international events is based on obtaining a balance of all interests. In particular, it is a question of taking into account the contractual rights of the riders and teams concerned, and not to unjustly penalise teams that are not Russian or Belarusian."
But while the UCI said that riders are able to compete in UCI events with their non-Russian and non-Belarusian teams, or as individuals, if such events permit their registration, it said strict criteria would be in place.
"Any participation of Russian or Belarusian athletes must be in a neutral capacity, and organizers are requested to withdraw any reference to Russia or Belarus, including the name, emblems, acronyms and flags, and replace them with a neutral reference or denomination on all event-related documents and in line with instructions to be provided by the UCI."
Board member Igor Makarov and national federations not sanctioned
Tuesday's UCI release avoided any mention of Igor Makarov, the former professional rider and current Russian oligarch who is an influential and powerful board member since 2011.
Makarov was regarded as playing an important role in the presidential elections of both Brian Cookson in 2013 and Lappartient in 2017. He has not appeared on the list of Russian oligarchs to be sanctioned by the international community in recent days. His thoughts on the war in Ukraine and on the UCI's response to it are not known.
In its release, the UCI explained its position, saying, "Concerning Russian and Belarusian members of UCI bodies and commissions, the UCI has chosen to act in line with the IOC's position presented this morning, which means that they may continue to serve as long as they are not directly implicated in the violation of the Olympic Truce; indeed the priority of the measures taken today is to ensure the integrity and security of sporting competitions."
It also said that the IOC stance meant that the Russian and Belarusian National Federations would not be suspended as they too are not implicated in the violation of the Olympic Truce. And as for riders and staff members who are currently part of Russian and Belarusian teams, the UCI said it will study specific measures which may allow them to register with a UCI team from a different country outside the normal registration periods.
Sponsorship also affected, support pledged for Ukrainian cycling
Tuesday's announcement was both long and quite complex and has repercussions in a number of other areas. The UCI has requested teams and event organisers not to give visibility to any Russian or Belarusian sponsors at events on the international calendar, stating that this would damage the image of the UCI and cycling in general.
Conversely, Look announced on Tuesday that it was cutting its sponsorship of the Gazprom-RusVelo team.
— LOOK Cycle (@lookcycle) March 1, 2022
The UCI said that it would facilitate requests from Russian and Belarusian license-holders with multiple nationalities to request a change to their sporting nationality without any restriction.
In relation to athletes from the Ukrainian cycling community, it has committed to welcome them to the World Cycling Center, its education and training centre in Aigle, Switzerland, as a show of support. Both Lappartient and European Cycling Union (UEC) president Enrico Della Casa will meet the president and representatives of the Ukraine National Federation at the UEC Congress this coming weekend to discuss helping the country's cycling community.
Finally, and importantly, the UCI has said that if any state has stricter measures in place relating to the participation of Russian and Belarusian riders or teams at competitions, then those would take precedence over the UCI's own decisions.
"The UCI welcomes the courageous stance taken by Russian and Belarusian cyclists and officials in a bid for peace," it concluded. "It calls for restraint from all sides of the conflict as well as for the protection of civilians and hopes that peace will rapidly be restored.
"The UCI's position could evolve as the situation in Ukraine develops."