Van Garderen: "It's OK to hurt, but you gotta get on with life"
Tejay van Garderen
Heading out the door? Read this article on the new Outside+ app available now on iOS devices for members! Download the app.
Tejay van Garderen knew he was in trouble.
It was stage 6 of the Tour de Suisse and van Garderen (BMC Racing) had just descended Switzerland's monstrous Klausenpass in a freezing rainstorm. He could not stop shivering. As the peloton rumbled toward the final climb to Amden, van Garderen stomped on the pedals, hoping to warm up.
"It felt like my legs weren't even turning over," van Garderen says. "I looked down and thought to myself, 'These aren't my legs — someone else's legs are attached to my body.'"
As the group hit the climb, Van Garderen's BMC teammate Darwin Atapuma accelerated at the front of the group containing the GC favorites. The surge put van Garderen over his limit, and he began to slip toward the back.
"I was telling [Atapumpa] to slow down but I don't think he could understand," van Garderen says. "Once I went over the limit I couldn't get it back."
Van Garderen arrived at the summit on Atapuma's wheel, but he had lost two minutes to his rivals.
Twenty-four hours after his disastrous ride to Amden, van Garderen again rode uphill, this time along the 11 percent climb to the Rettenbach glacier above the Solden ski resort. To his surprise, he felt strong, so with five kilometers remaining, he attacked.
Van Garderen took the stage win — the biggest one-day result of his career — with a 15-second buffer on eventual GC winner Miguel Ángel López. After the stage, van Garderen's confidence got another boost. During his attack, van Garderen says he assumed the other riders let him go. But he now sees it differently.
"When I watched the replay on TV, it's not like they were sitting around, it looked like they really wanted to catch me," van Garderen says.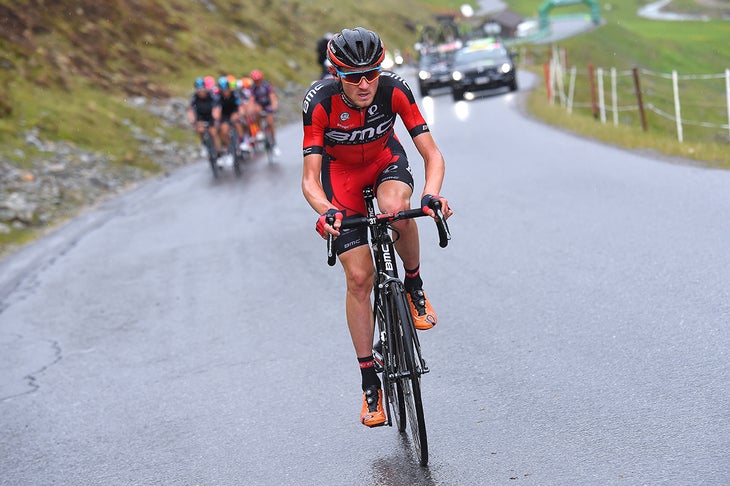 Tejay van Garderen's best and worst moments from this year's Tour de Suisse illustrate a pattern that American cycling fans have come to both loathe and love. Cheering for van Garderen is like walking an emotional tightrope between joy and utter despair. For every one of his lows, there's an accompanying high.
Van Garderen's fifth place finish at the 2012 Tour de France nabbed him the best young rider's jersey and thrust him into the spotlight as America's next great stage racer. Two years later, his fifth place finish in Paris was a welcomed result after he suffered through sickness and an untimely bonk in the Pyrenees.
Dominating performances at two USA Pro Challenges and one Amgen Tour of California round out van Garderen's highest highs.
[pullquote align="left"]"I think it would be awkward if Sky hired Alberto Contador as a co-leader with Chris Froome. But me and Richie? It's not that complicated." [/pullquote]
The lows? Losing the 2012 USA Pro Challenge by a handful of seconds after leading for much of the race. A disastrous 2013 Tour de France, punctuated by a gut-wrenching near miss at l'Alpe d'Huez. The worst, of course, comes from last year's Tour. After defending a podium position through the first two weeks of the Tour, van Garderen caught a virus on the second rest day and abandoned while sitting in third place overall.
After each of his ups and downs, BMC's leadership has always backed van Garderen.
"He doesn't need to prove himself," said Jim Ochowicz, BMC's general manager, during the 2015 Tour de France. "He's matured, he's not overreacting to situations that happen every day, and he's leading the team."
Fans and cycling analysts have not been so kind. The inconsistency has led some fans to criticize van Garderen's mental fortitude and toughness. After he pulled out of the Tour, van Garderen's name sparked a lively thread on the social news networking service Reddit that went on for 70 comments. "Well, he is predictable in that he always [expletive] up one stage in every tour," reads one comment.
Van Garderen ignores the criticism, and instead says he's working to improve his consistency. "The one thing I still need to do is eliminate those bad stages," he says.
Whether van Garderen can string together 23 good days this July is perhaps the most compelling storyline of this year's Tour de France. Now 27, van Garderen is no longer an up-and-comer, but rather a veteran who is in the prime of his career. After his recent decision to skip the Olympics due to fears of the Zika virus, van Garderen's sole focus is this year's Tour. And, perhaps most importantly, he's no longer BMC's only card to play at the race.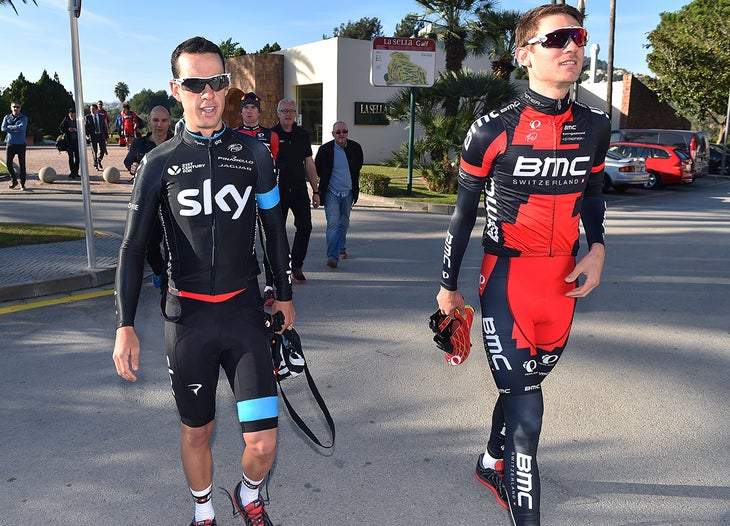 The buzz surrounding BMC Racing all year has been van Garderen's newfound co-leadership with Australian Richie Porte. When the team hired Porte last summer, critics saw the move as a de facto demotion for van Garderen. Others saw BMC's one-two punch as a puzzling structure. Van Garderen says his co-leadership with Porte is hardly strange, since neither rider has ever considered the other to be a rival.
"I think it would be awkward if Sky hired Alberto Contador as a co-leader with Chris Froome," van Garderen says. "But me and Richie? Neither one of us has won a grand tour. It's not that complicated."
[related title="More on Tejay van Garderen" align="left" tag="Tejay-van-Garderen"]
Instead, van Garderen and Porte have been friendly since 2010, when both men turned professional. When each of them switched teams in 2011, van Garderen says, Porte told him he was signing with Sky, and asked van Garderen to also join the British team. These days, Porte and van Garderen live near each other in Southern France. This winter, the two completed long training sessions together, spending hours talking about wives, kids, cars, and even training.
"Richie likes to spend hours on the bike and to not really be told how to train," van Garderen says. "I was surprised. Coming from Sky, I assumed he was going to be really analytical and into the numbers game."
The two also talked about their co-leadership roles at BMC. Van Garderen and Porte both excel at time trials and climbing, but their riding styles differ greatly. Porte has the punch to accelerate alongside Froome and Contador, while van Garderen can often be distanced by quick attacks. Van Garderen, however, can generate huge watts on long, crushing climbs, which is the type of terrain where Porte has shown himself to falter.
And in the upcoming Tour, where Froome will be challenged by Nairo Quintana, Contador, and Fabio Aru, van Garderen says BMC's one-two punch could be an advantage.
"It's going to be the other guys' responsibility to set the pace on the climbs and dictate the tactics, so Richie and I can play off of them," van Garderen says. "It's not like one of us is setting the pace for the other."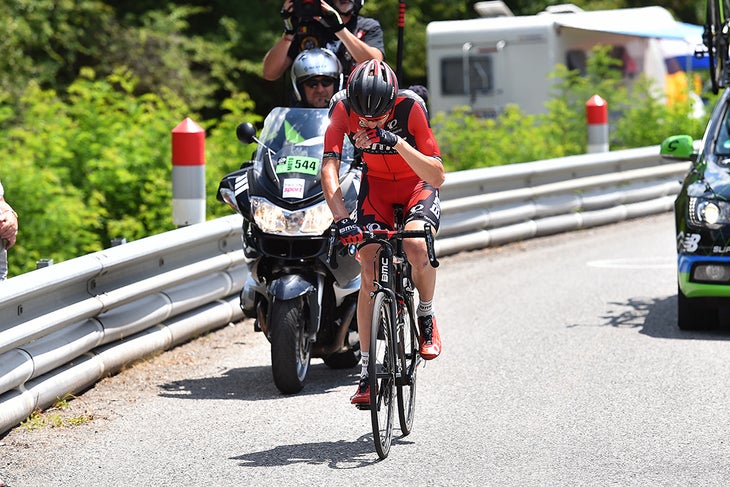 The Tour is van Garderen's only focus this summer, now that he's decided to skip the Olympics due to Brazil's ongoing Zika virus epidemic. Research on the virus has confirmed its danger to unborn babies. Van Garderen's wife, Jessica, is currently pregnant with the couple's second child. Van Garderen represented the United States in London, but says the fact that he already attended a Games did not weigh into his decision.
"It wasn't an easy decision because the course is really suitable to me," van Garderen says. "The more articles we read about Zika, nothing was putting my mind at ease."
[pullquote align="right"]"The one thing I still need to do is eliminate those bad stages." [/pullquote]
The importance of this year's Tour inevitably shifts the focus back onto last year's calamitous DNF, which van Garderen says was the worst moment of his career. It took several weeks to mentally rebound from the disappointment, he says, and he tried to learn from his failure to finish the race.
"I've become a germ freak and I have hand sanitizers everywhere," van Garderen says. "I've started fist-bumping people instead of shaking hands, because each of those people has probably shaken the hands of 100 people."
As for how van Garderen processed the disaster emotionally, he says he simply got over it. "It's OK to hurt, but after a while you gotta quit your bitching and get on with life," van Garderen says. "I still have a contract with a team. I'm still a bike racer. I'm still a husband and a dad. It's time to get some results."
His longtime friend and BMC teammate Taylor Phinney says van Garderen often keeps his emotional cards close to his chest. While other riders look to friends and teammates for an psychological boost, van Garderen keeps to himself. "Tejay doesn't really lean on people to help him deal with his disappointments," Phinney says. "He's his own psychologist, and I think he has found a way to digest his own stuff."
And perhaps that's the best way forward. After all, van Garderen wasn't that far from achieving his goals at last year's Tour, or at this year's Tour de Suisse. In Phinney's eyes, it's not worth dwelling on the disasters, when you consider the fact that Tejay van Garderen almost finished on the podium at the Tour de France.
"He got two weeks into the Tour and he got sick — but it's like, damn, he was right there," Phinney says. "You showed the world that you're a real contender."