Velo Magazine — July 2014
The July 2014 issue of Velo looks ahead to the Tour de France, celebrates an upcoming summer of mountain biking, and more
Heading out the door? Read this article on the new Outside+ app available now on iOS devices for members! Download the app.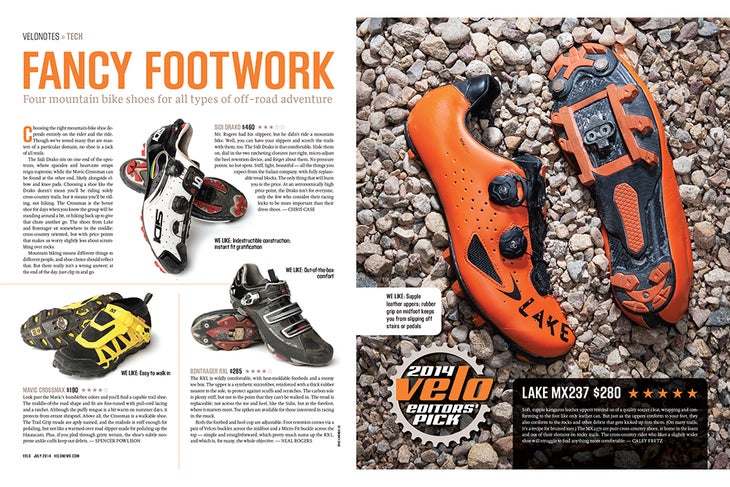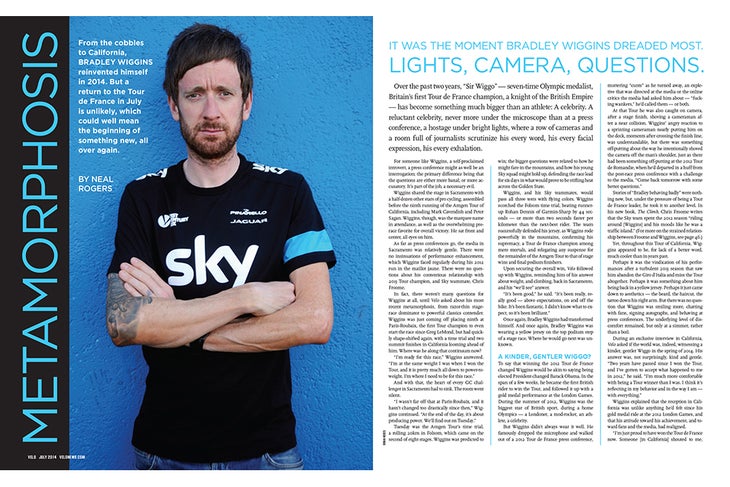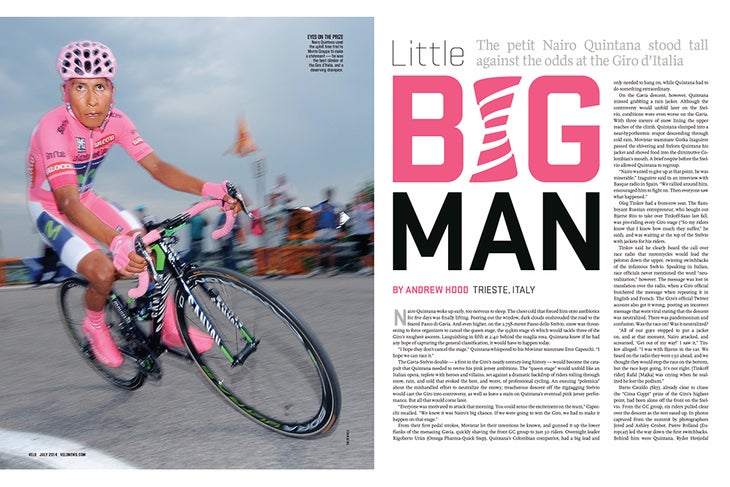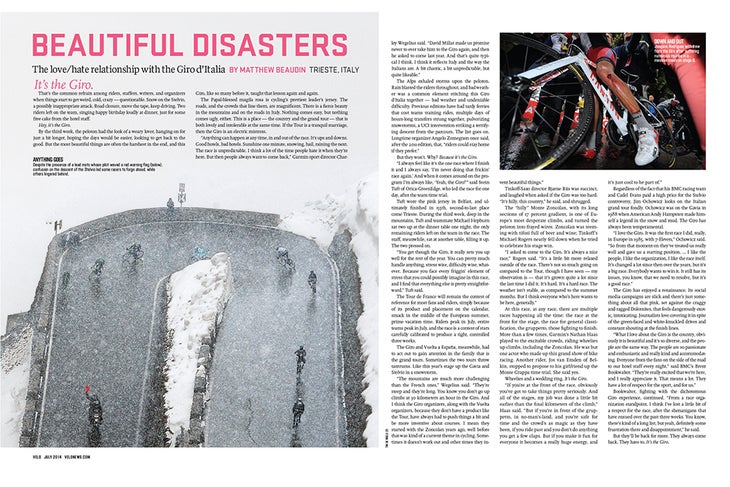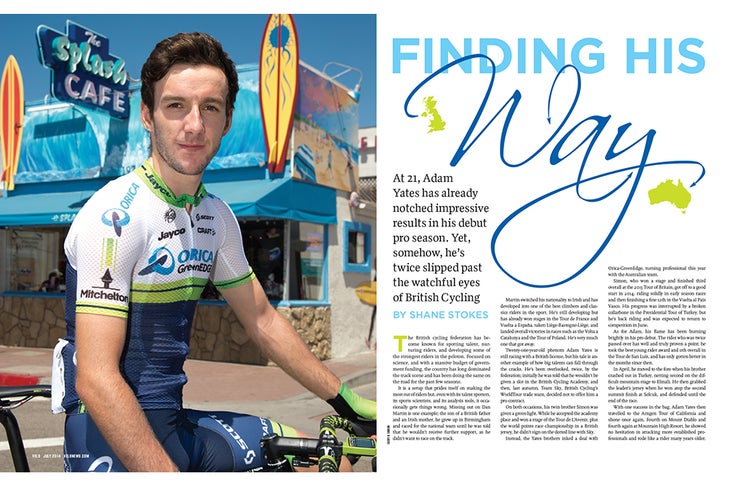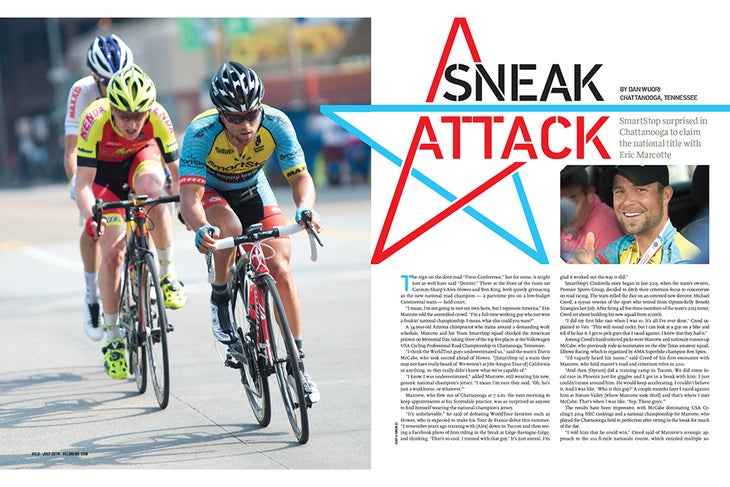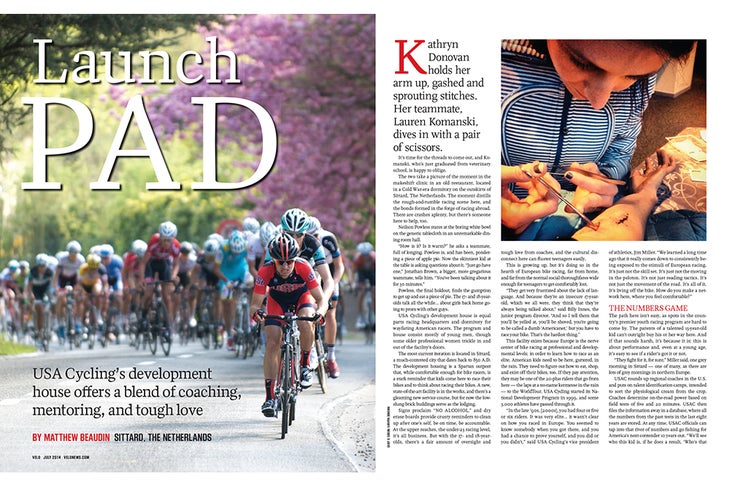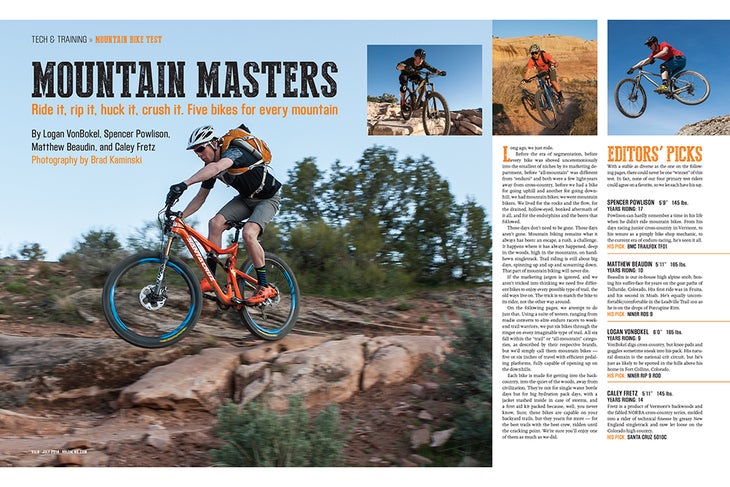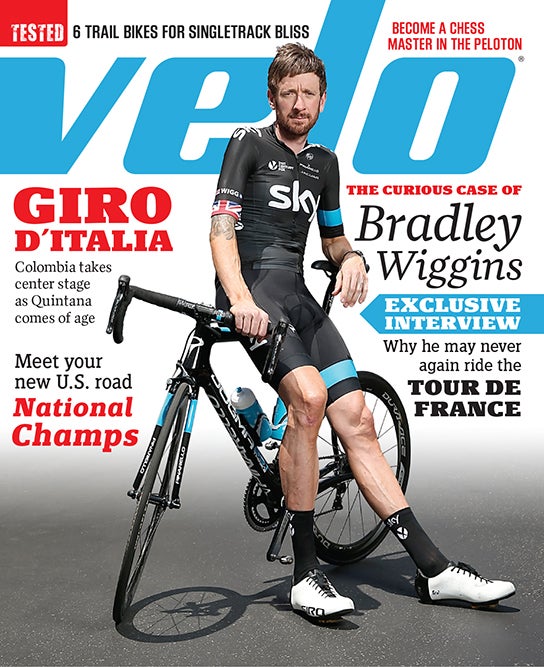 The summer season is in full force. The Giro d'Italia delivered extreme conditions and aggressive riding, and the Tour de France is just around the corner.
With the Tour team selection awaiting next week, big questions abound for Bradley Wiggins. With his strong showing at Paris-Roubaix and overall victory at the Amgen Tour of California, there is no doubt that Wiggins is in excellent form. But will that mean anything in July?
With Wiggins in the spotlight, editor-in-chief Neal Rogers asks, "To Bradley, or not to Bradley?" The question is simple — should Bradley Wiggins race the Tour de France? The answer, however, is more complex. Wiggins would be riding for Chris Froome at the Tour, and while many want to see Wiggins, the 2012 Tour champion, it's a tricky decision for Sky.
"Metamorphosis" recounts Bradley Wiggins' transformation over the past two years. With seven Olympic medals and a Tour de France title, Wiggins has earned himself a reputation that exceeds athleticism — he's a celebrity. Wiggins has dramatically changed his demeanor in the two years following his Tour win, gradually overcoming his prickly reputation, especially toward the media. Wiggins' future is enigmatic, but when he is inspired, the entire sport takes notice.
To get in the French spirit, "Iconic Places" brings readers to the Pyrenees, specifically the Hautacam. Tech editor Caley Fretz reminisces about the 2000 Tour de France, which featured the climb in its first real mountain stage. The peloton will visit the twisty, steep ascent during stage 18 this year
European correspondent Andrew Hood looks back on May's Giro d'Italia in "Little Big Man." Despite his svelte stature, Nairo Quintana earned his first grand tour victory in Italy. Amid chaotic and extreme weather conditions that caused controversy on the Passo dello Stelvio, Quintana did not simply win, he became a legend.
The Giro d'Italia's conditions are always dramatic — beautiful but painful. Many have a love/hate relationship with the race, as senior writer Matthew Beaudin tells in "Beautiful Disasters," and despite the difficulty that ensues year after year, it always keeps fans and racers coming back for more.
Stepping away from the grand tour hoopla, managing editor Chris Case explores the growth of unsanctioned racing, comparing it to USA Cycling-sanctioned office park criteriums. "The Rise of the 'Un-Race'" glorifies the adventure and suffering experienced at these unique events. While it's unlikely that these races and rides will replace traditional sanctioned events altogether, they are perhaps more about the experience and less about the result, which contributes to their appeal.
Contributor Dan Wuori summarizes the successes at the Volkswagen USA Cycling Professional Road & Time Trial National Championships in Chattanooga, Tennessee, which included a surprising victory by SmartStop's Eric Marcotte and a dominant performance by Alison Powers, who made history by claiming national titles in road, criterium, and the time trial.
Though road season is barreling into July, there's no better time than summer to shred singletrack, which is why this issue's VeloLab round-up is all about mountain bikes. Find out what shoes to wear, and browse reviews of five unique fat-tire bikes in "Mountain Masters" by Logan VonBokel, Spencer Powlison, Matthew Beaudin, and Caley Fretz.
Pick up the latest issue of Velo at your local bookstore, bike shop, or in the Apple iTunes store.