VN Archives: The 25 most significant technical developments (circa 1997)
To celebrate the 25th anniversary of VeloNews, the editors looked back on the 25 best technological advances in the years since the first issue in 1972.
Heading out the door? Read this article on the new Outside+ app available now on iOS devices for members! Download the app.
The last half century has produced countless amazing moments in pro cycling, and VeloNews has been there for almost all of them. This year we celebrate our 48th birthday. With 48 years worth of archives, we want to present some of the more memorable VeloNews covers, feature stories, and interviews from our past. Our hope is these curated snippets will help motivate you to pursue your passion for the sport you love.
The March 17, 1997 issue of VeloNews magazine marked a big milestone: 25 years of the publication. In this special edition, Charles Pelkey named 25 of the most significant technical developments in the sport of cycling. Today, it is fascinating to look back at his picks and see that many of them hold true today, more than 20 years later. Here is an excerpt from his story:
Just wander out to the garage and take a look at the bike(s) hanging there. If you're old enough to remember when VeloNews first started printing in 1972 you won't need much convincing to see that bike technology has changed a bit over the past 25 years.
Admittedly, a bicycle is still pretty much a bicycle: two wheels, a frame, a chain-operated drivetrain … In the October 18, 1972, issue of Northeast Bicycle News (the first title of VeloNews), Stan Swaim took the time to study the bikes of pro teams competing in Quebec's Tour de la Nouvelle France. There, among the Molteni, Flandria and Peugeot team bikes, he found a great deal of consistency: steel frames (most of them Colnago), Campagnolo, Mafac and Stronglight components, and six-speed 13-20 freewheels on 36-hole wheels laced cross three with heavy, straight gauge spokes that were tied and soldered for good measure. To lighten the load, riders and their mechanics broke out the drills, shaving a few grams here and there by punching holes into chainrings, brake levers, derailleurs, stems, handlebars and seatposts. (Yes, even stems, handlebars and seatposts!) These bikes are classics, but really wouldn't be too far out of place in a road race today. Our review of bikes at last year's Tour de France showed plenty of steel mixed in with titanium, carbon fiber and aluminum. In fact, road-racing technology has been as much a process of refinement as radical innovation.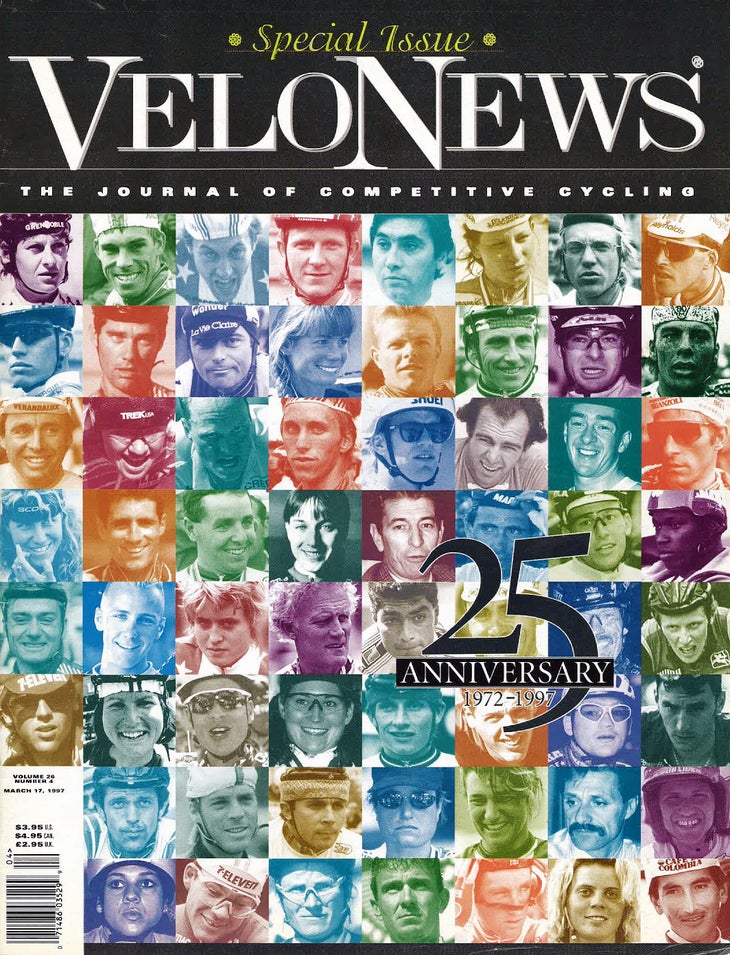 The 25 most significant technical developments of the past 25 years
The mountain bike. Can you think of anything else that has changed the face of cycling more over the past 25 years?
Heart-rate monitor. A most valuable training aid that also gives a digital readout of exactly how much you have been suffering.
Improvements in shifting technology. SIS, Ergo, STI, RapidFire, Grip Shift have all made shifting under demanding conditions possible and riding for newcomers easier.
Aero bars. Boone Lennon's invention has picked up the pace in pursuit, time trials and record attempts.
EPO. No matter how widespread its use, Amgen's creation has changed the sport and its reputation — not for the better.
Aero bikes. There is no disputing the fact that these bikes brought general media attention to the sport. innovation.
Lycra and other high-tech fabrics. Anyone who has ever worn a pair of wool shorts on a hot day or in a rainstorm knows why this rates high.
Suspension. Elbows and backs weren't made for that kind of abuse.
The SRM. The full impact of this remarkable technology has yet to be felt.
The East German Sports Program. Pioneering work in physiology, bike design and fabrics almost makes you forget the stuff they shouldn't have been doing.
Graeme Obree. Hour records, world pursuit titles and several very clumsy attempts by the uc1 to stop Scotland's most famous backyard bike builder prove that the Flying Scot has made an impression on the sport.
Advances in frame materials. Twenty-five years ago even an aluminum frame was a rarity.
Aero wheels. Discs, deep-section rims, straight-pull bladed spokes are a long way from the 32- or 36-spoke cross-threes we were using in 1972.
Shoes. Composite soles, savvy closure systems and bolt-on cleats are a far cry from what was around in 1972.
Helmets. The Bell Biker set the standard for safety and the Giro Prolight proved that safe didn't have to be uncomfortable.
Clipless pedals. Sean Kelly tried to stem the tide, but even he eventually agreed that dispensing with toe clips and straps was more efficient.
High-pressure clinchers. Back in 1972, everyone used sew-ups for racing; now, even classics and national tours are being won on lightweight clinchers.
Sport glasses. Greg LeMond's Oakleys started a trend that has benefited everyone who rides a bike.
Ergo drinks and energy bars. Eating right isn't rocket science, but bars and drink mixes have made the job easier when you're racing a bike.
Complete mountain bike component groups. Putting together a mountain bike used to involve cobbling together a mix of 'cross, BMX and road parts. Shimano's Deore group meant the end of that.
Zap. Mavic's electronic shifting group wasn't a commercial success … but its failure holds a lot of promise.
Indoor trainers. CompuTrainers, Mag trainers, fluid trainers all offer a nice alternative to rollers in the dark and cold days of winter.
Brakes. Going fast is one thing, but being able to stop counts for something too. Improved cantilevers, disc brakes, V brakes and better road brakes make that a little easier these days.
Two-way radio communications. A lot smarter and safer than shouting instructions to racers from the team car.
The Internet. Up-to-the-minute race reports in even the most cycling-deprived parts of the world. Besides, news, groups offer a nice and very isolated place for all of those guys who used to get on your nerves during training rides. And in the next 25 years, don't forget to log on at velo.outsideonline.com