Wren and Hughes win first ever Crusher in the Tushar on-off road race in Utah
BEAVER, Utah (VN) — Tyler Wren won the first edition of the challenging Crusher in the Tushar on/off-road race held in the Tushar mountains outside Beaver, Utah, on 16 July. Wren, riding for Boo Bicycles, attacked in rolling terrain not far from the finish and crossed the…
Heading out the door? Read this article on the new Outside+ app available now on iOS devices for members! Download the app.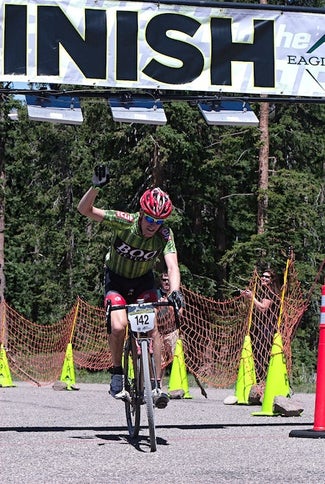 BEAVER, Utah (VN) — Tyler Wren won the first edition of the challenging Crusher in the Tushar on/off-road race held in the Tushar mountains outside Beaver, Utah, on 16 July. Wren, riding for Boo Bicycles, attacked in rolling terrain not far from the finish and crossed the line solo in 4:27:04. Two minutes behind the flying leader, former pro mountain bike racer (and former VeloNews tech editor) Zack Vestal of Boulder, Colorado, finished second, while Benjamin Blaugrund, also from Boulder, took third.
"This was one of the most memorable suffer-fests of my cycling career," said Wren, a Salt Lake City, Utah native. Wren praised Swindlehurst with doing a "brilliant job" designing the course. He also credited his team-mate Nick Frey, owner of Boo Bicycles, for setting a punishing tempo on the first climb of the day, the only paved climb on the course.
"Since my move to Salt Lake two years ago, I've been becoming more confident in my abilities on climbs at altitude and off-road proficiency, so I was focusing in on this race ever since Burke described it to me last fall," said Wren, who races road for Jamis-Sutter Home. "Also, since I've moved here, I've come to know Burke and his penchant for extremely difficult terrain, so I knew that this race would be an immense challenge and therefore something I wanted to be a part of."
The Crusher in the Tushar course ran 69 miles over both paved and technical dirt roads through the wilderness areas of Utah's Tushar Mountains and Fishlake National Forest. Not for the faint of heart, the Crusher included over 10,000 feet of climbing and finished at an elevation of 11,000 feet at the Eagle Point ski resort. The unique course attracted a talented field including former U.S. cyclocross national champion Tim Johnson, mountain bike legend Tinker Juarez, and Olympic gold medalist Clara Hughes.
"The course combined smallest gear breathing through a straw climbing and fun, flowy dirt roads at speed. Challenging doesn't even begin to describe it," said Johnson. He flatted on the first descent, chased solo into a headwind, and finished eighth just behind Juarez.
"Everyone was convinced at the finish that they were on the wrong bike and that they wanted to ride a different set-up next time. That was exactly what I wanted to hear. I wanted a race that would not be easy for riders to dial in," said Swindlehurst. Wren rode a Boo Bicycles cyclocross frameset built up with compact road chainrings and semi-slick tubeless 'cross tires.
Blaugrund won the RealCyclist.com King of the Mountains prize after he rode a long solo attack early in the race. Blaugrund admitted he was intimidated at the start by the talented field. "I wanted to climb the first part at my own steady pace, rather than get whiplashed by attacks," he said of his early escape. "That KOM hill is the hardest hill I've ever climbed, because of the mix of ball-bearing gravel and the steep grade that didn't allow me to climb out of the saddle."
In the women's elite race, Olympic speedskating gold medalist Clara Hughes took the win in dominating style. Riding for the Right To Play charity, Hughes finished 22 minutes ahead of her nearest challenger in 5:21:12. Rachel Cieslewicz of The Church of the Big Ring beat out former pro road racer Tana Stone of Sandy, Utah, in a tight battle for second. Hughes chose a 29er mountain bike with knobby tires for her race-winning ride. Both Cieslewicz and Stone also rode mountain bikes.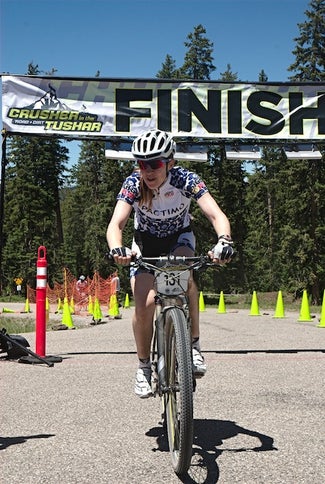 "It was everything I hoped it would be — beautiful, incredibly challenging, epic, but not impossible," said Hughes. "I discovered a new part of Utah on Saturday and will definitely be back. It was one of the coolest rides I've ever done. It is a glorious place on earth, the Tushar Mountains."
Hughes also won the RealCyclist.com Queen of the Mountains prize and will donate her $1,200 prize money to Right To Play. "I do a tremendous amount of work with Right to Play, which is an international humanitarian organization that uses sport and play to better the lives of hundreds of thousands of children in the third world," she said.  "I actually did not know there was any prize money in the Crusher, and when I heard someone yell to me up the Queen of the Mountain 'you just won $250' the first thing that crossed my mind was 'this is going to the kids.""
The Crusher hosted 179 starters in all categories, and more than 40 riders took the start in the men's pro event. Race organizer Burke Swindlehurst was happy with how the race came together. "I was really impressed with the athletes. I was glad I was wearing sunglasses, because I was tearing up more than once," said Swindlehurst, who is already looking forward to next year's race.
Swindlehurst, who recently retired from a career in pro road racing, drew plenty of positive reactions from the competitors. "Everything was top-notch. There was food and drink at the finish, and the post-race dinner was legit," said Johnson. "Burke has a race set-up for hundreds of people to race in the wilderness. It's a good place to challenge yourself."
The experienced Hughes also praised the race organization. "For a first year event, the Crusher was remarkable.  It was so well organized and most importantly, the courses were well marked," she said. "What I loved the most was seeing everyone who finished, everyone who was involved, so utterly happy (yet exhausted) when it was done."
Hughes would like to see more women turn out for next year's race. "I was disappointed to see so few women on the start line and really hope a strong contingent of women will line up with the already strong group of men," she said. Hughes might have to wait until 2013 for her own return to the Crusher, because she hopes to be competing in the London Olympics next July.