Photo Essay: 2015 Cyclocross World Cup #2, Valkenburg
Photo Essay: Valkenburg World Cup
Photos and words by Dan Seaton
After its first-ever foray to North America for a stop at CrossVegas in mid-September, the World Cup of cyclocross returned to Europe and more familiar terrain for its second round. Four races — junior, under-23, and elite men, and women — played out on a steep, muddy course on the Cauberg, just off the road that has traditionally provided the steep, final ascent of the Amstel Gold Race each April, in Valkenburg, the Netherlands.
It was the third time the World Cup has come to this venue, which features swooping, punchy terrain that has usually favored light, explosive riders. The course, which offers soaring views over the fairytale village of Valkenburg and its ancient, ruined castle, is neither the hardest or most technical in cyclocross. But riders still must cope with several steep drops, a difficult run-up, and nasty off-camber sections that proved troublesome for riders all day long.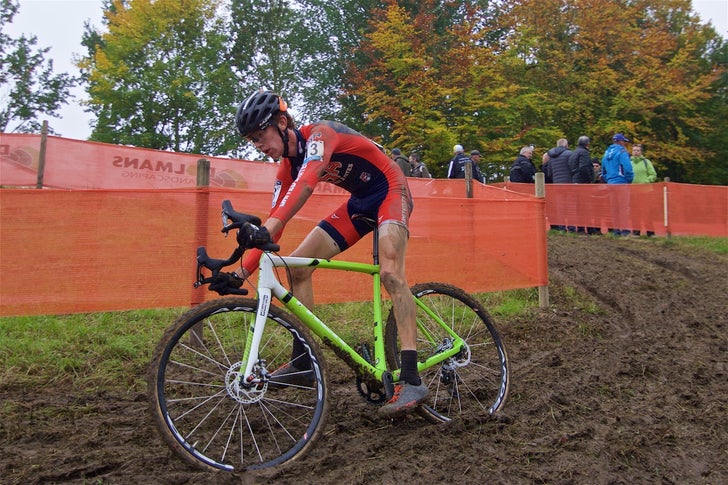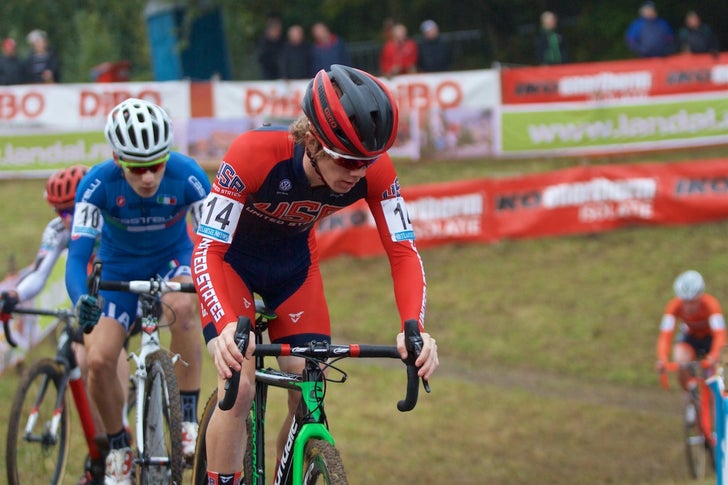 It was, on the whole, a good day for American riders, starting with Spencer Petrov and Cameron Beard, who notched 10th and 14th place finishes, respectively, in the juniors' race, a chilly, slippery, early morning race that Belgian Jappe Jaspers won easily.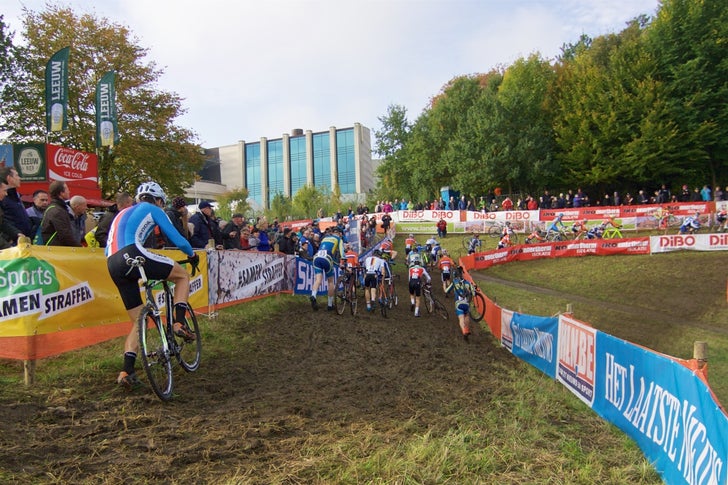 By the time the under-23 men's race started a little before noon, the sun was breaking through the low clouds, and the course was drying, though not nearly enough to make the off-cambers easier. Early in the first lap, Czech rider Stepan Schubert found himself staring at the kind of view no 'cross racer wants to see: a widening gap and the field stretching itself away into the distance. Schubert bounced back from his early deficit, though, to muster a respectable 32nd-place finish.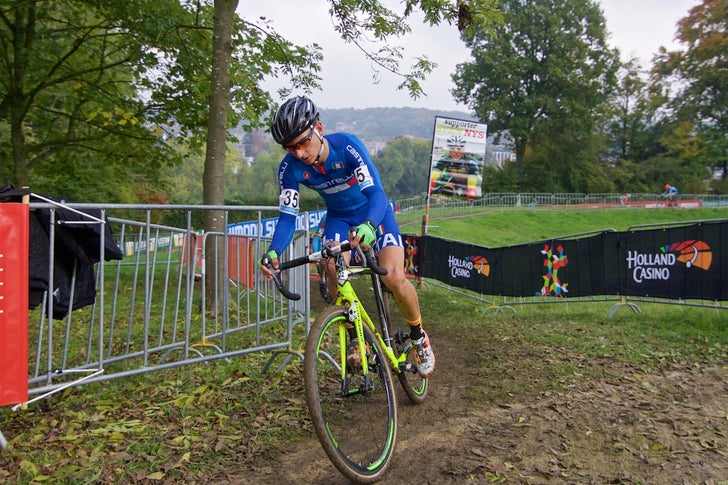 The surprise of the day was Italian Gioele Bertolini, who went to the front early in the first lap and stayed away, holding off a late surge by Belgian U23 favorite Eli Iserbyt.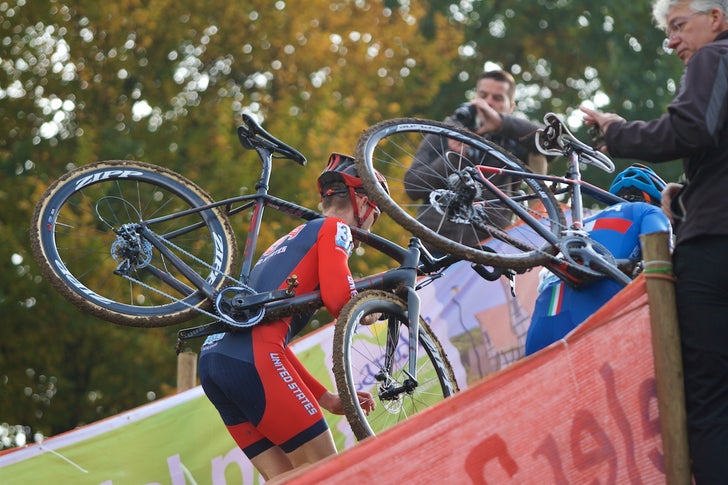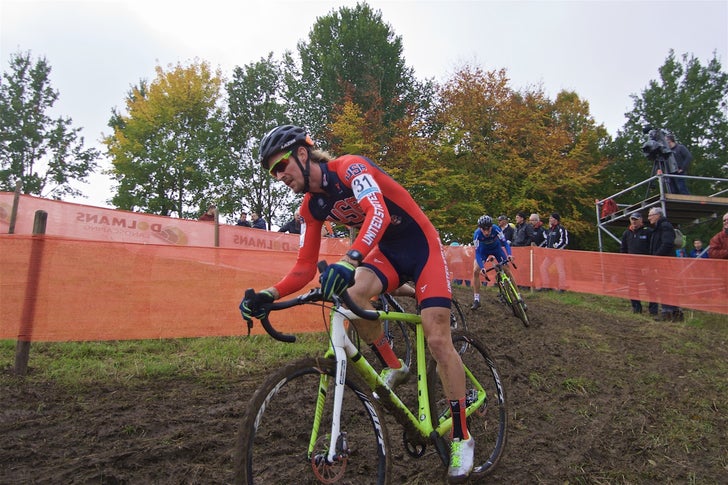 Americans Tobin Ortenblad and Drew Dillman, both well-seasoned in European competition, in their final year of eligibility in the developmental ranks, posted solid results, finishing 17th and 19th, respectively.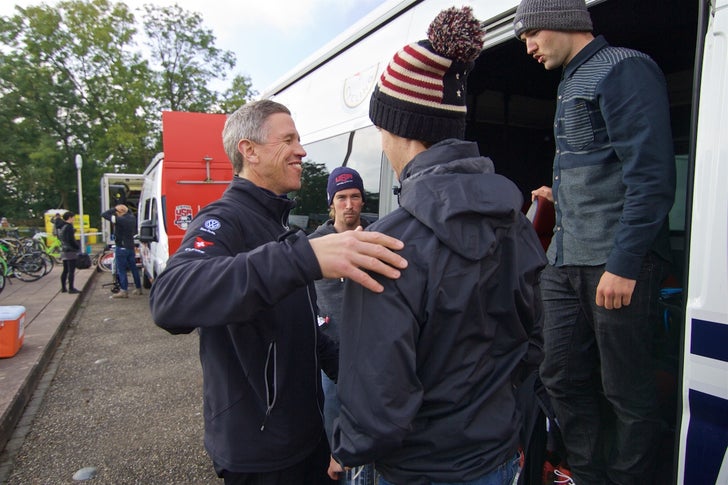 It was enough to bring a smile to USA team coach Geoff Proctor, an English teacher who for more than a decade has balanced his full-time work in Montana with his role helping to develop young American racers. Evidence of Proctor's success as a mentor is written in the results of riders like Jeremy Powers and Danny Summerhill and the many others who had their first experiences racing cyclocross internationally under his tutelage.
During the long break for training between the day's early races and the elite events of the afternoon, Proctor had time to share congratulatory hugs with his young riders. Meanwhile, while women like the Czech Republic's Martina Mikulaskova sought out quiet space to focus and prepare for their races, the others had a bit of a social hour.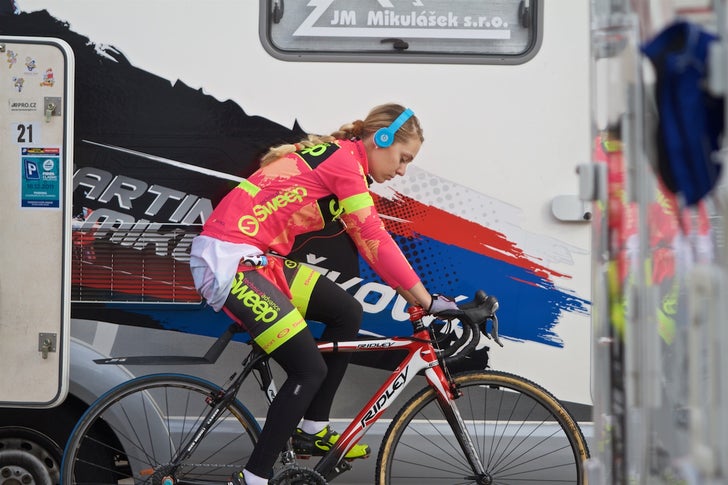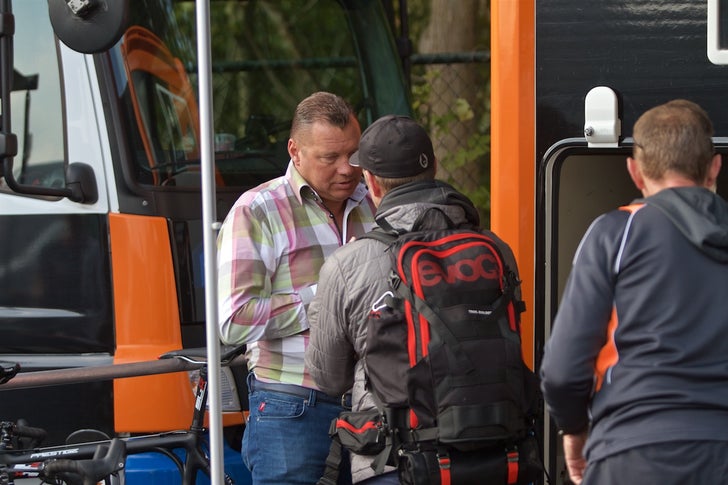 At the Vastgoedservice-Golden Palace team camp, Wilfred Peeters chatted with fans and industry insiders. Peeters, a one-time winner of Gent-Wevelgem, and an important domestique for road world champion Johan Museeuw during in the 1990s, now serves as a sport director for the Belgian Etixx-Quick-Step team. But on Sunday, he was just another proud father: His son Yannick finished fifth in the under-23 race.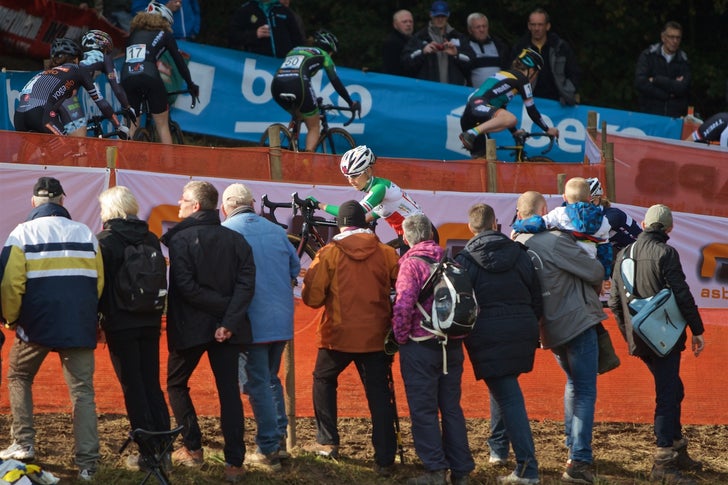 Practically from the gun, the women's race belonged to Eva Lechner (Colnago-Südtirol), a mountain biker from Bolzano, in Italy's rugged, alpine province of South Tyrol, where the majority of the population speaks German — not Italian — as their native language, Lechner included. Lechner was fresh off a win on the mountain bike last week in a test event for the 2016 Olympics in Rio de Janeiro.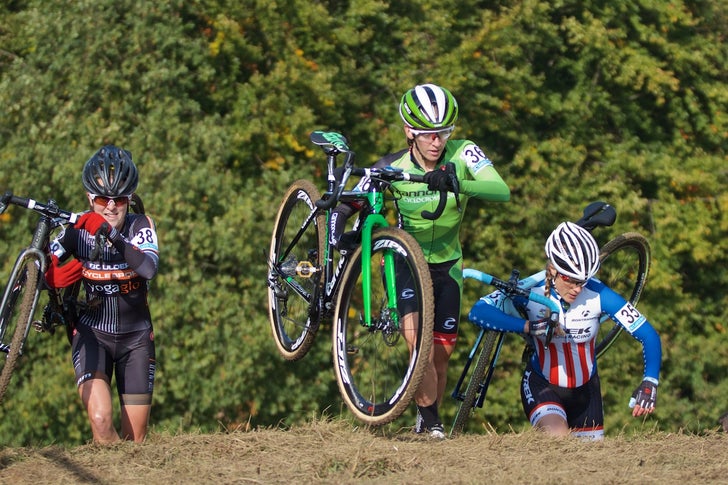 Behind her, three Americans, Boulder Cycle Sport-YogaGlo's Amanda Miller, Cannondale-Cyclocrossworld's Kaitie Antonneau, and Trek Factory Racing's Katie Compton — defending champion in Valkenburg — found themselves working together to bridge to the leaders.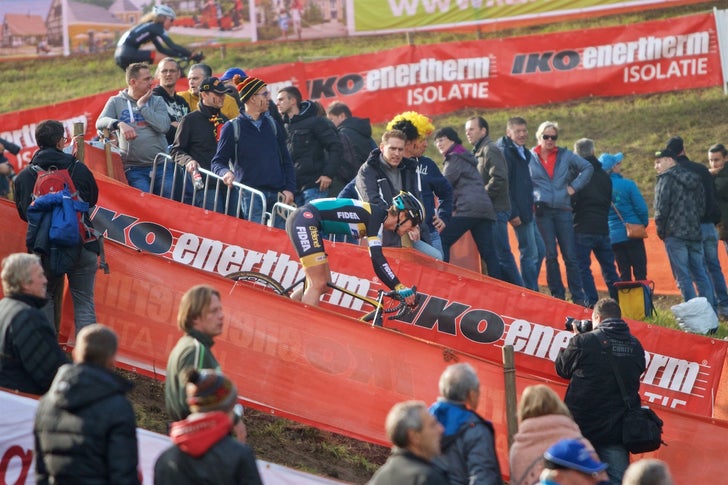 At least among the women, the World Cup scrambles everything. The influx of talent from the United States and elsewhere in Europe has a cascading effect through the ranks, as women accustomed to being part of most race's big battles fight minor skirmishes for spots inside the top 10. Ellen Van Loy, one of Belgium's most successful racers, dipped and dived her way around the course for a seventh-place finish.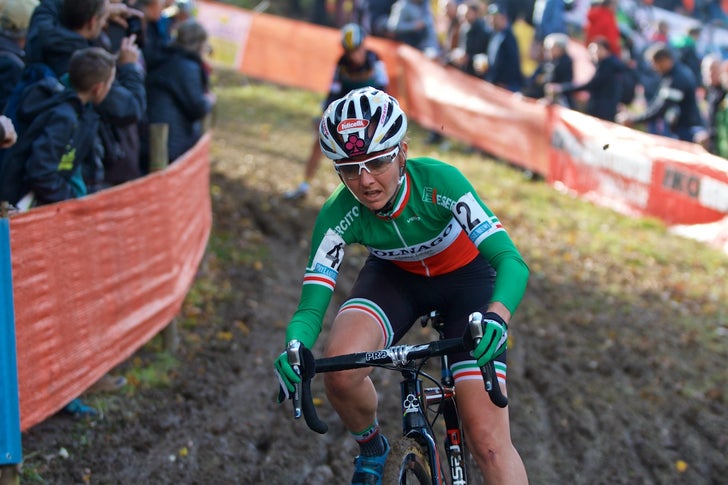 "I had a very good start," Lechner would tell reporters later. "I was immediately at the front, and I didn't hesitate. I just went for it. I could make the gap bigger and bigger every lap. Also, technically, everything worked out pretty well. I didn't make any mistakes." Lechner battled with Britain's Nikki Harris for most of the first half of the race, but Harris appeared to tire — and to started making mistakes — in the closing laps, allowing Lechner to go free.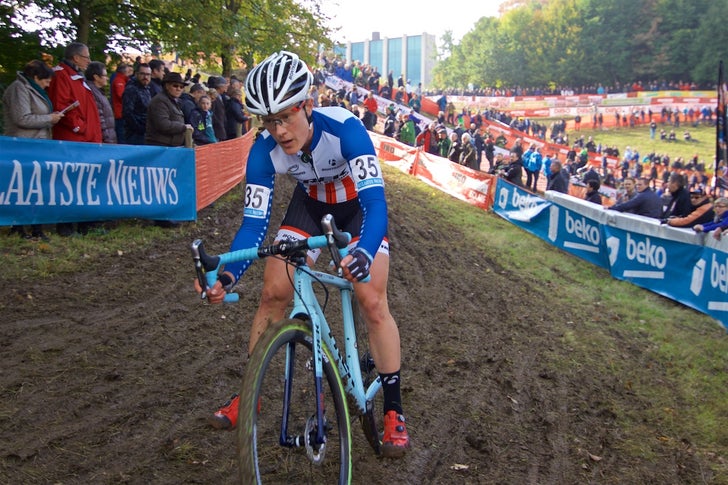 "It started off bad and got worse," said Katie Compton, perennially America's best woman on a cyclocross bike. "It was fine. I rode OK, I just don't have any power." Compton has struggled with a series of health issues during the past two seasons, issues she appears to have under control now. But she told
VeloNews
she had taken a long time off the bike during the summer and will have to race back into form over the course of the season. She settled for 13th place in Valkenburg.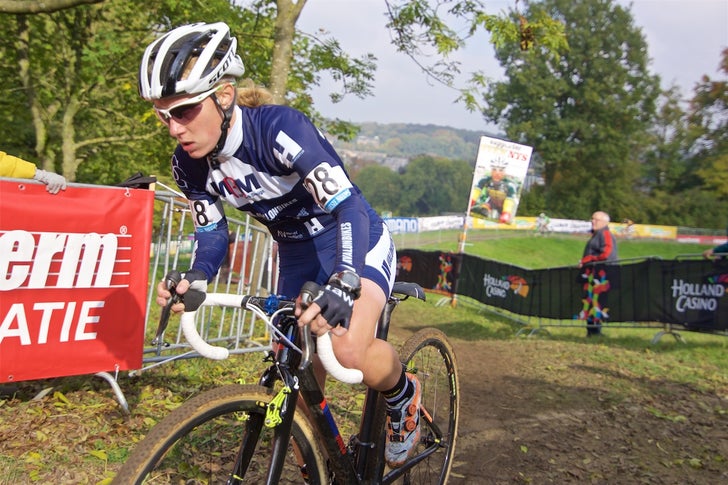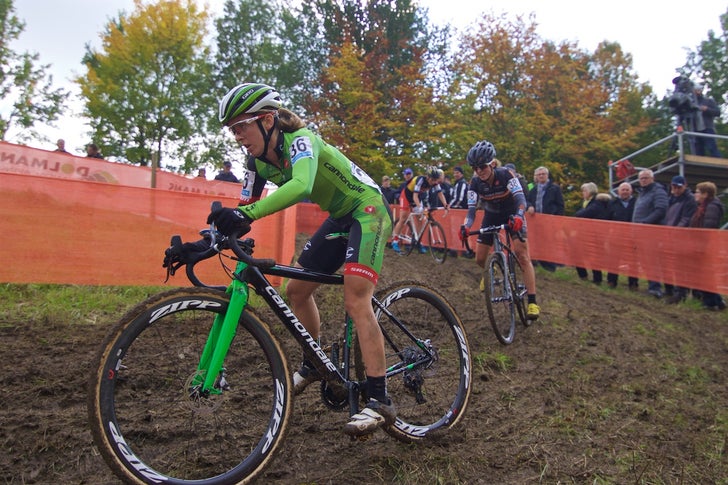 Once again, Czech Pavla Havlikova (MRM-Avalon) showed off her best form in many years, riding to third place. Havlikova could not fend off a late surge by American Kaitie Antonneau, who rode away from Belgium's Sanne Cant and compatriot Amanda Miller to reel in Harris and Havlikova for the first-ever the World Cup podium finish by an American rider other than Compton.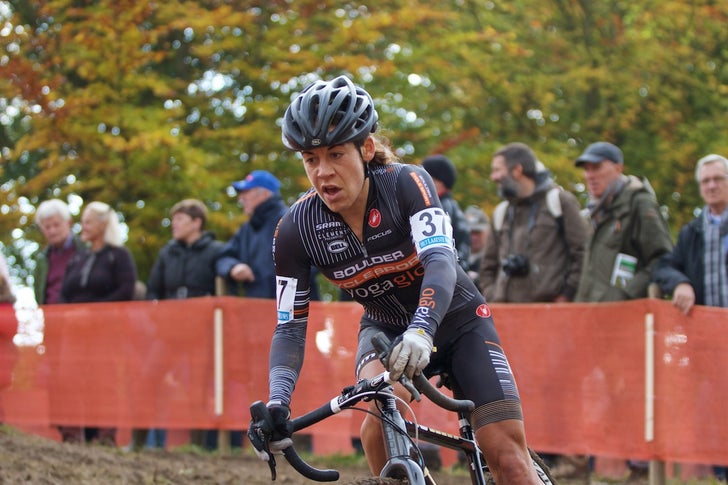 In fact, American women packed top of the results sheet on Sunday. Miller's Boulder Cycle Sport teammate Crystal Anthony, went one better than Compton, finishing 12th, while Miller herself took an impressive fifth-place finish, to give the American contingent four of the top-13 places.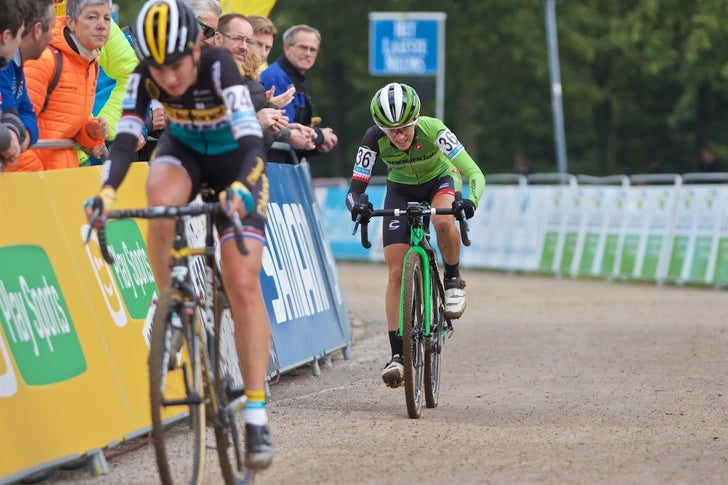 "When I saw Nikki [Harris], I was just like, 'Okay, I can just try to get second here,' and then she made a mistake," said Antonneau, who trailed the British rider by seconds as she got the bell. Harris made a costly bobble on one of the course's tricky off-camber sections, and Antonneau pounced, getting almost to within striking distance of the win. "I saw Eva a couple of times," she said. "I was just trying to keep her in my sights, but I wasn't really thinking about [the win]. I was just trying to stay where I was."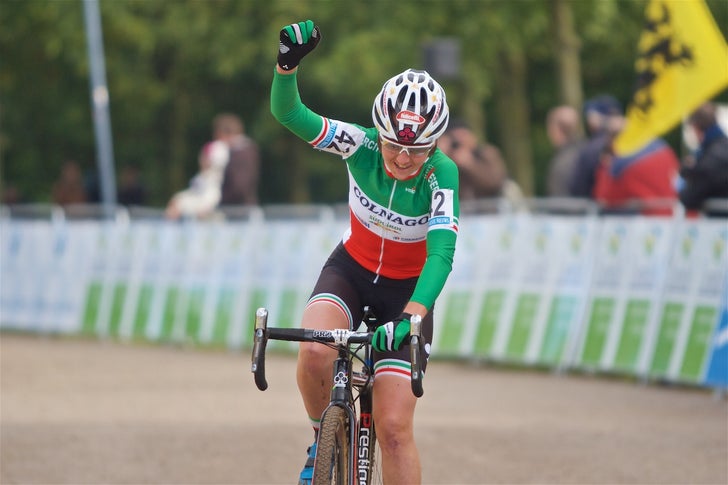 "It was a perfect race for me here, with the climbs and descents," said Lechner, of her win. "It was very technical, so I could use my abilities as a mountain biker on this course." With World Cup leader Katarina Nash opting to skip Valkenburg, Lechner's win put her easily into first in the overall series standings. For a rider as totally focused on the Olympics as Lechner, a major series lead in what amounts to an off-season pastime for her presents a dilemma. Will she contest the remainder of the World Cup, trying to sustain top form through the dreary European winter, or will she scale back as she prepares for next season? On Sunday, she told reporters she had not yet decided.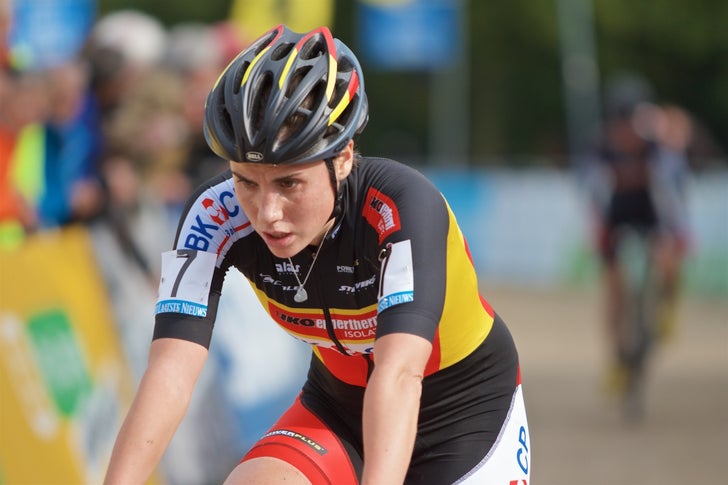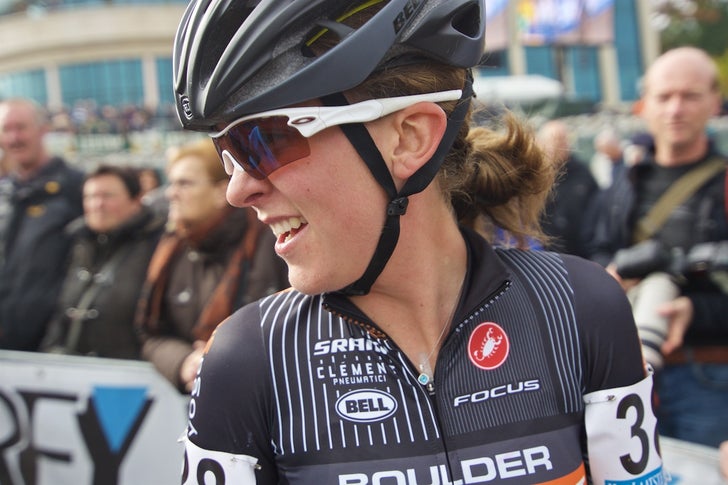 For Belgian Sanne Cant (Enertherm-BKCP) and American Amanda Miller, fourth- and fifth-place finishes yielded dramatically different feelings. For Cant, who leads the UCI world rankings, it was a second week in a row in which she failed to perform to her expectations. For Miller it was an unexpected gift.
"I was a little intimidated by this course," said Miller afterwards. "I've never raced a World Cup in Europe on the 'cross bike. I've just done CrossVegas, and the courses over here are pretty gnarly. But I really like this kind of stuff where the course is challenging you along with the riders around you, but you really have to focus on what you're doing in the race."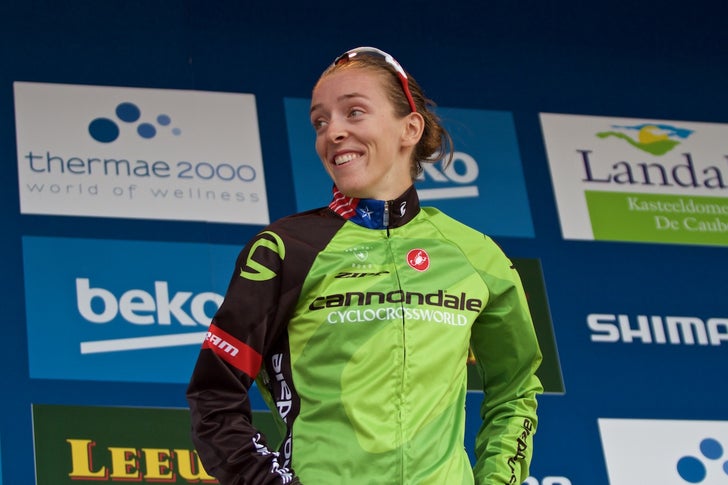 Antonneau's appearance on the podium represented a huge step forward for the 23-year-old, whose previous World Cup best was seventh place. She said she was still trying to absorb the achievement. "I don't think I really understand what just happened," she said. "That was super awesome and really exciting. Yeah. It was cool."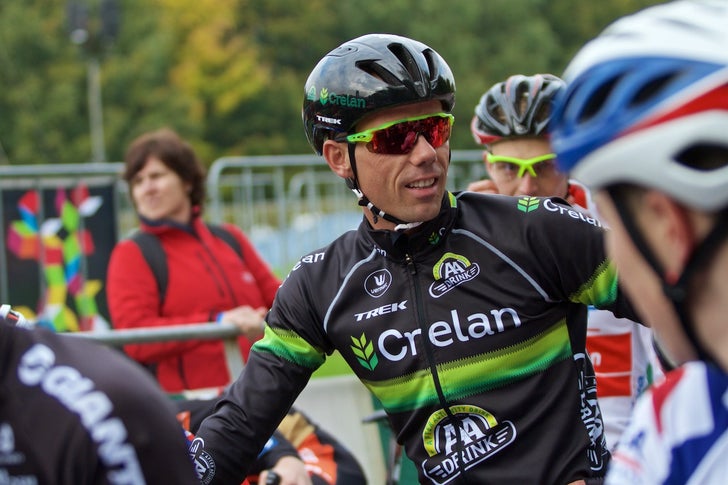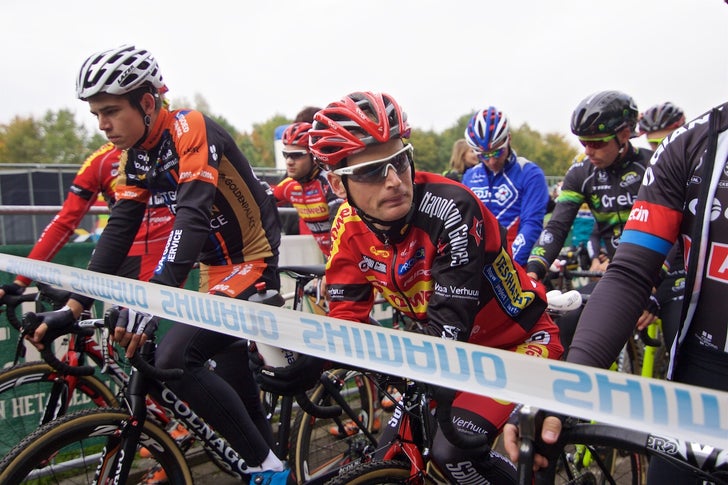 Emotions on the start line at a World Cup vary widely. For cyclocross' elder statesman Sven Nys (Crelan-AA Drink), stuck in the second row of the starting grid thanks to his disastrous 2014-15 season, coming from behind is nothing new, and he was relaxed enough to share jokes with the other riders. For others, like Subweb-Napoleon Games' Kevin Pauwels, it's a more nervous, pensive moment.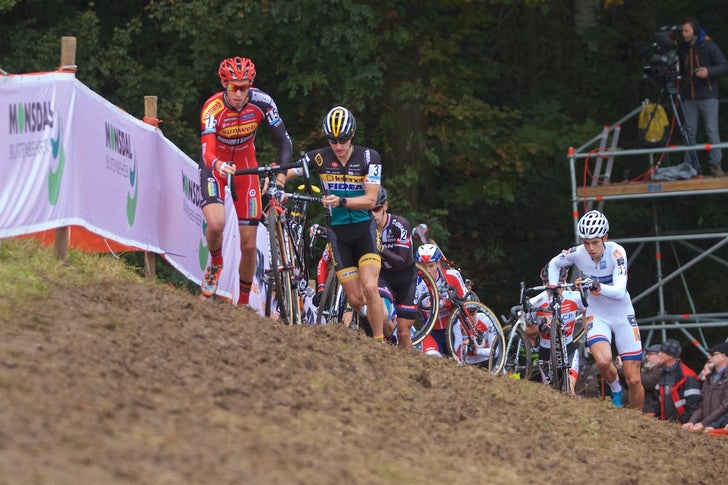 In just a month of racing this season, first-year elite rider Michael Vanthourenhout (Sunweb-Napoleon Games) has built a reputation for being a fast starter. On Sunday, Vanthourenhout was again the first man to hit the dirt, tackling the course's first, nasty off-camber section at the head of the bunch.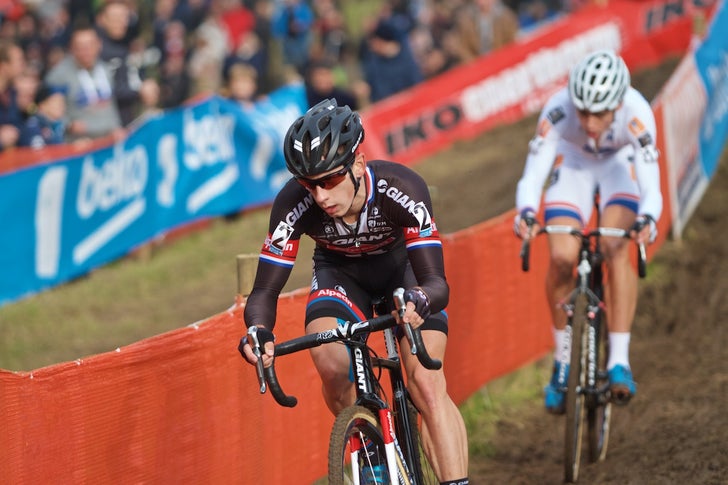 Vanthourenhout's lead didn't last long. Dutch rider Lars van der Haar (Giant-Alpecin) went right to the front, riding World Cup leader Wout Van Aert off his wheel within a lap.
"I don't think I really, really attacked," said van der Haar. "But I just kept the pace so high and I was good enough today to not really make any mistakes, and if someone makes a mistake behind you, you've got a really quick five seconds, and then you can build that to half a minute."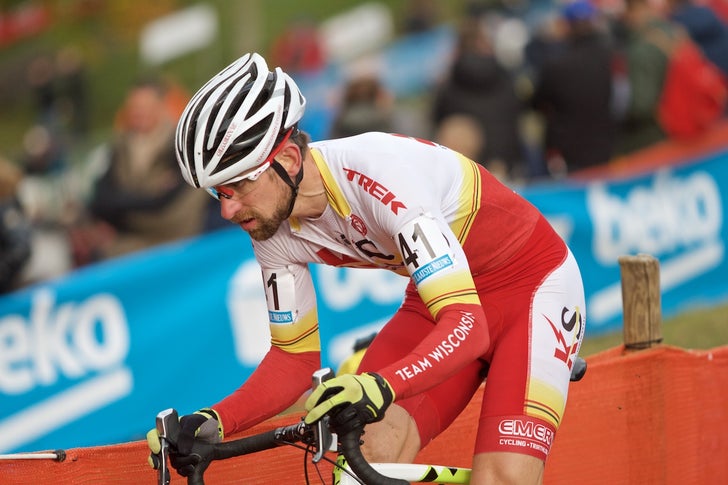 Two American men made the trip to Valkenburg, including Wisconsin's Brian Matter (KS Energy Services). Matter finished 54th on Sunday.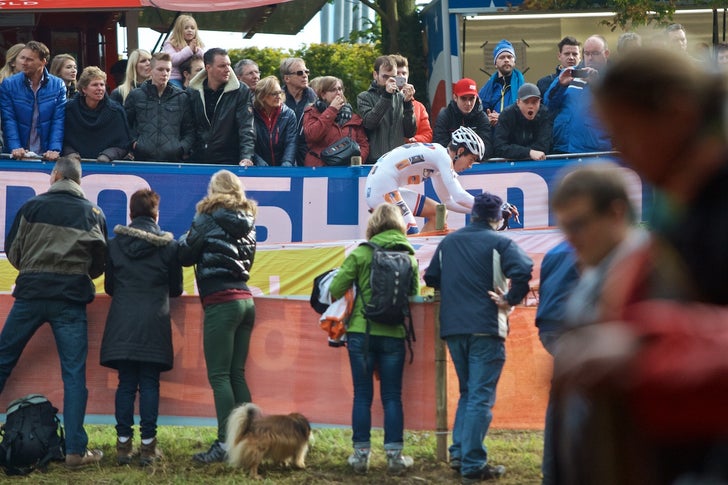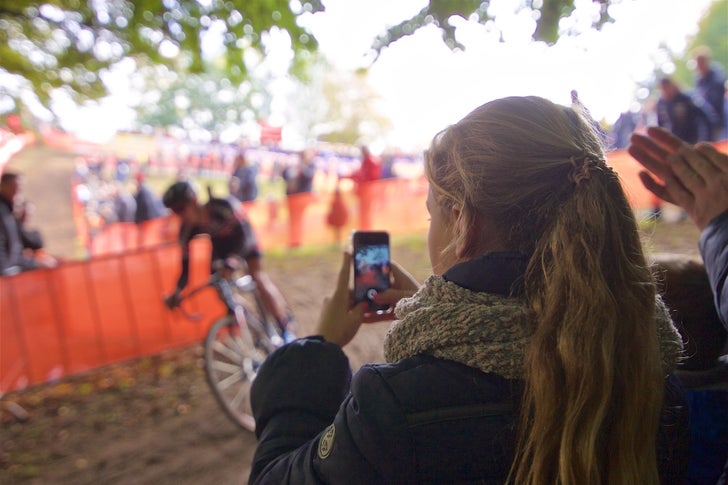 Valkenburg's sprawling hillside course afforded spectators a fantastic view of the action. Those who lined the course at the top of the hill could cheer their favorites up close, then watch the action play out in the valley below. In the woods, where riders ripped down the one of the fastest descents of the day, dramatic light made for fantastic photos.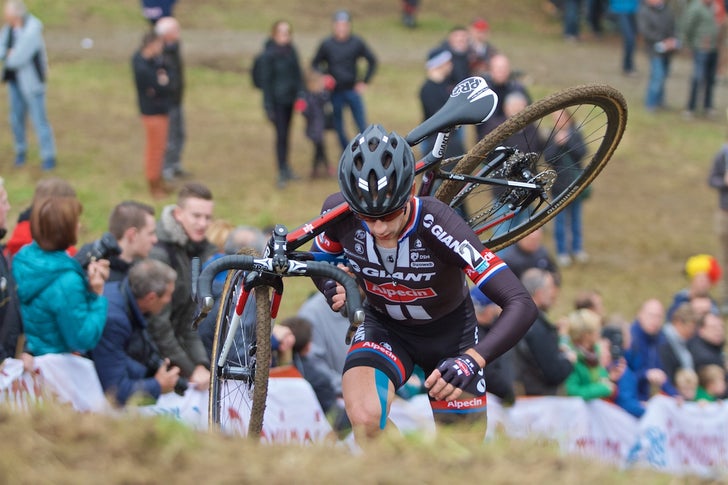 "This is a course that's suited to my abilities, and I was able to use them today," said van der Haar. "It's a course where I come with a lot of confidence and with the little hills I could use my explosive abilities."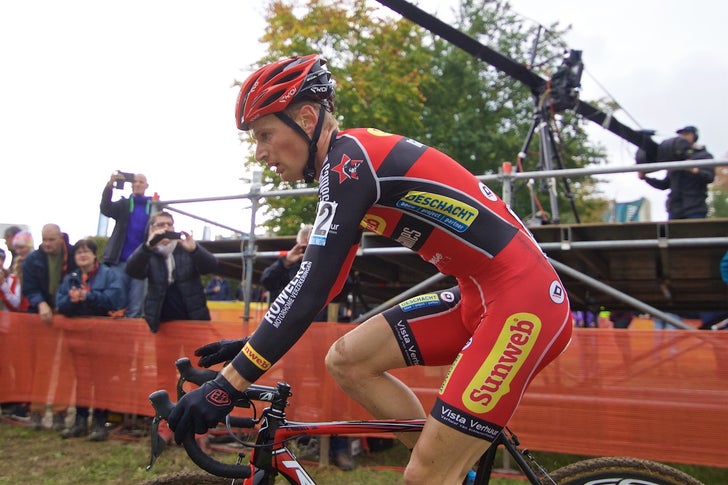 For Kevin Pauwels, who won the World Cup overall last season, it was a day of frustration. Pauwels first lost contact with van der Haar, then faded out of a chase group that featured Sven Nys and Wout Van Aert. "I didn't have the legs I did in Ronse [last week]," he said. "In the first lap it was still good, but afterwards I felt quite quickly that I was not really good. Van der Haar today was too strong for me and in the group behind him I was also not strong enough."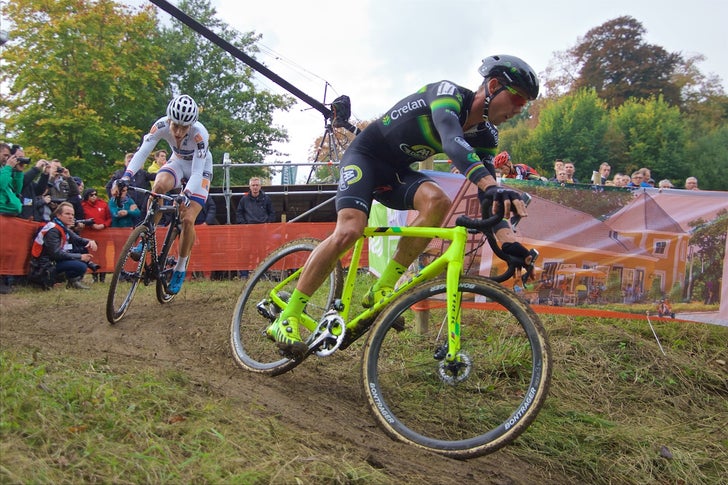 Sven Nys spent his day battling with Wout Van Aert, an increasingly familiar storyline for the 39-year-old Belgian. But Nys couldn't match Van Aert's final surge, and settled for third.
"Third isn't bad," said Nys. "Definitely you want to win the race, but Lars was too strong today. He didn't make any mistakes. His accelerations were really strong. His weight is the difference here. You see it the last two years that these are small, explosive climbs and he is a small guy and technically is really good in these conditions."
Second for Van Aert, meanwhile, meant he was dealt his first loss of the season. He told reporters that he was glad to shed the increasing pressure of winning every week.
"I don't really mind," he said. "I'm glad I don't have to answer all those questions anymore. Now I can prepare myself calmly for the next races. How did they beat me? They just went faster. I tried in the first lap with an attack, but then Lars came back and counterattacked and I couldn't follow. After that it was riding for second place."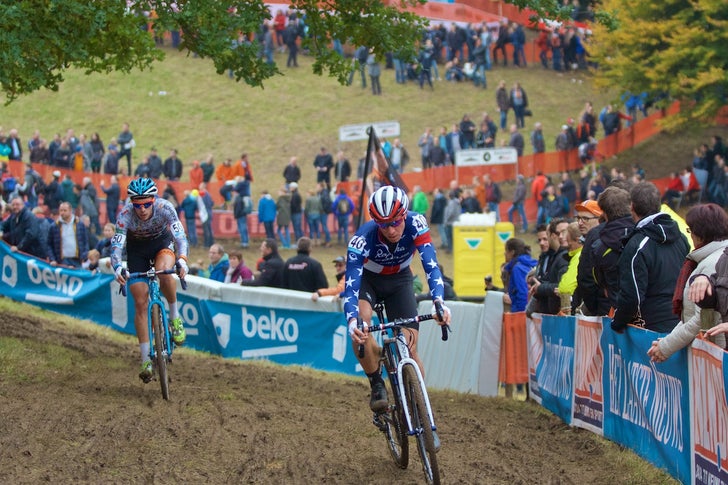 Almost uniformly, Sunday was a good day for the Americans, but not so for the elite men. Jeremy Powers, who finished inside the top 10 in Valkenburg last season, and was sixth in the first World Cup race of this season, looked off balance all day. After one lap he was 27th, by the race's end he had faded to a disappointing 41st.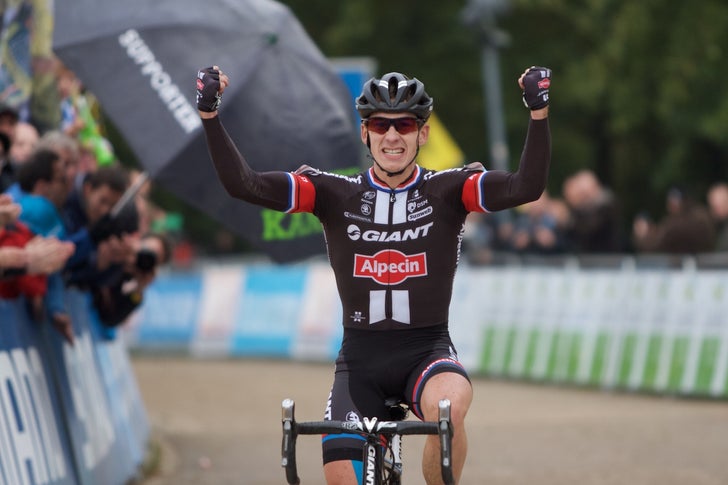 Van der Haar's win Sunday made him a perfect three-for-three in World Cup races in Valkenburg, but more significantly, it made him the first man to beat Wout Van Aert this season. After the race, van der Haar said he'll do everything he can to keep the rivalry going.
"I think Wout is still really, really good," he said. "You can see that in the last lap, how he beat Sven Nys. But everyone is beatable. I am beatable, he's beatable. Next week he might win again with a minute, you don't know. But I'll try to win every race I start, and I'll try to make every race a nice race. If I win it would be nice, if he wins then I have to do something better."