VeloKitchen: Pumpkin pad thai recipe
Racer tested and approved since 2007
Heading out the door? Read this article on the new Outside+ app available now on iOS devices for members! Download the app.
There is a long history of pad thai and successful American cyclists.
Dr Allen Lim started making it for TIAA-Creff riders back in 2007 including Alex Howes, Pete Stetina, Ian Macgregor, Will Frischkorn, Brad Huff, Mike Friedman, Rashaan Bahati, Pat McCarty, Danny Pate, and Taylor Tolleson.
Allen would later make pad thai for Ben King, before King won the 2010 national championships. Most of the still-racing riders in this group to this day will have pad thai the night before an important race, including Pete Stetina.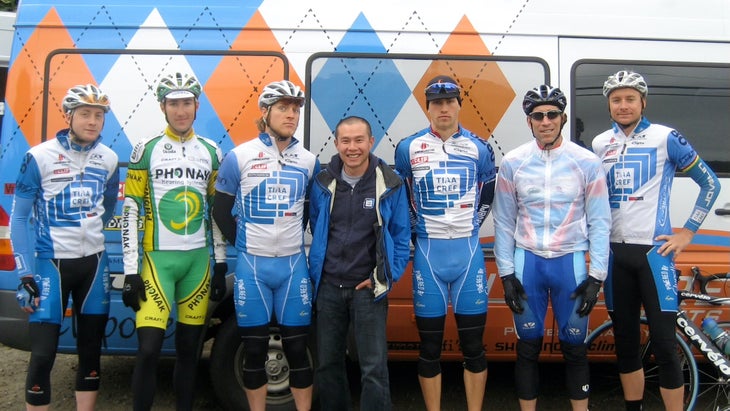 So, in honor of that tie-in and Pete's challenge above to make something good with pumpkin, I've cooked up a very easy recipe of roasted pumpkin and sweet corn pad thai. Keep it vegan, or add in a splash of fish sauce and scrambled eggs for a delicious and incredibly easy at-home recipe.
This is a great recipe for a holiday lunch, keeping the theme of fall colors and of course an abundance of pumpkin. Note: You can skip making the sauce and purchase pre-made "pad thai sauce" to save time.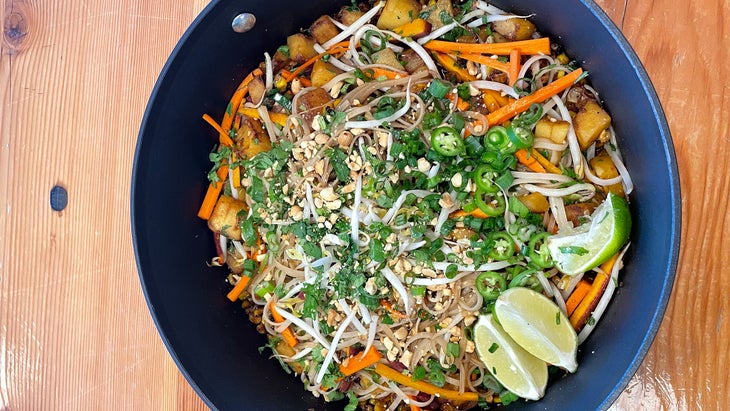 Ingredients
Pad thai
12 oz. rice "stick" noodles, dry
1 lb. pumpkin or squash, peeled and cut into bite-sized pieces
1 bunch scallions, thinly sliced
2 eggs, beaten (optional)
2 cups bean sprouts
2 cups carrots, shredded
1 cup peanuts, crushed
1 cup sweet corn kernels
½ cup red onions, thinly sliced
1 small bunch cilantro, chopped
1 lime
fresh chiles, chopped
Sauce
½ cup low sodium soy sauce
1 Tbs chili sauce
2 tsp sesame oil
2 tsp maple syrup
1 tsp fish sauce (optional)
1 tsp red wine vinegar
1 tsp fresh ginger, minced
1 tsp fresh garlic, minced
Preparation
Mix all sauce ingredients together and set aside. Adjust to your taste next time.
Noodles: bring a pot of water to boil, remove from heat, pour over noodles and let soak while you cook the rest.
Pumpkin: In a deep sauté pan, bring a splash of oil to high heat and sauté pumpkin pieces until golden brown on edges (approx. 10 minutes). Add in onions, a pinch of minced garlic, and sweet corn.
If adding eggs, push the veggies to the side, scramble eggs in the empty part of the pan, then mix it all together.
Drain water from soft noodles and fold into cooked vegetable mix.
Pour in half the pad thai sauce, taste, add more as you like.
Sprinkle in half the crushed peanuts.
Add in sprouts, chiles, cilantro and more sauce if you'd like.
Plate up, sprinkle remaining crushed peanuts over the top and enjoy!