Busche takes a tough sprint from Hincapie for his first pro title
1. Matthew Busche, Team RadioShack, in 4.28:02 2. George Hincapie, BMC Racing Team, in 3. Ted King, Liquigas-Cannondale, in 4.28:04 4. Tejay Van Garderen, HTC-Highroad, in 4.28:09 5. Kyle Wamsley, Bissell Cycling, in 4.29:31
Heading out the door? Read this article on the new Outside+ app available now on iOS devices for members! Download the app.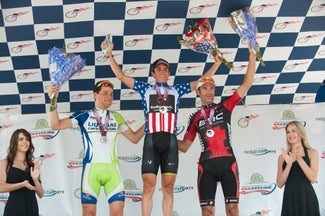 GREENVILLE, South Carolina (VN) — RadioShack's breakout young star Matthew Busche outsprinted three-time national champion George Hincapie (BMC Racing) on Sunday to win his first professional title. Ted King (Liquigas-Cannondale) held on for third from a late selection under brutally hot temperatures.
"I didn't imagine it and it's still settling in. I'm very proud to wear the stars and stripes," said Busche. "It's exciting for the youth in cycling, or the young in cycling, to wear the stars and stripes and promote the sport at that level and show that it's up and coming and there's a good future."
The 115-mile road race on the Paris Mountain circuit followed the same path it had for the last few years. Three opening, 4.2-mile circuits in town led to four 22.5-mile turns over Paris Mountain and a number of short, tough ramps near town. Three more short circuits took the riders to the finale for the stars and stripes.
In response to the breakaway that gained 17 minutes and launched Ben King (RadioShack) to his national title last September, the racing was selective nearly from the start Monday. Constant reshuffling carried the riders toward the first ascent of Paris Mountain, but what looked like a promising group rolled off a handful of miles before the right turn onto its base.
Cameron Cogburn (Jelly Belly-Kenda), David Williams (Bissell), Julian Kyer (Kelly Benefit Strategies-OptumHealth) and Nick Frey (Jamis-Sutter Home) were among the players. They took 51 seconds onto the climb, but by the summit three of them held just 10 seconds.
Jeff Louder had gone to the front of the peloton for BMC Racing and drilled the climb.
"We wanted a move to go when the race was already hard so it wasn't a bunch of guys who couldn't hack up there," said Louder's teammate Brent Bookwalter. "Louder really kept the pressure on and that really surprised everyone … we wanted to keep the pressure on and make it a hard race."
The pace shelled the field and a group of perhaps 40 reached the top of Paris Mountain together. From there, Bookwalter, Jason McCartney (RadioShack), Timmy Duggan (Liquigas), Jesse Anthony (Kelly Benefit Strategies), Quinn Keogh (Exergy), and Robert Bush (Chipotle Development) joined Williams on the descent.
"There were a flurry of attacks back into town," said Anthony. "I was surfing the wave and ended up getting in the group."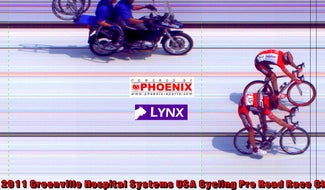 The break worked well to establish its gap, which eventually peaked above three minutes. The tactics were all over the board in the break of the day. The ProTeam riders were there to set up their teammates for a hard final climb on Paris Mountain. Anthony was working for a larger group sprint for teammate Alex Candelario back in the field. In the end, it was those four riders — Anthony, Bookwalter, Duggan and McCartney — who survived to the base of the final climb.
That's when Anthony, who had sat on for a lap, struck out on his own on the command of his director, Jonas Carney.
"Jonas told me to make sure I went up the climb super hard and stayed on the front of the race," said Anthony. "I knew with Hincapie and Busche coming they were going to light it up on the climb. I didn't want to get caught by them halfway up and get dropped on the climb."
He crested the summit alone, just 10 seconds ahead of the group, but didn't back off. Anthony later said that was his mistake.
Behind the first chase, Van Garderen set a brutal tempo on the climb and sprung Busche and Hincapie. King, Louder and Pat McCarty (Spidertech-C10) joined them. By the summit the Bookwalter, Van Garderen and King groups were together.
Fueled by Anthony's attack, Bookwalter, McCartney and Duggan drug the group onto the descent.
"Sort of foolishly he attacked us on the last lap and blew himself up," said Bookwalter. "We were pretty motivated to chase him down because that's a pretty tough tactic to play. We wanted to stick together because that's still a long way to the finish from the top of the climb."
They came around Anthony on the descent from Paris Mountain and he couldn't hang on.
From there, it was lights out on the front of the race. Van Garderen attacked. Ted King countered. Jeff Louder and Bookwalter marked the moves for BMC and drove the group.
Van Garderen struck again on a ramp on the outskirts of downtown and his acceleration forced the perfect selection, with Busche, Hincapie and King tagging on. With their teams represented in the all-ProTeam group, Duggan, McCartney, Bookwalter and Louder eased off. The gap quickly went to a minute.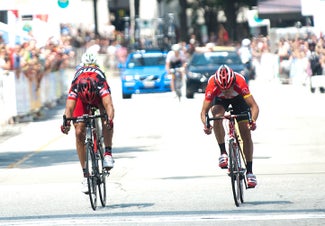 "We were really just looking for that situation and that's the race," said Duggan. "That attack wasn't any harder than the previous five, it was just waiting for the right combination. It's a matter of being mentally strong, sticking with the move, and one of them is going to stick."
The four leaders, a split of two all-rounders (Hincapie and King), an elite climber and time trialist (Van Garderen) and a relative unknown, but strong, quantity (Busche), set about rotating smoothly. They cranked out the miles and Van Garderen led them through the start/finish and onto the 4.2-mile closing circuits.
"It wasn't necessarily too tactical," said Busche. "We wanted to at least get to line and see what happened on last lap."
Behind them, Andrew Bajadali (Kelly Benefit Strategies) led the first chase group, with Bookwalter tucking into second wheel.
As the leaders again rode onto the ramps lining downtown, Van Garderen sat in the perfect position, on the wheel of Busche, who followed Hincapie in the rotation. But no attack came. The leaders continued to rotate.
"It was tricky tactically to know if you could attack or not," said Van Garderen. "If you attack and they catch you, no one wants to rotate and the next group has a better chance of catching up."
The tense crowd expected a move against Hincapie.
"Everybody was working, everyone was pulling full gas, so you can't attack," he said.
"I was mentally prepared for someone to attack, but nobody was sitting on, playing cat and mouse games… It was just too fast to attack."
King took the leaders through for the penultimate lap and cramped. "With one lap to go I had the most ferocious cramp," he said. "From there it's fingers crossed, 'Please go away, please go away.'"
Hincapie pulled through and then Busche. BMC director Mike Sayers drove up alongside the leaders and urged them on. They rode as a unit, keeping their advantage at a minute.
Busche considered a flyer, but was pinned and decided to play the perhaps longer odds in a group sprint.
"I was lacking a little confidence in that because my legs were feeling a little — I just didn't know for sure what was going to happen," he said. "I didn't want to throw down a long bomb attack, blow all my energy and then have the three of them chase me down and I'm done for sure … I thought about it for sure, but in the end I let the opportunity pass."
Assured they would hold on to fight for three podium steps amongst four riders, the leaders rode onto the long false flat before the downhill finish and Van Garderen surged.
"I tried an attack, but in the heat my legs were cramping a bit," he said.
King took over on the front. Busche sat third wheel and when he sensed an easing of the pace, he shot off the group and through the final corner.
"He made a good move going where he did and I gave everything I possibly had," said Hincapie.
Beyond the corner lie 300 meters of fast, downhill tarmac and Hincapie jumped onto Busche's wheel. With 250 meters to go, the three-time U.S. champion came around, but Busche hung tight.
"I saw him get on my wheel and I was surprised," said Hincapie. "I thought I had it, but I saw his wheel on my wheel."
As Hincapie followed the right barriers, Busche made his second surge, drawing nearly even. The cagey veteran checked left, forcing Busche sideways, but it didn't shake him. Still, Hincapie led and at 20 meters looked to have the race.
Busche surged again, his third in 300 meters, and drew even at the line. He'd won his first professional title, after less than two years as a professional. Hincapie had narrowly missed another hometown win and King came through third.
Van Garderen did hold on for fourth.
"It's hard to come to the line with George. He's a really good sprinter and that's how he's won this race before," said Busche. "I don't usually sprint and do bike throws."
Kyle Wamsley (Bissell) took the field sprint from the 16-man peloton and in the end, just 44 of 90 riders finished.
"It hasn't sunk in, really," said Busche. "I don't know what the feeling of sinking in is or when it will come."
Quick results:
1. Matthew Busche, Team RadioShack, in 4.28:02
2. George Hincapie, BMC Racing Team, in
3. Ted King, Liquigas-Cannondale, in 4.28:04
4. Tejay Van Garderen, HTC-Highroad, in 4.28:09
5. Kyle Wamsley, Bissell Cycling, in 4.29:31
Race notes
Busche won bronze in Saturday's time trial. He is the first rider to medal in both events in the six years that nationals have been held in this format.