2012 USA Pro Challenge: It will go down to the wire
Leipheimer will have a hard time defending his title against fellow Americans
Heading out the door? Read this article on the new Outside+ app available now on iOS devices for members! Download the app.

BOULDER, Colo. (VN) — When the stage 3 Vail time trial prematurely ended the race for overall victory at the inaugural USA Pro Cycling Challenge in August, it was obvious that the organizers would love to see a more dramatic outcome in 2012. And that looks certain to happen on the likely course that was leaked to two Denver news outlets Thursday evening (and later confirmed by the promoter).
Instead of a prologue and a mid-race TT, the second edition of the Colorado stage race, now upgraded to UCI 2.HC status on the America Tour, has just one time trial, and that will be on the final day in Denver. Even after six road stages that crisscross the Rockies — perhaps with a mountaintop finish on the penultimate stage in Boulder — the race won't be decided until the Denver time trial.
Defending champion Levi Leipheimer will again be a favorite. But his move to the Belgium squad that has merged the Omega Pharma and Quick Step teams, neither of which has a great legacy in stage racing, will weaken his chance of a repeat win. Also, the likely flat TT won't favor him, especially compared with this year's test up Vail Pass.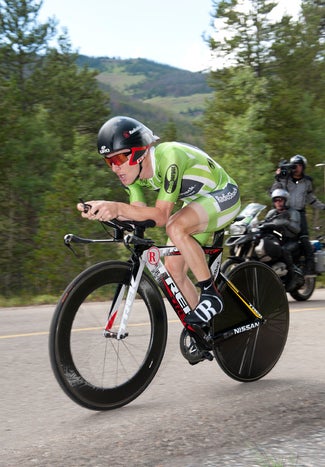 Among those Leipheimer will have to keep his eye on are his former teammate Chris Horner, absent in 2011 because of injury, who will be inspired in his first shot at the Challenge, especially if he has the support of new teammates Andy and Fränk Schleck on the realigned RadioShack-Nissan squad.
The other protagonists at next year's race should include the 2011 runners-up Christian Vande Velde and Tejay Van Garderen. Vande Velde and his Colorado-based teammates Tom Danielson and Peter Stetina will have extra incentive with the last road stage finishing in their Garmin-Cervélo team's hometown of Boulder. Meanwhile, former HTC rider Van Garderen, from nearby Fort Collins, will have the support of a much-strengthened BMC Racing squad that might well include this year's top-10 finishers George Hincapie and Cadel Evans.
The Americans Leipheimer, Horner, Vande Velde, Danielson and Van Garderen all have an advantage on their European rivals because of Colorado's high altitude. The elevations of the first four stage finishes are 8,750 feet (Telluride), 9,375 feet (Mount Crested Butte), 7,890 feet (Aspen) and 8,100 feet (Beaver Creek Resort), while the three Front Range stage finishes are all between 5,000 and 6,000 feet — and around 7,000 feet if a summit finish above Boulder is included.
The strongest challengers to the home riders might well come from South America, especially if the leading Colombians, who live in the Andes, are on the start line in Durango on August 20. Sergio Henao, who came second to Leipheimer on this year's Crested Butte stage, has now joined Team Sky — and should the British team get an invite to Colorado Henao would have great support from his new Colombian teammate Rigoberto Uran.

Full course details of the 2nd USA Pro Cycling Challenge will not be announced until March, but knowing the limited number of roads linking the various stage towns, here's what the seven stages might well look like (with estimated distances):
Monday, August 20: Stage 1. Durango to Telluride (111mi, 179km)
Starting from Tom Danielson's former hometown of Durango, this longish opening stage is almost certain to take the easier western loop to Telluride rather than the far more mountainous one via Silverton. It has a base elevation of 6,200 feet and goes as high as 10,222 feet over the long, shallow Lizard Head Pass. But it's mostly downhill from the summit to the finish in beautiful Telluride, where a mass sprint is the most likely outcome. The lonely main road through the Four Corners region goes close to Mesa Verde National Park to reach Cortez before heading north to the McPhee reservoir and then into the spectacular San Juan Mountains. A picture perfect start!
Tuesday, August 21: Stage 2. Montrose to Crested Butte (95mi, 153km)
Again, there are two possible routes, a more difficult northern one that uses back roads through mountain country over Kebler Pass, or the more likely, easier southern one that would include sensational views of the Black Canyon of the Gunnison. Both courses would end with the same hilltop finish at Crested Butte where Leipheimer first grabbed the leader's jersey in August this year.
Wednesday, August 22: Stage 3. Gunnison to Aspen (131mi, 211km)
The ski resort of Aspen was lauded by the organizers this year for the warm-up events on a downtown circuit that featured the last day of a women's stage race and a kids' criterium; and that's likely to be repeated rather than a mountaintop finish on Independence Pass — which would separate the climbers from the rest of the field too early in the week. Also, the organizers would like to feature the amazing descent from Independence, which was lost to television viewers this year because of a freak storm that "iced" the plane transmitting the TV signals.
Thursday, August 23: Stage 4. Aspen to Beaver Creek (102mi, 164km)
The most likely course heads back over Independence, just as the Coors Classic did in 1988, through Leadville and over the "easy" Tennessee Pass to a summit finish at Beaver Creek. The local organizing committee has suggested a finish that heads up from Avon on the difficult Bachelor Gulch climb before taking a sharp descent onto the Beaver Creek Village access road — and a less steep uphill finish. Such a choice could give the climbers a better chance to gain time than any of the previous stages.
Friday, August 24: Stage 5. Breckenridge to Colorado Springs (106mi, 171km)
The sprinters will get their second chance at a stage win in Colorado Springs after what looks like being a straightforward, but beautiful, stage out of the Rockies, along the straight, rolling roads of South Park and down the main road through Manitou Springs — though a short kick into the Garden of the Gods could add a late surprise.
Saturday, August 25: Stage 6. Golden to Boulder (73mi, 117km)
All sorts of possibilities are raised by this stage because Golden and Boulder are only 20 miles apart. One possible scenario is to make it chockfull of climbs, perhaps opening with a repeat loop over Lookout Mountain before heading north through Golden Gate Canyon Park and along the Peak to Peak Highway (often featured in the Coors Classic) to Ward. The finale could well include some of the iconic climbs around Boulder, perhaps Lickskillet Road, a near-vertical dirt road to Gold Hill, or Lee Hill Road just before the city, followed by a true summit finish out of Boulder up Flagstaff Mountain (which hosted the prologue TT in many editions of the Coors Classic).
Sunday, August 26: Stage 7. Denver TT (15mi, 24km)
Whatever route is chosen for this flat time trial, the finish is almost sure to be in front of Denver's gold-domed Capitol. It's also certain that this stage will cap what will be a far more competitive and dramatic race than the inaugural edition of the USA Pro Cycling Challenge.
Possible total distance: 633mi, 1,020km