A conversation with Andrew Talansky: Part I, from Miami to Europe
Andrew Talansky has already been impressive through the first few months of his professional career. At his pro debut with Garmin-Cervélo at the Tour Méditeranéen in February, he climbed to fourth up Mont Faron and fourth overall. At Paris-Nice and Critérium International, he finished among the top-10 in both of the respective time trials.
Heading out the door? Read this article on the new Outside+ app available now on iOS devices for members! Download the app.
Andrew Talansky has already been impressive through the first few months of his professional career. At his pro debut with Garmin-Cervélo at the Tour Méditeranéen in February, he climbed to fourth up Mont Faron and fourth overall. At Paris-Nice and Critérium International, he finished among the top-10 in both of the respective time trials.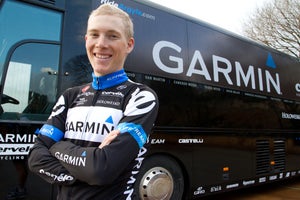 The 22-year-old has the full package of climbing skills and time trialing prowess, making him one of the most promising stage race prospects among a new wave of American riders entering Europe.
Talansky is racing this week at the Tour of the Basque Country and will head next to the Tour of Turkey, the Tour of California and the Critérium du Dauphiné.
VeloNews talked to Talansky from his home base in Italy last week via telephone. In this first of a two-part interview, Talansky outlines his rather unconventional rise to the pro ranks:
VeloNews: Andrew, so you're settling into Italy, why did you decide to move there?
Andrew Talansky: In 2009, I raced for Amore e Vita and the first three months of the season I lived in a villa 10km outside of Lucca. It wasn't the best situation, but the riding was great and I love the city. Last year, I was back over here with the U23 team. We spent a lot of time training here. I like Italy, I like the people, the culture, the food, and I love the training here. When you go into the mountains, there are climbs that are 5km, 10km 15km. Most of them you can climb year-round. I also had some friends here within cycling that were moving here and I know a few people who are outside of cycling, so I had a nice little network of people here.
VN: Why did you want to live in Italy instead of in Girona, Spain, where a lot of the other North Americans have settled?
AT: I like having space. A lot of guys live in Girona, but I felt like I could settle in here better and make a real home. I have my own apartment. I thought of having a roommate, but I am a little particular. When I come home from a race, there's something nice about have your own space. Everything is the way you want it. You can decompress. When you want to see people, you can.
VN: Perhaps a lot of people don't know how you first got into cycling, tell us a little bit about your background.
AT: I grew up in Miami. I was born in New York, but I moved to Florida when I was two. I graduated from high school in Miami. That's when I started to ride. Then I went to college in North Carolina, near Boone. The Tour du Pont used to pass through there. The big climb, Beech Mountain, was right nearby. From there, I went to Tahoe and then to Italy. I moved down to Napa two winters ago. I love it there. When I was coming home from Corsica after the Critérium International, I was thinking about how much I love coming home. I live in Lucca and Napa, two of the best places on earth.
VN: Miami is hardly known as a racing hotbed, how did you get into cycling there?
AT: There's a huge cycling community down there. If you want some place to go ride with some extremely fast people on pancake-flat roads, go to Florida. There is no off-season down there. People train full-on, year-old. It's pretty fun. There's racing every weekend. It's its own little cycling community, especially around Miami. On the week-day rides, you will get 100-120 guys. It's a full-on race. It's madness. I did some sports in high school. I swam, I ran cross-country, but I got hurt running. I started cycling. I met some people and started riding down there. Todd Hancock, he's now my agent and good friend, he saw me on one of those rides and he said, 'we need to get you into some races.' I did some junior racing, some cat-5 racing, stuff on the weekends. That was it. From the first races I did, I was hooked. There was no other way to describe it. There was just something that felt right about. I never had any dreams about being pro at that point. I said, 'wow, I love doing this.' And I started going to all the races I could.
VN: So did you come through the US development program through Europe like many of the other young pros?
AT: Not quite. In fact, I just rode with Jim Miller (USA Cycling's vice president of athletics), he's a great guy. For one reason or another, I never got in with the US team when I was junior. Maybe I started a lot later than most guys. I didn't start racing until I was 17. I didn't come through the TIAA-Cref program, Trek-Livestrong or through the USA Cycling program. There was a junior program in Florida, they took us to races, helped us race, it was fun. My next year, in my senior year in high school, I went to one of those USA Cycling development camps. I asked, what do I need to do to go to Europe? I went to camp, I did extremely well. The people at the camp said, expect a call in a week. I jumped through their hoops, but I never got a response.
VN: So what happened next?
AT: In 2008, I raced with Toshiba. I was extremely way over my head. I was doing one-week stage races in Mexico, in Colombia. I was 19 and I was racing for a year. By the U23 championships in California, I was completely worn out. I cracked. I couldn't turn the pedals. I was totally fried. Luckily, I had good people around me; Todd, my friends and family. Toshiba folded and I got a call from (Amore e Vita sport director) Roberto Gaggioli. I didn't have any team, so they said if you're good enough, you can still get results. I had already decided in my mind I was not going to school anymore. I wanted to give racing a try. That winter, I sent my resume to every team. I sent it to every continental team in the U.S.; the U.S. national team. I didn't get so much as an e-mail in return.
VN: So what did you take out of your season with Amore e Vita in 2009?
AT: I was in Silver City, New Mexico, just staying with a friend. I got the call, they said, do you want to come to Italy and race for the team? It sounded romantic. It was an opportunity and I had nothing to lose. I took it, got on a plane and I lived in Italy for three months. It was during that time that I had the experience that made me say, when you had to look at yourself and you really had to decide if you want to do this. Is this truly what you want to be doing? I got sick, I struggled all year. I really struggled in Europe. Everything was just so different. I was still so young. I finally said, if I can survive all this. If I can get through this, there's nothing I cannot do. As an American, we have choices. No one is forcing us to race bikes. But from that moment on, I made a conscious choice: I am going to race my bike. I didn't know the exact path toward your dreams, but from that moment on, there was never a question in my mind. It was just a question of how it was going to happen. That whole year was just a struggle for me. I was missing something. Finally, at the end of the year, I won some small races in Cali. It was like a flip switched on in my head and the light was turned back on. You remember what it's like to win. It's an addiction. You want more.
VN: Last year was a big breakout season for you, second at Avenir, the U23 national TT title; tell us how you reached that point.
AT: I sent out a bunch of e-mails again. I got strung along by a few teams. Cal-Giant was the only team which as straight-forward with me. They would support us, they would take us to the races. It wasn't about the money. If it's about the money at that point, then you need to rethink everything. I was happy. We had great support. And finally Noel Dejonckheere left the U23 development team before the start of the season. He left to go to BMC and that was my opening with the U.S. team. People can say what they want about the guy, how he's a great eye for talent, but I have never met the person. I have never said hello to him, but somehow he decided in his head that I wasn't material for the team. He had told somebody that I would never make it. I don't know if that was a decision he made based off seeing me at a race, I don't know. He never talked to me, he never met me. After that, everything changed. Jim Miller offered me a six-week program with the U23 team. So, to make a long story short, I came up quite a bit different than most guys I am racing with now!
VN: So you made the most of it when you finally went to Europe with the U23 team – third at Ronde de l'Isard and second at the Tour de l'Avenir, that must have opened some doors?
AT: Jim Miller called me right before Gila and offered me that program. I immediately started getting results. He took a chance on me and I paid it back by getting the results in Europe. My relationship with USA Cycling improved a lot last year. That was a showing of faith on their part. And I paid them back with results. That's all it was. He gave me that opportunity and I had to make the most it. Maybe in the end, it was all for the good. I was in a good position to take that opportunity and make the most of it. Who knows? Maybe two years before that, I would have struggled in Europe. It was my last year as U23. That's when you have to do it. There's no free pass in cycling. You better get the results or you won't have a pro contract. It's that simple and I made it happen.
VN: How do you think those experiences helped you?
AT: Everyone comes up in different ways. The way I came up, I can tell it's serving me well already. I really appreciate being on a team like Garmin-Cervélo. All I have to do is ride my bike. After all the struggles I had, it really makes you appreciate that. Some of the guys from the U23 program or other programs, they're used to that. They get babied a little bit. You have a mechanic, you have a soigneur, you have this, you have that. When you have it too easy, too soon, maybe that's not a good thing. Everyone should have to struggle a little bit, because that's when you have to decide if you really want to do this or not. Look at Tejay (Van Garderen). He spent two years living in Holland racing on their U23 team. He could have taken the easier route, but he chose not to. Maybe it was harder for him in Holland, and that little bit of fight is serving him extremely well. You need to face a little bit of hardship. It makes you a better bike racer.
VN: So when did you connect with Garmin to ride stagiaire for them last season?
AT: It was at the Tour of the Gila. Jonathan (Vaughters) was in the team car one day. I just walked up to him after the race and said, 'hi, I am Andrew.' I was thinking I will not be U23 anymore, and that something bigger was possible. He said he would call me soon. He was so professional about it. The next morning I had an e-mail with a preliminary offer. That was an amazing feeling. No matter what happened, I knew I was going to be in a good situation. I left for Europe so motivated and so happy about that. No one knew. We signed a three-year contract in the middle of June. When I came back and won the U23 national time trial title, we announced it the same day. Those were some pretty exciting months. I was getting results in Europe. I had some of the sport directors coming up to me acting like they were doing me a huge favor just by giving me their card. JV was straight up. He said, here's what we can do, he had real interest. He really wants to develop young American cyclists. He really wants to see American cycling flourish. Everyone thinks these things are done in July and August. That's late now. Why would you leave it so late? I had a contract for the next season. I could have not even ridden my bike, but instead, it made me want to go out and prove that I really deserved it.
Check back Thursday at VeloNews.com for the second part of the interview.