A conversation with Phil Zajicek, the lone American on Pegasus finds a home
Zajicek rides with new teammate Christian Knees NOOSA, Australia (VN) _ If there's one outstanding thing Phil Zajicek has learned in eleven seasons as a pro, it's that he needs an environment where he can be himself. He's found the place — and now, he just can't…
Heading out the door? Read this article on the new Outside+ app available now on iOS devices for members! Download the app.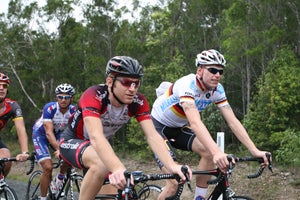 NOOSA, Australia (VN) _ If there's one outstanding thing Phil Zajicek has learned in eleven seasons as a pro, it's that he needs an environment where he can be himself. He's found the place — and now, he just can't wait to race.
Like a classic Cabernet Sauvignon, Phil Zajicek appears to be growing better with age.
Eleven years is a long time in life. In professional cycling, it's often an entire career. But Zajicek, 31 years young and on the cusp of his twelfth season, is jumping about like a neo-pro.
Just five weeks away from a new year at his first pre-season camp in Queensland, Australia, this unassuming, quietly-spoken rider — born in Eugene, Oregon, raised in Tucson, Arizona, but now calling Boulder, Colorado, home — told VeloNews the 2010 season went by like the snap of his fingers.
While his 2011 team is still yet to have a name — that should be announced any day now, the title sponsor most likely from the United States — Zajicek has been with essentially the same outfit since the start of 2009. Prior to that, he lasted just one season with HealthNet-Maxxis though this was preceded by his longest career stint to date with Navigators, where he spent four years under the stewardship of team stalwart Ed Beamon, who joins as a sport director with Henk Vogels and former Dutch national coach Egon van Kessel, the trio set to work under the helm of ex-Omega Pharma Lotto DS, Hendrik Redant.
No factions
Interestingly, in an interview he did earlier this year with a local bike shop in Tucson, Fair Wheel Bikes, he said of his current team, Fly V Australia: "The Aussies are great. The team really has a great mixture of personalities. I'm the sole American on the team this year, but there are no factions or groups within the team. Our goal at every race we line up at is to put our jersey across the line first."
VeloNews asked him what he meant by that. Has he been on less than egalitarian teams and encountered situations where riders' roles have not been awarded by merit?
"Yeah, certainly, and I think that's kind of the norm for a lot of teams to have that hierarchy and factions and it's certainly not the best thing," he said. "We're all equals on this team … Y'know, one week I'm working for Ben Day, that's totally fine, and another I'm working for Jonny Cantwell, that's fine; in three week's time they're going to be working for me. We're all on the same level (playing) field and whoever's riding the best, we ride for them.
In 2011, this team's parent company, Pegasus Sports, will be running not just a Pro Continental posse — which Zajicek will be a part of — but also a Continental team to race in the U.S., Asia and Australia, as well a development outfit of under-23 riders. In its flagship group, once again, Zajicek will be the sole American (although the program will have three U.S. recruits on its Continental team). So it raises the question: does he avoid his own or simply prefer his laconic Aussie counterparts?
"Ah," he grins, "it's just a really good fit. Australians have always been a big part of American cycling, so I've always had Aussie teammates, but I just fit in well with them. (Pegasus Sports team owner) Chris White and I get along really well, and (nothing is) an issue. We're all friends."
Aiming high, but just falling short of the mark
How did he take the news a few weeks ago when the UCI told them they were the 23rd best-ranked team in the world, and it was announced Pegasus Sports would not be awarded a ProTeam (previously ProTour) license next year?
"We were absolutely aiming high, and I think we put together a team worthy of ProTeam status," he said.
"But," he adds a little more diplomatically than his boss Chris White (who said "the whole ProTeam licensing process needs to be reviewed" and that "the timing is out of kilter with the commitment required"), "the way the UCI is ranking the teams is a little bit different. But, regardless of that, I think we're still going to be competing at the biggest races — and winning. So … I don't think it's going to affect us all that much, really."
So far, what Zajicek first said — that they'll be competing at the biggest races — is true.
The nascent Pro Continental coterie of 24 riders comprising 10 different nationalities already has, among some 250 days' confirmed racing, starts at the tours of Qatar and Oman, Tirreno-Adriatico, Ghent-Wevelgem and a slew of spring classics — though to date, they're still awaiting invitations to World Calendar races such as the Tour Down Under, Paris-Nice, the Tour of Flanders and Paris-Roubaix, and any of the three grand tours.
"It will really depend on how well we race initially and the race invitations that we can generate," CEO White said of the team's likelihood of attracting the interest of the organizers of such events.
"It's up to us to come out swinging and show what we've got," he added, "and that we're relevant, we're exciting, we're raw, we're edgy — and that we're successful. We've got to do all of that. So the job lies ahead of us to prove ourselves on the road."
Adds Zajicek optimistically, "I haven't seen the full calendar yet, but I anticipate we'll be in all the biggest and best races."
Unlike many of his teammates (save Robbie McEwen, Dominique Cornu, Markus Eichler, Robbie Hunter, Daryl Impey, Sergey Klimov, Christian Knees, Luke Roberts, Thomas Rohregger, Bobbie Traksel and Canadian Svein Tuft), he isn't new to the European race scene: Zajicek has previously ridden the Midi Libre, Biciclista Vasca, Classique des Alpes, Dauphiné Libéré, Route du Sud, GP Plouay, and Tour de l'Avenir. Next year, however, will be Zajicek's first full season in cycling's heartland, where he'll base himself in the American riders' stronghold of Girona, Spain, and live with his wife but minus Lucy, his beloved English Mastiff who "weighs as much as I do," eats more than both of them and according to its owner, sleeps 23 hours a day. (Note to parents and in-laws: Lucy will soon need a new home.)
Racing into fitness
Racing week-in, week-out, rather than the stuttered race schedule a U.S.-based rider often faces, will suit him infinitely better, he said. "It's going to be nice to be there full-time. It's tough doing the Tour of California and Tour of Utah (for example), where you're training for two months and then racing. I'm looking forward to being able to race myself into fitness … It's going to be good.
"I would love to do a grand tour before I retire, absolutely," Zajicek said. "We'll see if that can happen next year but to complete a grand tour would be amazing."
If there's any trepidation about what Zajicek and his team are about to embark on, or the enormity of the task that goes with posting a string of results in the world's premier events to earn starts at more such races, one senses little, if any, of that at their late November get-together in Noosa, situated on Queensland's Sunshine Coast. "I've had success at Tour of California and I can't imagine many races in Europe (being harder) … I know the grand tours are harder but I can't imagine many races are more difficult than Tour of California, especially from last year (2009). So, I'm confident."
The past seven years, in light of his solid performances in stage races up to a week long, such as the Tour of Britain (fourth GC, 2005), Herald Sun Tour (fourth GC, 2006), Fitchburg (third GC, 2006), Vuelta de Bisbee (firstt GC, 2006), Cascade (first GC, 2007), Redlands (second GC, 2007) and Tour of Gila (third GC, 2009), has he had a chance to speak with the Belgian Redant about enlisting the support of his teammates in similar types of races in Europe?
"I would love to (have that support). But we'll just have to go over there and see how it is. Yeah, I would love to be in a leadership position, but just getting a start in (these) races, I'm happy with that; we have a lot of good guys so if my time comes, that'd be great."
Zajicek attributes much of his consistency in stage racing — and his capacity to also win stages when required — to his current coach, Dirk Friel, a renowned guru for those partial to an indoor trainer (which, paradoxically, Zajicek is not).
"Dirk is amazing," he said.
"(I'm) doing a lot more variety with my training, but really specific power-based (work). But I think (it is also) maturity; just really learning the races, being in a good, comfortable position with the team where I can tell them, 'Look, I really don't want to do this race, I'd rather do this one'. Having some more freedom has worked out well (for me)."
Unlikely to leave
So comfortable is Zajicek on this team, in fact, he can't see himself leaving. "I really enjoy the team; I don't ever foresee myself leaving them. We're all just mates. Our term for the year was 'mateship' and it's really what we had, and we're going to carry that through to next year."
Diagnosed in March 2008 with Crohn's disease, also known as inflammatory bowel disease and a veritable curse for an endurance athlete who must not only eat and drink a lot but often and on the go, Zajicek said through a strict diet and specifically-timed high doses of natural probiotics rather than prescription medicine, it's now "a non-factor."
"But it's something I've been struggling with my whole career, undiagnosed. I've always had a lot of stomach problems but it's 100 percent under control now."
When he returns to Boulder, rather than doing lengthy indoor training sessions which completely do his head in, he'll be returning to his zany off-season ways he's become renowned for in his neck of the woods. "I'll be doing a lot of cyclocross in the mountains, in the snow. And my favorite is to do a big cyclocross ride up in the mountains, and meet my wife up at a ski station with the cross-country skis."
How long does that take you?
"It's a four or five-hour 'cross ride up to the mountains, and (I) meet her with the cross-country skis and ski with her for a while. And then (we) drive back down."
Besides avoiding anything to do with an indoor trainer, where did your inspiration come from?
"Trying to figure out how to do a long ride without having to come downhill in the cold snow. So … it works out really well. I do some big snowshoe trips as well. We're going to do some back-country yurt trips, so that'll be really exciting."
Not wishing to dent his enthusiasm or partake in such an unnecessarily painful experience, we'll just have to believe him.