A conversation with Sean Kelly: 'Today's Irish riders not hungry enough'
Steve Thomas checks in with the Classics King on the state of Irish cycling and his team.
Heading out the door? Read this article on the new Outside+ app available now on iOS devices for members! Download the app.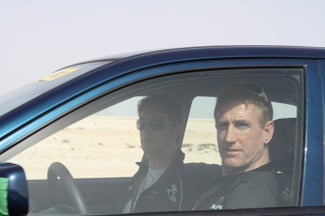 The May Day holiday weekend had just finished in Ireland, and Sean Kelly, former classics super-hero, sat mulling the morning coffee and reflected with a definite air of frustration over the current state of bike racing in his homeland.
"Cycling as a recreational sport is now huge in Ireland, they get 5,000 riders for some rides. There are lots of people racing too, but they're mostly over 35 and lower category, which is good — but these guys are not going to go on to the Tour de France. Cycling Ireland (the national governing body) keep saying they have lots of members, and they do — but they're day licenses and recreational riders taking membership for insurance, which is good. But, they're not young riders, they need to do something at grass roots to attract riders."
Go back two decades and the sport was on an all-time high in Ireland; Kelly and Stephen Roche were very much on top of their game, two of the greatest all-time road riders who just happened to be Irish and arrive on the scene at more or less the same time, and they were carving up a lion's share of the spoils in the world of pro bike racing between them, capably backed by Martin Earley and Paul Kimmage.
At that time Ireland was in a state of flux, and its economic strife had crippled its greenery; yet road racing was booming off the back of their intrepid feats; "We had so many juniors and promising young riders. We had the Junior Tour of Ireland, and it had 250 starters, and 200 of them would be Irish. Now, it's often 25 juniors at the start of a race."
With a number of prestigious races on the Irish calendar you'd think the enthusiasm would run through the ranks? "The scheduling of the calendar is wrong; it's been wrong for 25 years, but they don't seem to be able to do anything about it. They start racing in early March, when the weather can be very bad in Ireland; it's just too early. Then the Ras comes in May (Tour of Ireland), and the whole season is focussed around that, so by June there's nothing much for riders to aim at."
Ireland had suffered economically for years, but was just about to enter an economic boom time when Kelly retired.
"I think the boom in the economy affected things a lot. The Irish riders of the past few years are just not hungry enough, and things have got a lot easier in life. Back then (25 years ago) we had to pack up in February and go to France, find a team and come back nine months later. There was no flying back and forth; it wasn't possible. Now, riders come back and forth, and young riders ask for too much. We even get riders at the team house who can't boil an egg; they can't even use the washing machine. They've been too well looked after, and it says a lot."
There's no doubt that Kelly was one of a rough and tough generation of riders, driven by the hunger for success. "The Aussies still seem to be a lot more hungry, it's not as easy for them as it is for the Europeans, and it shows in the pro peleton today. But, if I'd been coming though in Ireland a few years ago (when things were economically good) I don't think I'd of been as hungry as I was either."
Some years ago Kelly launched an initiative with the Irish Sports Council, the Irish Cycling Federation and Cycling Ireland (and then-Irish team manager Frank Campbell), it was called the Sean Kelly Cycling Academy — which is today better known as the "evolved" An Post, Grant Thornton, M Donnelly, Sean Kelly team, a continental squad based and registered in Belgium, but still with a clear Irish lilt to it.
"At the time there were a lot of Irish riders going and doing their own thing in Belgium, so we jointly decided to get things under one roof to help them. I knew the area well and had the contacts, having lived and raced in Belgium for a number of years, so we got a house and set up the academy."
For a while things looked promising; "It was very active for the first couple a couple of years; they were sending riders of all levels; juniors, under 16's, and other young riders for a week or 10 days of racing during their school or college holidays, and Belgium is a great place to do this with high standards and big fields."
But then things ground to a halt; "Two years ago Cycling Ireland decided that they didn't want to do it any more, and they had plans for another academy, but it didn't really come about. The facility wasn't being used enough in the last two years; they weren't really getting things together. There just weren't the riders coming through at grass roots level."
Part of these plans included instigating a system similar to the British Cycling set up, a track lead program. "They saw what the Brits did and though that was it. By the 2012 Olympics they thought they'd be going for a team pursuit medal. Riders left the road as they were getting paid well to ride the track, and I'd have done the same. But, they forgot one thing — Ireland doesn't have a velodrome. And then the economy went down again, and any hopes of funding to build one went with it."
This reduction in support and the lack of "raw materials" impacted directly on the Belgian academy ideal.
"We ended up with a big house that sleeps 20, which was only 50 percent with our own team riders, so we started renting rooms out to Australians, Norwegians and other foreign riders."
When things begun to dry up so the emphasis of the team also evolved some. "We just couldn't get Irish riders, they weren't there. We have a few, but now we do our own thing as a team. The house was getting difficult to manage so we moved to a smaller location for this season."
The bulk of the team's duties are handled by Belgian Kurt Boegarts. "Kurt runs the team on a day-to-day basis; I'm the general manager. That means that I come in later in the season and help with the sponsorship, equipment and schedules, as well as with getting into races. I'm busy through road the season with Eurosport commentary (80 days), and also with some events. Kurt handles most of the selections of riders, he's closer to it than I am; the Irish riders are easy to select — there are so few."
The initial concept of providing a foothold for young Irish riders has unavoidably skipped a beat, as they're so thin on the ground, although they have achieved great results as a stand-alone team, and have sent several riders (Irish and others) to the big league, notably Matt Brammeier who stepped up to HTC this year.
"We average a rider a year (to the World Tour). I suppose we were always a feeder team of sorts, but it's a double edge; we took Brammeier on following his accident (which almost ended his career). We worked hard with him and built him up. Then big teams come along and want a rider; they have the budget to take them. We're happy that they make that step, but at the same time after bringing them through we do feel a sense of disappointment. We had the same with (Dan) Lloyd and (Dan) Fleeman, losing them to Cervelo a couple of years back. It's something that I have put to the UCI (that there should be some form of transfer agreement or compensation involved. It doesn't help us in going forward."
The changes in circumstance have also lead to a slight change in the medium-long term game plan for the team.
"I've used my contacts to get into races such as Qatar and Oman. We've been punching above our weight in some cases, but we have had existing sponsors from within the sport approach us and talk about moving up to Pro Continental status for next year, and that is definitely what we want to do now. It requires a much bigger budget, and we are actively seeking a sponsor to help with that; ideally an Irish company with an international interest."
2011 team roster: Mark Cassidy (IRL0; Ronan McLaughlin (IRL); Sam Bennett (IRL); Philip Lavery (IRL); Mark McNally (GBR0; Andrew Fenn (GBR); Niko Eeckhout (BEL); Bjorn Brems (BEL); Kevin Claeys (BEL); Maxim Debusschere (BEL); Kenny Terwedue (BEL); Dries Hollanders (BEL); Pieter Ghyllebert (BEL); Kess Heytens (BEL); Gedliminas Bagdonas (LTU); Darjius Dzervus (LTU).