American outpost in the European storm: USA Cycling's Belgian house offers portal into Euro racing for young riders
It's an accepted reality for young American hopefuls — to succeed in Europe you must first live and race in Europe.
Heading out the door? Read this article on the new Outside+ app available now on iOS devices for members! Download the app.
It's an accepted reality for young American hopefuls — to succeed in Europe you must first live and race in Europe.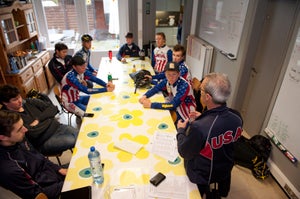 To help Americans stay afloat while tossed into the deep end of cycling competition, USA Cycling has kept a house in Izegem, Belgium for a number of years, providing a homebase for juniors, under-23 riders and women to come over in groups for multi-week blocks of training and racing.
At the start of the Scheldeprijs in Antwerp, defending race champion Tyler Farrar (Garmin-Cervélo) credited the program with launching his pro career. Other graduates of the Izegem program include HTC-Highroad's Tejay Van Garderen, BMC's Taylor Phinney, RadioShack's national champion Ben King, Garmin-Cervélo's Dave Zabriskie, Liquigas' Ted King and more.
VeloNews visited the dorm-style house in the week before Paris-Roubaix, as a group of under-23 riders were celebrating their team's success at the recent Triptyque Mont et Chateaux stage race, where Lawson Craddock won the time trial and Ryan Eastman placed fourth on a stage and finished ninth overall.
It often takes young riders at least a season or two just to feel comfortable living abroad, never mind excel in the high-level racing. But with many of the current U23 riders veterans of the junior program at Izegem, the national team as a whole is beginning to hit its stride, getting respect in the peloton and trophies up on the house shelves.
"The first time I came here I was 15 and so wide-eyed, just trying to take it all in," said Ian Boswell, now 20 and a rider on Trek-Livestrong who notched a third overall at the Tour of Utah. "Now, after coming here for a few years, it's like home. I know where the coffee shop is, where to get food, where the laundry is. Simple things like that are huge. In terms of racing, we are really starting to make progress. Take Triptyque. Last year only two of our nine riders even finished. This year, we were racing to win, not just survive."
A number of the current Izegem house residents are on Trek-Livestrong, Garmin-Chipotle or BMC Racing development teams.
Under the tutelage of new coach Marcello Albansini, the U23 squad's primary goal is success at Nations Cup races, which offer points towards entry into the Tour l'Avenir, which is essentially the under-23 Tour de France.
Many riders said Albansini is providing more structure to the house's schedule than in the past — riders all train together instead of on their own, for example — and the addition of a fulltime soigneur, Viggo Christensen has been welcomed.
"It's like someone is sailing the ship now," said Miller. "Plus having Viggo here full-time this year is great."
As with a pro team, Christensen takes care of the riders at the races and at the house. Part of that care includes locking the race food up when back at the house — "the riders eat it like candy," Christensen says. Riders get massages every day when racing, but only every other day when training. "Otherwise my hands will die," said Christensen, a retired schoolteacher and Norwegian ex-pat.
Christensen had many kind things to say about many of the riders — how they carry themselves as well as how they pedal — and praised seven-time national champion Craddock for his modesty.
"These are all good kids," he said.
Craddock has been coming to Izegem for a few years now, although 2011 is his first out of the junior ranks.
"Last year I was over in Europe: Belgium, Switzerland, Holland, Italy for world championships," Craddock said. "I'm kinda getting used to this whole traveling thing. This year, it's a huge step from junior racing – way faster, way harder."
Boswell compared racing in the United States to U23 racing in Belgium as similar but worlds apart.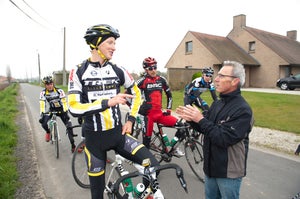 "The racing in the U.S. is still good racing, but it's a lot more tame," Boswell said. "The strength is the same, but there is so much more mental effort required here. You're constantly fighting for the front. In the U.S., the racing is always in front of you where guys are attacking. Here, things are always happening behind you as battle for position and get spit out. If you're not moving up, you're moving back and out."
Racing aside, 19-year-old Craddock said the hardest part of life in Izegem was the separation from his family and his friends back home.
"I have a lot of great friends here, which helps," he said. "On the bike, everyone here has really shown themselves. That's why they're here. The strongest guys in the nation are here, so it's going to be a good year."