Analysis: Why wasn't Trent Lowe paid his December 2010 salary?
The public soap opera that has developed over the past few week between Trent Lowe, Matt White and Slipstream Sports has had all the intrigue of a John Grisham novel — blackmail, betrayal, firings, lawyers and a Spanish doctor with a controversial past.
Heading out the door? Read this article on the new Outside+ app available now on iOS devices for members! Download the app.
If what Slipstream Sports is claiming is true — that Lowe and his legal advisor Martin Hardie threatened to blackmail the team for almost $700,000 — then not only has Lowe made a poor career move, but committed a crime that, in the U.S., carries a maximum sentence of one year imprisonment.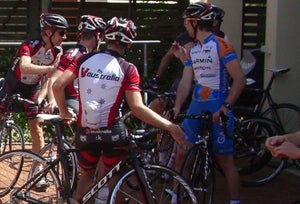 However at the root of it all, Lowe simply wanted to be paid his December 2010 salary. A promising rider who lost the last two seasons to injury and chronic fatigue, Lowe's three-year deal with Slipstream, from 2008-2010, was not renewed for 2011. The 26-year-old Aussie signed for the ill-fated Pegasus Sports team, but when that program fell apart, he was suddenly without a contract, and without a decent result since finishing second overall at the 2008 Tour de Georgia.
It was perhaps the combination of Lowe's lack of recent results and the uncertain future of Pegasus Racing that led Hardie to play hardball with Slipstream Sports, first threatening over his December 2010 wages. When that failed, Slipstream claims he demanded €500,000 or he would release email confirmation that Lowe had visited former U.S. Postal Service doctor Luis del Moral in the spring of 2009.
Slipstream says they called his bluff and pre-emptively took the information public.
But let's take a few steps back — why wasn't Lowe paid his December 2010 salary?
Slipstream Sports claims it was for a breach of contract; CEO Jonathan Vaughters told VeloNews Lowe and former Garmin rider Svein Tuft each violated UCI rider contract rule Section 6, Article 1 when they attended the Pegasus team camp in Noosa, Queensland, in November 2010.
The rule states that, "no riders shall perform work for another team during this contract."
It's a rule that is rarely enforced, however, as riders' team affiliation tends to run November to October, rather than across the calendar year their contracts dictate. Riders attending meet-and-greet camps in November or December for a new squad is commonplace; the same happened when new riders gathered at the Garmin-Cervélo meet-and-greet in the Cayman Islands in December.
So what was different in Lowe's (and Tuft's) case?
Vaughters said Slipstream took issue when photographs appeared online with Lowe and Tuft aboard Scott bicycles, rather than Garmin's 2010 Felt bikes.
After news of White's firing broke, Pegasus team director Ed Beamon contacted VeloNews, saying he was "pretty certain" those photos didn't exist, adding that the team was "very careful" to avoid a situation where a rider contracted for 2010 was photographed with a different sponsor's equipment. However VeloNews was able to locate photos of Lowe aboard a Scott bike — photos obtained by European photographer Cor Vos.
Vos told VeloNews the shots came from "the PR man of Pegasus;" Pegasus' PR and communications manager is former Cervélo PR manager Geert Broekhuizen. But regardless of how the photos came about, the real issue is why Slipstream decided to enforce the rule. Vaughters said it was because standard protocol is for a departing rider to request the permission of his existing team to attend a new team function.
"In each case, there is always written permission," Vaughters said. "I expect my riders to ask. I never knew Trent Lowe or Svein was attending Pegasus camp. No one had informed me, not the riders, and not (Pegasus manager) Chris White. I never gave any permission. And frankly, when these sorts of photos pop up, with contracted riders riding other bikes, our sponsors get upset. They pay a lot of money, and they understandably get upset any time a rider is out riding non-sponsor equipment. By asking permission, that gives us a chance to inform our sponsors in advance."
While Lowe's December 2010 salary and bonuses were withheld, Tuft was paid his December salary. One clear distinction between the two riders is that Tuft fulfilled his contract in 2010 to a further degree, by racing much of the season; Lowe's last race with the team was in April 2010. Vaughters said Tuft, who was also photographed aboard a Scott bicycle, is currently negotiating with Slipstream over unpaid 2010 bonuses, and attributed Tuft's December salary payment to "clerical error." Tuft did not return calls for comment.