Brayan Chaves tastes high-level racing with brother Esteban's team
Esteban Chaves's brother Brayan is racing the Tour of Utah as a Mitchelton-Scott stagiaire
Heading out the door? Read this article on the new Outside+ app available now on iOS devices for members! Download the app.
PAYSON, Utah (VN) — Mitchelton-Scott's Tour of Utah lineup includes a small Colombian climber with a penchant for big smiles. If that sounds like Esteban Chaves, who became Colombia's first monument winner when he won Il Lombardia in 2016, it's no coincidence. Younger brother Brayan is making the start for the Australian squad as a stagiaire.
Brayan Chaves, 21, spent the first part of the season with development squad Mitchelton-BikeExchange before getting a chance to join the WorldTour team this August. The Tour of Utah marks his first race with the top-division squad in what has been a year full of learning experiences.
Chaves was among the last riders to cross the line in Utah's challenging stage 2. That's an improvement, however, from some of his races in the spring. He says the team isn't putting any pressure on him to get results, and is instead hoping that a slate of tough race days will help him develop.
"All they're telling me is that I am here to learn," Chaves told VeloNews in Utah. "Also, they've put me in races that really didn't suit me. When we spent time in Europe, I did the Tour de Bretagne and I didn't finish, likewise some races in Belgium and the under-23 Paris-Roubaix. But that makes you tougher as a rider. You learn a lot about how things go in the peloton."
Like his brother, Brayan is a climber. He has a very long way to go in his development as a racer, but he dreams of one day winning the Giro d'Italia, where Esteban was runner-up in 2016 and has won two stages in his career.
Still just 21 years old, Chaves had little experience racing at the highest levels before joining the team. He did not speak much English either. After spending two seasons with smaller Colombian outfits, he got his introduction to the Mitchelton-Scott organization when the team held a training camp in Colombia. He spent the three-week camp with his brother's team, an "eye-opening" experience that was challenging in more ways than one.
"That was the first chance I had to talk to [the team]. It was kind of funny because I couldn't actually communicate with them, with the little bit of English, basically none, that I knew," he said.
From there, he formed a relationship with the team and signed onto the development squad for 2018.
Chaves's stint with the Chinese-registered, Continental-level Mitchelton-BikeExchange team has been an education in the basics of pro racing. Several months into the season, he's finally able to chat with squad-mates, too.
"How to eat, how to train, I've learned a ton thanks to this team," he said. "Spending all that time with them since March, I've learned a lot of English, which is good."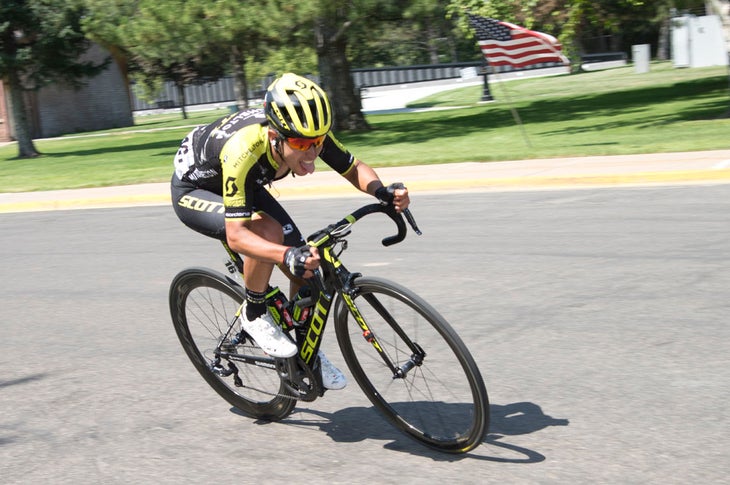 His jump to the WorldTour outfit as a stagiaire means new opportunities to soak up veteran wisdom. Whereas Mitchelton-BikeExchange has no riders over the age of 25, Mitchelton-Scott has plenty of longtime pros on the roster.
"When you're young, you really want to do things as if you were at the same level as before. These guys, like Sam [Bewley] and Cameron [Meyer], they keep my feet on the ground," Chaves said. "They keep me calm. These races, stages over 100 kilometers, lasting for a week, you have to stay relaxed."
Chaves may still be a ways off from hunting results in big events, but he says he's willing to be patient, and so is the team. The Tour of Utah is by far the highest-caliber race he has done thus far in his very young career, and therefore a huge opportunity to see what riding with WorldTour pros is really like.
With the intense heat and tough climbs on the menu, it's no easy introduction to top-tier racing. Nonetheless, Chaves was all smiles after going up and over the grueling Mount Nebo on Wednesday's stage. He says things are looking good for him to continue developing under the Mitchelton banner in 2019.
"The team has talked to me about staying with them another year, with the development team again," he said. "I'm pretty happy about that."