Britain's Emma Pooley takes world time trial title
Britain's Emma Pooley claimed her first world title when she won the time trial at the world road race cycling championships on Wednesday.
Heading out the door? Read this article on the new Outside+ app available now on iOS devices for members! Download the app.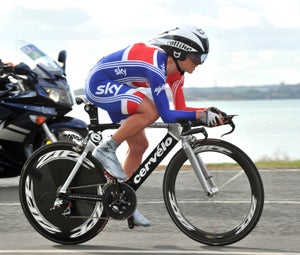 Britain's Emma Pooley overcame a last-minute technical hitch to claim her maiden world title in the women's time trial at the world road championships on Wednesday.
Pooley, who won silver in the Olympic time trial in Beijing and has been one of the form racers this season, clocked a winning time of 32 minutes,  48 seconds to beat Germany's Judith Arndt into second place by 15 seconds in Geelong, Australia.
Linda Villumsen finished in third, 15.8 seconds behind the Briton, to take the bronze medal and hand New Zealand their first medal of the championships.
A climbing specialist who only took up the sport in 2005, Pooley's bid for gold almost came unstuck when UCI officials said her time trial bike did not comply with regulations.
She had to use a teammate's bike and, after making a few last-minute adjustments, got on with the job in hand.
Having trained specifically for the event, Pooley was unshakable and put her climbing skills to good use on the hilly 22.9km circuit.
Two years after she finished second behind Kristin Armstrong in the Olympic time trial in Beijing, she took full advantage of the American's retirement to stamp her authority on the race.
"The Olympic Games is pretty special but, in a way, that was easier for me because I had no expectations and no pressure," she said. "This time it was different. I trained specifically for this, doing a lot of hill training and intervals on my time trial bike. Now I get to wear the world champion's jersey with the stripes for a whole year."
Arndt, one of the most successful women racers of her generation but who now has three silver and one bronze from the championships' time trial, was visibly upset.
"It's always nice to win a medal at the world championships, but just one time I would like to win the gold," said the 34-year-old German, who won the world road race crown in 2004 when she also took Olympic road race silver in Athens.
Villumsen picked up her second consecutive bronze and achieved the rare accolade of becoming the first woman to win world championship medals for two different countries.
Last year, Villumsen won bronze for her native Denmark, who will host the competition in 2011, but said she is now proud to be a Kiwi.
She said: "I feel New Zealand is my home now and I'm proud to represent the country. But hopefully in the next few years I will win the gold."
French veteran Jeannie Longo, 51, who has multiple world and Olympic titles and a total of 57 French national titles, finished just off the podium place in fifth, 43 seconds behind Pooley.
Having beat a host of rivals who were not even born when she competed at her first Olympics in 1984, Longo showed that she has every right to be considered for selection at the London Games in 2012.
"I'm satisfied with my performance despite just missing the podium," said Longo, who did not rule out racing at the 2012 Games. "I'm frightened of being too old! But there's only one year to go and preparations will begin."
2010 World Women's Time Trial Championships: Pooley had to borrow a teammate's bike and then put it to good use.

2010 World Women's Time Trial Championships: Arndt, Pooley and Villumsen

2010 World Women's Time Trial Championships: Amber Neben rides to fourth place.

2010 World Women's Time Trial Championships: Arndt finishes second, at 15 seconds.

2010 World Women's Time Trial Championships: Pooley focused on the time trial … and it paid off.

2010 World Women's Time Trial Championships: The unstoppable Jeannie Longo rounds out the top five, beating a host of riders who weren't even born when she rode her first worlds.

2010 World Women's Time Trial Championships: Eve Stevens rides to sixth-place finish.

2010 World Women's Time Trial Championships: New Zealand's Linda Melanie Villumsen takes third.

2010 World Women's Time Trial Championships: Canada's Tara Whitten rides to seventh.

1. Emma Pooley, (GB), 22.9km in 32:48
2. Judith Arndt, (Ger), at 15.17
3. Linda Melanie Villumsen, (NZ), at 15.80
4. Amber Neben, (USA), at 37.66
5. Jeannie Longo-Ciprelli, (Fra), at 43.94
6. Evelyn Stevens, (USA), at 1:00.08
7. Tara Whitten, (Can), at 1:05.91
8. Shara Gillow, (Aus), at 1:13.18
9. Emilia Fahlin, (Swe), at 1:22.20
10. Tatiana Guderzo, (Ita), at 1:25.55
11. Emma Johansson, (Swe), at 1:33.88
12. Noemi Cantele, (Ita), at 1:41.15
13. Patricia Schwager, (Sui), at 1:50.79
14. Charlotte Becker, (Ger), at 1:53.95
15. Anne Samplonius, (Can), at 1:54.81
16. Melissa Holt, (Nzl), at 2:05.39
17. Tatiana Antoshina, (Rus), at 2:16.26
18. Vicki Whitelaw, (Aus), at 2:19.31
19. Alexis Rhodes, (Aus), at 2:23.78
20. Olga Zabelinskaya, (Rus), at 2:29.85
21. Regina Bruins, (Ned), at 2:59.75
22. Grace Verbeke, (Bel), at 3:00.98
23. Katarzyna Sosna, (Ltu), at 3:01.50
24. Verónica Leal Balderas, (Mex), at 3:17.65
25. Svitlana Galyuk, (Ukr), at 3:23.46
26. Nontasin Chanpeng, (Tha), at 3:38.37
27. Valeria Muller, (Arg), at 4:07.49
28. Lesya Kalitovska, (Ukr), at 4:23.65
29. Doris Schweizer, (Sui), at 4:27.95
30. Monrudee Chapookham, (Tha), at 5:12.53
31. Rosa Maria Bravo Soba, (Esp), at 5:25.97
32. Yelena Antonova, (Kaz), at 5:40.63
33. Belen Lopez, (Esp), at 5:57.56
34. Kimberley Yap Fui Lui, (Mas), at 5:58.22
35. Mariana Mohammad, (Mas), at 6:45.81
36. Kathryn Bertine, (Skn), at 6:52.90
37. Siew Kheng Dinah Chan, (Sin), at 7:24.47
Disqualified Tatiana Panina Shishkova, (Blr)