Caleb Fairly squared to join Garmin-Transitions in 2011
The Battenkill winner will step up from the Holowesko Partners development team to the big show.
Heading out the door? Read this article on the new Outside+ app available now on iOS devices for members! Download the app.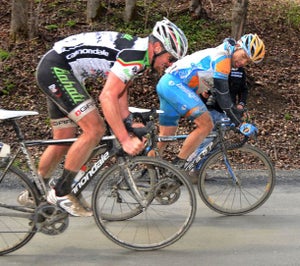 The Garmin-Transitions development pipeline is alive and well in 2010. Caleb Fairly confirmed Wednesday that he has signed a contract to move from the team's Holowesko Partners U23 outfit to the ProTour roster for 2011-2012. The 23-year-old will join already confirmed neo-pros Alex Howes (Holowesko) and Andrew Talansky (Cal Giant Berry Farms) on the U.S.-based team.
"I actually got the contract at the end of last year, before the season started, and I had a few good results last year, but not enough to justify going pro," said Fairly. "Chann (McRae, director sportif) and JV (Jonathan Vaughters, CEO) basically gave me a contract out of good faith, showing a lot of confidence in me. I didn't tell anybody; no one's known until now because I didn't want to tell anybody before I proved that I deserved a pro contract."
In September 2009, Fairly signed a deal with Garmin that would carry him through 2010 in the U23 team, before transitioning for two years in the ProTour. His teammate Alex Howes, who won two national road titles last year, signed a similar deal, but Fairly didn't let on to any of his teammates until very recently. The Amarillo, Texas, native put his head down and quietly came into the season with more motivation than ever.
"It gave me a ton of motivation, you know, because I trained the whole off-season with that in the back of mind," said Fairly. "I just wanted to do everything I could to be ready."
When he won out of a two-man breakaway over Floyd Landis at the Tour of the Battenkill in April, Fairly's preparation paid off. "After Battenkill, I still want to win, but it was a lot of pressure taken off because I felt like I proved like I actually deserved it by winning a bike race," he said.
The second-year Holowesko rider, who had a quiet falling out with the national team program in the late 2000's, was thrilled to stay with Garmin, a program that he credited with backing him when others did not. "I am so excited, you can probably tell it's genuine," said Fairly. "This is the whole reason I wanted to ride a bike – so that I could hopefully ride in the biggest races in the world eventually. I'm really happy that it's with Garmin; I feel a lot of loyalty to those guys because they've stuck with me and given me chances when some of the other development programs in the United States didn't."
Fairly was not sure what his 2011 season will look like at this point, but was excited to make the move to Girona, Spain, with his wife, Allyson, who he married in June. At the same time, he acknowledged the challenges of relocating to Europe full-time. "It is a hard transition, but thankfully my wife is coming with me," he said. "And it's also nice to know a year in advance because it gives me that much more time to prepare, physically and also mentally."
Before he starts packing, Fairly will finish out August with Holowesko and plans to join the ProTour outfit in January. Still remaining on his calendar for 2010 are the Tour of Utah and the Univest Grand Prix – after that, he didn't know how the remainder of his season would shape up. Having taken 10 days off in June for his wedding and honeymoon, and stagiairing previously with Garmin in 2008, it is unlikely that he'll do so again.