Charges likely in Bahati rider's death; driver was street racing, official says
Jorge Alvarado, an amateur rider for the Bahati Foundation cycling team, was killed Thursday in an auto/cyclist collision near Redlands, California. A sheriff's department representative said a teen driver struck the cyclist while street racing.
Heading out the door? Read this article on the new Outside+ app available now on iOS devices for members! Download the app.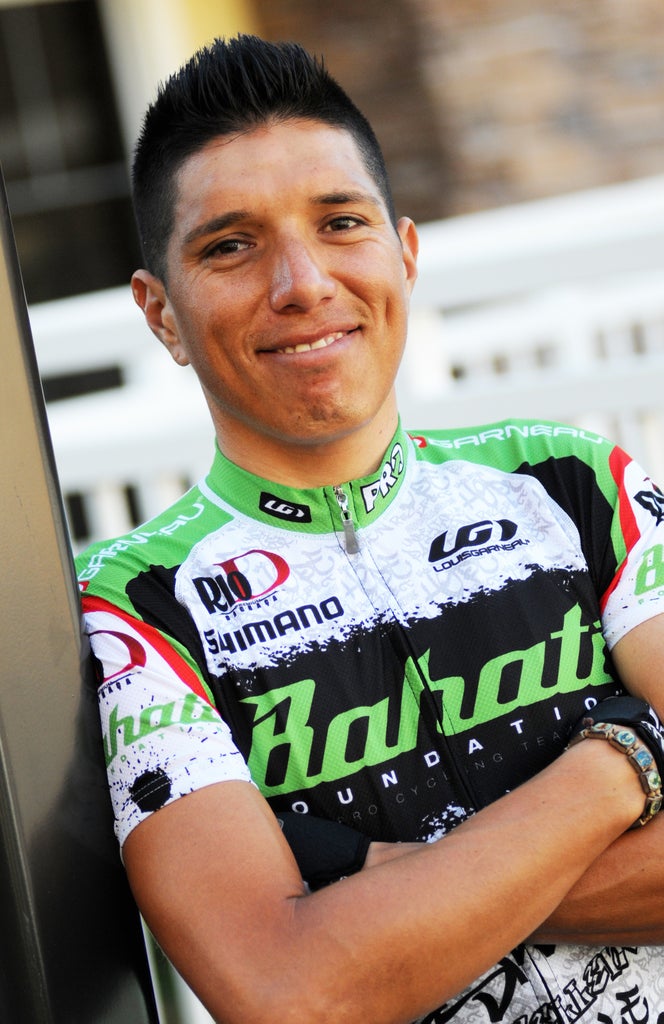 Jorge Alvarado, an amateur rider for the Bahati Foundation cycling team, was killed Thursday morning in an auto/cyclist collision near Redlands, California. A police report says Alvarado, 28, was struck by Patrick Roraff, 18, at 9:52 and died at the scene.
A San Bernardino County Sheriff's Department spokeswoman said Roraff, a high school senior, was traveling north on Greenspot Road at more than 70 mph when he lost control and came across the road to strike Alvarado, who was traveling south. Alvarado was thrown into a nearby field where he died.
The sheriff's department spokeswoman, Cynthia Beavers, told VeloNews that  Roraff was street racing with students in two other vehicles at the time of the incident. Roraff tried to pass the vehicles and lost control of his Honda Civic, veering across the southbound traffic lane and into Alvarado's path, she said.
The district attorney will determine whether charges will be filed upon review of the full accident report, which, according to Beavers, may take several weeks to complete.
"Based on the information investigators have obtained, chances are good that charges will be filed," said Beavers.
USA Cycling technical director Shawn Farrell notified team manager Steve Owens of the incident Thursday afternoon and, after Bahati Foundation staff confirmed Alvarado's identity Thursday night, CEO Eric Smart and Floyd Landis notified his brother of his death. Alvarado's brother on Friday was trying to notify their parents of the incident in rural Mexico.
Alvarado joined the Bahati team this year from the California-based Velo Club LaGrange program. A promising amateur, Alvarado's palmares included top-ten finishes at the San Francisco Twilight Criterium, Tour de Nez circuit race and Superweek. Most recently he rode to a win at the UCLA Road Race and fifth place at the Redlands Classic pro/am criterium.
"He was a really glowing personality," said Owens. "He was just a great guy … I mean it's a loss for everyone on the team, I was looking forward to the opportunity to really get to know him better."
The Bahati team will display a tribute to Alvarado on its Web site, www.bahatiracing.com, beginning Friday evening and Owens asked that comments in memory of the fallen rider be left on the team's Facebook page.
"We're a strong team, an emotionally strong team, and we all know that we're there for each other," said Owens.
Rahsaan Bahati said Alvarado was a friend and teammate. "A humble and generous person's life was taken prematurely in our eye, yet I know God has other plans," said  Bahati.
"The Bahati Foundation Pro Cycling Team riders and staff sends all the love we can give to Jorge's family in this tragic time," said Bahati.
Alvarado was on the team's roster for this weekend's Dana Point Grand Prix and for the SRAM Tour of the Gila later this month.
"He's a little bit different than anyone else on the team," said director Rick Crawford. "He's the meekest guy. I felt like I just broke through with him."
"For the love of God, you don't want to wait until someone is gone to let someone know how you felt about them," said Crawford.
"If there's anything positive about this, it's that he was on top when his life ended," said Crawford. "He was winning races and he was on the team and loving it."
"I know there will be a lot of emotion at Dana Point this weekend," said Crawford