Collegiate national championships kick off in Wisconsin
MADISON, Wisconsin – USA Cycling's collegiate road national championships opened on Friday with four national titles awarded as both Division I and II male and female riders tackled the more than 6,000 feet of climbing around the road race course at Blue Mound State Park, 30 miles west of Madison.
Heading out the door? Read this article on the new Outside+ app available now on iOS devices for members! Download the app.
MADISON, Wisconsin – USA Cycling's collegiate road national championships opened on Friday with large fields contesting national titles on roads that were part of Chicago's unsuccessful 2016 Olympic bid.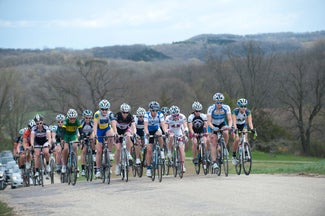 Four national titles were awarded as both Division I and II male and female riders tackled the more than 6,000 feet of climbing around the road race course at Blue Mound State Park, 30 miles west of Madison.
Lees-McRae College and the Massachusetts Institute of Technology jumped out to early leads in the coveted team omnium standings after balanced performances in the road race. Two of the top performances of the day came from the Fort Lewis College men who took gold and silver in Division I and the Massachusetts Institute of Technology women who swept the top three spots in the women's DII road race.
Alister Ratcliff (Fort Lewis College) used a late surge up the final climb and a boost from his Fort Lewis College teammate, Rotem Ishay, to win the men's Division I road race, while Andrew Baker of Furman University dominated the men's DII event. On the women's side it was an all Boston affair as Harvard and MIT took home the national titles in Divisions I and II. Anna McLoon (Harvard) earned her first title emerging from a strong break group in the DI women's race and for MIT's Martha Buckley the sixth time was a charm as she soloed to the DII win.
Men's DI Road Race
The DI men's road race opened the morning's competition with Fort Lewis College finishing one-two in the action-packed 72-mile affair that featured several breakaways and chases on the beautiful 60-degree day.
"It's always a great feeling to win this bike race," said Ratcliff who finished second last year. "I've been wanting to win this one for a while, so it's a good feeling."
Reid Beloni (Appalachian State) led any early break that was swallowed up by the midpoint and as the riders reached the 50-mile marker, the peloton was completely intact. It wasn't long however before Zachary Felpel (Lees-McRae College), Cody Foster (Texas A&M) and Matthew Mainer (University of Vermont) broke away from the peloton. Max Korus (University of Pennsylvania), Chris Hurst (University of Colorado) also spent time at the front of the race until, with around six miles remaining, Ratcliff, Ishay and Jackie Simes (Marian Univiersity) attacked and took the lead. Simes faded back to peloton, leaving Ratcliff and Ishay, who finished fourth last year, out front as the final climb approached.
"I was just waiting as long as possible," explained Ratcliff. "I knew it was a selective course and it was going to dwindle down. I was just trying to get my teammates to keep me up there and not let anything get off the front with too much time. On the last lap, I bridged across to a move that was pretty dangerous. We had about 30 seconds at the bottom of the last climb and I attacked pretty close to the bottom and stayed away."
Ratcliff was able to open a nearly 20 second gap on the climb, winning his first national title comfortably. His teammate and former collegiate mountain bike national champion, Ishay, out sprinted Stuart McManus (Harvard) to earn the silver by less than a second.
Men's DII Road Race
Andrew Baker of Furman University dominated the DII men's race jumping out to a one minute lead and riding that all the way through to a national title. Robin Carpenter (Swathmore) won the uphill battle against Maxwell Anderson (University of Wisconsin-Whitewater) to earn the silver, while Mars Hill College's Kyle Knott edged Adam Bry (Massachusetts Institute of Technology) to round out the podium.
Women's DI Road Race
In her final collegiate event McLoon seemed destined to win, emerging from a strong break group to earn the Stars-and-Stripes by a mere 12 seconds over Lees-McRae's Rachel Warner. Collegiate cyclocross national champion Ashley James (Appalachian State) earned a road race bronze after leading the break group most of the 58-mile affair.
The three winners along with fourth-place finisher Melanie Colavito (University of Arizona), Fort Lewis College's Sarah Sturm and Stephanie Skoreyko (University of Utah) controlled the race from the early-going, leaving the main group on the chase. Missing from the lead group, however, was last year's team omnium winner and perennial powerhouse Marian University. Despite having a pair of riders in the pack, the Knights, and around a dozen others continued to lose ground to the powerful break.
Skoreyko and Colavita eventually trickled back to the main group, more than 10 minutes behind, leaving only McLoon, Warner and James.
"Just before the crest, before the feed zone, it was just Rachel (Warner), myself and Ashley (James) caught back on," explained McLoon. "Before we went down, Rachel and I shook hands and were like, 'Good riding, let's take the corner safely and then the race is on.' Both of us wanted to win, but we both respect each other enough not to do something stupid when we're going to be racing for each other in the future."
McLoon won the uphill battle to take her first long-awaited national title and score valuable omnium points for the Crimson. Warner was just behind in second and James, finishing her first-ever collegiate road race, was third.
DII Women's Road Race
The MIT Engineers rode a brilliant tactical race in the 58-mile DII event. After a sizeable, but somewhat disorganized group established itself out front, Buckley took off up the road on the first lap; and when no one followed, rode solo to a national title. Meanwhile, three other MIT riders rested in the main group of just under a dozen until the third of the four laps. MIT's Laura Ralston, Katie Quinn and Yuri Matsumoto attacked, shredding the group and allowing only Elle Anderson (Dartmouth) to hang on.
"I figured the best thing to do was to just try to go out the front and they could sit in and it would motivate the other people to try to chase me," said Buckley. "Hopefully, they could drop everyone else. My goal was for us to go 1, 2 ,3 and that's what we did, so I'm really happy."
Collegiate cycling is one of few sports to award an overall team omnium, a cumulative score comprised of the top three men and women from each squad. In the early going, Lees-McRae College leads DI while MIT jumped out in front in DII. Full omnium standings are available here.
With the team omnium battle heating up, racing will continue on Saturday afternoon with the men's and women's team time trials taking place at the Trek Bicycle Headquarters in Waterloo, Wisc. Click here for a complete schedule.
Division I Men's Road Race
1. Alister Ratcliff (Durango, Colo./Fort Lewis College) 3:21:08
2. Rotem Ishay (Durango, Colo./Fort Lewis College) 3:21:25
3. Stuart McManus (Cambridge, Mass./Harvard University) 3:21:27
4. Brian Sheedy (Banner Elk, N.C./Lees-McRae College) 3:21:29
5. Eric Lau (Hilo, Hawaii/Stanford University) 3:21:30
Division I Women's Road Race
1. Anna McLoon (Harvard University) 2:35:44
2. Rachel Warner (Lees-McRae College) +00:12
3. Ashley James (Appalachian State University) +00:46
4. Melanie Colavito (University of Arizona) +02:28
5. Kaitlin Antonneau (Marian University) +10:48
Division II Men's Road Race
1. Andrew Baker (Easley, S.C./Furman University) 3:18:21
2. Robin Carpenter (Philadelphia, Pa./Swathmore College) 3:23:25
3. Maxwell Anderson (Waukesha, WI/University of Wisconsin-Platteville) 3:23:27
4. Kyle Knott (Mars Hill, N.C./Mars Hill College) 3:23:31
5. Adam Bry (Cambridge, Mass./Massachusetts Institute of Technology) 3:23:33
Division II Women's Road Race
1. Martha Buckley (Massachusetts Institute of Technology) 3:12:15
2. Laura Ralston (Massachusetts Institute of Technology) +01:48
3. Katie Quinn (Massachusetts Institute of Technology) +03:48
4. Elle Anderson (Dartmouth College) +04:07
5. Yuri Matsumoto (Massachusetts Institute of Technology) +06:04
Division I Team Omnium standings
1. Lees-McRae College 177
2. Fort Lewis College 158
3. Marian University 129
4. University of Arizona 121
5. Stanford 111
DII Team Omnium standings
1. Massachusetts Institute of Technology 150
2. Mars Hill College 125
3. Mesa State College 121
4. Duke University 83
5. Bucknell 80