Dan Holloway takes U.S. crit jersey to Kelly Benefit Strategies
The U.S. criterium champ will bolster the sprint squad at Kelly Benefit Strategies
Heading out the door? Read this article on the new Outside+ app available now on iOS devices for members! Download the app.
U.S. professional criterium champion Daniel Holloway is one and done at Bissell Pro Cycling and will move to longtime friend Jonas Carney's Kelly Benefit Strategies program for the 2011 season. With his stars and stripes jersey on his back, Holloway will turn his focus more than ever to the road next year when he assumes the roll of top sprinter with his new squad.
"It just worked out for Jonas and me to get together finally," said Holloway. "We've seen it over the last couple of years he has put those guys on the front, laying it out there, and I'm excited to be on the tail of that and hopefully I'm able to capitalize."
Holloway, 23, finished his neo-pro season with a win at the TD Bank Mayor's Cup in Boston in September. He said his departure from Bissell was a result of his late-season negotiations with ProTour programs and the split was amicable. When those talks didn't bear fruit, the two-time Vuelta a Palencia stage winner came to terms with his new team and the final contract was inked this week.
"They wanted to tidy up everything as early as they could," said Holloway, who is the latest in a number of former Slipstream riders moving to KBS this offseason. "I was still trying to get a ProTour ride and Glen decided to hire some more young guys and fill out his roster so they could go into the winter all prepared. I can't blame Glen for wanting to get things tidied up."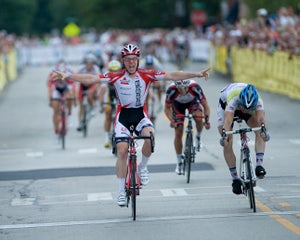 Carney hoped Holloway would be the centerpiece of his rebuilt sprinting unit. "We're trying to rebuild our sprinting core," said Carney, who has worked with his new recruit on the track since he was a junior. "Mike (Friedman) and Alex Candelario are two of the best — if not the best — leadout guys in North America."
Holloway won the criterium championships in August, outkicking Ken Hanson (Team Type 1) from a late race breakaway. He was thankful to Mitchell and his Bissell teammates for their support in his move from the U23 ranks. "I can only give big thanks to Glen Mitchell and the Bissell organization for giving me such a big opportunity to step into a role where they wanted me to win races," he said.
That step came slowly for Holloway in 2010, but when teammates Frank Pipp and Kyle Wamsley returned from injury midseason, the young rider nicknamed Hollywood began to show signs of his potential. He finished 12th at the Philadelphia International Championship, won the national title in Glencoe, Illinois, and took the overall at the Gateway Cup over Labor Day weekend. He expected to carry that momentum to his new team after a winter that will see considerably less track racing than in the past, when he spent much of the offseason racing 6-day events in Europe with Colby Pearce.
"I've signed one contract for Zurich and we're talking about Copenhagen," said Holloway, who decided to focus more on the road when the UCI revamped the Olympic track program. "I told Jonas that I'm 100-percent on the road and focused on that and I'm going to the sixers to break up my winter, do a little speed work and put some money in my pockets."
Holloway will continue to think about the track and will use the road miles he'll accrue over the next few years to build toward a possible run at the 2016 Games. "If I even have a shot at making the Olympic team for the omnium, I'd have to be riding a 4:20 pursuit and a 1:02 kilo to even get the attention," he said. "I'm more looking at 2016 to see if I'm ready for the track then. I've got to use the road to grow."
In the meantime, Holloway will have opportunities in Europe and Asia with Kelly Benefit Strategies and he looked forward to returning to the former with a team that has European experience and should factor in the results. "I've got my feet wet a little bit, but I'm excited to have a team of guys that know how to race over there," he said. "That team and those guys aren't afraid to get on the front at all and I'm excited to be a part of that."