Davide Formolo makes plea in wake of Davide Rebellin's death: 'The roads are no longer safe to ride'
Italian pro helps to create a memorial for Rebellin in wake of tragedy.
Photo: Bas Czerwinski/Getty Images
Heading out the door? Read this article on the new Outside+ app available now on iOS devices for members! Download the app.
ALULA, Saudi Arabia (VN) — Davide Formolo is a rider who always wears his emotions on his sleeve.
Whether it's winning a stage at the Giro d'Italia or helping Tadej Pogačar at the Tour de France, Formolo races with old-school Italian grit and passion.
So it was no surprise that the UAE Team Emirates climber couldn't hide his desolation and anger in the wake of the tragic death of longtime friend and mentor Davide Rebellin last year.
Just days after retiring at 51, Rebellin was struck and killed by a motorist driving a truck on Italian roads on November 30. The tragedy angered and saddened Formolo to his core.
"In cycling, he was a hero for the Italian people," Formolo told VeloNews. "I started to watch when he was on TV when I was a kid riding my bike for the first time. Then I became his friend, and his death was a real shock for me."
Formolo was so crestfallen by the news that he organized a local memorial for Rebellin on the roads above Monaco.
Formolo became training partners and close friends with Rebellin as neighbors in Monaco. The mild-mannered Rebellin shared his years of racing and training acumen with Formolo and helped mentor the young Italian when he turned pro.
Last year, just days after Rebellin's tragic death, Formolo joined several other top Italian pro riders to build a memorial on one of Rebellin's favorite training climbs in the Alpes-Maritimes above the Côte d'Azur.
Formolo placed a bicycle wheel decorated with photos and other remembrances on the roadside for Rebellin on the road near the summit at the Col de Castillon between Menton and Sospel.
"It's a nice gesture I felt from my heart to do," Formolo said. "All the riders who are living around there, they are happy to go there and put something on the wheel to remember him while he was on this earth. Davide deserves to have something in his honor."
Other pros living in and around Monaco joined him.
The site's since grown into an informal memorial for Rebellin who was widely respected within the Italian cycling community.
'The roads are not safe anymore to ride'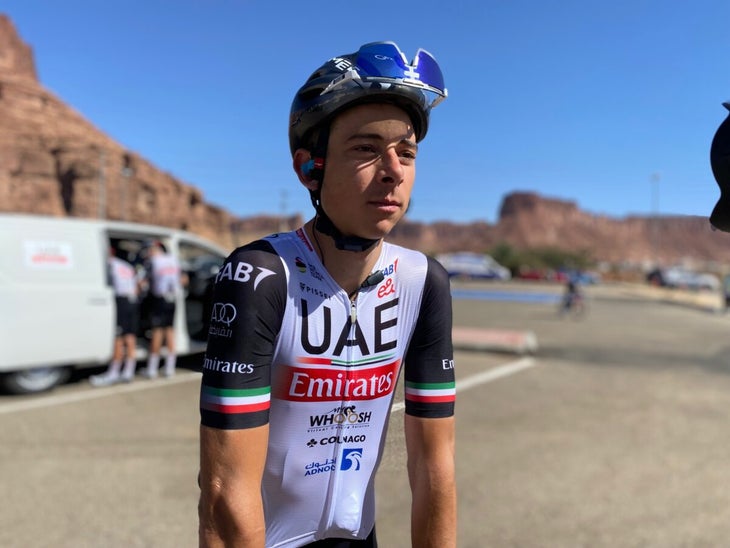 Formolo also made a plea to the Italian government to do more to promote rider safety and improve Italy's road infrastructure to accommodate both the increasing vehicle traffic and the Italian cycling scene.
"Every day a lot of people are dying on the bike. The roads are not safe anymore to ride the bike. There are too many cars on the road, much more than 20 or 50 years ago, and the roads are still the same." Formolo said. "The government should do something.
"Everyone is talking about global warming, and cycling is a good solution to this problem, but it is too dangerous," Formolo said. "We need to ask for more respect from the motorists and something for the cyclists from the government."
Rebellin's death created an uproar in Italy, and there's been growing pressure on the Italian government to enhance and improve rider safety.
The cycling community was especially angry because many say nothing has improved since Michele Scarponi was similarly killed after being struck by a motorist a half-decade ago.
With the memorial and the calls for improvement, Formolo hopes Rebellin's death is not in vain.
"I am sure Davide will appreciate it if anyone who passes there leaves something for him," Formolo said. "It's a way to pay respect to him as a rider and as a human."